It's officially June so I think we can officially start talking about ice cream. In the middle of January, when I'm snuggled on the couch covered in afghans and warm-blooded kitties, frozen treats are the farthest thing from my mind. But in the summer, when it stays light until 9:00 pm and I've spent half the day sweating, nothing satisfies like a trip to the ice cream shop.
I'm sure I've mentioned my favorite Bellingham destination before: Mallard Ice Cream. They use local, seasonal ingredients and reach out beyond the traditional, familiar flavors when crafting new recipes. One of my very favorite concoctions of theirs is the coconut ice. It's vegan but it's thick and creamy on my tongue like "regular" ice cream. Well now I've found a shop that sells only vegan ice cream. Leave it to Seattle to have the crowds to support an entirely plant-based ice cream shop: Frankie & Jo's. We recently traveled southward and joined the hoards of fans waiting to get their hands on one of summer's customary indulgences.
It was a sunny Seattle Sunday, and we were not alone in our quest for a creamy treat; the line was out the door. It was a pleasant 73°, though the sidewalk felt like it was concentrating its scarce northwest heat and radiating it back up at us at 90° plus.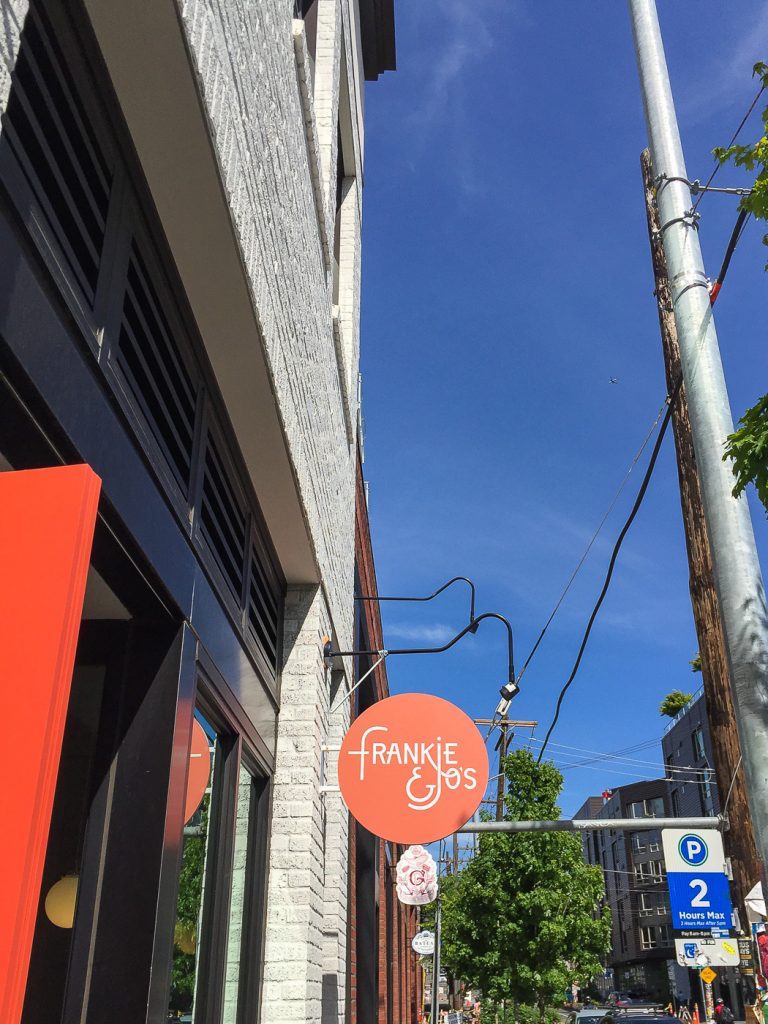 When it was finally our turn, and we saw flavors on the menu like Carrot Coriander Shrub and Date Shake, deciding was decidedly challenging. But first, let's start from the bottom.
Typically, cones don't excite me. They're a fine delivery device for the ice cream, and sometimes the sweet crunch is a nice complement to the ice cream. But the standard waffle, sugar, and cake cones are never exactly memorable.
Frankie & Jo's, however, has changed my mind about this edible handheld accoutrement. They started from scratch and crafted a homemade cone from their own special recipe. (Mine was still warm when they served me my double scoop!) Their maple vanilla waffle cone, made with oat flour, is dramatically more flavorful than what I'm used to with a texture more like a cookie. It was pleasingly more crumbly, almost reminiscent of a dark brown sugar graham cracker. It honestly was my favorite part of the whole plant-based ice cream adventure.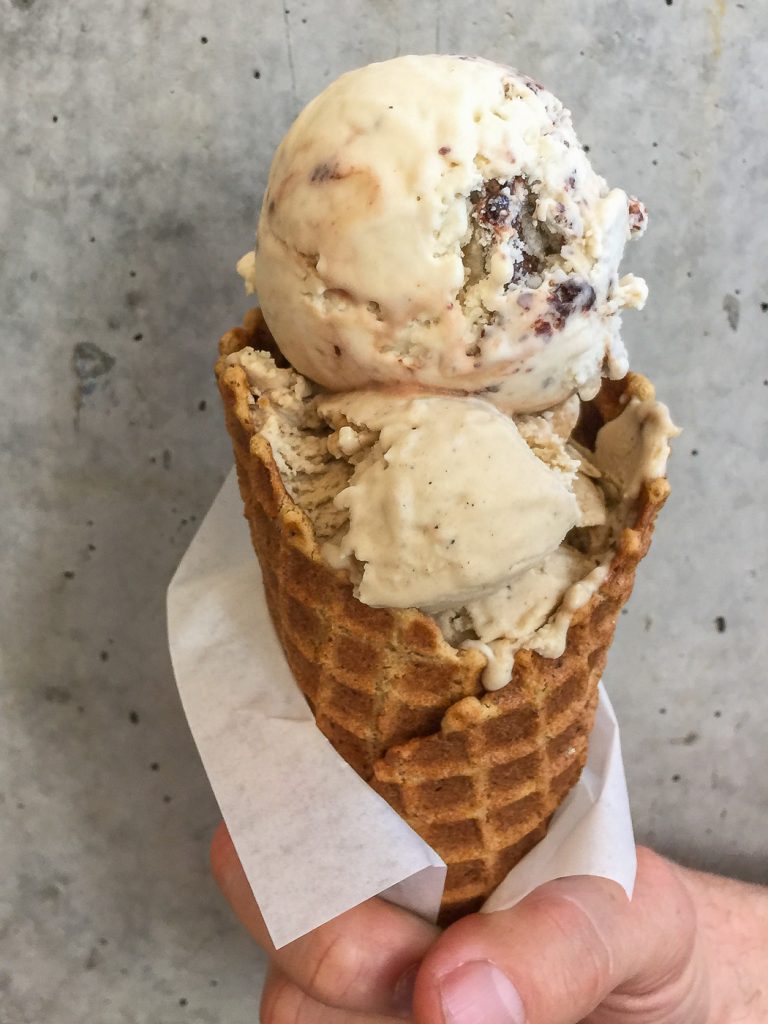 I started with Chocolate Mint Brownie (chocolate mint ice cream with crispy crunchy organic cocoa nibs throughout). The mint flavor was very  mild, the (homemade) brownie chunks were extra fudgey and almost seemed like dark chocolate brownies. The cocoa nibs gave a pleasant crunch.
Ingredients*: sprouted cashew milk, organic coconut milk, organic cane sugar, cocoa butter, coconut oil, cocoa nibs, peppermint extract, salt, nutritional yeast, oat flour, canola oil, flax seed, baking powder, vanilla extract.
My second scoop was a seasonal flavor: Mexico Morning (coffee ice cream with almond shortbread and a dulce de leche ribbon). It had an understated coffee flavor, and the (homemade) almond shortbread chunks were unexpectedly chewy and extra sweet. I could never find the dulce de leche ribbon exactly, but I'm sure it contributed to the overall flavor profile which was heavenly.
Ingredients: sprouted cashew nuts, cane sugar, coconut milk, cocoa butter, coconut oil, coffee beans, salt, nutritional yeast, oat flour, almond flour, soy-free Earth Balance, cornstarch, slivered almonds, baking powder, cinnamon, vanilla extract, dark brown sugar.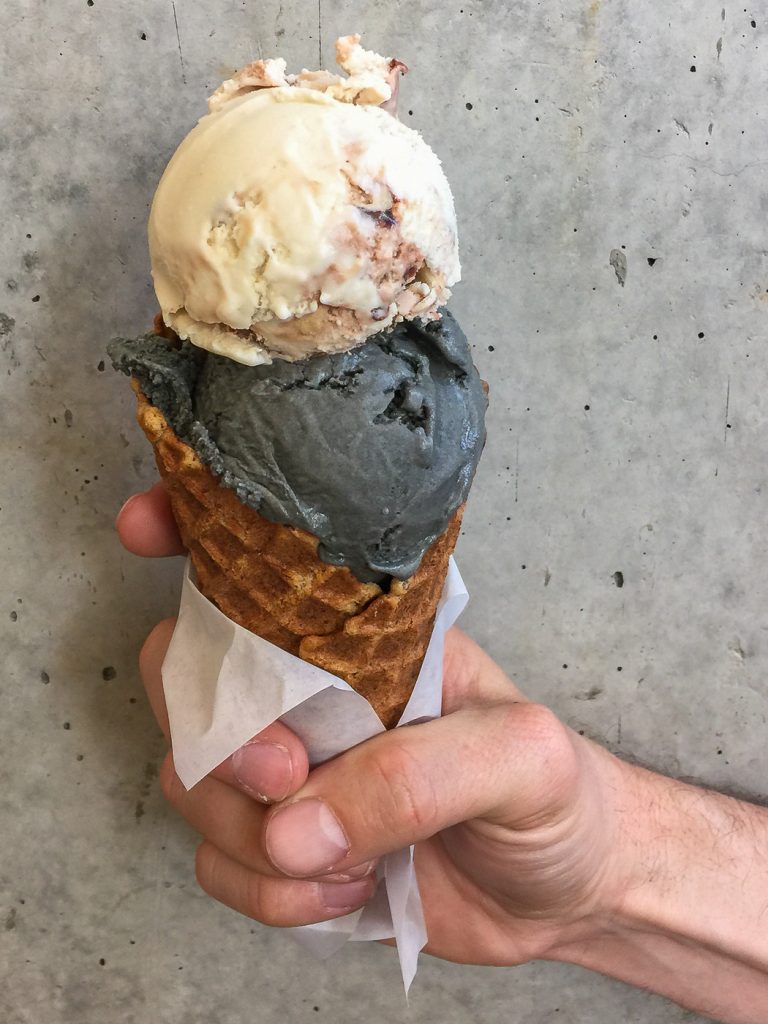 For his first scoop Jeff got Tahini Chocolate (a nutty and chocolatey ice cream that is salty and sweet). The chocolate flavor was on the delicate side, and tahini took center stage. Together, the flavor was very, very tasty.
Ingredients*: sprouted cashew milk, coconut milk, cocoa butter, coconut oil, cane sugar, tahini, vegan powdered sugar, soy-free Earth Balance, nutritional yeast, salt.
His brave second scoop choice was Salty Caramel Ash (made with their homemade Moon Goo dry-burned activated charcoal caramel sauce). It was very salty but deliciously so with the contrasting sweet. The addition of charcoal made for a shocking gray color.
Ingredients: sprouted cashew milk, organic coconut milk, organic cane sugar, coconut oil, organic cocoa butter, vanilla extract, activated charcoal, sea salt.
Traditionally, ice cream is made from whole milk, cream, sugar, and egg yolks. As you can see from the ingredient lists, Frankie & Jo's main base is made from coconut milk and cashews which they settled on for the creamiest possible texture. If someone just handed me a cone, I probably wouldn't have been able to tell it wasn't regular ice cream. It was that good.
The selection of vegan foods in the marketplace these days is truly impressive, and the quality seems to just keep getting better. In this particular case, I'm not advocating for frequent ingestion of ice cream, plant-based or not, but I like supporting businesses that are trying to change the nutritional landscape for the better by using smarter ingredients to rethink traditional foods.
I know I'd be a regular customer if they were closer to home as I bet the rotating seasonal flavors would keep things interesting. But two giant scoops of high calorie confection delivered in a cone-shaped cookie on a regular basis doesn't quite fit into my (over forty) summer bikini body (probably a tankini body at this point, let's be honest) plans. It's probably a good thing Frankie & Jo's is 90 miles away.
Have you had plant-based ice cream, either from the grocery store or an ice cream shop? What did you think? Can your ice cream cravings be tamed with a vegan alternative?
*I'm a little confused by the ingredient lists. Two of the flavors have chocolate in their names, but I don't see any chocolate ingredients in the lists that make sense to me. There are cocoa nibs in the Mint Chocolate Brownie of course but nothing that's clearly for the brownie pieces. And I don't see chocolate anything in the Tahini Chocolate list. I emailed the folks but haven't heard back yet, so stay tuned in case I end up making a correction to my info.
If you liked this post, you may also enjoy: