UPDATE February 2017: The Foundation has closed its doors. 
We live terribly close to Canada; in fact the border is only about 25 miles away.  We make the trip fairly often, but had never taken the train.  My sister hatched a plan to get us to Vancouver, BC together via Amtrak Cascades.  On a sunny Saturday morning she and our niece got on in Everett as it headed northward and we hopped aboard in Bellingham.
As I may have mentioned before, these two are not vegetarian, so eating eight meals together in a foreign land took a little planning.  Vancouver is extremely  veggie-friendly, but we wanted everyone in our happy little group to be content with all their meals and not feel like they were settling.  (This was a vacation, after all, and the promise of eating out is the main reason I'm willing to buy a train ticket, reserve a hotel, get a pet sitter and pack!)  Things were hit and miss at first, but we did have one very successful mealtime adventure at a vegetarian spot called The Foundation*.
Thankfully, they're open late.  After wandering around the market and shops at Granville Island all morning, our afternoon siesta (a.k.a. nap) lasted a little longer than we'd planned and we didn't get to the restaurant until 7:30 pm.  Because their service is a bit unhurried, we didn't leave until three hours later.  One strange thing was that there were no overhead lights in the section where we were seated, so you might notice in the pictures that it was quite dark.  I suppose that could be romantic, unless you're dining with your sister.
The Foundation is famous for their nachos, which, luckily, is one of our traveling companions' favorite food groups.  They were even willing to try the meat-free variety.  We'd been advised to get the small portion, and that was a wise choice.  The chips come smothered with black beans, cheese and corn with salsa, guacamole, and sour cream on the side.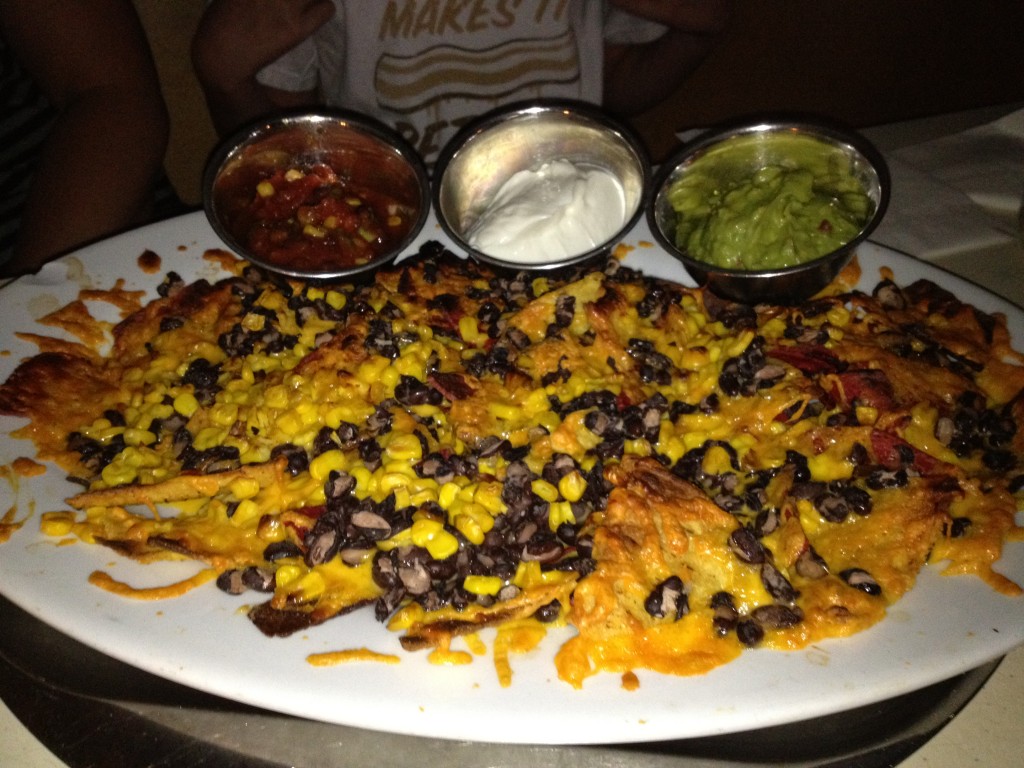 In reality, this was the only thing on the menu that our meaty compadres would have ordered here, and we're so grateful that they were willing to try it out with us.  The rest of the menu is a cleverly-worded, plant-based paradise.
I was extremely happy with my Sesame Society:  a mix of vegetables and tofu in a maple-tahini sauce over quinoa and spinach.  Outstanding.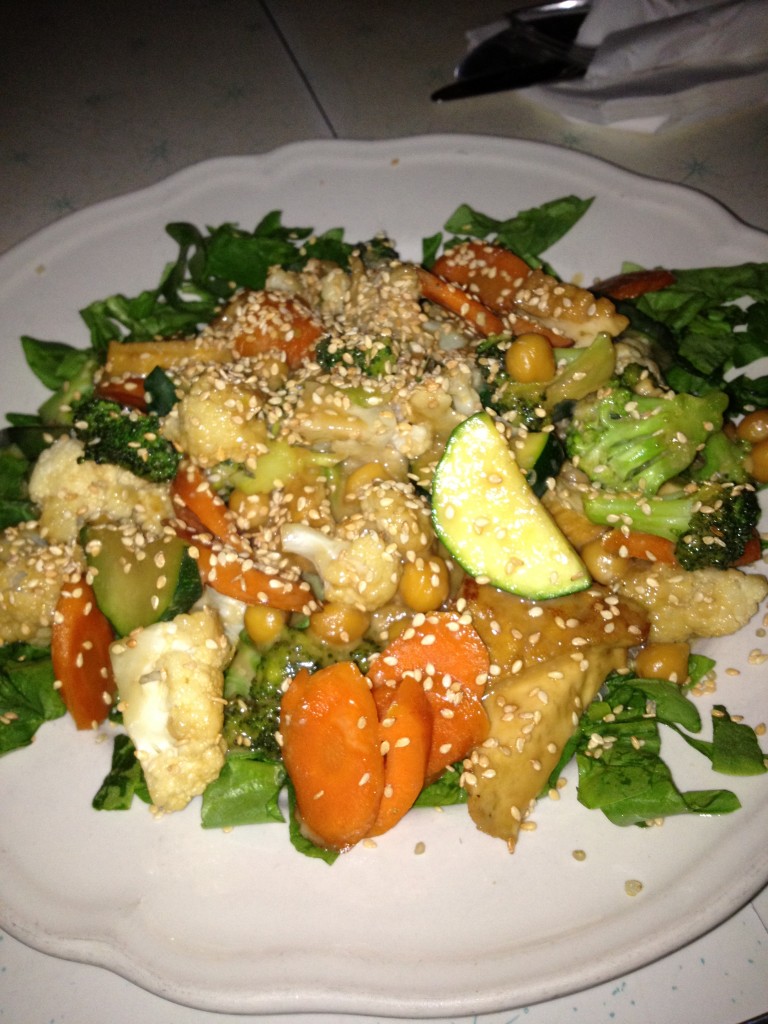 Jeff's meal was also delicious.  He ordered the Final Option, which was curried vegetables over rice.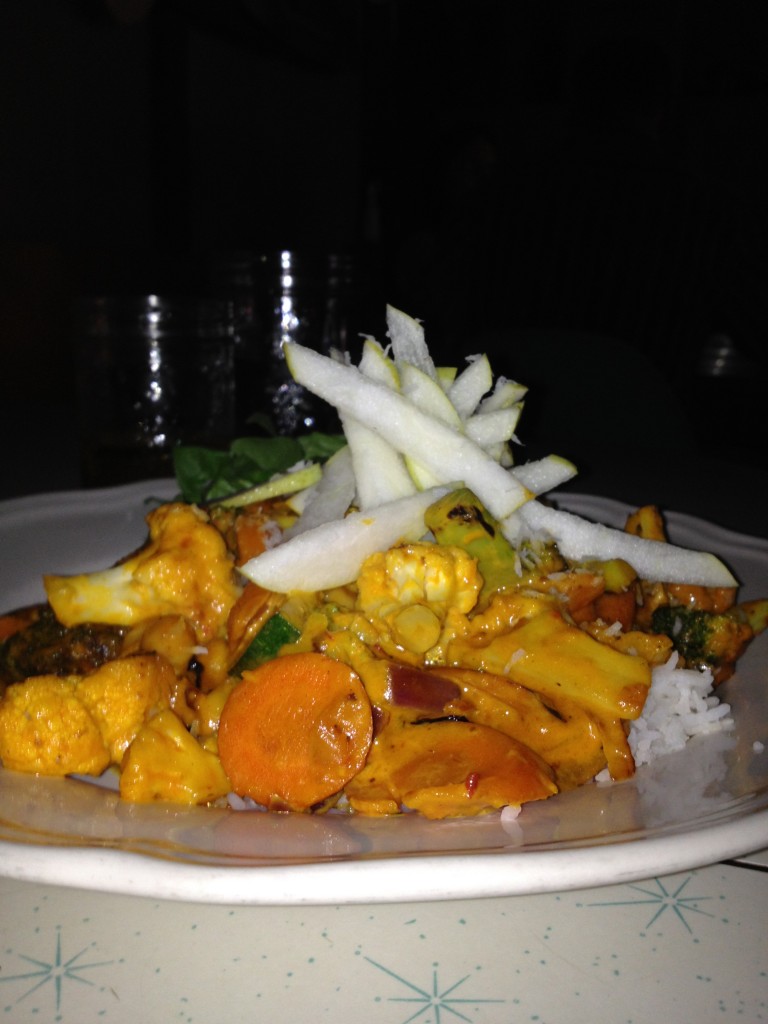 Thankfully, we were all in agreement about dessert:  fresh fruit with dark chocolate fondue.  (They also offer the fondue in milk or white, but dark chocolate is generally lower in sugar and higher in antioxidants.)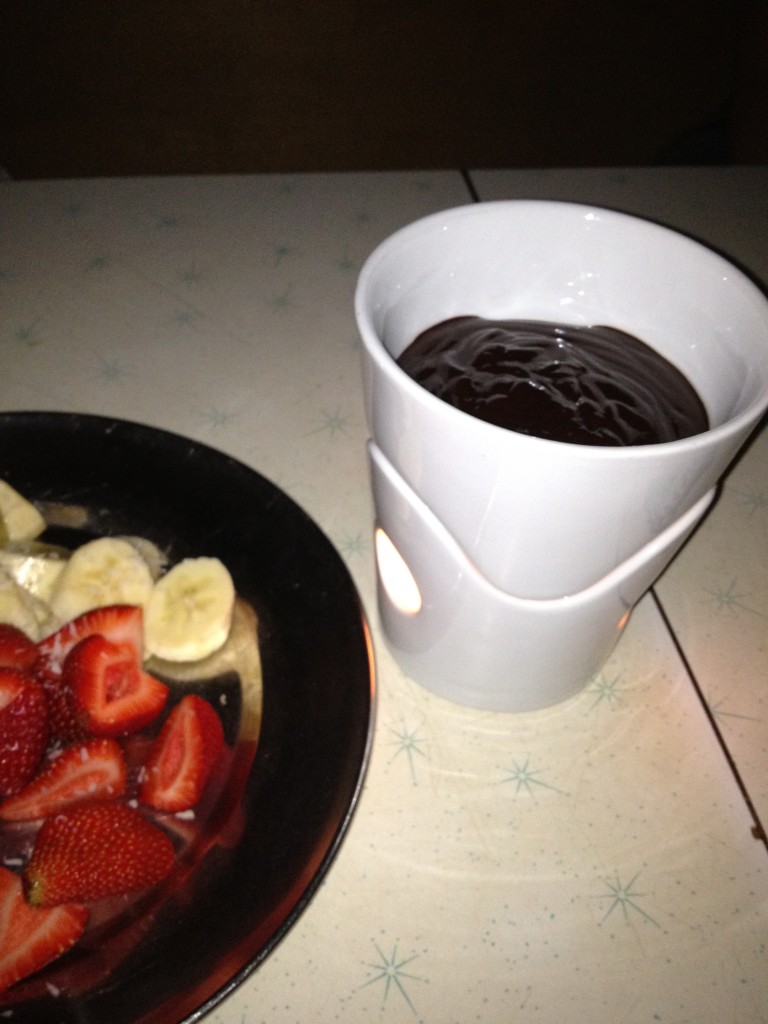 The weekend was a complete success, and we're already talking about going back so we can sample more fine veggie fare Canada-style.  I think the many eating possibilities of the Great White North are enough motivation to get me packing (again)!
Do you have any favorite Vancouver eateries to recommend?
If you liked this post, you may also enjoy: