I can't believe I've been writing about what and where to eat since January and have yet to dedicate a post to our favorite restaurant in Bellingham:  Pepper Sisters.  We go so often, it's ridiculous.  (We should probably consider direct deposit for a portion of our paychecks to go directly into their cash register.)  But as we're getting older, we seem to like routine and predictability, and they do not disappoint.  Jeff likes the feeling of being regulars, while I feel just a tad embarrassed for showing up on the third Friday night in a row.
In case you need convincing, I've compiled a Top 10 List of reasons you should check out this super deluxe hub of "Traditional and Interpretive Cuisine of the American Southwest":
10.  You can sit outside.  When the weather allows, it's extra special to sit on the patio.  When we went last week, I was so content to slip on my sunglasses, lean back against the warm bricks and sip my iced tea.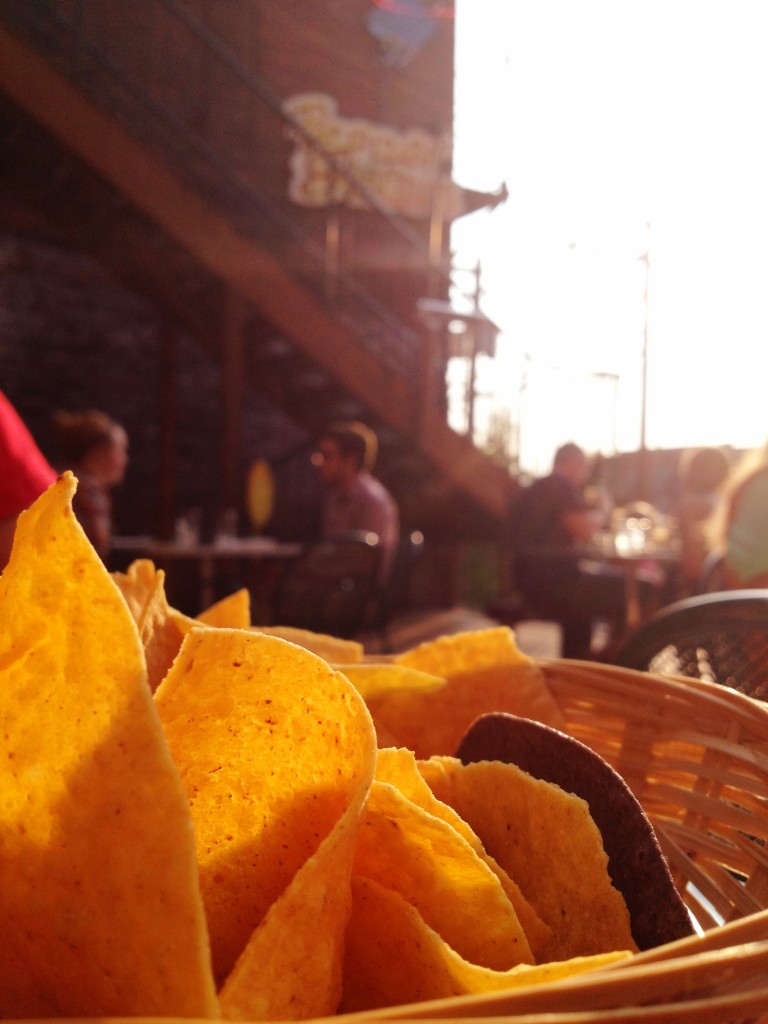 9.  The posole.  It's hominy cooked in a tomatoey sauce and the chewy texture is quite nice.  It's an uncommon menu item at most restaurants, so all the more exciting to enjoy.
8.  There's a great "holding area" if you have to wait for a table.  We often have to put our name on a list when we arrive, but we don't mind one bit.  There's almost always a spot in the comfy waiting area and you can order drinks and chips and salsa and keep yourself distracted with conversation and nibbles until it's time to have dinner.
7.  You can be happy here even if you don't like spicy food.  I have no tolerance for fire in my food.  None.  (I have an unnaturally low tolerance for many other things as well, food and otherwise, but best not to discuss here.)  At a Thai restaurant I generally ask for no stars, which usually elicits a look of pity from the waitperson.  But despite the many flame symbols on the menu highlighting the really hot stuff at Pepper Sisters, my super sensitive tongue and I are able to enjoy each and every bite by making substitutions and ordering some sauces on the side.
6.  There are beans on every plate.  Legumes, dry beans, and the like are high in protein and fiber, low in fat, and cholesterol-free.  Nutritionally, they're pretty spectacular; yet despite the urgings of many dietitians to eat more of them, sometimes they're hard to find when eating out.  Happily, blacks or pintos pretty much come with everything here.
5.  They have a vegetarian special every night.  These ladies come up with creative and wonderfully pleasing ways to eat without meat.  Here's a recent example: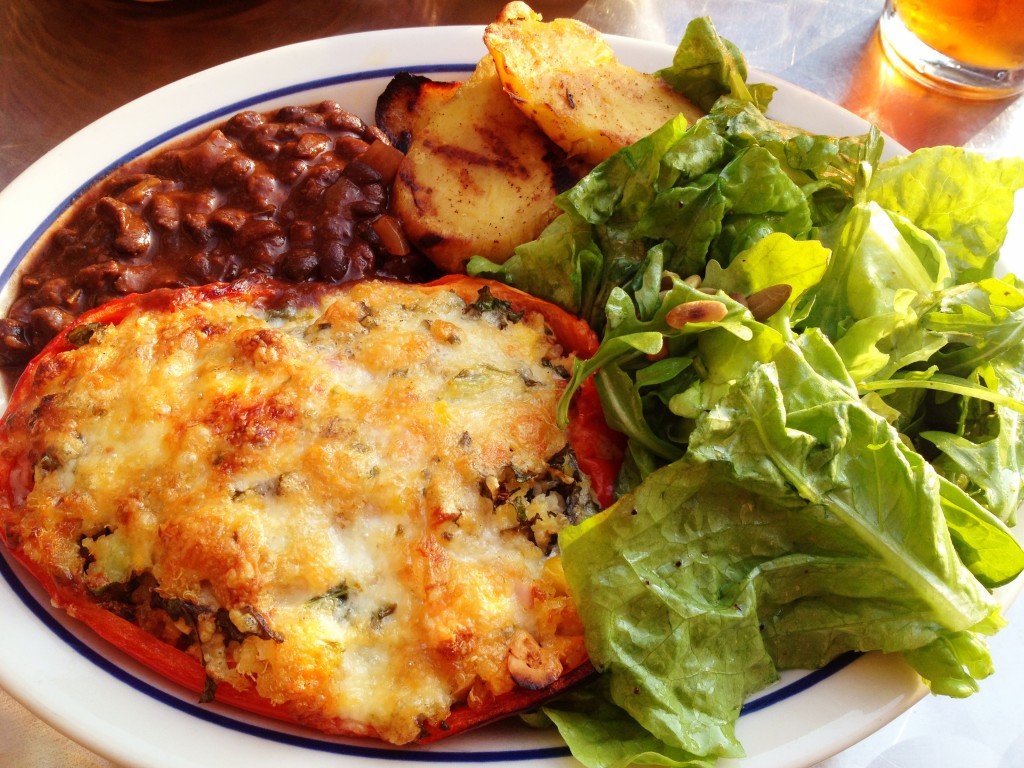 4.  You can experiment with tofu!  If you're unsure about your feelings for little squares of soy, try it here.  When there's tofu in the vegetarian special, you can bet it's going to be good.  Case in point: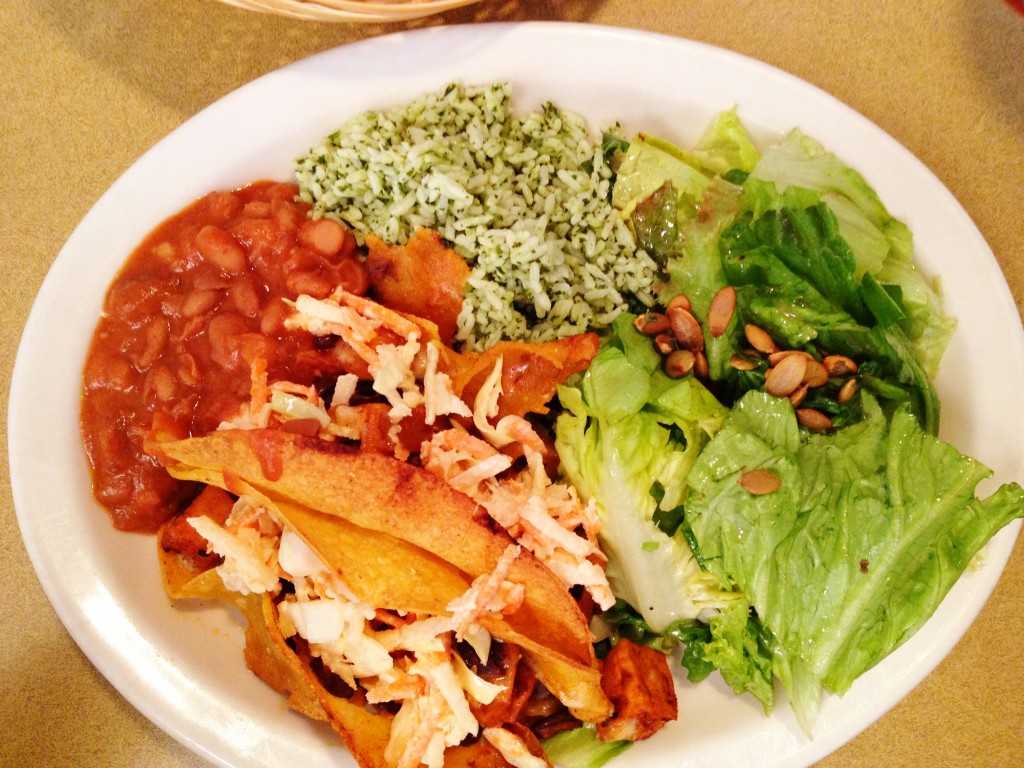 3.  It's a crowd pleaser.  I feel very confident saying that meat eaters, vegans, parents, kids, pescatarians, and grandparents can be satisfied here.  Even my friend who follows a raw diet was happily accommodated.
2.  The staff is unfailingly kind, sweet, and helpful.  We've grown accustomed to our much-loved Cat and Tiffany, but everyone really is exceptionally nice.
1.  The food is consistently delicious.  Isn't this really the essence of what we want when we go out to eat?  The quality here is reliable.  When we don't order the special, we go with our enchilada favorites:  Roasted Potato and Garlic Enchilada (green chili sauce on the side and the salad upgrade with vinaigrette) and Chipotle and Pink Peppercorn Enchilada.  Can you guess which one is mine?
While I was typing this post, I texted Jeff and asked for his top 3 reasons for choosing Pepper Sisters to be sure I wasn't missing anything.  His answer?
1.  Yummy.
2.  Friendly.
3.  Yummy.
I think I got it covered.
What's your favorite spot to become a regular?
If you liked this post, you may also enjoy: