365 days. 55 posts. 14 recipes, 20 restaurant reviews, and 21 others related to everything vegetarian. A year of blogging behind me means Veg Girl RD just turned 1.
I have the most fun coming up with post ideas (weirdly, the best ones arrive about 30 seconds before I fall asleep). My mom said she suspects I enjoy my "research", and she's right. Cooking, eating and writing make me happy, and this blog has brought all three together in one fantastic endeavor.
A few things I am thankful for:
Learning so very much about this brave new world. (I know, I know…blogging's not new.  It's been around for 15-20 years or so, but I came to the party late. That's not new, either. I just finished the Hunger Games trilogy last week, for goodness sakes.) The learning curve was dreadfully steep, but thankfully, you can really pack in a lot of stuff into your brain in 12 months.
Getting to know the lovely and talented members of the blogging community, in person and online. I appreciate their recipes and admire their creativity.
The subscribers and readers of all kinds who have taken time to peruse a page or two on this site, including those that have happened upon it by accident. I likely wouldn't continue writing, at least not so regularly, if no one was reading.
My friends and family who have offered encouragement, topic suggestions, and honest feedback on my content from day one.
Anyone who's shared a meal with me since January 2012. You have demonstrated extreme patience, waiting to take a bite of your food until after I've photographed it from every angle. Sometimes with props. Getting colder by the minute. My iPhone and I thank you.
I thought a round-up of popular posts was a fitting reflection on this 1 year anniversary.
5.  10 Reasons to Love Pepper Sisters. If you live in Bellingham, Washington, you know that Pepper Sisters and their American Southwest cuisine has a loyal following; this post offers suggestions about the reasons why. Even if you don't live in my neck of the woods, you can drool over the pictures of their vegetarian specials, like quinoa-stuffed red peppers with smoked mozzarella, corn, cashews, goat cheese and a medley of vegetables.
4.  10 Sweet and Savory Ways to Eat a Pomegranate. These big red beauties are still in the stores, so if you're in need of some fruit inspiration, look no further.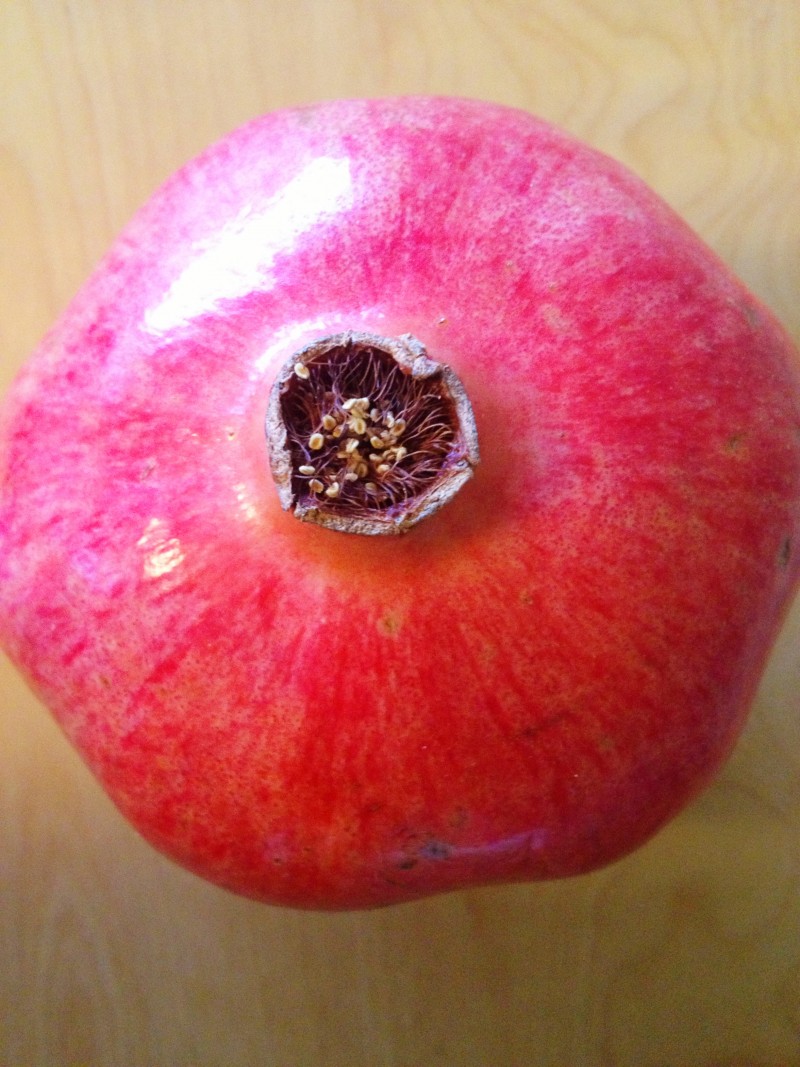 3.  Cherry Maple Granola. Crunchy, caramelly, chewy, sweet, and oaty. What more could you want for your breakfast bowl?
2.  A Nutrition Review of Nutella and Other Chocolate-Hazelnut Spreads. When you bring up the topic of Nutella, you find out how many people harbor a secret love of the stuff. (Truthfully, it's more like worship, passion or devotion.) The smooth, spreadable chocolate is definitely a guilty pleasure but there are healthier options available and this post introduces you to the contenders. (February 5 is World Nutella Day, so watch for an updated post on this topic, including new brands, coming soon.)
1.  5 Lessons Learned From The Vegan RD. Many times, it's the experts in nutrition that really end up influencing our choices, and Ginny Messina has a lot of pull in the field of food and health. You should listen to what she has to say about iodine, B12, iron and protein. I did.
0.  Oats: A Case Study. OK, I know there's no zero in a top 5, but this one didn't make the official list because of a technicality. By far my most popular post of the whole year wasn't on my site, but was a guest post at Eating Rules as part of October Unprocessed. Many thanks to Andrew Wilder and his kindness for letting me take part in such a cool project and for helping my words be seen by his many thousands of fans.
I don't know about you, but I'm heading into this next year with eagerness, anticipating all the bites of yummy food "research" that await me in 2013.
Help me make Veg Girl RD better in 2013. Tell me what content you like to read. What kinds of posts are your favorites? Do you want more: recipes, restaurant recommendations, product reviews or general information about food and nutrition?
If you liked this post, you may also enjoy: