Pomegranate is not a fast food. Cajoling those juicy little gems (officially called arils) out of their positions, all packed tightly side by side, can really be a test of patience.  But, once they're out your hard work is rewarded with an avalanche of tart and tasty fruit. They have only 70 calories per half cup, but can boast 3.5 g of fiber because it's the seeds themselves that are edible. Their deep reddish-purple color hints at beneficial antioxidants at work and they're extremely versatile in the kitchen. Maybe the tedious removal process is worth it after all.
Each pomegranate yields about 1 1/3 cups of juice sacs and you can enjoy them seasonally from October to January. (Juice sacs. That sounds funny.) Here are some ideas to get you going with this jewel-toned fruit.
1.  Muffins. Give your favorite muffin recipe a colorful boost by stirring some of these red beauties into the batter. It will be a nice change of pace from blueberries.
2.  Hot or cold cereal. Adding fresh fruit to cereal isn't a new idea, but I do find that using pomegranate makes it feel like a special occasion. And, since the pieces are so small, 1/2 cup goes a long way. You really do get a burst of fruit in every bite.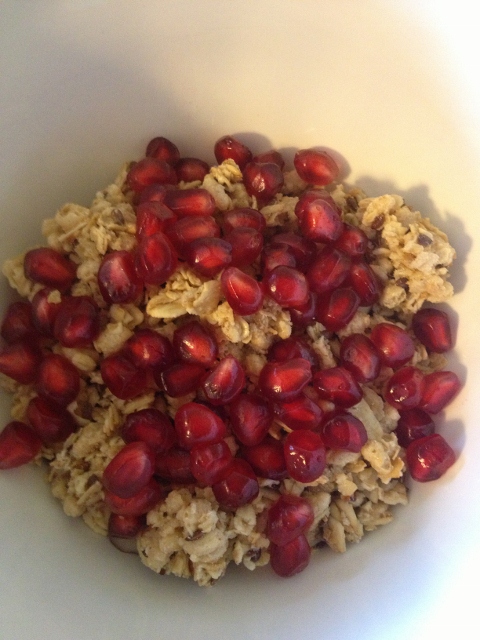 3.  PB&P.  I think this has the potential to win for prettiest peanut butter sandwich. The tart flavor of the arils is reminiscent of jam, and it makes a standard-issue sandwich seem somehow more exciting. My suggestion is to put peanut butter on both pieces of bread with the pomegranate bits in between or it won't hold together very well. Or, enjoy it open-face and save the calories you would have spent on the second piece of bread.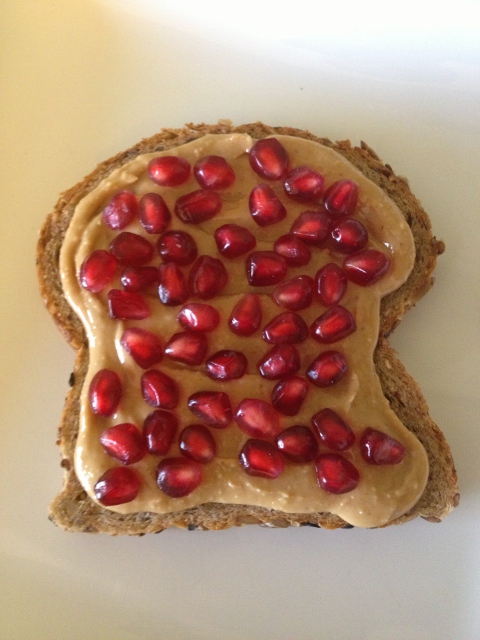 4.  Grain salad. Pomegranates lend themselves naturally to sweet dishes, but I think they can also stand up to savory flavors. Consider stirring some arils into your favorite grain-based salad to perk up the flavor and the color.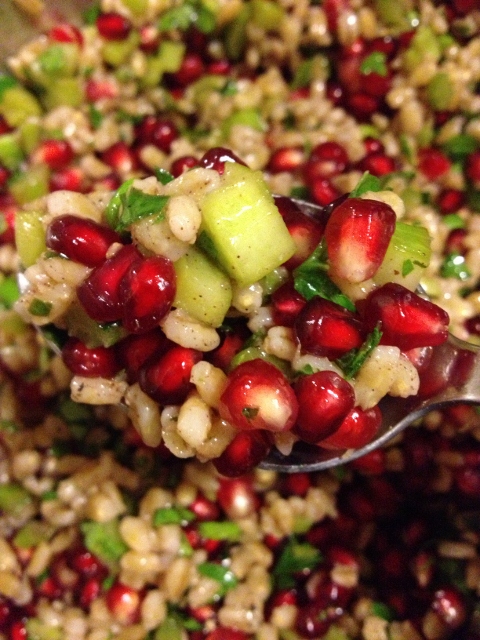 5.  Goat cheese. Give your cheese and crackers a boost by pairing pomegranate with spreadable goat cheese. The flavors work well together and the arils give a surprising but pleasant texture.
6.  Water. The juice sacs aren't really all that juicy, but they can make a bottle of plain old water a little more appealing. Adding them whole doesn't change the flavor much, but I whizzed a handful of arils into some water with an immersion blender and came up with a pink, mildly fruity beverage. (It's up to you, but I chose to strain out the white bits and pieces.)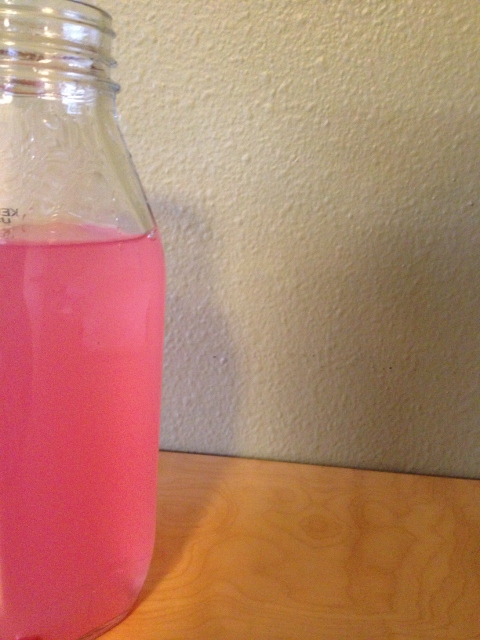 7.  Yogurt. Yogurt is a healthy option for breakfast or for a snack, but it can be a little more mouth-watering with this tasty add-in.
8.  Fruit salad. A pomegranate is a fruit, after all; a berry, in fact. So, why not let it be the star of your next fruit salad?  Since they can be a bit expensive, you can build the bulk of the salad with the usual suspects like apples, grapes, bananas, kiwi, and then add the pomegranate as a special treat.
9.  Relish or salsa. Consider giving your go-to relish or salsa recipe a bit of holiday cheer by adding these bright red bits of sweetness.
10.  Garnish. Liven up your plate, bowl, or glass with a handful of arils sprinkled over the top as a garnish. They can add a nice color contrast and fancy feeling to your basic soup, salad, or sauce.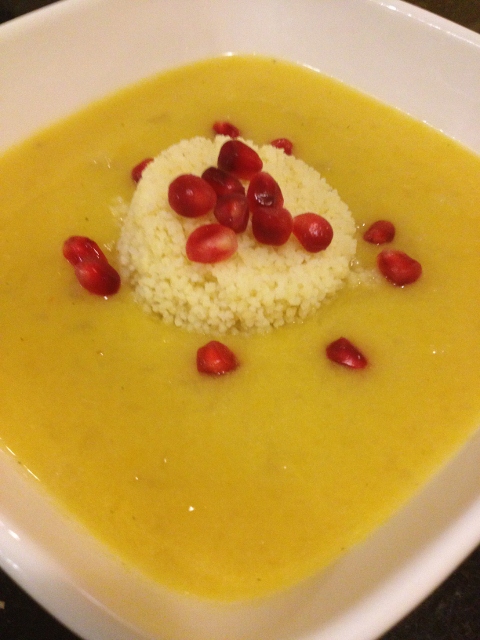 'Tis the season for pomegranates.  So, now's the time to give one of these big red hexagons a try and see if it doesn't make everything taste a little brighter.
What are your ideas for making the most out of a pomegranate?