I have no desire to run a marathon. Ever. Not that I was even slightly interested before, but now that I've seen the horror up close, I see no reason to put myself through that. My brother- and sister-in-law, however, take a different view.
We went to Vancouver BC a few weekends back to cheer them on as they accomplished the unimaginable. After weeks of training, one of them tackled the half marathon and one of them ran the full monty: 26.2 miles. Most everyone crossing the finish line looked miserable, though I'm sure the feelings of accomplishment came later. When the pain stopped.
I think I'm just a different type of person than the many thousands who enjoy physical feats like ultramarathons and triathlons. I prefer to avoid discomfort and seek out pleasure…which brings me to the reason for this post. Besides hanging with our family, heading north was a good opportunity to scout out some Canadian vegetarian food, and boy did we strike it rich. Tera V Burger was just a few blocks from our rental house, so we stopped by on our way out of town.
What makes this burger joint so great? Whole wheat buns, quick service, locally sourced ingredients, an entire menu of protein-packed veggie burgers, the option to make any item vegan, and the kicker? They bake their french fries. They don't even have a fryer on site! (Maybe they don't understand the rules of fast food.)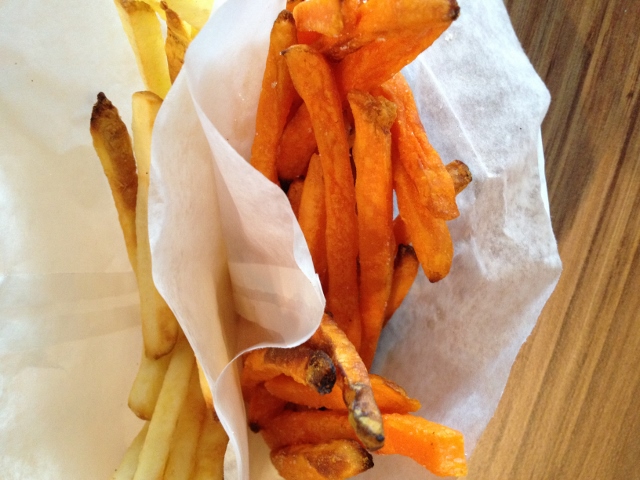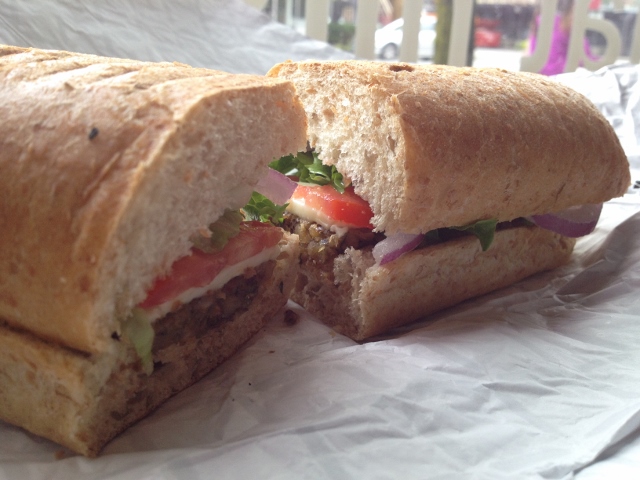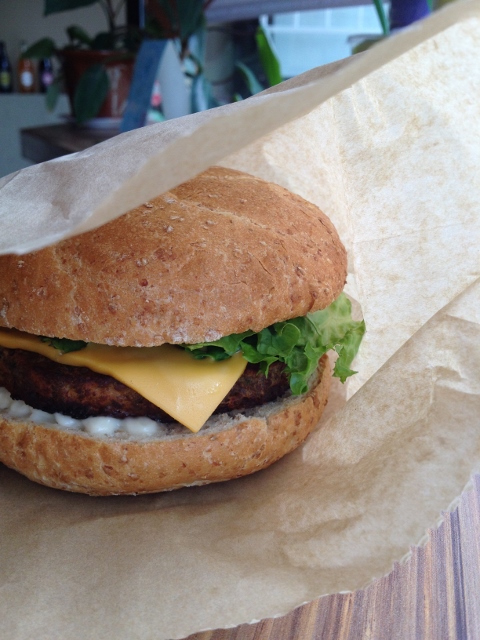 I'd say the only drawback to all this wonderfulness was the price. We ordered two combos (burger + fries and drink) and it cost $24. You're certainly going to spend less than that at the golden arches to get a meal for two, but if we were judging on ingredient quality, nutrition and healthfulness, Tera V Burger would be the clear winner. Besides burgers, they also have smoothies, wraps, and grilled sandwiches with tofu or Tofurkey.
As if I didn't like their philosophy already, I saw this on the way out: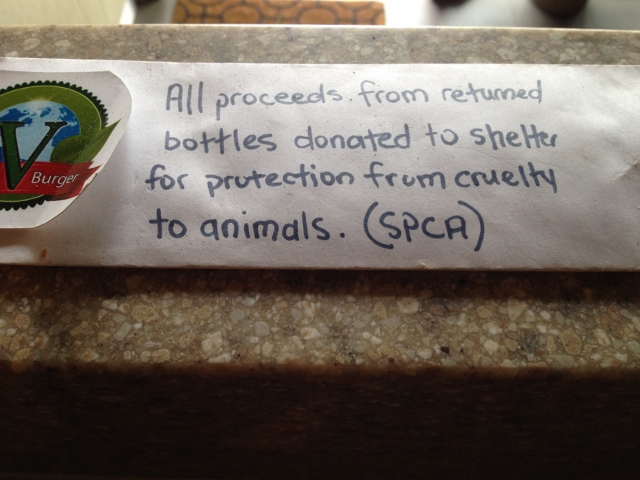 I guess I shouldn't be surprised that we found a perfect vegetarian meal in Vancouver BC. It's an awfully veggie-friendly city. Another favorite spot of ours is The Foundation, and I'm keeping a running list…whenever I hear about a new spot or read a recommendation on a blog or in a magazine. At this point there are 24 restaurants on it, from Loving Hut Express Food Truck to Heirloom Vegetarian. I'm going to have to find lots of excuses to cross the border in the coming months to get those all marked off my list besides watching other people exercise.
I'm very proud of the runners in my family, and their commitment is inspiring. And I suppose with my high carbohydrate meal (with yams, buns, and legumes) I could have run a marathon. I've got the carb loading part down pat.
What other restaurants should be on my "must see" list next time I'm in Vancouver?