My regular blogging schedule has been twice a month for a while now. But December is upon us and I've got two fun holiday posts to share before the 25th, so you get a bonus one this week. (Coming up next: healthy, homemade Christmas gifts.) Today I want to tell you about the best continuous stream of celebratory eating I've had at one location. I was in a foreign land, it lasted over 4 hours, and the food came from a collection of different vendors in tiny wooden huts. That's right, I'm talking about the Vancouver Christmas Market.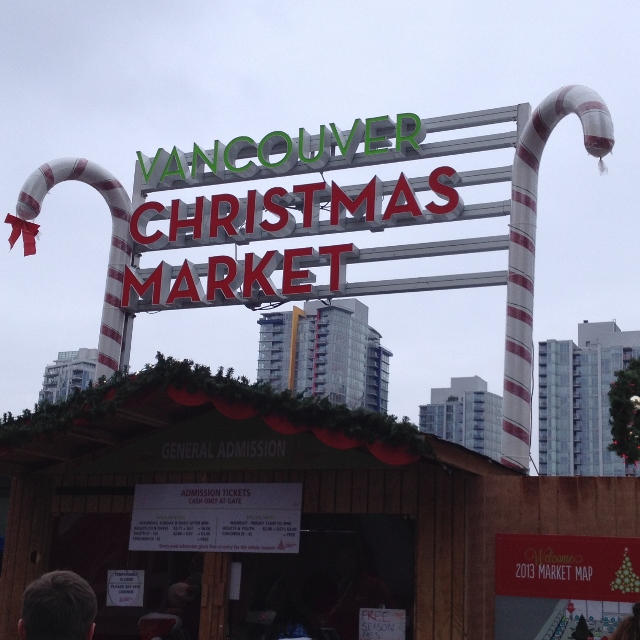 This eating extravaganza actually happened last December, but I went late in the season and I didn't want to tell you about something that you couldn't still go to, so I saved it up for a year. I went with Jeff and invited my sister along, thinking she might enjoy the Bavarian feel of the Market, having spent many years living abroad in Germany. Despite the German's love of meat, I ate vegetarian fare to my heart's content. Did I mention we basically ate for 4 hours straight?
The dates for 2014 are November 22 to December 24, so you still have a few weeks to partake in the festivities at Queen Elizabeth Plaza. It's easy to find and the parking is fairly convenient. Be sure to give yourself several hours for wandering and noshing. It certainly isn't a haven for health food, but it makes for a fun day filled with small indulgences.
Here's a list of culinary highlights from our 2013 tour de Market:
Maples' Sugar Shack:
Not sure if this counts as an appetizer, but it was the first thing we put in our mouths. And boy, did I have a Laura Ingalls Wilder moment: maple taffy on snow. That's right – they pour real maple syrup over an icy runway that turns into a caramel-like texture you can chew; almost like you'd cooked sugar to the soft ball stage, but without heat! It's perfectly tender and sweet, with a bit of crunch from the ice crystals, but not as rich as you'd think. It's simply delicious.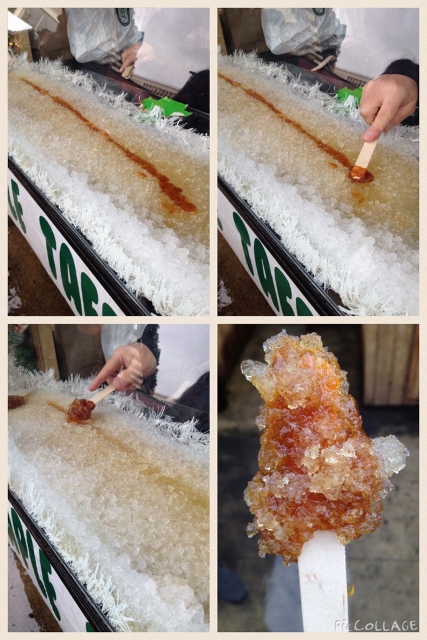 Vancouver in December means it's probably going to be very cold. And you're pretty much outside the whole time, so you don't get an opportunity to warm up…unless you visit the Glühwein hut that is. They've got hot spiced apple wine or red wine for sipping, and happily for me, a nonalcoholic version as well.
If you're not a fan of mulled wine, there are other steaming beverages to choose from. This stand gave me the best hot chocolate of my life. It was a peppermint hot chocolate with whipped cream and was made from one of their incredible organic, fair-trade chocolate bars. I oohed and ahhed over every sip, until my sister said I should crawl inside the collectible mug and finish it already.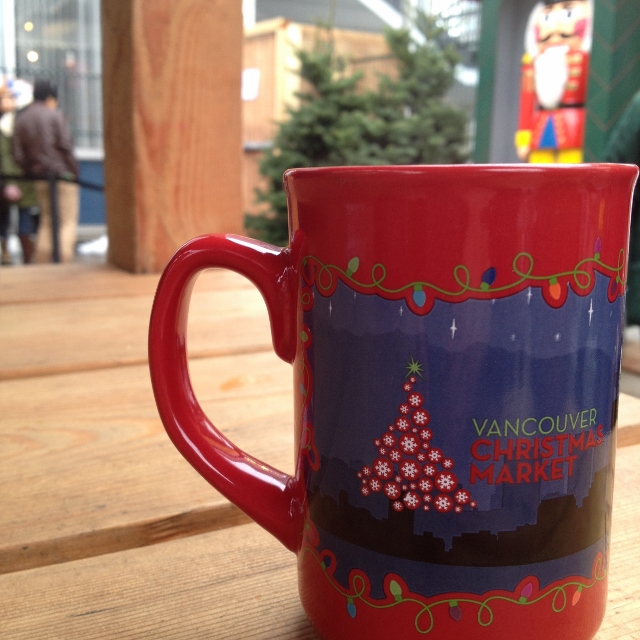 This was not the healthiest of choices, but my main criteria for food on this day was merely that it was warm, since I was not. It's a spiral cut potato on a stick that's fried and sprinkled with your choice of flavored topping; we went with white cheddar. The potato ring was kind of sweet and salty, crunchy and fabulous. It's a good thing the three of us shared just one. Then walked away from the hut so as not to be tempted to buy another.
Das Deutsche Nudel Haus:
I'm very sad to say I can't find these guys on the 2014 vendor list. (Guess that's one drawback of waiting 11 months to write a blog post.) It's a shame, too, since the vegetarian Käsespätzle was delightful. The dumpling-style noodles are roasted in a giant skillet with onions and served with cheese. Each batch is made-to-order, and they were kind enough to give me a tag to hold onto until mine were ready which clearly identified me as vegetarian, so they didn't accidentally give me one with ham.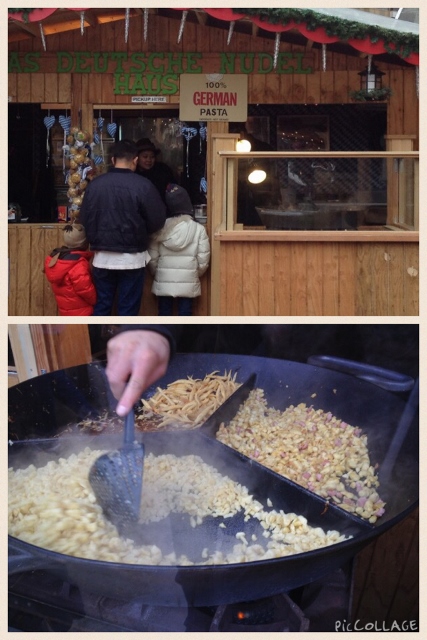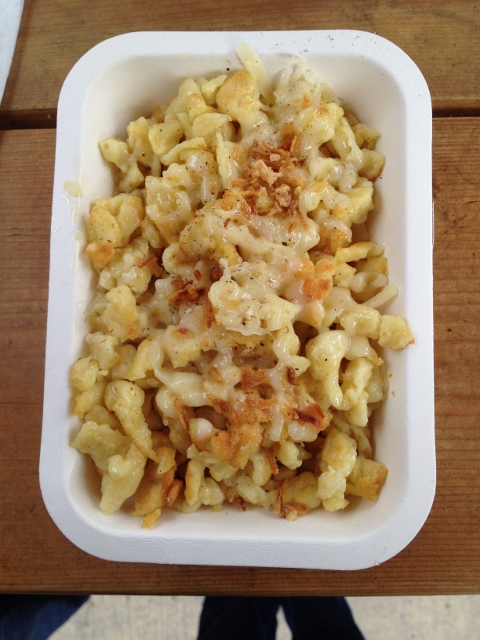 Brezelhaus:
On our way out, we were still cold and a little bit hungry. So we got a cheddar cheese pretzel to go. It was warm. It was chewy. It was authentic. And it made the trip home to Bellingham a little more enjoyable.
A couple of items we saw but didn't have room for included a baked apple with warm vanilla sauce at Das Apfelhaus and a vegetarian Flammkuchen with Gruyère cheese and caramelized onions at Flammkuchen-Kueche. Sadly, I don't see them on the vendor list either but I'm still holding out hope for a last-minute showing. Either way, based on last year's success I know I'll have enough to eat this year, especially since I see three promising new additions:
Coconut dahl soup at Berlin Vegan Eatery
Turkish Pide cheese bread at Chef Ismail's Turkish Gourmet
Fresh apple cinnamon laminated pastry at Stick Style Pastries
I've also got a few tips for your visit to the Vancouver Christmas Market, in case I've convinced you that it's worth the trek to British Columbia:
We arrived when they opened (11:00 am) and things definitely got busier as the afternoon wore on.
Besides all the deliciousness, they also have traditional German craft huts with glass ornaments, nutcrackers, Polish pottery, and wooden toys, too, not to mention live music and kids' activities.
The food is very expensive, sort of like you're eating at the state fair or the ball park. So be prepared for sticker shock.
There seemed to be drips of water everywhere coming from the hut roofs, so it's probably best to bring a hat or scarf.
There is really no where to sit, but they do offer covered, stand-up tables where you can enjoy your European delicacies.
If you go for the Market, but end up staying in the city for a while, you might be looking for other edible opportunities in Vancouver, so here are links to my posts for Tera V Burger and The Foundation.
Well, we've got twenty-some days left to get in the Christmas spirit. The ambiance at the Market is fantastic and festive, and it certainly does the trick for me. If you think you'd like to see how the Canadians and Germans do Christmas, and eat a little something while you're at it, the Vancouver Christmas Market is definitely the place to be this season.
What tasty treats, holiday happenings, or timeless traditions get you feeling festive in December?