You know those impromptu, seemingly insignificant conversations you have with coworkers? The ones that just happen organically as you wait in line at the copier or pass each other in the hallway? Over time they build connection and familiarity, but they can also end up leading you to your new favorite kick-ass sushi restaurant. Many thanks to my biologist colleague for chatting me up about Canada, border crossings, NEXUS passes, and where to find good sushi a few weeks back. It was a quiet Friday afternoon in the office and he was standing in my doorway shooting the breeze. After he mentioned he had discovered a seaweed and rice jackpot right across the border in Surrey BC, I suggested to Jeff that we try it out tout de suite, and within a few hours the husband and I were headed north.
I know sushi is typically supposed to showcase seafood, but it can serve as a tasty vehicle for vegetables too. My only complaint is that most vegetarian sushi options on the menu are boring. Don't get me wrong; I appreciate that I can order fish-free rolls at all, but I've had my fill of cucumber rolls and asparagus rolls with their single ingredient filling and lack of flavor. I want variety in taste, texture, and color just like the regular sushi folks. And I want a few alternatives to choose from instead of the perfunctory lone vegetarian option. Well, I've found it! At a place called Hanaya Japanese Restaurant and it's not of this world. I mean not of this country. It's just 5 miles across the border into Canada. I am so smitten we went twice in two weeks, 30-minute border wait times be damned.
Before we ventured into roll territory, we started with an edamame appetizer, but not your traditional salted edamame. This was Garlic Buttered Edamame, and it was incredible.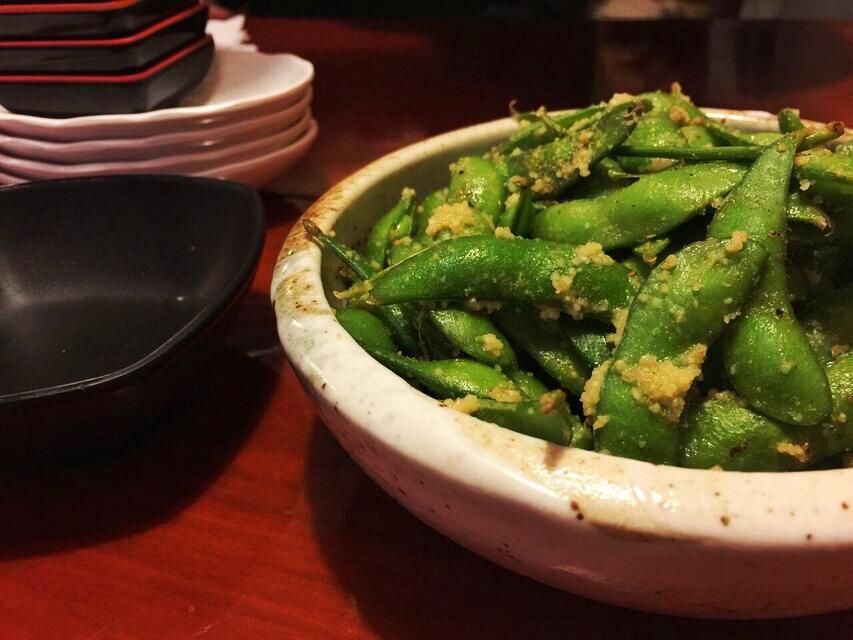 Then it was sushi time. From what I can tell, they've got at least 10 vegetarian rolls to choose from; so essentially this is sushi paradise for the meat-free crowd. My absolute favorite was the Mango Roll. I ordered it without avocado, but when it came to the table it was chock full of the (very healthy but not my favorite) green mushy stuff. I politely asked for a replacement and they were extremely apologetic and remedied the situation immediately. In addition to the delicious sushi, the customer service was wonderful.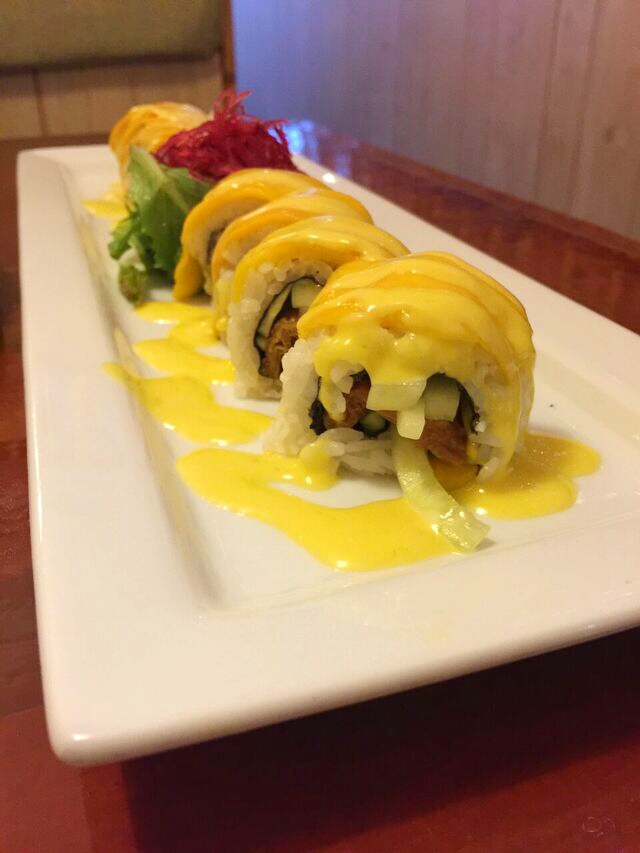 So, my modified Mango Roll had cucumber, seasoned tofu (inari), and mango inside, was topped with more mango and then drizzled with mango sauce. The result was so fantastically fresh with what seemed like endless layers of flavor. This tofu and the edamame appetizer provided the primary plant protein for the meal though there were contributions from the rice, noodles, and veggies too.
Next up was the Yam Yam Tempura Roll. The menu offers any roll to be made with black rice, so I took the opportunity to have an antioxidant-rich whole grain and man did it look cool with the bright orange of the yam.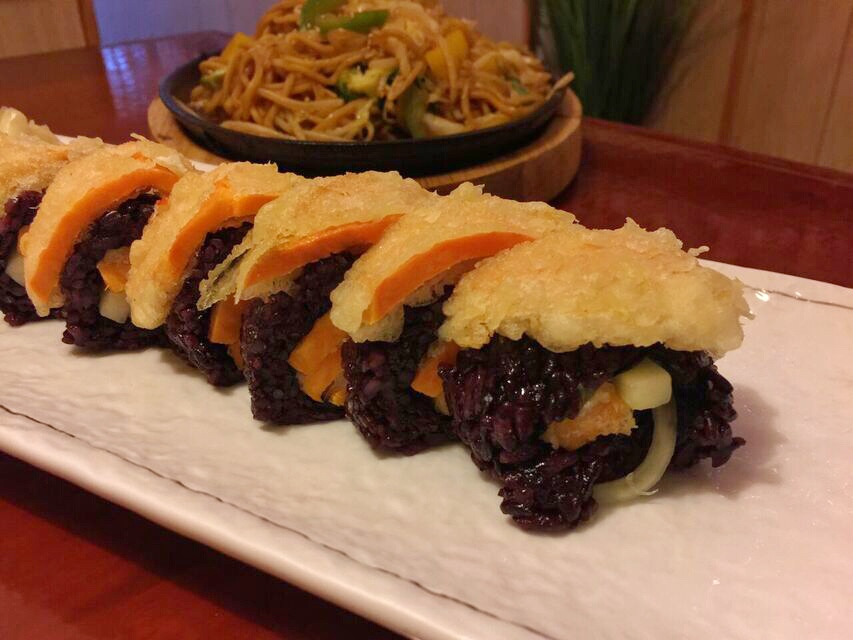 The combination of the crisp cucumber and crunchy tempura yam provided a deluge of texture and crunch nestled inside and on top of the soft rice. It was very starchy, of course, but not too heavy as it was lightened with an almost citrusy freshness.
When we returned to Hanaya we brought friends, and sampled even more of the menu. The Veggie Roll was a rainbow of color and packed with bell peppers, cucumber, beet, radish, and greens.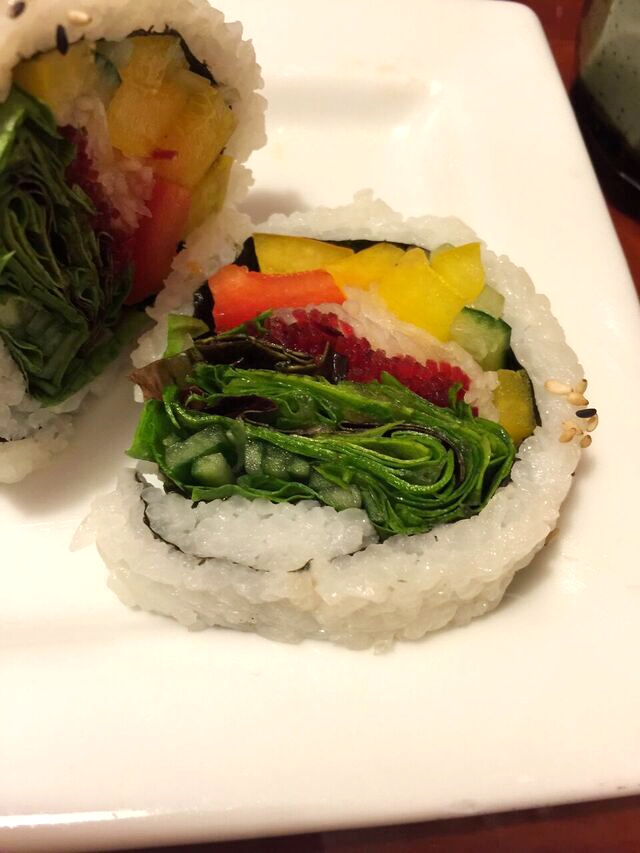 The Paradise Roll shared a lot of the same ingredients as other favorites, but in a slightly different combination: cucumber, avocado, bell peppers, and mango with mango sauce.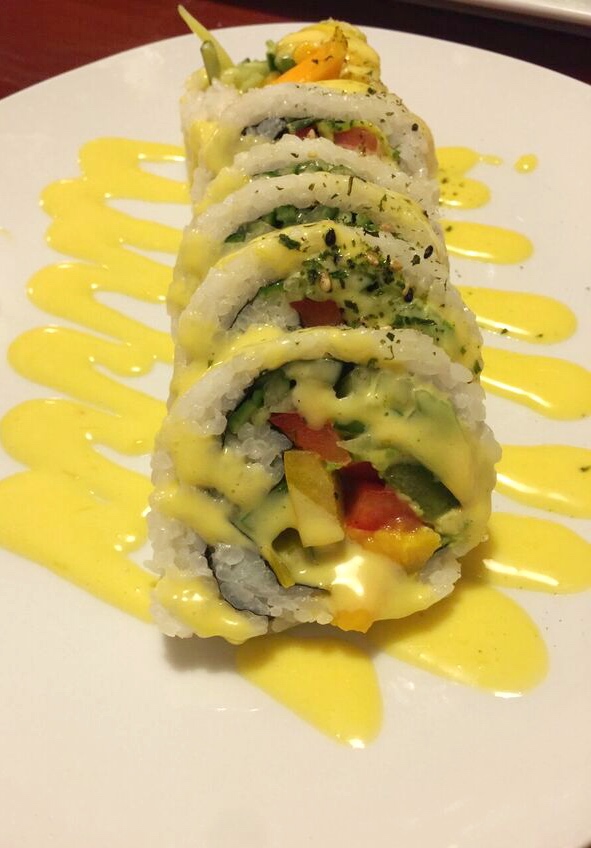 Along with all the rolls we also ordered Veggie Yaki Soba, which had an unusual tasting sauce. It wasn't the traditional Yaki Soba flavor I'm used to but it grew on me with each and every bite.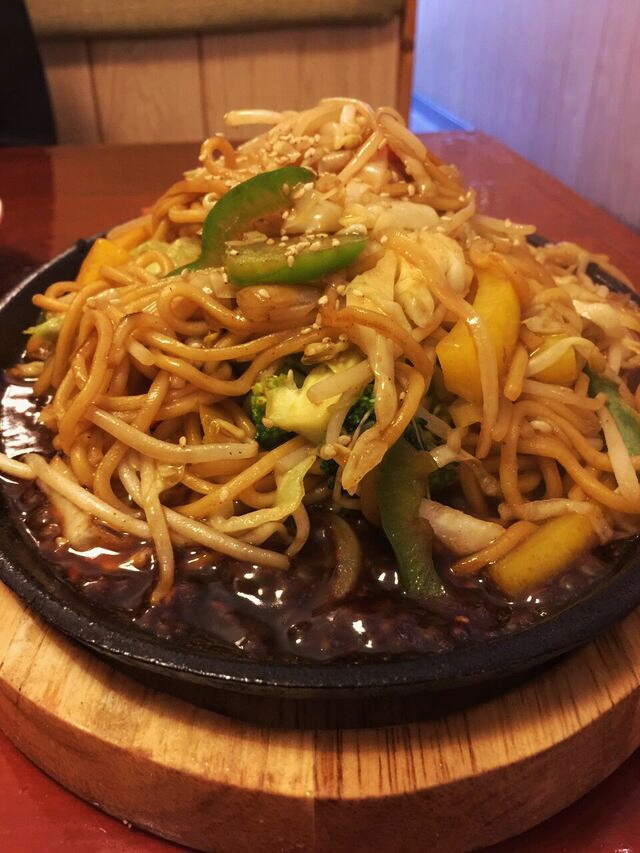 I know I sound like a complete fangirl. I am. There was nothing I wasn't happy with, and I already can't wait to go back a third time. Want to hear some more gushing? The veggie options are clearly marked with a green leaf on the restaurant menus (but for some reason not on their To Go or online menus). Compared to the sushi I'm used to, these rolls were generous in size; huge even. So the amount of food we got for the price seemed quite reasonable. We had so much, in fact, we took some home and enjoyed leftovers the next day. The rolls held up beautifully in the fridge overnight.
After reviewing Hanaya's website to write this post, I discovered they deliver. DELIVER! I would be in big trouble if I was living within their driving radius. We could set up a standing order every night at 6:30 pm, they could keep my credit card on file, I could stop making dinner altogether, and take the leftovers for lunch. Thank goodness there's an international boundary between me and an 80% sushi diet.
Tell me about your favorite vegetarian sushi. Have you found a place that's getting creative with vegetables (and fruit)?