In Italian, dove vivi means "where you live".  As life decisions go, it's a big one, which predetermines everything:  the friends you'll make, the weather you'll love (or hate), the house you'll buy, the Farmer's Market you'll rely on, and the restaurants that will become your favorites.  I feel extreme gratitude to be able to call Bellingham, Washington my home.  As happens with many Western Washington University alums, Jeff and I moved here for college, fell in love with the bay, the parks, the mountain, the people, and the overall "vibe" and decided to stick around.
Jeff's brother and sister-in-law have made Portland, Oregon their home and we recently spent a weekend visiting them and their City of Roses.  Whenever we're in town, at some point, either my husband or I can be overheard saying, "You know, I really like Portland."  If we had to live somewhere besides our beloved Bellingham, it would definitely be P-town.  It's got a similar northwest feeling, probably because, as cities go, it ranks highly for dog-friendliness and number of Prius hybrids.  It's also becoming somewhat of a vegetarian-friendly food destination.
Lucky for us, Doug and Meredith had no trouble deciding where to take us for dinner.  On a sunny September evening, they enthusiastically introduced us to the magic that is Dove Vivi Pizza.  What sets this pizza joint apart is their unique twice-baked cornmeal crust, inspired toppings, and commitment to fresh, locally sourced ingredients.  The pesto on our pizza was brilliantly green, like it had just been scooped from the bowl of the food processor and plopped with great care on our pie.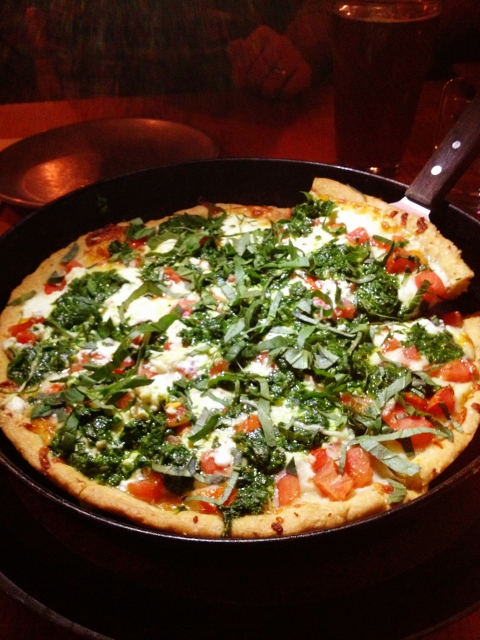 With Meredith's suggestion, we also had a little corn on corn pizza action.  The Vegan Corn Cashew is made with roasted red pepper and cashew "cheese", fresh sweet corn, caramelized onions, chives, and if you dare, smoked tomatoes.  We dared, let me tell you.  The kernels were warm but still crisp and the cashew sauce had a little spiciness to it, and together with the deep, savory flavor of the tomatoes, I didn't need any cheese.  In fact, I liked it better than the extremely pleasant pesto slices.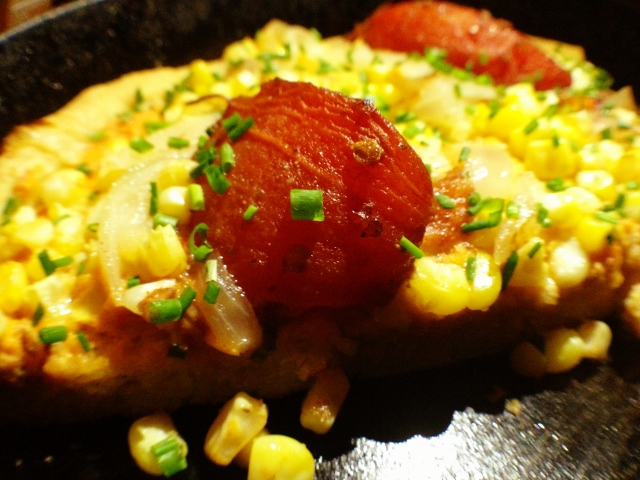 Generally, a corn crust with corn on top wouldn't really be considered nutritionally balanced.  Luckily, there was a lot of variety in the rest of our meal with veggies, leafy greens and nuts.  We eagerly enjoyed the beet and kale salads along with an appetizer of marinated olives.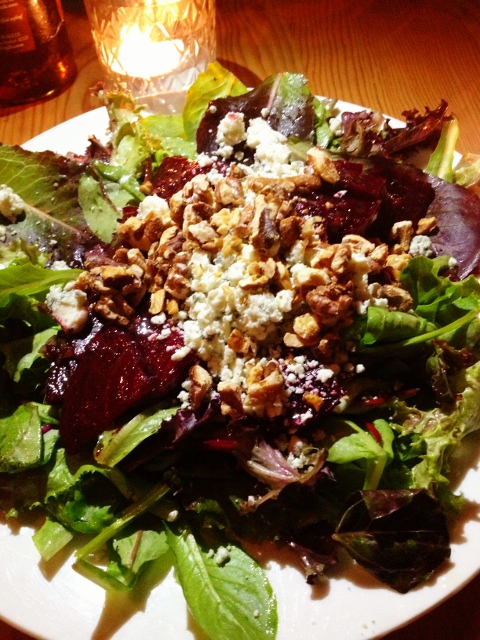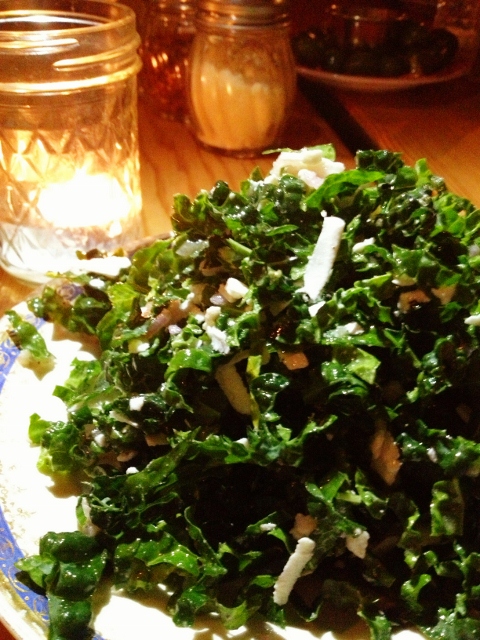 As they fully disclose on their website, there can be a significant wait while your corny crust crisps up and your toppings get goldeny brown.  But, we had fun companions to keep us company and the food was extraordinary when it arrived, so we didn't much mind the delay.
Finding your favorite pizza joint, discovering the tastiest teriyaki, and becoming regulars at the tiny sushi spot can actually make you feel at home in your chosen city.  Where you live shapes your daily experiences, but once you're there, just as important as dove vivi is dove si mangia… where you eat.
Do you have a favorite restaurant that makes your city feel like home?
If you liked this post, you may also enjoy: