We are lucky to live so close to Vancouver BC. It's just about an hour away and it affords a seemingly limitless supply of good vegetarian spots to eat. We've started going up so often, in fact, that we got ourselves Nexus passes. That means we can speed past the 45 minute back-up of cars to our own special, expedited lane that usually has a 30 second wait. It's really glorious, I tell you. On a recent trip we found a new favorite place to dine: Heirloom Restaurant. We were so impressed we ate there twice, once for dinner and again the next morning for brunch.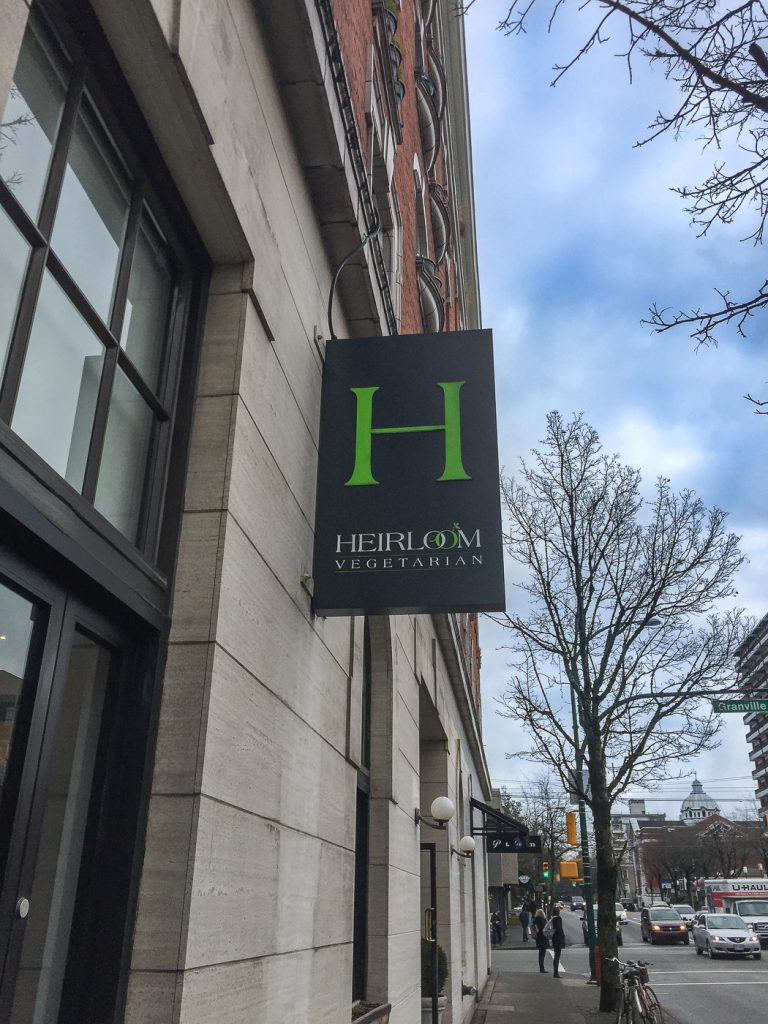 Heirloom has vegetarian and vegan menus, which makes ordering a cinch, and there are so many dishes to choose from. Here's the rundown of our dining extravaganza.
For dinner the first night I started with a Kale Refresher. The chlorophyllic color hinted at the ingredients: kale, green apple, pineapple, mint, and sparkling water. My tongue first identified a tartness that was sort of pleasingly acerbic. It actually reminded me of the astringent quality that tea sometimes has where it leaves your tongue feeling dry after you swallow. I had a cold at the time and the bubbly coldness felt great on my sore throat. We were definitely off to a good start.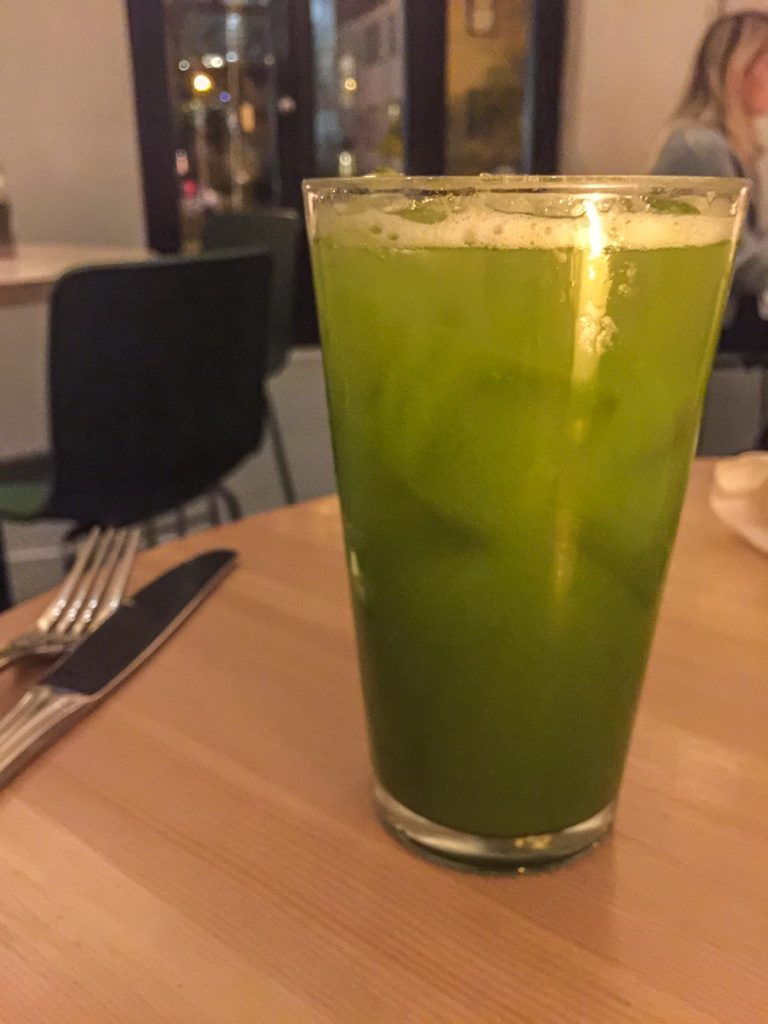 Our appetizer was the Miso Brassica. Jiminy Christmas and OMG. I've been a fan of miso for a good many years, and I'm always looking for new ways to sneak its rich earthiness into recipes. Heirloom definitely knows what they're doing. The flavor of this dish nearly knocked me off of my seat. It was surprising and strong and so wonderful. The roasted broccoli tips had a dry, delicate almost feathery texture which meant the sunflower and sesame seed brittle was the perfect counterpoint. What a creative combination.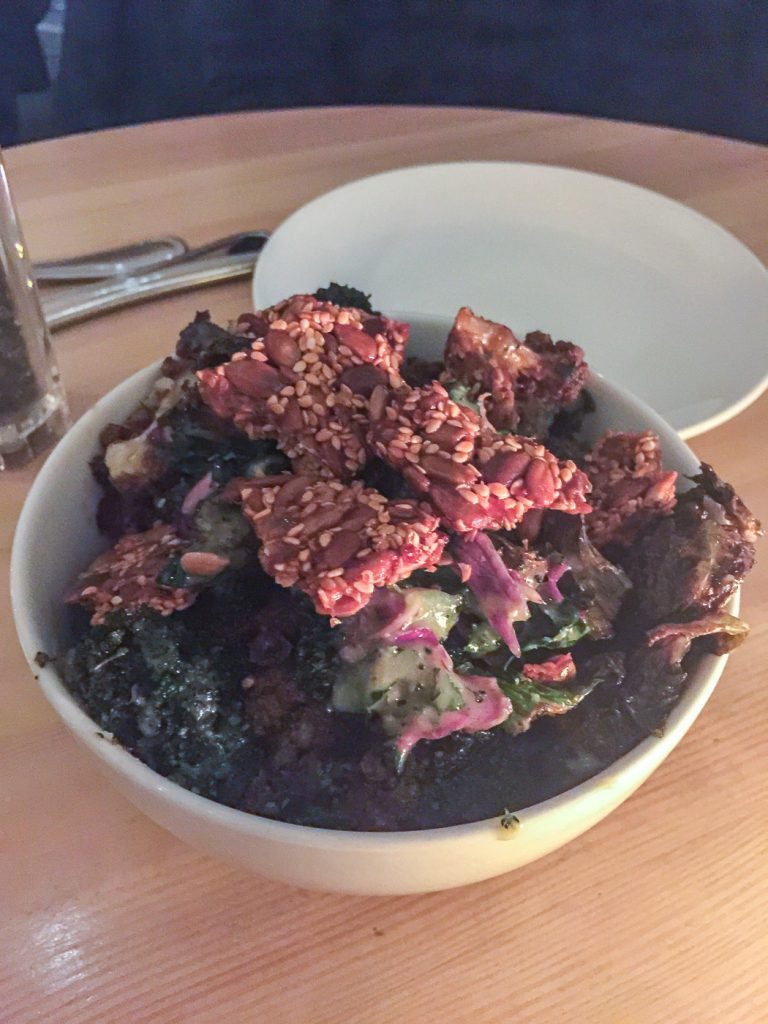 Potato Halloumi was up next. This was one crazy combination of foods on a single plate but somehow it worked. With each bite I tried to get a little of everything so each mouthful was crunchy, citrusy, savory, and tart all tied together with a touch of umami.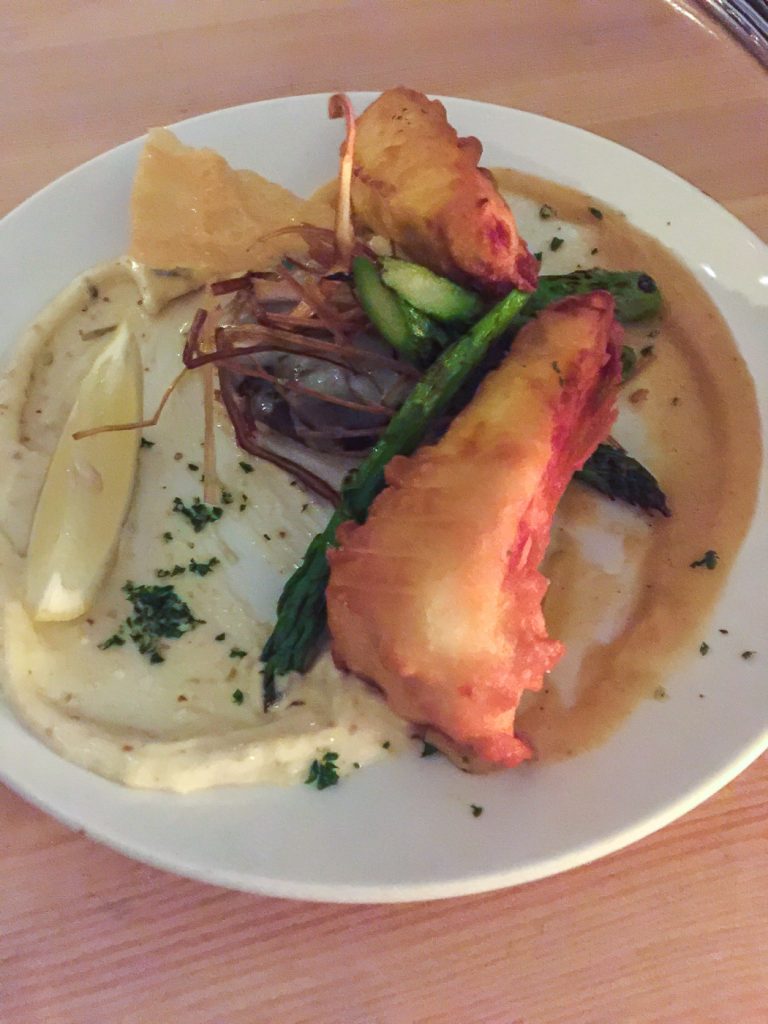 My entrée was the Brocollini Marinara from the vegan side of the menu. Wow. How did they get a pasta dish so creamy without dairy? The dish was so fresh tasting, with a vibrant tomato flavor. Nothing was missing. It never fell flat, as each bite seemed elevated above the previous one. And I've discovered my new favorite garnish: crispy capers. Essentially they were like eating deep-fried salt, and a prime example of vanishing caloric density. This is the idea that the unique texture of some foods allows them to melt or vanish in your mouth quickly which tricks your brain into thinking you didn't just consume calories…so you reach for more to put in your mouth, just to have the same thing happen again. I realized this was happening, acknowledged the phenomenon, and kept on eating.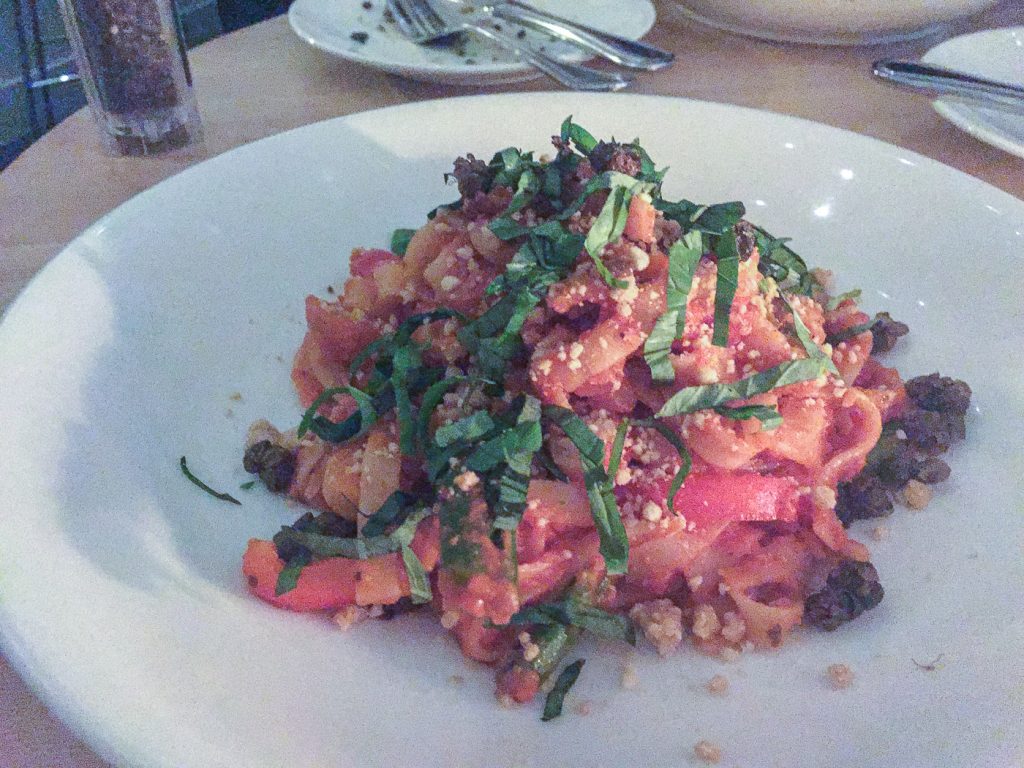 The cashew parmesan was salty and dry and crumbly in the best cheesy way possible and the pasta was chewy which made it seem like homemade. I'm pretty sure I could feed this to an omnivore and they would be absolutely content. Who doesn't like a plate of delicious pasta, vegan or not?
(By the way, I do know these pictures are sub par. It was challenging to take food photos in a dark restaurant at night, and short of setting up my own light box on the table, I wasn't sure how to make them better. Just be patient. We went back for breakfast, remember? Wait until you see the pictures taken in the light of day!)
Jeff also ordered from the vegan menu and chose this beautiful Pineapple Coconut Curry. He said it was good, with coconut milk the emerging flavor. He enjoyed the big crunchy bok choy pieces and the chunks of tofu, but was unable to find any pieces of pineapple as the name implies. We were wondering if maybe they had used pineapple juice in the broth. It wasn't spectacular but enjoyable. I must say, it's hard for any dish to follow the first two and expect to "wow" us.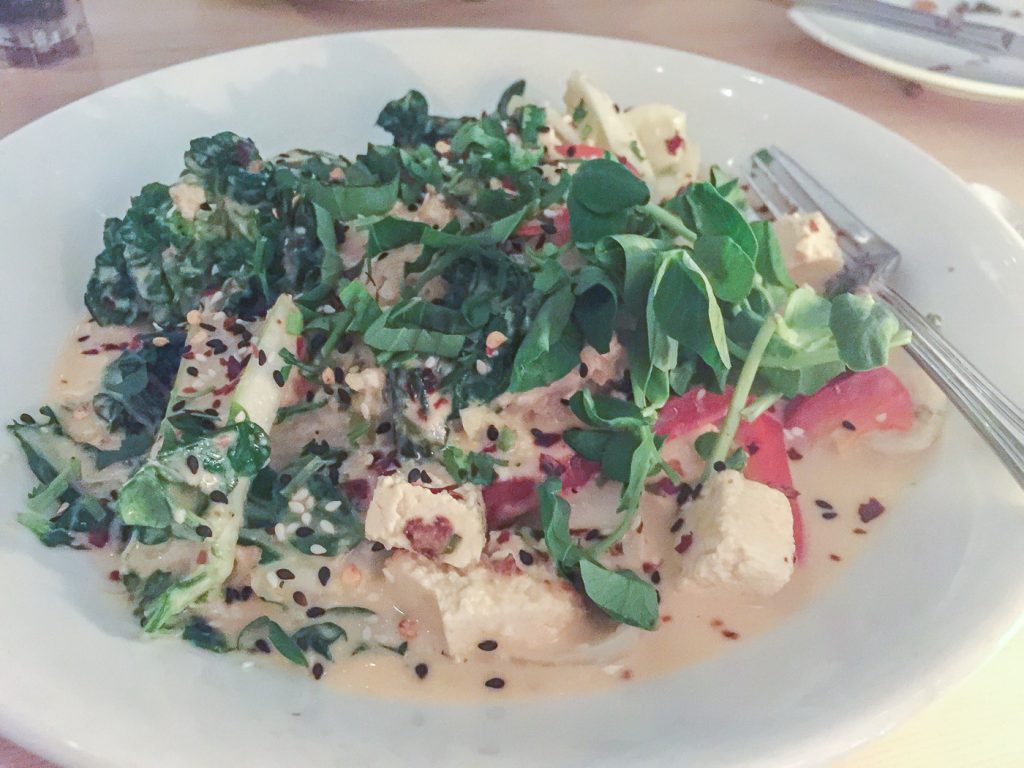 We were stuffed and satisfied, but I hate to miss out on sampling vegetarian or vegan desserts made by the experts. So we got a Chocolate Mint Cream Cake to go. Thank goodness it was sturdy and traveled well. We enjoyed its very mild mint flavor and creamy, silky filling back at our hotel room while we said "Mmmmmmm" a lot. The menu description doesn't say exactly, but I'm guessing the filling is either blended cashews or coconut milk/coconut cream. Either way it was a nice contrast to the crunchy crust that brought a tiny bit of saltiness to the whole endeavor.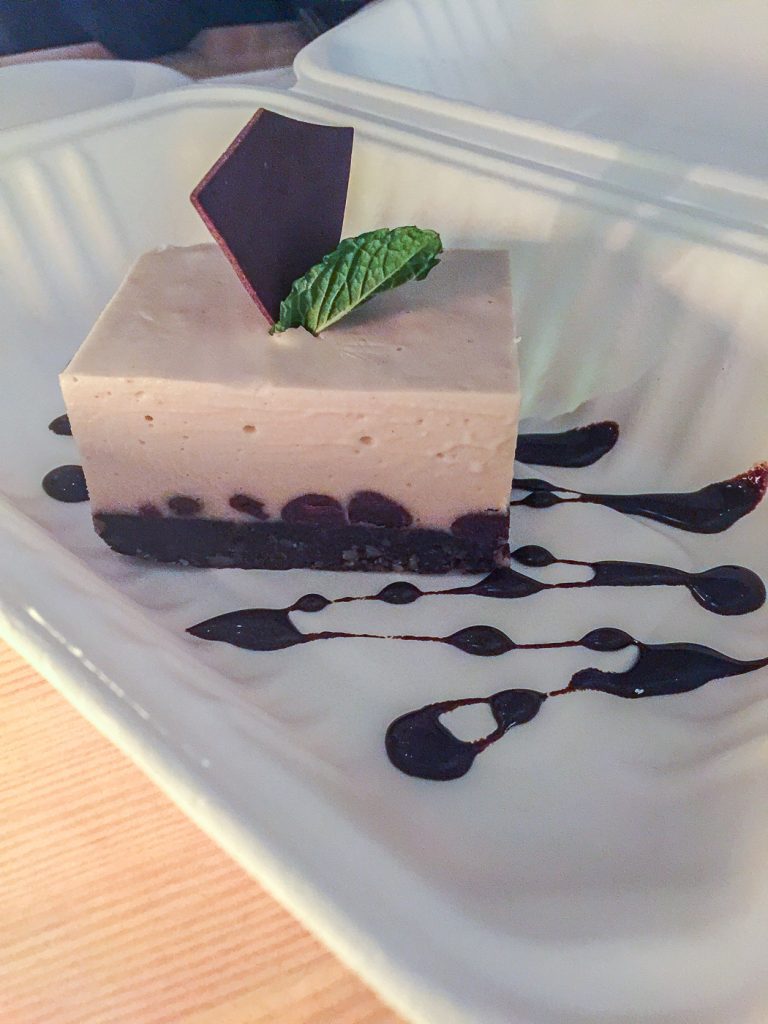 I spent part of the next morning scouting out another vegetarian hot spot to try, but ended up deciding that Heirloom merited a return visit. I started Sunday brunch with a Spiced Latte. It was a little too bitter for my palate, probably from the combination of turmeric, nutmeg, and cinnamon. It smelled divine, though, like the holiday spice drinks at Starbucks. And it was good for me, as turmeric is known for its anti-inflammatory properties. So I drank it down.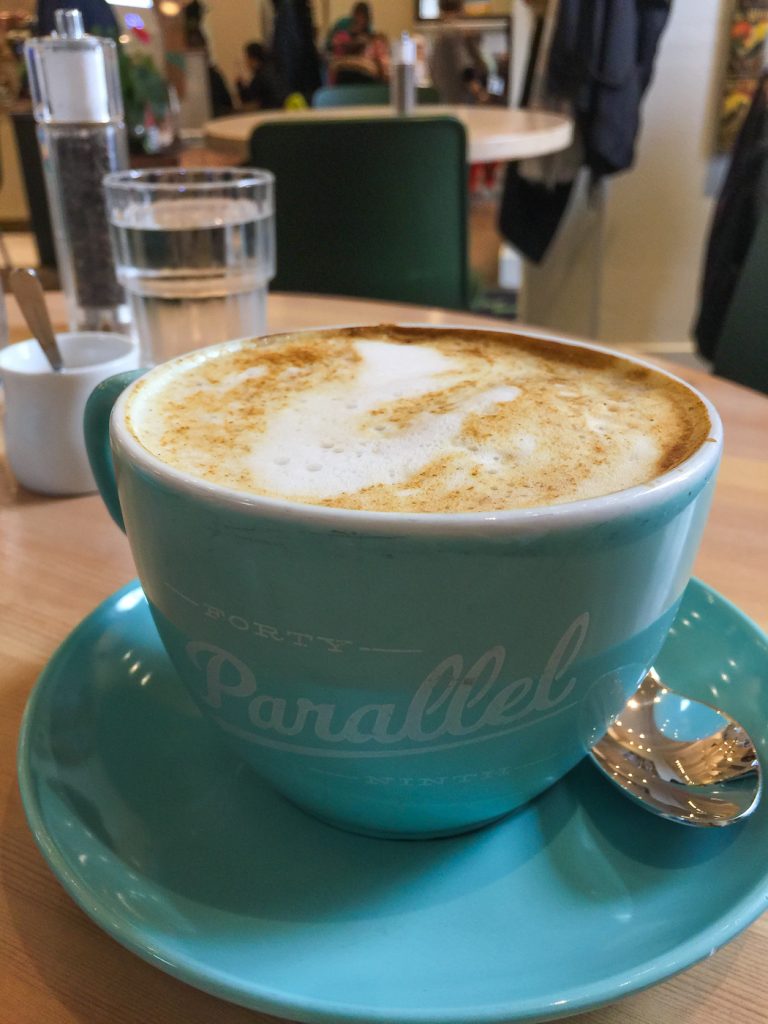 The Autumn Hash tempted me on the brunch menu and I was not disappointed.  Each individual component was successfully seasoned. The richly flavored tofu plus the hash made it overall a little salty, but this was tempered by sweetness of purées and the freshness of the side salad. What a great way to get (colorful, seasonal) veggies for breakfast! This was a well-composed dish that was satisfying and filling.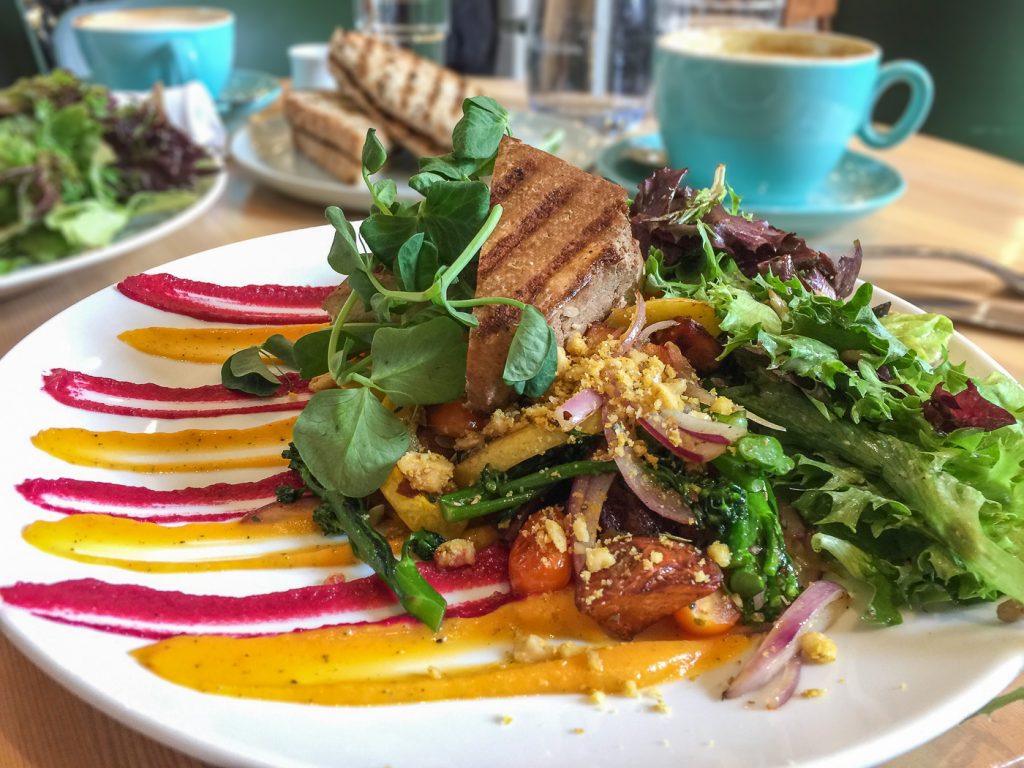 Huevos Rancheros is one of Jeff's favorite breakfasts, so his choice was an easy one. He reported that it was really good, really fresh, and that each part was obviously made from scratch. It was also a rather gigantic portion, with spiciness built into each bite. Huevos are traditionally served with beans but they substituted chili instead, and overall it offered up lots of good flavors with a crunchy element from pepitas and sunflower seeds.
I did notice that the food came out slowly, so it might not be ideal if you're in a rush or trying to get to a show after you eat. But we weren't and I realized that I actually appreciated it. I was able to savor each dish to the very last bite before the next one arrived on the table.
Prepare yourself. This kind of fine dining is costly. It was a real treat for us to have so many menu items to choose from (versus settling for the mandatory veggie burger on a pub menu) and to feel like we were eating healthy food, so it was worth it. My best advice is if you're going to splurge, splurge in Canada when the dollar is strong.
I never tire of trying new restaurants, and if Vancouver's thriving meatless scene continues, I'll likely never run out of opportunities to do so. And with my new Nexus pass, I have no excuse not to sample repeatedly and frequently.
What restaurant should be next on my list to try in Vancouver? I'm sure I'll be headed northward again sometime soon.
If you liked this post, you may also enjoy: