It's been a while. Almost two months in fact, since I wrote a blog post. I can tell you it was a very full spring quarter and my time and attention were focused on other pursuits. But summer is here and I'm ready to ease back into the blogging habit. Today I want to share with you some of the food-related things that have been making me content recently. I guess it's sort of a Favorite Things list, but that sounds grandiose, with Oprah-like expectations of greatness.
This is, instead, a small, simple list of tiny things that make for happy food moments in my day. I expect to repeat this type of post in the future. I called it 5 Foods I'm Loving Lately since it's my current favorite things list, to be constantly updated and elongated in the coming months as I discover new things and gravitate towards new products.
Coconut Yogurt
I have never, ever been a yogurt person. It's too mushy, tangy, and slimy for my weird sensibilities. But I sort of accidentally ate some vegan yogurt at a local restaurant lately and was pleasantly gobsmacked. (It was hidden under a bunch of stuff with texture like granola, and banana, and pineapple, and Swiss chard so I was blissfully unaware.) I liked it! I've raved about the restaurant before: Big Love Juice. Well, they make their own vegan yogurt in-house out of coconut, coconut milk, probiotics, dates, and lemon juice. It's extra thick and decidedly unslimy and it works for me. It's become one of my favorite breakfast go-tos when blobbed on top of fresh berries and topped with granola.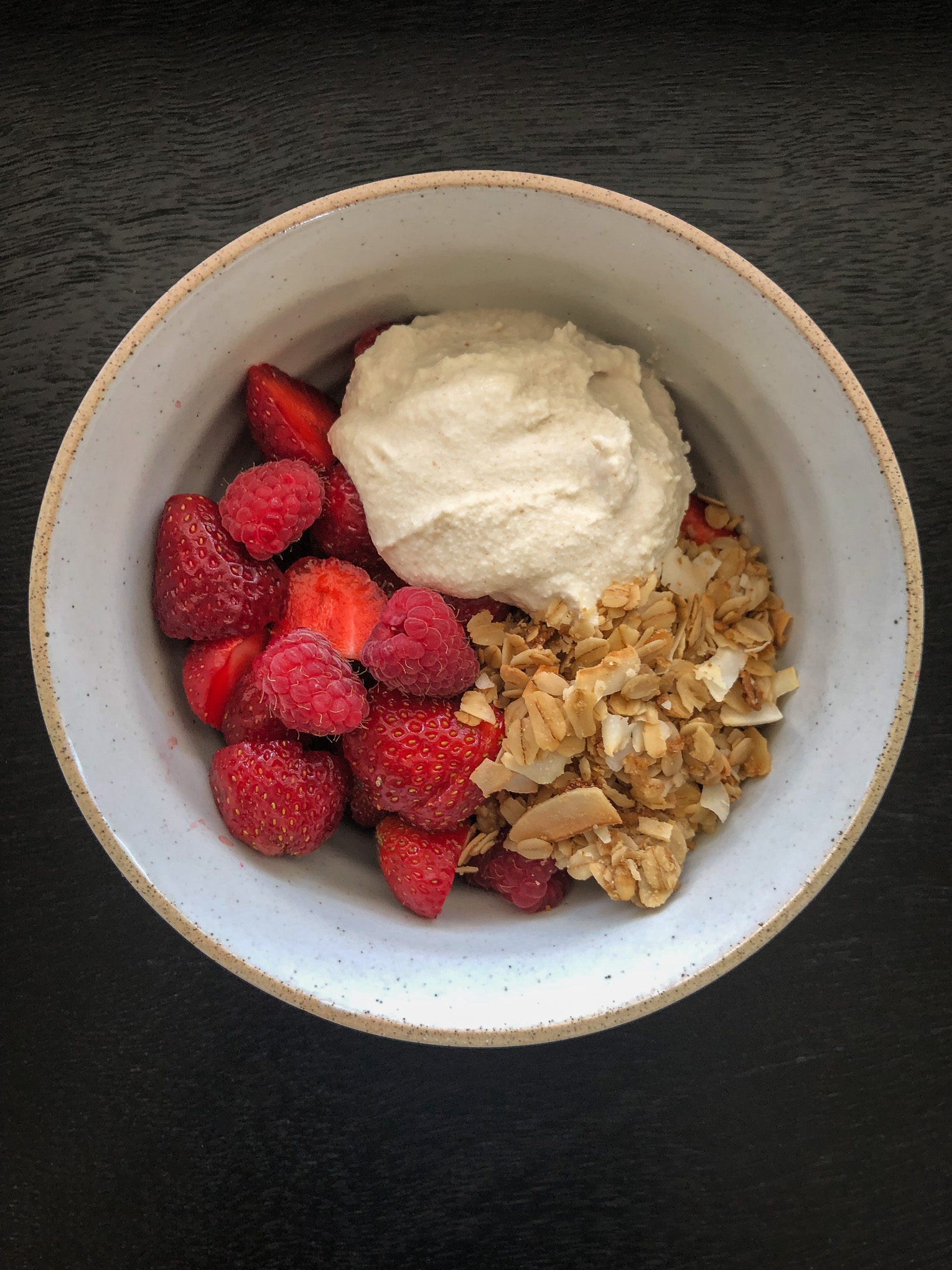 Nutritionally it's not as stellar as regular yogurt or other non-dairy yogurt, since it's made from a fatty food instead of a protein-rich food. But for me, it's baby steps and I'm alright with that for now.
For those of you non-Bellinghamsters, I know this seems like a pointless recommendation because you can't get any for yourself. But you could consider my next task, which is making it yourself. There are so many coconut yogurt recipes online I finally created a Pinterest board for them. One of these days, I'm going to save myself the task of driving downtown and parking downtown once a week to get a single grocery item, and make the damn stuff at home.
Smoothie Bowls
I'm sure you know that smoothie bowls are trending and have been for a while. You can't spend 30 seconds on Instagram without seeing the cold, creatively decorated creations. I certainly make them myself sometimes, but I've recently discovered a place that does it professionally: Vitality Bowls. I've eaten there 4 times in the past month, and it's safe to say I'm a fan. Twice I had their plant-based frosty goodness delivered by Uber Eats for breakfast when I was in Orlando for a conference, and I've visited the brand new Bellingham location twice as well.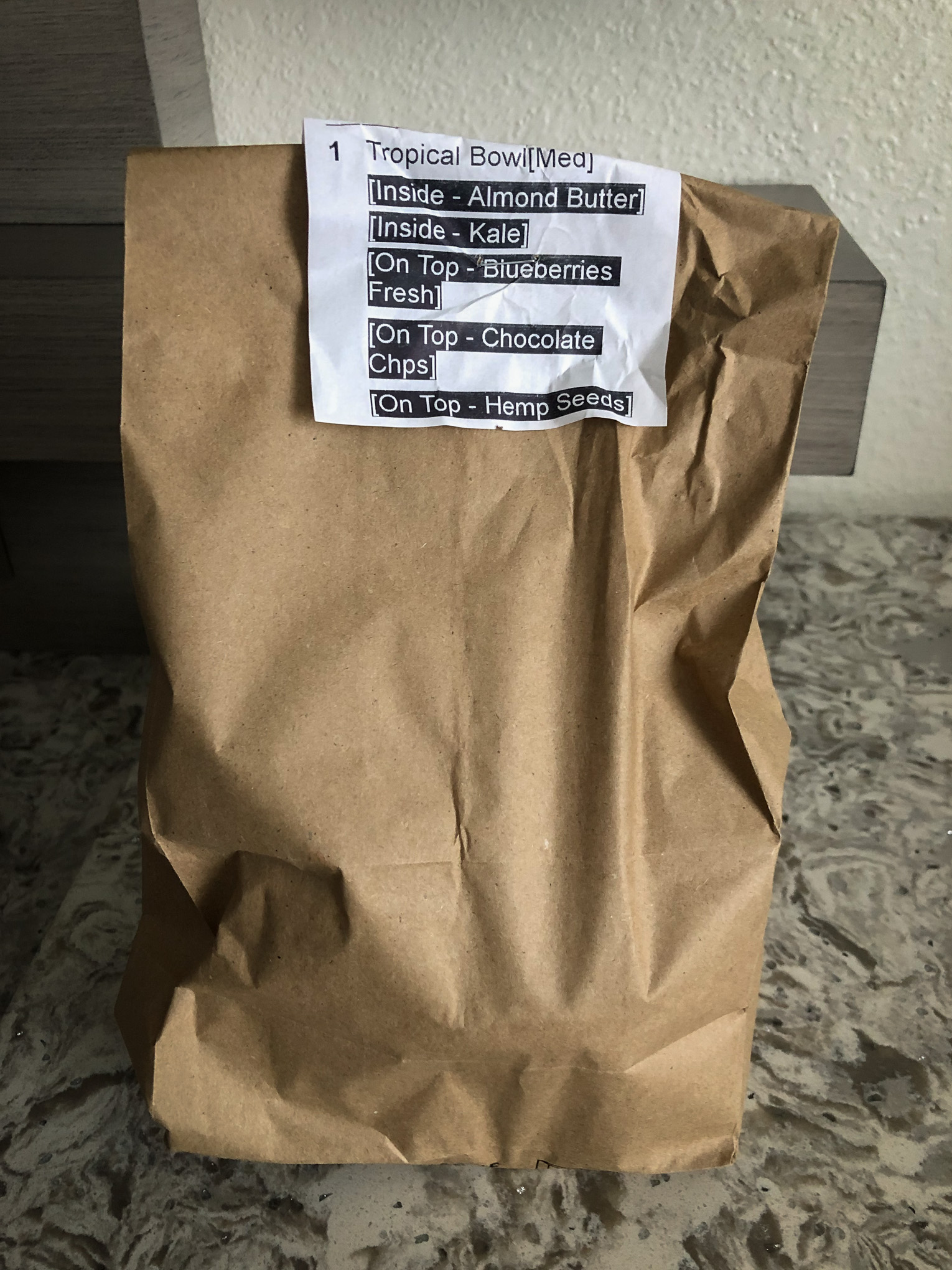 One of the things I like about Starbucks is that I can completely customize my own beverage to the extreme. I know what I want and I can order exactly that, down to the tiniest detail. Well, that's how I feel about Vitality Bowls. I can pick an Acai Bowl off the menu and then completely customize it to my heart's content. They expect it! They want me to add extra stuff to be blended in and even more favorites on top. It's like their menu is asking me to be a high maintenance orderer!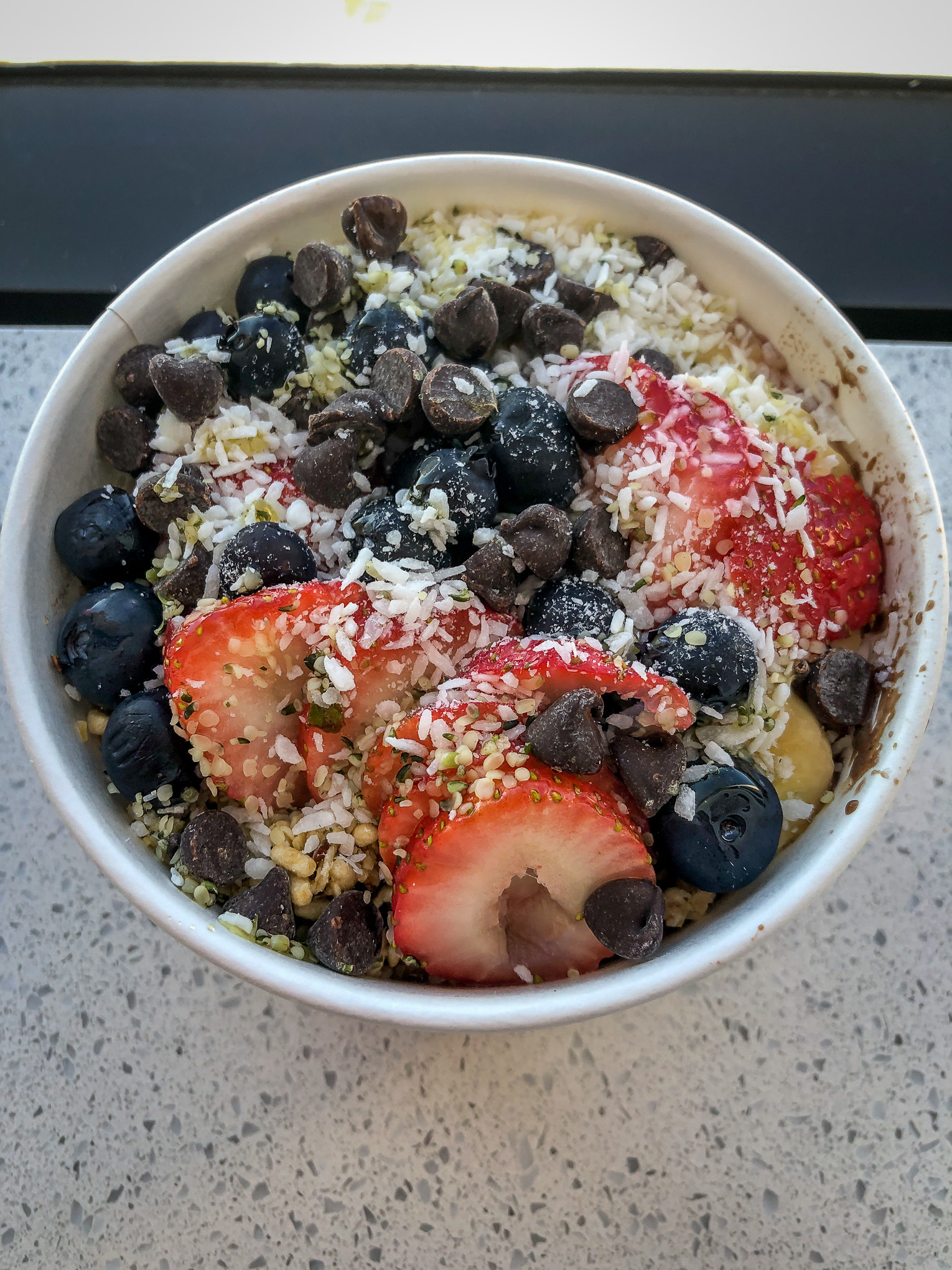 If you're a fan of frequenting frozen yogurt places to beat the heat in the summer, this would be a far healthier alternative. The bowls are made with fruit, nut butter, non-dairy milk, greens, and seeds and they don't offer candy bars or caramel syrup for toppings. And, happily, according to their website they have locations in 18 states, so chances are good there might be one near you.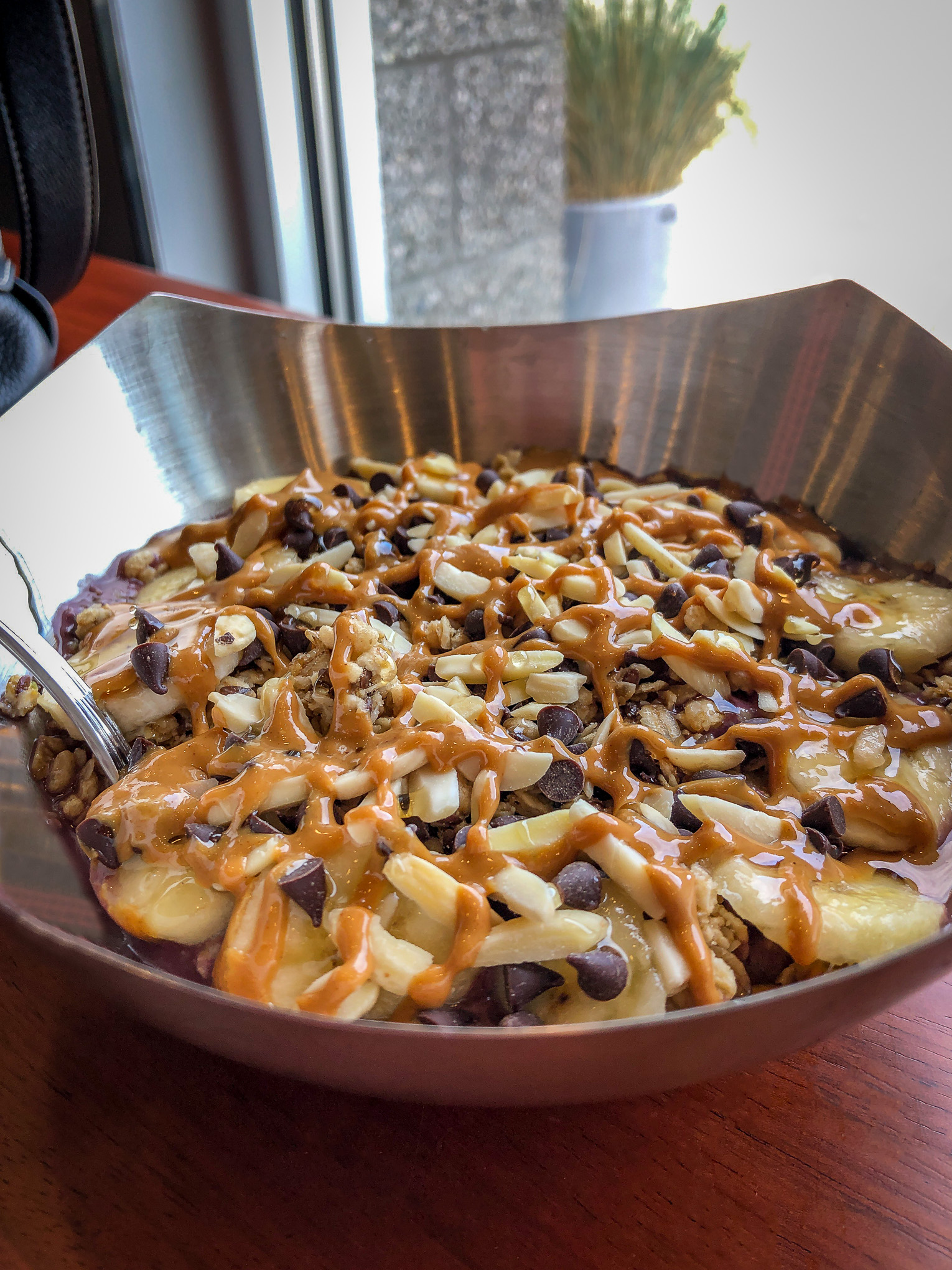 Almond Flour Crackers
I like crackers. If you've seen any of my bento lunchbox posts, you know my usual favorites are Mary's Gone Crackers, Triscuits, Trader Joe's Whole Grain Crispbreads, or Back to Nature Crispy Wheat Crackers. But there's a new kid on the block and I'm smitten: Simple Mills Almond Flour Crackers. They come in a ton of flavors but my top choice is the basic Fine Ground Sea Salt version. The serving size is 17 crackers which is substantial enough to trick yourself into thinking you're really eating something. (For comparison, the serving size on Triscuits is 6 crackers for a similar amount of calories.)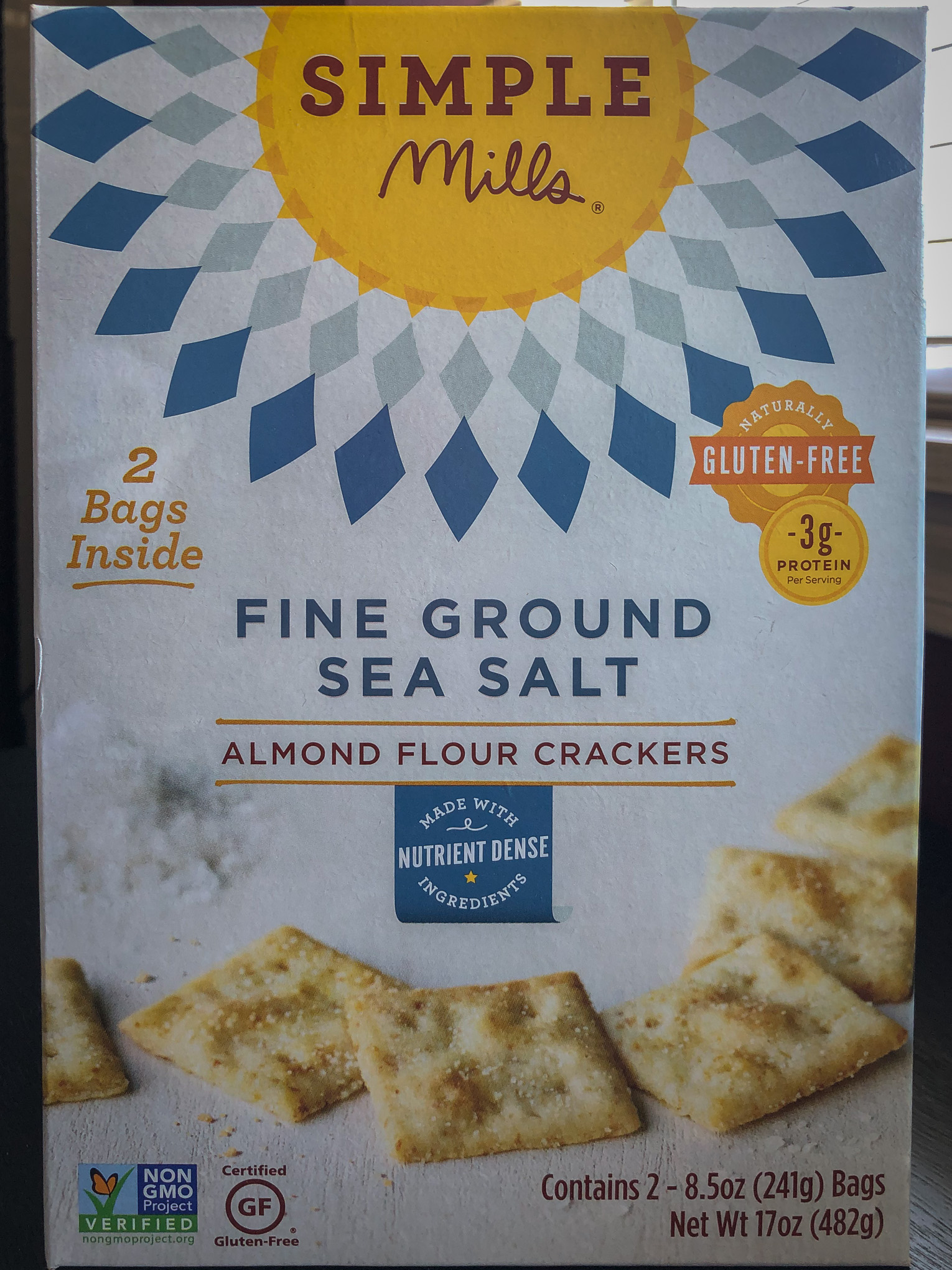 Also, they have slightly more protein than a standard saltine or buttery wheat cracker. The ingredient list is respectable and vegan: nut and seed flour blend (made from almonds, sunflower seeds, and flax seeds), tapioca starch, cassava flour, sunflower oil, sea salt, onion, garlic, and rosemary extract. And the best part? They're now available at Costco, so they've gone mainstream and are therefore easily acquirable. But you can also likely find them at your local natural foods store or co-op.
Cold Brew Coffee with Almond Milk
I'm really more of a tea person at heart, but sometimes coffee just hits the spot. And I've found a new coffee product that, from a dietitian's perspective, has just the right serving size and amount of calories for a quick pick me up: Califia Farms Black and White Cold Brew Coffee. Its primary ingredients are coffee, almond milk, and coconut cream which together deliver just 60 calories and 25% of the Daily Value for calcium in a 10 ounce bottle. (Update 2020, it's now made with oatmilk instead.) This one's unsweetened, but I also really like their Mocha Noir Cold Brew Coffee which is very similar but has cane sugar and cocoa powder added and clocks in at 110 calories instead. It's not too sweet and all the flavors blend nicely together for a sip that's reminiscent of chocolate milk from my childhood.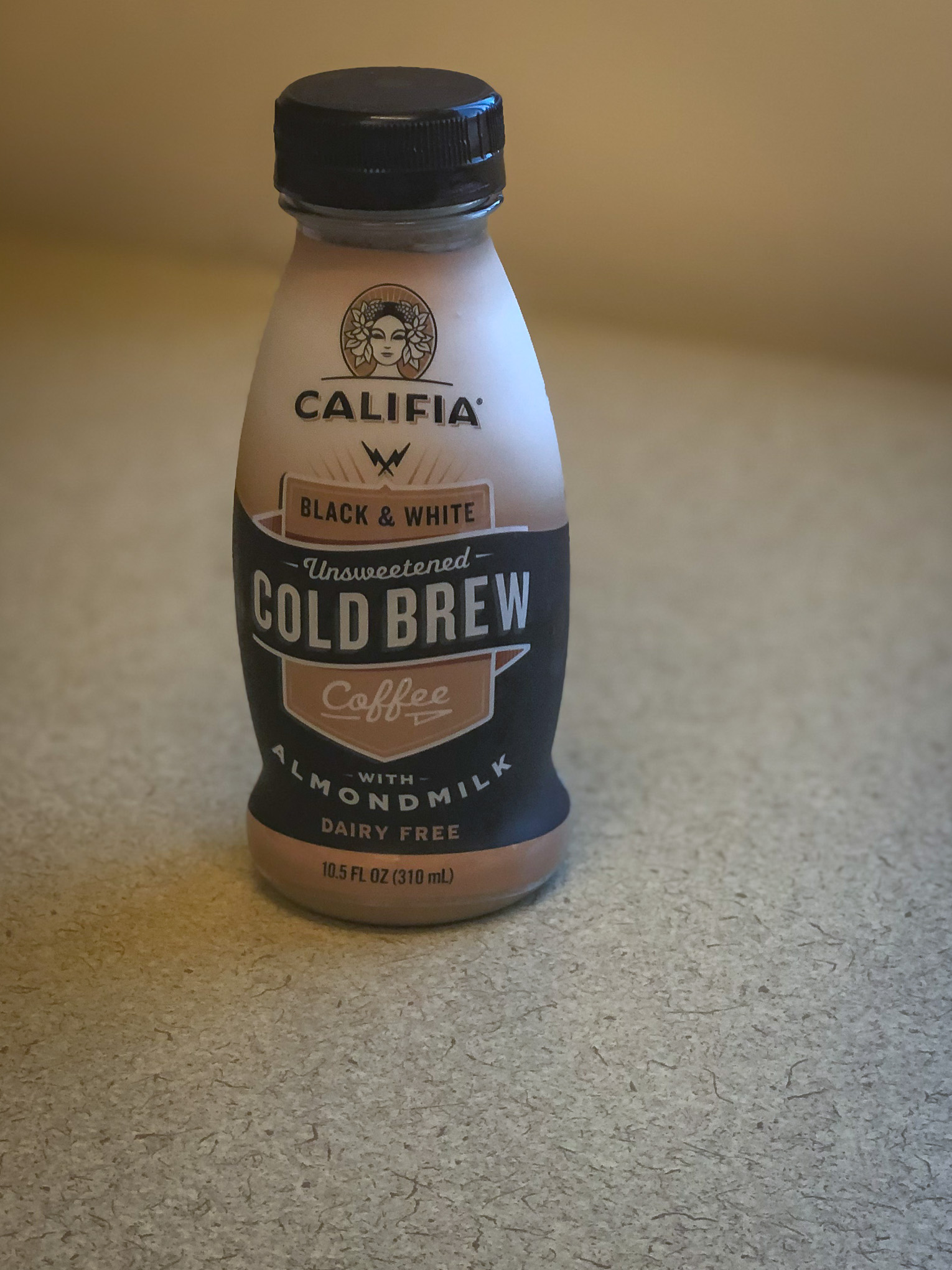 Typically, I encourage low calorie or calorie-free beverages most of the time but this is a reasonable choice and would definitely qualify as a healthy, portable, convenient summer snack. If you think spending $1.99-2.99 for a tiny bottle of cold coffee is crazy talk, you might be more interested in my make-at-home versions of cold coffee drinks like Fizzy Iced Coffee or Iced Coffee Tea.
Blueberry and Lemon Shrub Syrup
I discovered shrubs a few years back and they've become one of my most common choices for sipping, at home and when dining out. They're more widely available at restaurants and provide somewhat of a trendy, more interesting non-alcoholic option for customers. Typically shrubs are a flavored vinegar syrup mixed with fizzy water. They can be sweet, tart, herby, or all three but for me they're always remarkably refreshing.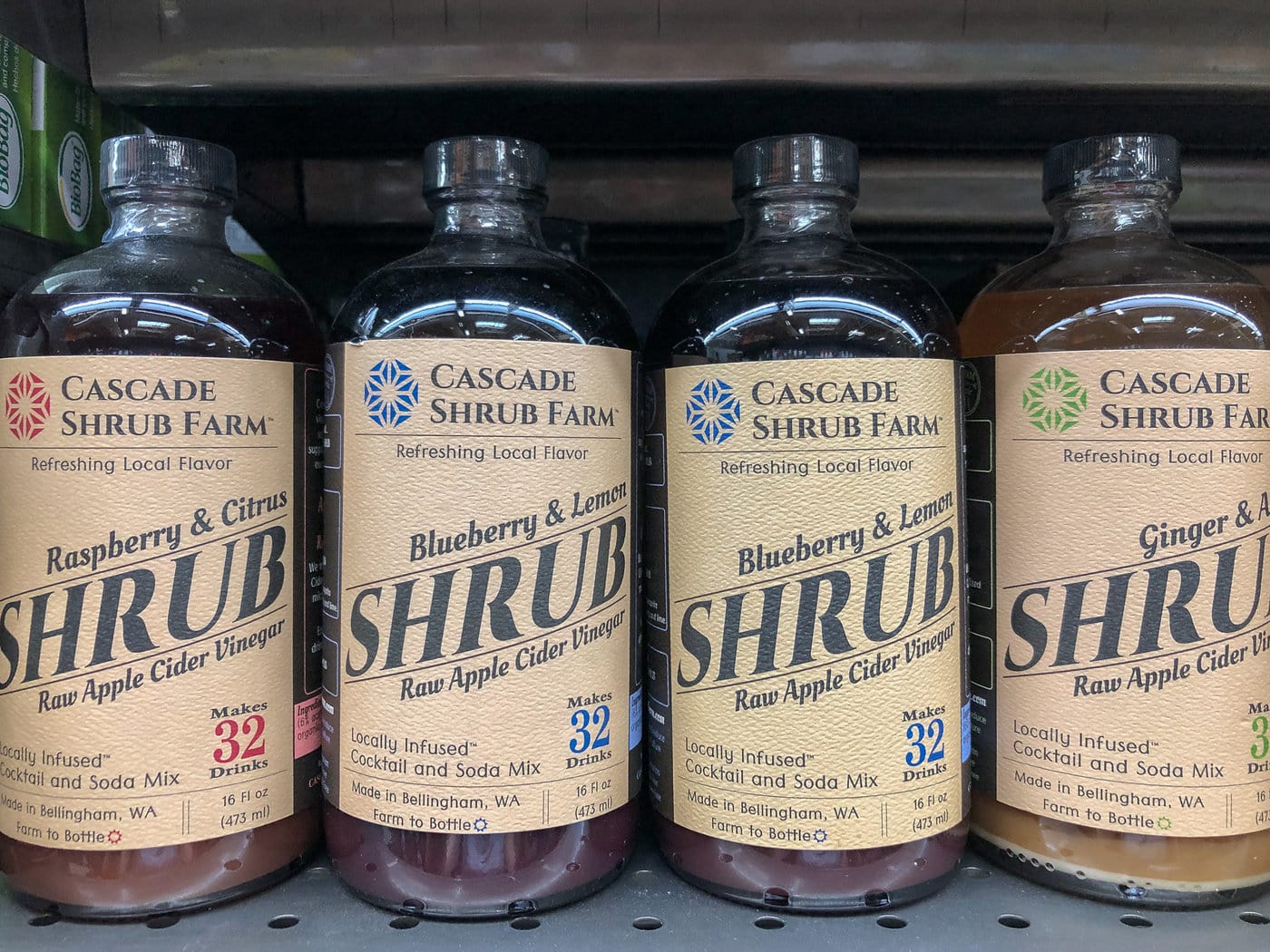 The company I like is called Maui Shrub Farm and also Cascade Shrub Farm and they have, not surprisingly, locations in Hawaii, Washington, and Arizona. They make several flavors but my favorite is Blueberry and Lemon. It's made with apple cider vinegar, cane sugar, blueberries, honey, and lemons. Locally, I can find the product at the Bellingham Farmers Market and the Community Food Co-op, but they're available for ordering online as well.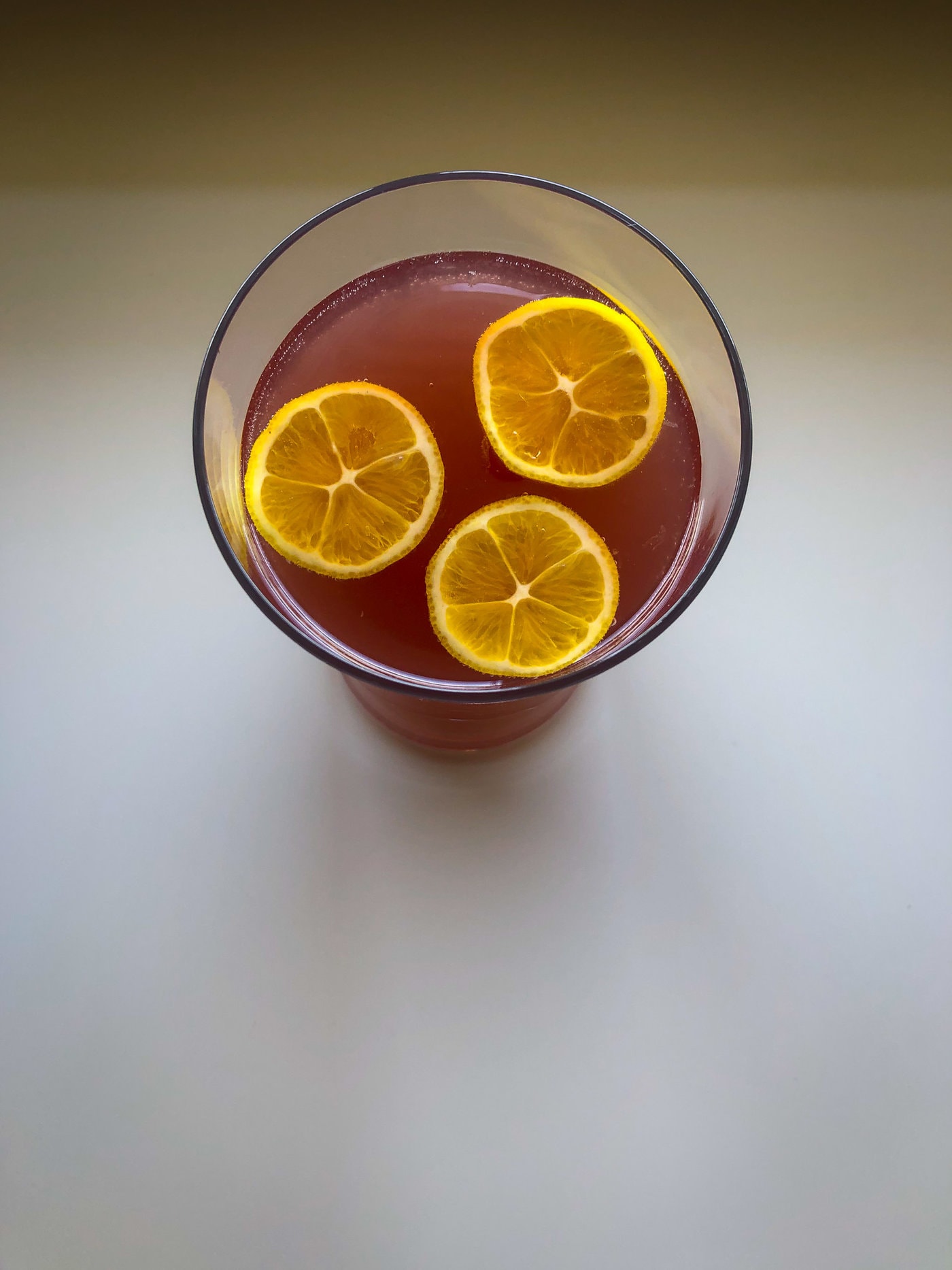 Who wants to drink sweet fizzy vinegar, you ask? Well, me, for one, repeatedly. It may sound weird, but I encourage you to try it. It might turn out to be your new favorite summer sipper.
That's the end of my list for now. More lists coming soon as new stuff tickles my fancy, and my taste buds. One of my very favorite activities in life is grocery shopping, so I'm sure I'll be singing the praises of more products in another blog post in no time. Let me know if you decide to give any one of these a try. I'd love to know what you think if you end up with any happy food moments of your own to share.
This is not a sponsored post. I bought the products with my own money and received no free samples. I'm just sharing them because I like to highlight companies who make yummy stuff and who are trying to do a good job making food.