I waited patiently while the clerk lifted each item out of my Trader Joe's cart to wave across the scanner. As he reached for the crackers he asked, "Have you had these before?"
"No," I replied.
"They're really popular. I'm surprised we even have any. Usually when we get an order in, they get bought out immediately. People just sweep their arm across the shelf, dumping all the packages in their cart. And then we're out again right away."
"Wow. I'm excited to try them."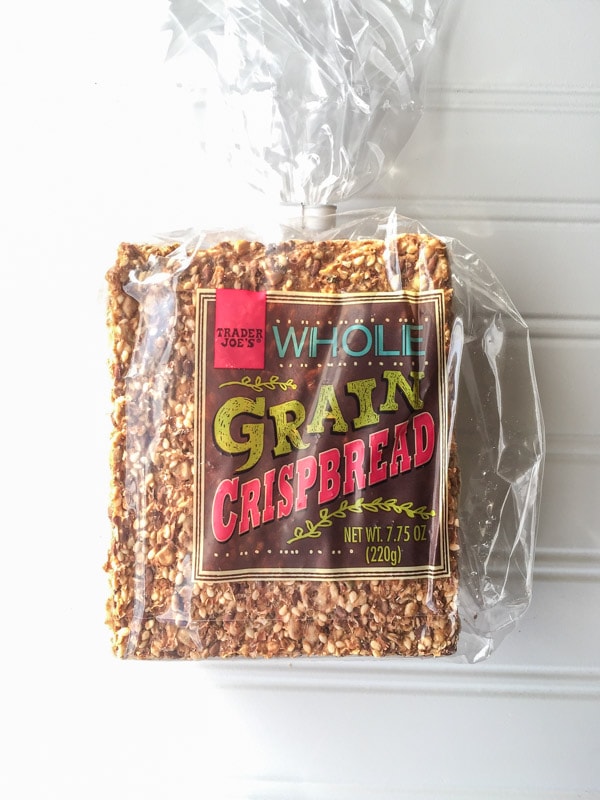 And so went my introduction to Trader Joe's Whole Grain Crispbread. I had an eerily similar conversation with the next clerk when I returned just two days later as a convert to buy 3 more bags. I've officially discovered my new favorite cracker and I can't help but share the love with you. (These are the things dietitians get excited about. Discovering new and delicious whole grain products. Finding vegan food in the middle of Sin City. Oh and also when the new Dietary Guidelines come out. That's the kind of crap we live for.)
Here are my reasons for loving this product.
1. Simple, real ingredients
Sunflower seeds, sesame seeds, wholemeal rye flour, oat bran, oatmeal, flaxseed, spelt bran, wheat bran, water, sea salt, salt, oregano, thyme 
Talk about your whole grains! We've got whole rye, whole oats, and a smattering of brans to boot! I have no idea what holds them all together, but according to the label it's a proprietary Norwegian process. And I'm willing to trust the Norwegians on this one.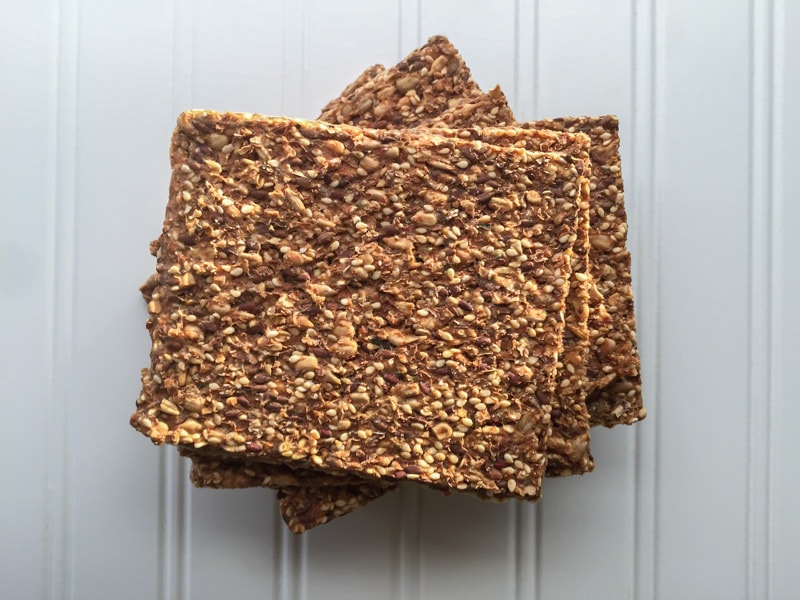 2. Nutty taste, satisfying crunch
OK, I know there are no nuts in here, but that's how they taste. Maybe it's more seedy actually, with the familiar flavor of rye in the mix. I suppose they seem to be on the savory side of things because of the oregano and thyme, but the presence of these herbs is so mild, the crackers work well as a carrier for sweet toppings also.
OK, the texture is seedy too. The coarseness makes for a pleasant biting and chewing experience and they're visually appetizing, to my eye anyway. Technically, I guess they're a processed food, but they look mostly like a whole food.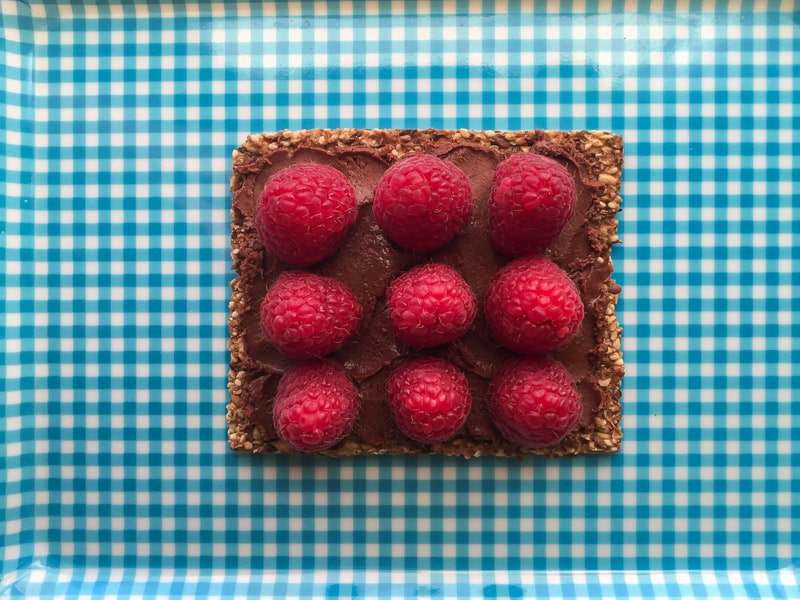 3. Stellar nutrition facts
1 cracker has 110 calories, so roughly equivalent to a slice of whole grain bread, 6 Triscuits, or 8 saltines. The other noteworthy numbers? 7 grams of carbohydrate, 3 grams of fiber, and 4 grams of protein per cracker.
About half the calories are coming from fat, but I'm not concerned. As you can see from the ingredient list, there are no animal foods. (So if it matters to you, they're vegan.) It's all healthy plant fat, mostly provided by the mixture of seeds.
So, when I recently had 2 of these for breakfast, each schmeared with 1 tablespoon peanut butter and 2 teaspoons marionberry jam, here's what my nutrition facts would have looked like.
490 calories
16 g protein (half from the crackers, half from the peanut butter)
8 g fiber
38 g carbohydrate
28 g fat (only 4.5 g saturated)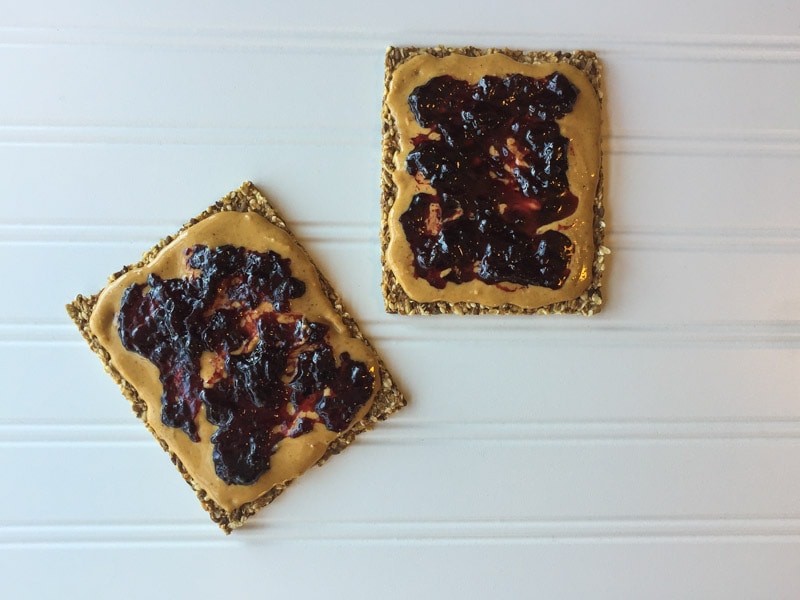 4. Versatility
These can be a breakfast food, a lunchtime staple, or a very speedy, seedy snack. They take no preparation, and you can enjoy them whole, broken into bite-sized pieces, or quickly crumbled as a crispy topping for soup or salad. I'm thinking they would also be outstanding as part of a standard cheese and cracker pairing.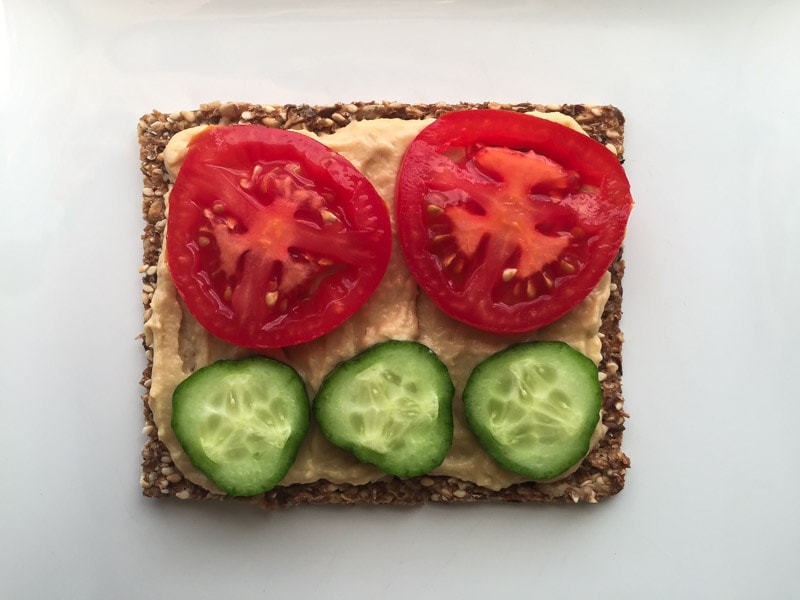 Maybe it seems like I'm getting a little worked up over something so simple. I mean, it's just a cracker after all. But one of my most satisfying feelings comes when I find a recipe or a product that is a smart choice nutritionally that also happens to taste wonderful. What could be better? I think I like it so much because it makes healthy eating easy. As a dietitian, I'm often problem-solving with folks as they cite the laundry list of barriers to eating healthy: effort, cost, availability, and sometimes disappointing taste. But with these little beauties you have no excuse. You can stock your pantry with dietitian-approved, yummy crackers.
The cost is $2.99 for a package of 10 crackers, and apparently you should stock up if you ever see them on the shelves at TJ's. And you should also stock up if you ever see me on the cracker aisle because I'll be making a beeline for them with my cart so I can execute an arm sweep of the entire shelf.
Do you have a new favorite product that has made your weekly menu planning a little easier? I'd love to hear about it!
I have no working relationship or financial arrangement with Trader Joe's. I just bought the crackers, loved the crackers, and blogged about the crackers.