I generally have to be distracted in order to exercise. Talking with a friend while we walk, mastering the moves to a Dance Central song with my Xbox, or listening to a podcast during an interval run are my standard coercion techniques to stay active. Since I try to run at least three times a week, I've got a lot of time to fill and I listen to a lot of podcasts.
Food podcasts are my first choice, and contrary to the title of this blog, not necessarily vegetarian podcasts. While I live as a vegetarian, I work in a world of regular eaters. Most of my students and clients are omnivores. So to be a good dietitian, I have to be knowledgeable about food in general, not just the kind I eat at home. And happily, nearly all of the podcasts listed below wander into meatless territory once in a while…like to cover a popular new cookbook (which happens to be vegan) or to highlight a trendy restaurant (which happens to only serve vegetables).
I subscribe to many, many podcasts, and end up unsubscribing quite often if I dislike the content or tone after a few listens. I've cultivated a collection of favorites on my iPhone over time, and thought I'd share them with you in case you're in need of some listening and learning.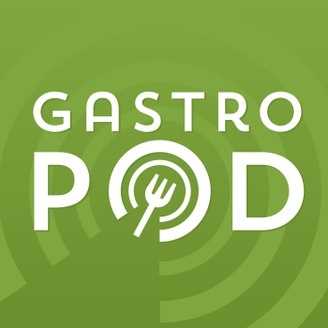 This one's pretty new to me, but after being mesmerized by an episode on kelp called Kale of the Sea, I'm hooked.
Focus: Food science, which is a remarkably fascinating subject, and the history of food which gives the sciency part a little bit of context and relevance. Think of it as your favorite teacher from high school or college enthusiastically describing where milk comes from and why it matters. Or stuff you've always wanted to know about breakfast foods but never got around to Googling.
Hosts: Cynthia Graber and Nicolla Twilley
Nutrition quotient: Medium. It seems they can't help but bump up against nutrition topics as they navigate and investigate food science.
Episode length: It varies, but somewhere between 20 and 45 minutes. Perfect for a little background noise while you're getting dinner ready.
Least favorite part: It's very reminiscent of NPR, especially the subdued whispery voices they make fun of on Saturday Night Live in the Schweddy Balls sketch. And don't get me wrong, I love NPR, but because of this, their attempts at humor fall a little flat. They don't seem to fit in this context.
Why I'm still listening: It's not boring. Even if the mention of science and history make you want to take a quick snooze, because the topic is food, it's relatable to everyday eating. And if we take the suggestion to "Know where our food comes from" seriously, this podcast is where it's at.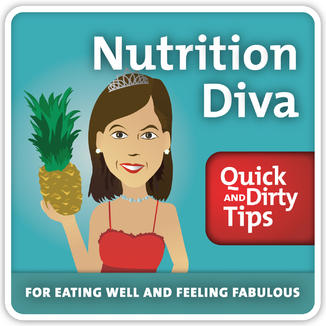 I was originally drawn to this podcast because the host is a Registered Dietitian. Of the 5 podcasts on my list, this one wins for most practical advice you can start using today.
Focus: How to make sense of the latest nutrition research and translate it into better shopping and eating choices.
Host: Monica Reinagel, MS, LD/N, CNS
Nutrition quotient: Extremely high. Hooray! Did I mention she's a dietitian!!!!!!!!!!!!!!!
Episode length: About 7 minutes, or just right for a quick listen while I'm in the shower. L
east favorite part: The name. I sort of hate the word diva, in any context. And I don't think it draws people in, which is the first step to discovering her fantastic content.
Why I'm still listening: Her down-to-earth view of food and nutrition and her pleasant, positive voice. And unlike the sensationalized nutrition information spewed at us from the media, her message is current and realistic with no hype. For example, a recent episode examined the pros and cons of an issue like soymilk vs. cow's milk for kids, but she also covers everything from vegan cooking to fructose intolerance; in other words, the full nutrition gamut. Another plus? She also is honest about when and why she changes her own diet based on research she does for the podcast.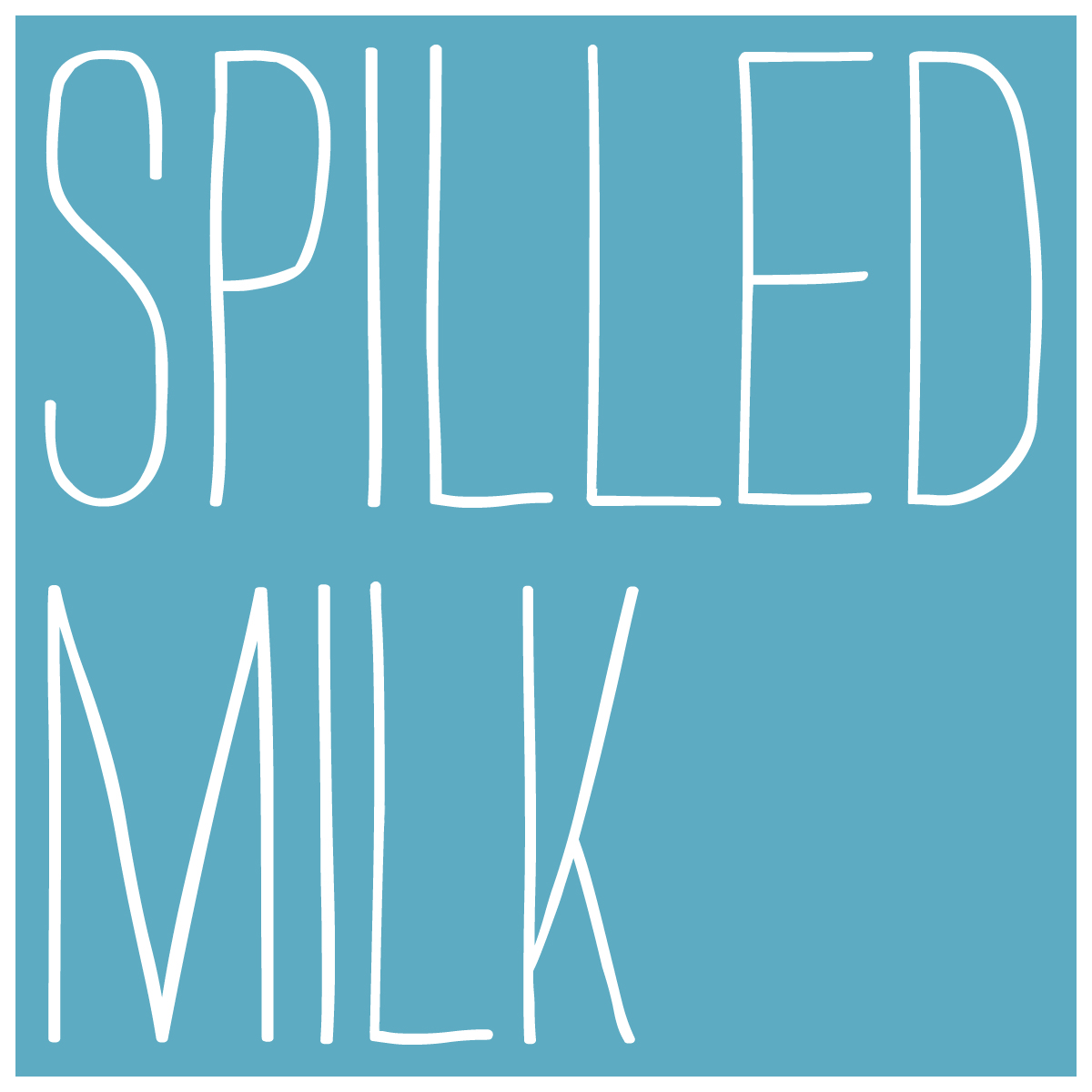 The first food-related podcast I ever listened to, and I've been a happy devotee for 3 years.
Focus: Humor. They choose a single ingredient like broccoli or caramel and wax poetic on it, essentially doing a stand-up routine while sitting behind their microphones. They rarely research the topic ahead of time, opting instead for a sort of off the cuff discussion of their experience, memories, ideas, and recipes for said item. They have described it as not a serious food show. At a live taping of an episode while discussing birthday cake, one host noted, "We're not being very informative."
Hosts: Matthew Amster-Burton and Molly Wizenberg
Nutrition quotient: Zero. Nutrition is missing almost entirely from these recordings. They really couldn't care less, but that's not the point. Riffing on food and poking fun at their cohost is.
Episode length: Somewhere between 15 and 30 minutes. Sometimes I listen to 2 or 3 episodes in a row during a 45-minute run.
Least favorite part: They often seem to have a disdain for any food purported to be healthy, which can sometimes rub me the wrong way considering my profession. But since that's a common perception, listening to this podcast continually reminds me that not everyone inherently cares about nutrition, which I think makes me a better dietitian.
Why I'm still listening: They're both well-traveled and they represent a very different perspective on food from my own, so I find plenty of useful nuggets in their shows. For example, they introduced me to Banh Mi sandwich, and then I started seeing them on menus everywhere. And I just really like Matthew.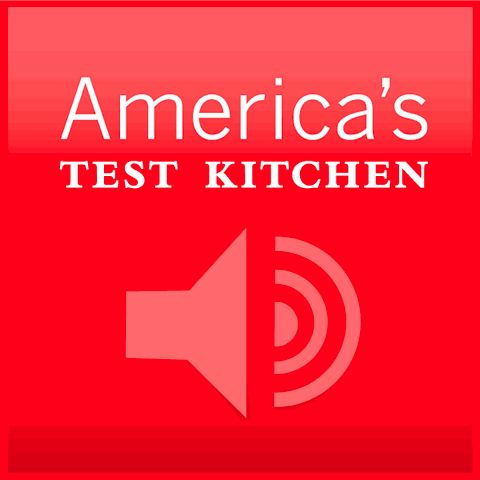 If you're a fan of the T.V. show and the cookbooks, you'll love the podcast.
Focus: Practicality. Their definitive focus is on technique, best products and ingredients, and best practices in the kitchen. They include equipment reviews and taste tests, just like the PBS television series. Essentially for them it's all about flavor and product quality.
Hosts: Chris Kimball
Nutrition quotient: Low to medium. Nutrition is most definitely not their priority but a few weeks after I heard an interview with Ina Garten that discussed rack of lamb and Whiskey Sours, they had a really engaging interview with Dr. David Katz about fad diets, science, and health that was entirely about nutrition.
Episode length: About 54 minutes, or perfect to keep you occupied during a long commute.
Least favorite part: They choose ingredients without regard to nutrition, which I think is a missed opportunity. Their cooking skills, food science prowess, and extensive test kitchen could be used to great effect to create the most divine tasting, healthy dinner menus that will have friends and family raving instead of offering up yet another ultimate chocolate cupcake recipe.
UPDATE March 11: I spoke too soon! America's Test Kitchen just released a vegetarian cookbook! From my blog to Chris Kimball's ears…
Why I'm still listening: They consistently provide universally helpful recommendations for anyone who cooks, like the best stand to hold a smart phone or tablet in the kitchen to the best tasting sharp cheddar cheese at the grocery store.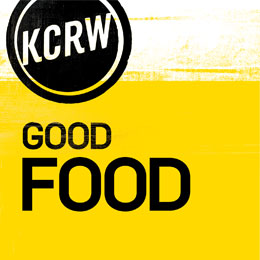 My very favorite. My number one food podcast.
Focus: All aspects of food: eating, selling, and growing, not to mention politics and celebrity chefs. Several stories make up the hour and I find there is always something of interest.
Hosts: Evan Kleiman
Nutrition quotient: Respectable. Though from a vegetarian's perspective the nutrition-related stories can be riveting (vegan Soylent beverage that meets 100% of a person's nutritional needs) or cringe-worthy (protein bars made of crickets).
Episode length: About 58 minutes, or perfect to keep you occupied during an hour-long workout.
Least favorite part: Sometimes it can be pretentious, like when weekly guest and food writer Jonathan Gold discusses the hippest Los Angeles dim sum restaurants with their rice noodle rolls stuffed with Chinese crullers (youtiao) and steamed shrimp mousse. (But it can also be extremely non-pretentious like when they talk about how using GPS on tractors helps farmers improve their profits and what's fresh and seasonal that week at the farmer's market.) Also, it's pretty heavily centered on the California food scene, which can make the rest of us feel a little left out.
Why I'm still listening: The stories are always well done. Give it a few episodes if it feels ostentatious to you because immediately after a segment on the importance of flor in flavoring sherry and who serves the best Szechuan chicken livers, will be a history of instant ramen noodles and the legal fight over the definition of mayonnaise (and the supposed threat posed by the vegan mayo makers). And as a vegetarian I'm still listening because between the recommendations for chicken neck tacos and chilled jellied pigskin, they'll praise the best vegetable paella in LA and a vegetarian "chorizo" made of mushrooms. But that's the beauty of podcasts compared to a radio show: you can easily fast forward over the parts you'd rather skip.
One quick note for you parents out there: a few of these podcasts sometimes include profanity or child-unfriendly topics, so watch for the "explicit" label and heed the hosts' warning that unpleasant language or discussions are coming up if you're not listening by yourself.
Hopefully one of these descriptions caught your attention and will send you in search of a new podcast to add to your playlist. All of the ones listed above are available for free in the iTunes Store, and my husband, the Android-loving member of our household, gets his podcasts using an app called Pocket Casts. Go forward, download, subscribe, and distract yourself!
Which food-and-drink-inspired podcasts keep you coming back for more?