For many of us, our office is like a second home. We spend a good many hours there each week, which means we make a good many food decisions there as well. Depending on where you work, and what's within arm's reach, these decisions could be helping or hindering your healthy eating efforts.
Lunch at work is one food situation that deserves some consideration. I'm a fan of packing my own lunch which I've posted about often (like here, here, and here). But snacks are another. I think more often than not we feel like we should build a lunch or dinner that meets some kind of nutritional guidelines, but snacks can feel a little like a free-for-all. What snacks are available in your workplace? I may be unfairly stereotyping here, but I'm thinking boxes full of donuts, vending machines full of candy bars and soda, and bowls full of M&Ms and Hershey's Kisses. Those items can all be enjoyed occasionally, but for regular workplace snacking I've got a better way!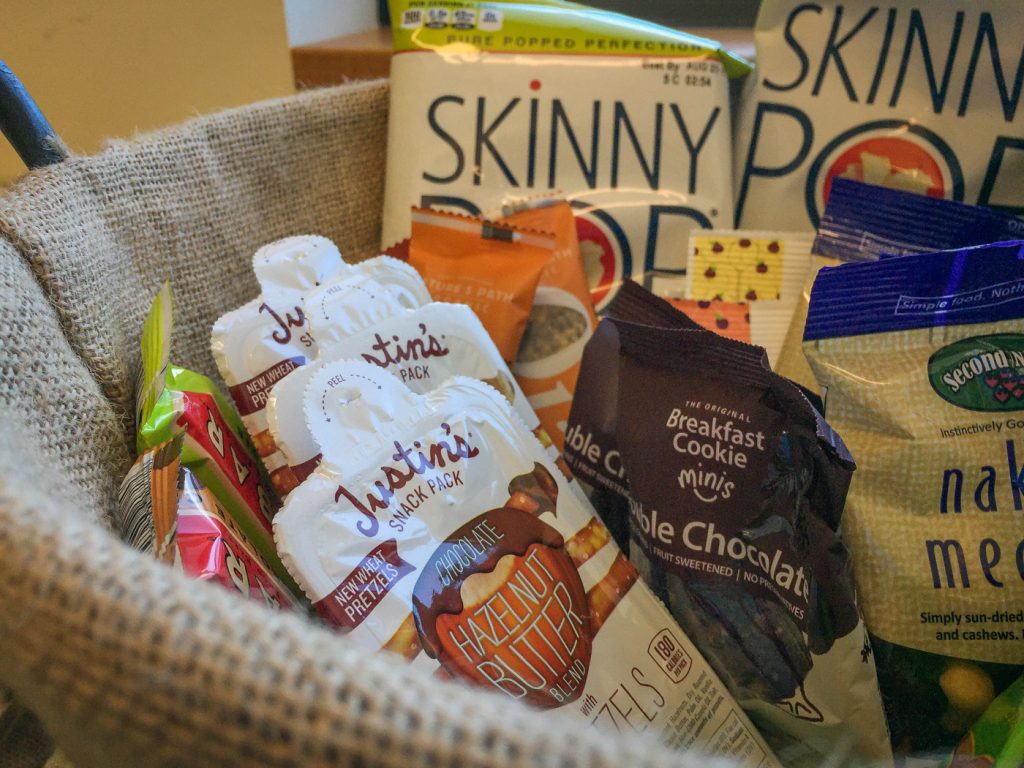 I recently moved into a new office on campus that's given me a lot more room to spread out, and I immediately started thinking about how to stock it with food! My first order of business? I bought an electric tea kettle and brought in a selection of my favorite teas so they're easy to grab during the afternoon slump. There's nothing better than an afternoon "snack" that fills up your tummy, satisfies your taste buds, and provides essentially no calories. But I enjoy snacking on actual food, too.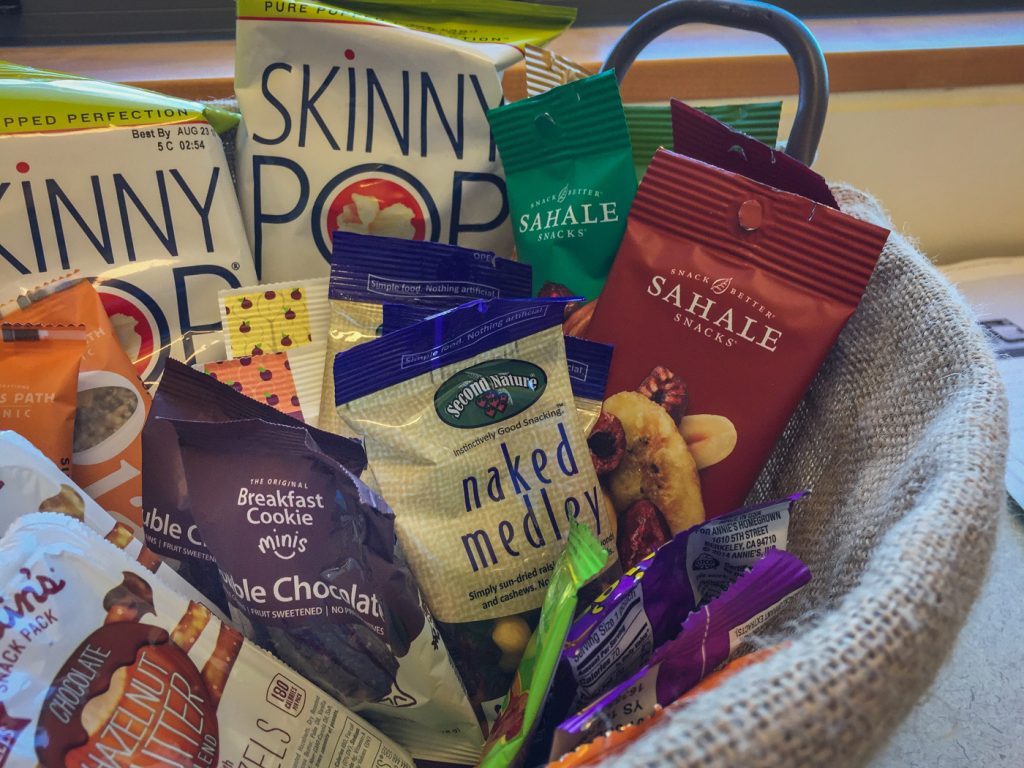 Then I started to think about my co-workers. I share a hallway of offices with about 15 other instructors and staff members and I wondered how they were faring when it came to snack time. And then the idea hit me: build a healthy snacking basket and they will come.
I'm pretty happy with my prototype. I bought a cute basket and stocked it full of single-serve snacking items. I sent out an email to everyone announcing the basket's arrival…then I sat back and waited for the throngs of hungry people to swarm my office.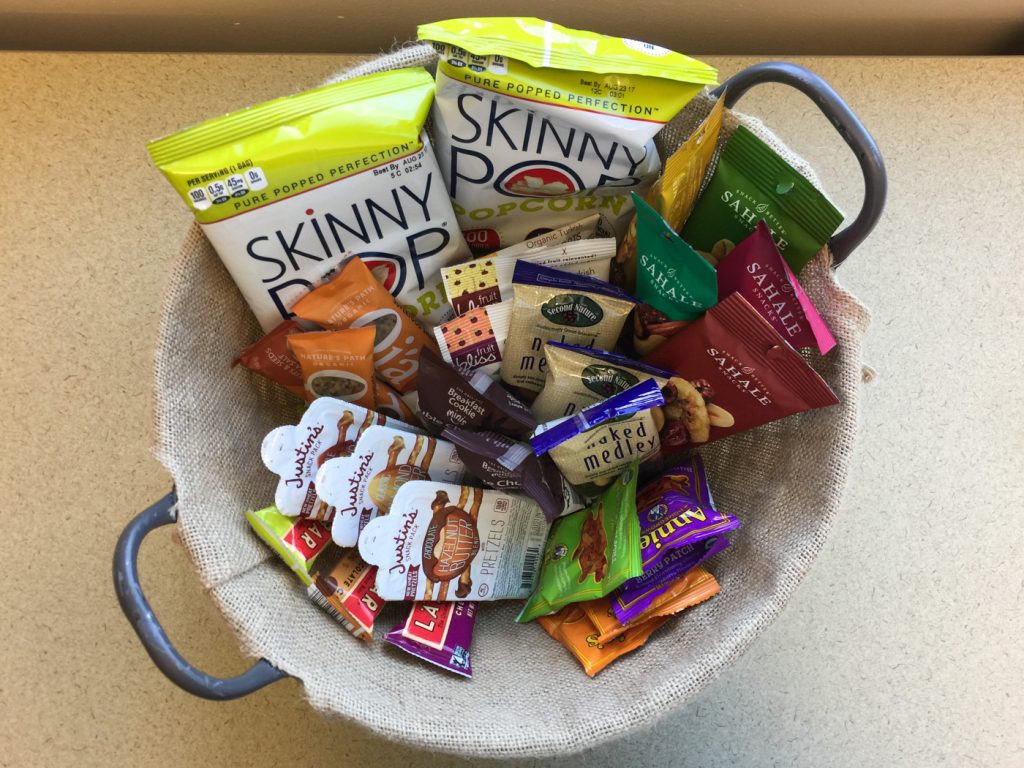 Here are the products I started with. We'll see what's popular and what gets left behind and I'll go from there: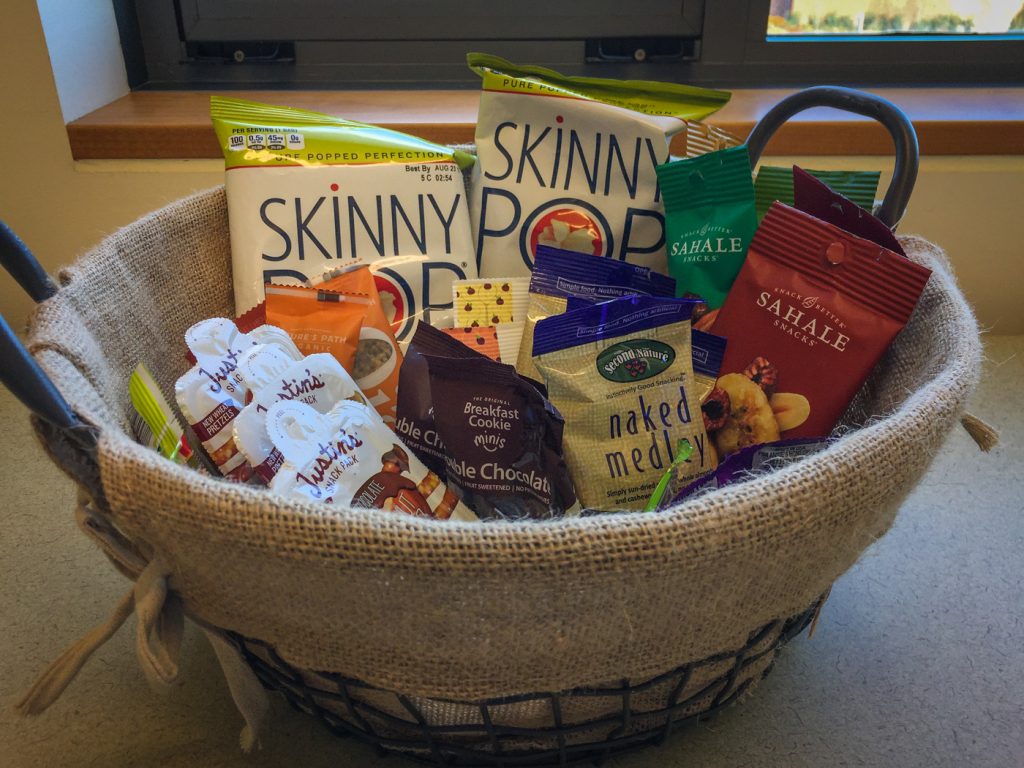 My other thought is that when students come to visit me in my office, I'll offer them a choice of one item out of the basket. Do you remember when you went to the dentist as a child and they let you pick a prize out of the pirate's chest? (Or did they only do that in eastern Washington?) It will be just like that! If you come and visit the nutrition instructor, and you're hungry, healthy snacking will be in your future. I consider it a teachable moment. A delicious teachable moment.
On the second day of spring quarter, two days after sending out the snack basket announcement to my colleagues, I had three visitors who came expressly for something to nibble on. A bonus is that it makes for a more social workday, too. I'm continuing to think about other ways to support healthy habits in my tiny sphere of influence at work. I'm strongly considering getting a mini fridge. Just think what kind of cool snacking support I could provide then!
What products am I missing? Do you have suggestions for portable, shelf-stable, reasonably healthy items I should stack in my basket?
If you liked this post, you may also enjoy: