To read more about our full day of food cart eating in Portland, Oregon, check out this summary post.
9:01 am  Flavour Spot
At the corner of North Mississippi and North Freemont we found the home of the Dutch taco:  America's waffle sandwich.  Things started well when we were greeted by a warm, fresh-baked aroma on our approach.  We ordered two big, beautiful breakfast waffles and swapped halfway through.  The Number 2, Veggie Sausage & Maple, is a fan favorite.  The made-to-order waffle is covered with 100% pure organic maple spread and wrapped around two Morningstar Farms veggie patties.  It lives up to the menu description of "sweet, salty and delicious".  Vegan or pork sausage patties are also available.  For another protein-rich option we chose the Peanut Butter and Jelly (creamy and raspberry, respectively).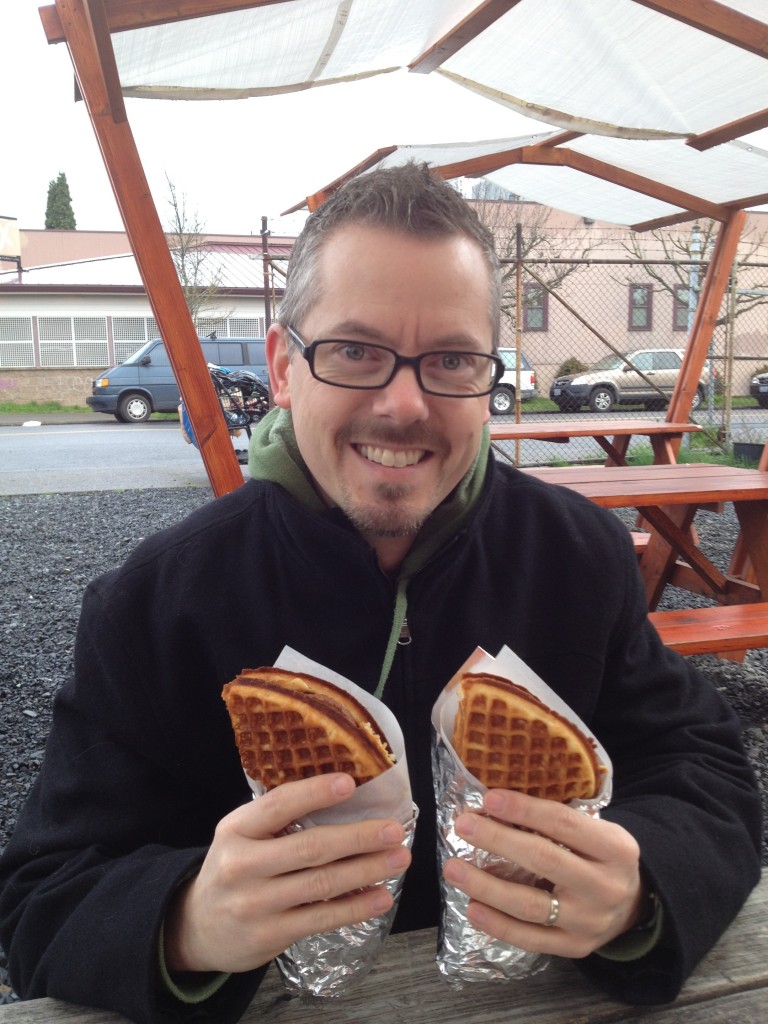 There was no line and only a very short wait for our steaming, foil-wrapped treats and coffees.  (Of note:  decaffeinated coffee is not an option.)  I was happy to see a doggie water bowl, filled to the brim; not surprising in this pet-friendly city.  There were six tables in the courtyard and three were covered, but the cold March morning made us retreat to the car.  Anticipating his first bite, Jeff exclaimed, "I'm so excited."  After his last swallow, he concluded, "I can see why they're still in business." Then, after a few moments of pondering he added, "We should open a franchise in Bellingham."
Next stop:  La Arepa (Venezualan)
What's your favorite way to get protein at breakfast?
If you liked this post, you may also enjoy: