It was as colorful as a bouquet of wild flowers. Golden buttery yellow, iridescent red, pale flushed pink, and bright pillowy white, all in rich contrast to the luscious foliage green. Except this wasn't blooms and blossoms, it was lunch. A deep oblong platter, reminiscent of a white porcelain vase, was holding the sweet, tart and salty bits of my Moroccan salad together.
I'm in week five of a creative writing course.  Can you tell?
Update 2020: Ciao Thyme is closed. Sadness.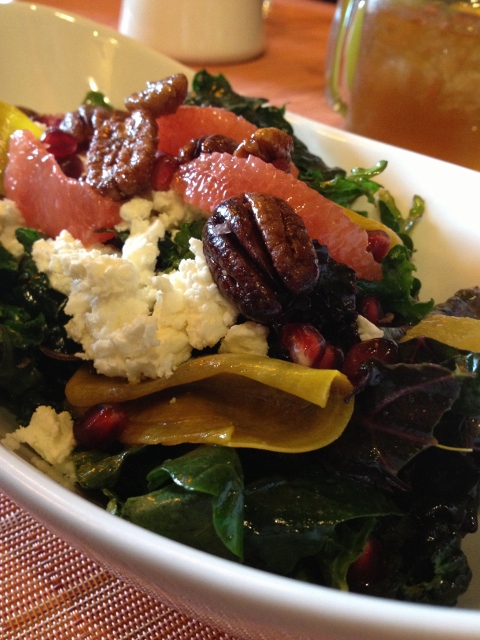 It's fitting, because one of the things I've accepted about myself is that I'm not creative. (I have to take a class on it, for Pete's sake.) I'm easily more of a task-oriented, follow-the-recipe, don't-color-outside-the-lines kind of person. That's why I'm so drawn to nutrition, because I revel in the order of the arithmetic, menu plans, and bar graphs of vitamin content. I mean, I can cook, and sometimes I take a few liberties with ingredients, and occasionally it turns out yummy (which I then cheerfully post on the blog). So I'm awestruck and inspired by people whose minds are overrun with ideas and unexpected combinations, to whom creativity seems to come naturally. This is especially true when it comes to food.
The imaginative grouping of kale with thinly sliced beets, juicy pomegranate beads, plump grapefruit sections, and fluffy feta pictured above belongs to Ciao Thyme Cafe. They're known for their catering and cooking classes, but have given in to community requests to open a restaurant. I ventured into their new lunch spot on a face-freezing Friday in January, but the sun was out and the colors they'd put together made it feel like spring. I ate the pecans, too, every last one. Toasted crisp and candied, there was just a handful scattered on top, shining from the coat of pomegranate vinaigrette.
By happy circumstance, I ended up sharing my meal with one of my favorite creative couples. She is a photographer with a stunning eye for composition and he is a witty and inventive writer, director, choreographer, and actor. (If I surround myself with people like this, will some of their creative genius rub off on me?)
We cozied up to the family-style tables and basked in the glow of the wood-fired oven. The ambiance was homey and comfortable, but the details were extra special. The food was served up on plates and bowls with interesting shapes and delivered on handy metal trays lined with parchment.
A nice complement to my salad was the soft and chewy grilled flatbread. Some bites were crisp as a cracker and the salt crystals on top crunched between your teeth giving a great variety of textures. It was beautifully charred and came with a trio of spreads: beet puree with goat cheese, hummus, and squash puree with ricotta.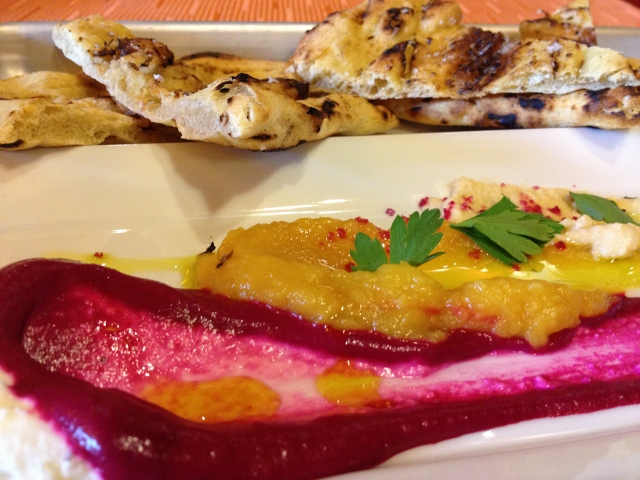 With memories of absolute contentment and excitement for more samplings, I headed back to Ciao Thyme again last week. I shared a menu of innovative flavor pairings with a much-loved friend, who was delighted with our meal. We couldn't stop raving about the food and we pestered the owner and the chef with a million questions. I ordered the flatbread again, but together we picked out a new salad and a soup.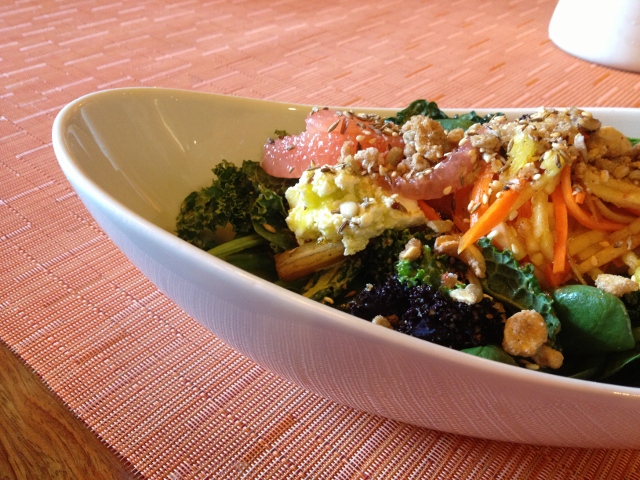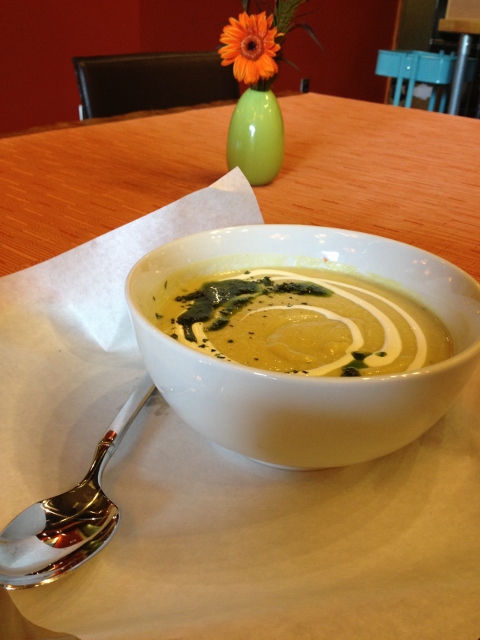 The menu changes often and there are daily specials in keeping with seasonal ingredients. They're open for lunch Tuesday-Friday, 11:00 am to 3:00 pm, and I am sure to go back.
After reflecting a bit on the whole idea of creative process, I realized that my first lunch inspired a writing exercise in my journal, and some of those words made their way into this post. That visit also inspired me to return to Ciao Thyme, and I ended up having a fun-filled discussion of flavors and ingredients which might someday turn into a recipe of my own. Maybe my rigid, straight-laced brain really can be trained to recognize creative moments, one plate at a time.
When and where do you find your culinary creativity?