Seattle is the nearest big city for us Bellinghamsters (if you don't count Vancouver BC and the requisite trip across the border). I find myself there often, even more so this time of year. I'll head south for a holiday street scramble, a Thanksgiving trip to my sister's in Gig Harbor, or even a scrapbooking convention. (Don't judge. OK, go ahead and judge. I probably would, if I didn't know how AWESOME and non-nerdy this hobby is.) These little trips provide lots of opportunities (excuses?) for Emerald City eating. Seattle is also the nearest place to find a collection of exclusively vegetarian restaurants, and a whole lot of veg-friendly spots too. So, in case you're headed to the Pacific Northwest's biggest and best urban jungle this season, I figured it was time for a round-up of some of my favorite restaurant reviews.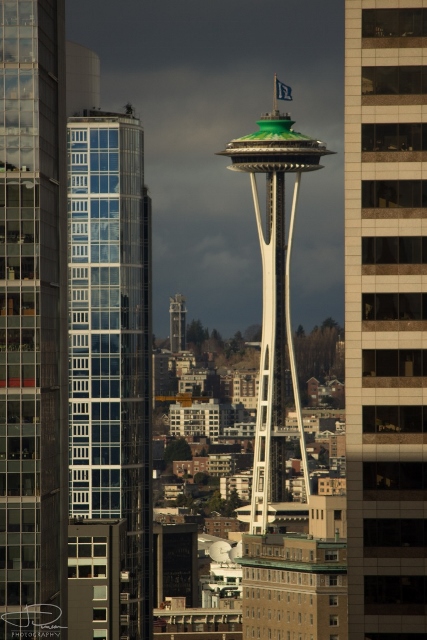 If you're looking for a more casual atmosphere:
I was introduced to Chaco Canyon by some dear friends and ended up writing one of my earliest reviews about "Washington's First Certified Organic Vegetarian Café and Restaurant." The menu changes seasonally so they have a chance to highlight all kinds of vegetables, nuts, seeds, fruits, and whole grains to showcase what healthy eating looks like all year long.
With locations in Fremont, Capitol Hill, Queen Anne and downtown you're never far from this funky, vegetarian-friendly sandwich shop. I would describe the eats as simple, straightforward, and sustainable, with sandwiches, salads, soups and sides that could (Dare I say, "should"?) take the place of standard fast food for a quick and healthy lunch break.
If you're looking for a relaxed restaurant that will please vegetarians and meat eaters alike, check out Po Dog. From the fresh-baked buns to the seemingly endless list of toppings for your locally-made meatless smoked apple sage sausage, wieners never had it so good.
Or if you'd prefer a fancier feel:
This place is exclusively vegetarian, and even a little romantic with its dim lighting and cozy tables. Explore your options with a full menu of starters, salads, main courses and desserts, all made to please the meatless among us. They just celebrated their third anniversary, so Seattleites must have made them, and their Vegan Mac and Cheesey, feel welcome.
My post about Café Flora ends up morphing from a restaurant review into a recipe, but I couldn't leave it off this list.  When I think of vegetarian restaurants in Seattle, Café Flora is the quintessential choice. It was the first all-vegetarian restaurant I ever went to (which at the time felt like a one-of-a-kind find) and all these years later, it does not disappoint.
This one's a little pricey, but their signature dish is worth every penny: Tonnarelli Cacio e Pepe. I'm not sure how what appears to be four ingredients can merge so deliciously, but leave it to the Italians to make simple taste exceptional.
This tiny list of six restaurants doesn't even begin to do justice to the vegetarian-friendly city that is Seattle. Guess it just means I'll have a lot more reasons to explore the 80,000 square miles of food this major metropolitan area has to offer.
What are your favorite food picks for vegetarian visitors to this city by the sea?
If you liked this post, you may also enjoy: