If you're living la vida vegetarian and like to eat out, I'm guessing you've had your share of  restaurant meals that left you choosing between the lesser of two evils:
"May I please have the teriyaki chicken salad without the chicken?"
"Yup, that's right. Everything else but the chicken."
"Nope, just leave it off."
"I know.  It will just be the vegetables.  I'm OK with that."
"I really am."
"Nevermind. Just bring me the veggie burger."
Of course, having too many choices in life can be a bit of a sticky wicket, too. This is especially true when it comes to food, but I'm up for the challenge. I'd rather wade through option overkill than settle for second best.
Update 2014: St. Dames is closed permanently. Sadness. 
Luckily, in Seattle, there are a whole host of vegetarian and vegetarian-friendly restaurants, and I just discovered one that's new to me:  St. Dames. Their menu is indulgent, filled with a surplus of selections. What a treat. There are eight different appetizers, four salads and ten main dishes to choose from; all meatless. I kept finding reasons to add more items to my order because I couldn't make up my mind. In the end I made five selections, which I've listed below in order of yumminess.
1.  Panzanella Salad. Grilled house-made bread tossed with greens, herbs, tomato, and kalamatas in a pesto vinaigrette. A few summers back, Jeff's mom introduced me to bread salad. Once I was realized how arrestingly good fresh, juicy tomatoes and olive oil taste when you toss them with big chunks of croutony bread, I couldn't get enough. When I saw it on this menu, I had to order it, no question. Their version was different from the classic, but with a nice ratio of 1 part bread to 3 parts greens. The bread was chewy and flavorful on its own, but with the pesto vinaigrette it was heavenly.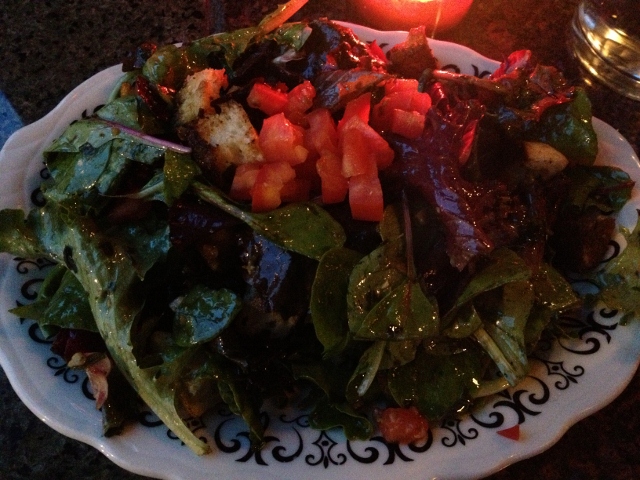 2.  Kale Russet Fritters. Griddled and served with smoked paprika aioli and spicy remoulade. These fritters were very light and fluffy with just a few chunks of unmashed potato, which made for a nice contrast in texture.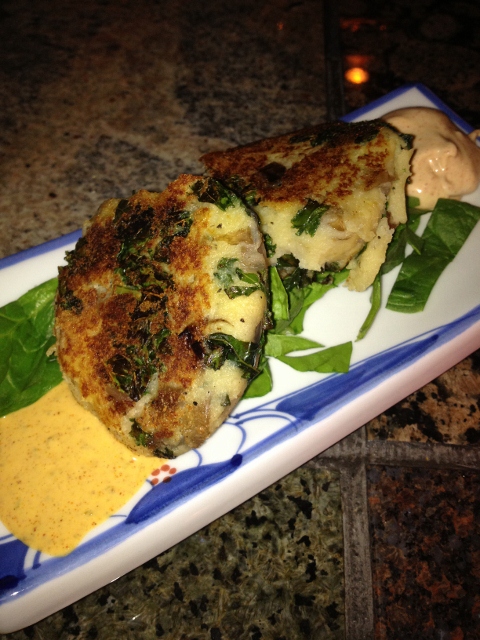 3.  House-made Grape Soda. Fizzy, purpley, and not too sweet.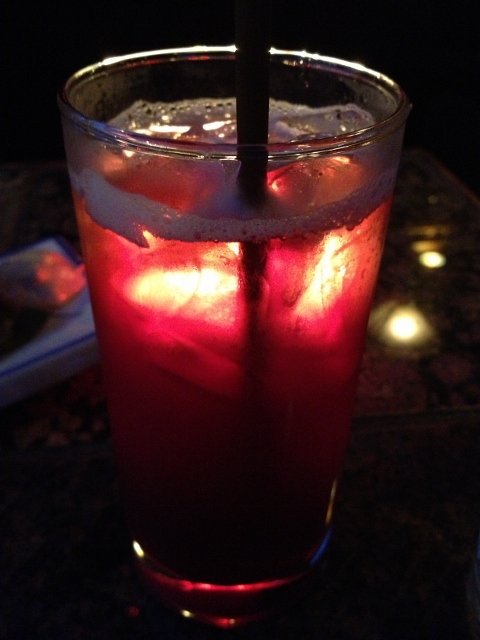 4.  Chocolate Chip Vanilla Cake (Gluten Free). Warmed in the oven with chocolate coffee ganache and vegan whipped cream. Any self-respecting dietitian would have skipped dessert after ordering four other courses, but as a person who likes to bake, I'm intrigued with dessert menus. I love to take a peek at the offerings; problem is, once I look, I find it hard not to sample. This cake was warm and gooey, just like a fresh-baked chocolate chip cookie.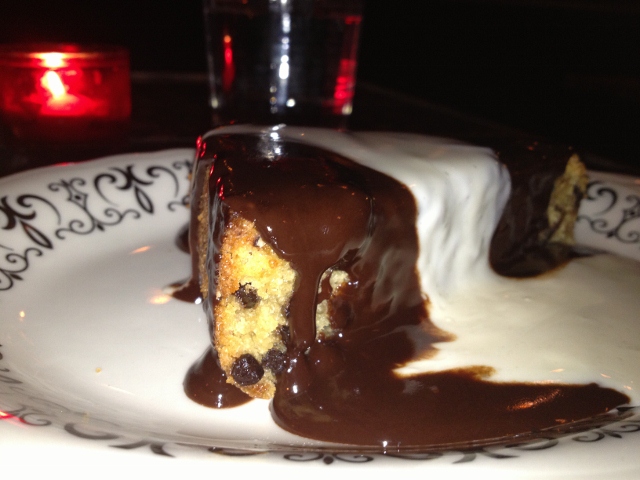 5.  Vegan Mac and Cheesey. House-made sauce (with cashews) over penne noodles, served with braised tamari kale. This was very creamy, with a mouthfeel much like classic cheese sauce. It had a bright, tangy note at the end and when paired with perfectly al dente pasta, it was a winning combination.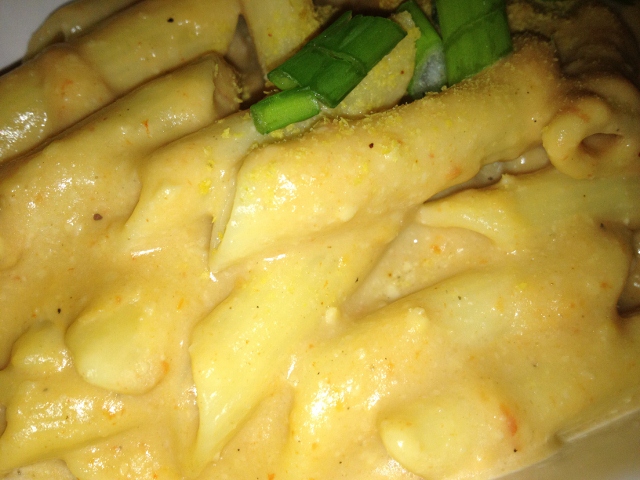 All manner of vegetarian delights to choose from. Deliciousness served up five times in a row. But want to know my favorite part? They label your doggie bag with "St. Dames, Nov. 4, Kale Russet Fritters". You don't have to be a vegetarian to appreciate this. Just a food safety nerd or a fridge organizing freak who likes to clearly see her options when she's choosing her fifth course of leftovers.
Can you exercise control when there are endless options or does it make you want to try a bite of everything?
If you liked this post, you may also enjoy: