Do you have a path to instant happiness? I do. I find lodging in a cool walkable city, research vegetarian and healthy restaurants ahead of time, show up, and go with the flow. I wander and I eat and it is an unqualified boost for my mental health. Here in the Pacific Northwest, cities like Portland, Seattle, and Victoria BC do not disappoint. But on my most recent adventure I set up shop in Vancouver BC for a couple of days and the city absolutely delivered.
The requirements for traveling to Canada just got easier, and I have a NEXUS card which makes crossing the border a breeze. From Bellingham, it's essentially as easy as traveling to Seattle. I am just plain lucky to live smack dab between two incredibly vegetarian-friendly cities.
Because of this, I've logged many Vancouver trips and restaurant reviews on the blog previously. I'll outline my most recent itinerary too but here are some other spots that are guaranteed to please your plant-based preferences:
The Burrow Restaurant (formerly Bandidas Taqueria)
I stayed in Gastown this time, so these restaurants described below are adjacent and within walking distance. To simplify things, let's consider one mealtime at a time.
Breakfast
It may seem like a contradiction, but I am a dietitian and I like donuts. As a nutrition professional, I get great joy out of finding somewhat healthy donuts that taste fantastic because you get the best of both worlds! And I can tell you Cartems is a healthy donut hub.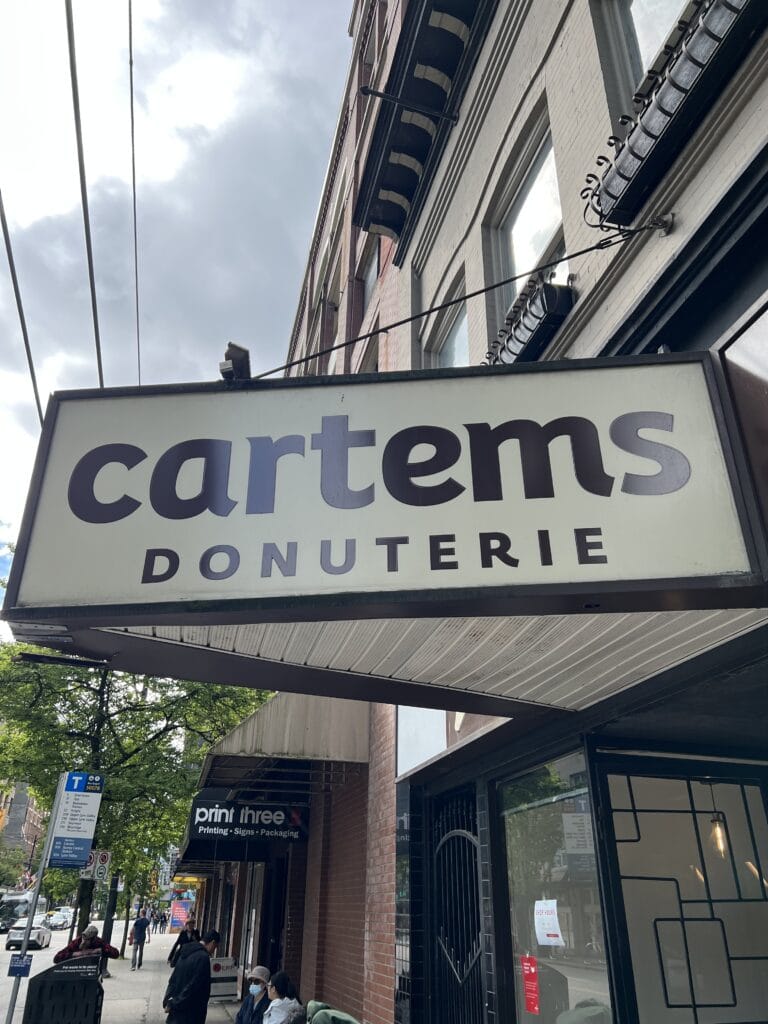 I have a small problem deciding when there are too many choices, especially with food. Cartems offers traditional donuts but also gluten-free and vegan donuts. So I bought a bit of everything, a.k.a. half a dozen.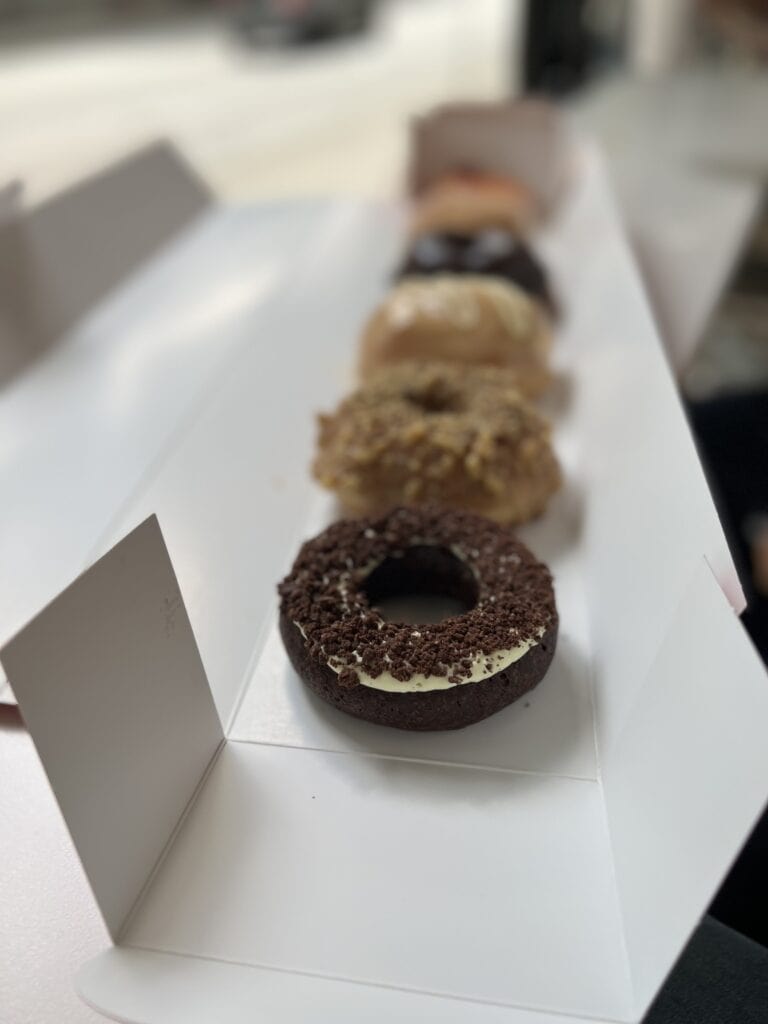 They were all good, but I had 3 favorites:
London Fog: a yeasted donut filled with tea-infused whipped cream, glistening with earl grey glaze and striped with white chocolate. This donut was ridiculous. RIDICULOUS! The filling was so flavorful and paired wonderfully with the glaze which had what tasted like a hint of lemon. If they were looking for the right amount of sweetness, richness, and mouthfeel for a yeast donut, they nailed it. And this is fun to say: they call their filled donuts "stuffies."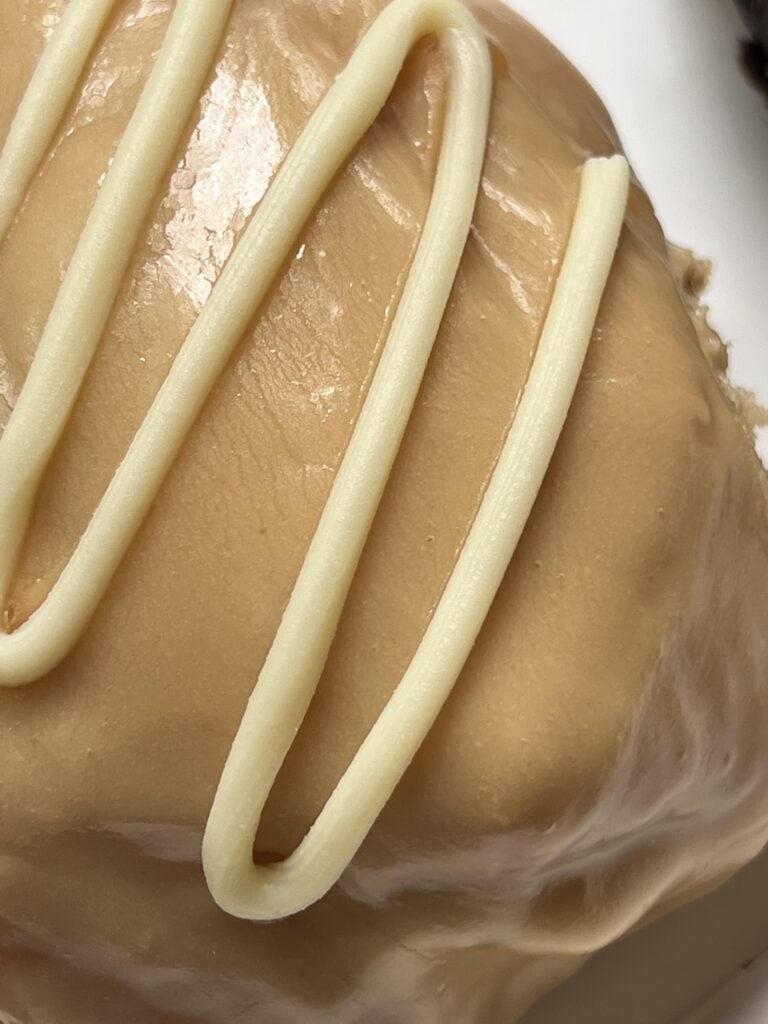 Nanaimo Bar: a chocolate cake donut slathered with a custard buttercream frosting with chocolate coconut crunchies on top (vegan). This was a donut, but it tasted like the classic Nanaimo bar cookie. The crunchies on top were magical to say the least and reminded me of the cookie's crust layer and the buttercream must have been a replica of the traditional Nanaimo bar filling. It was a cake donut, but I think it was fried because the outside was perfectly, pleasantly firm and the inside was lusciously soft and moist.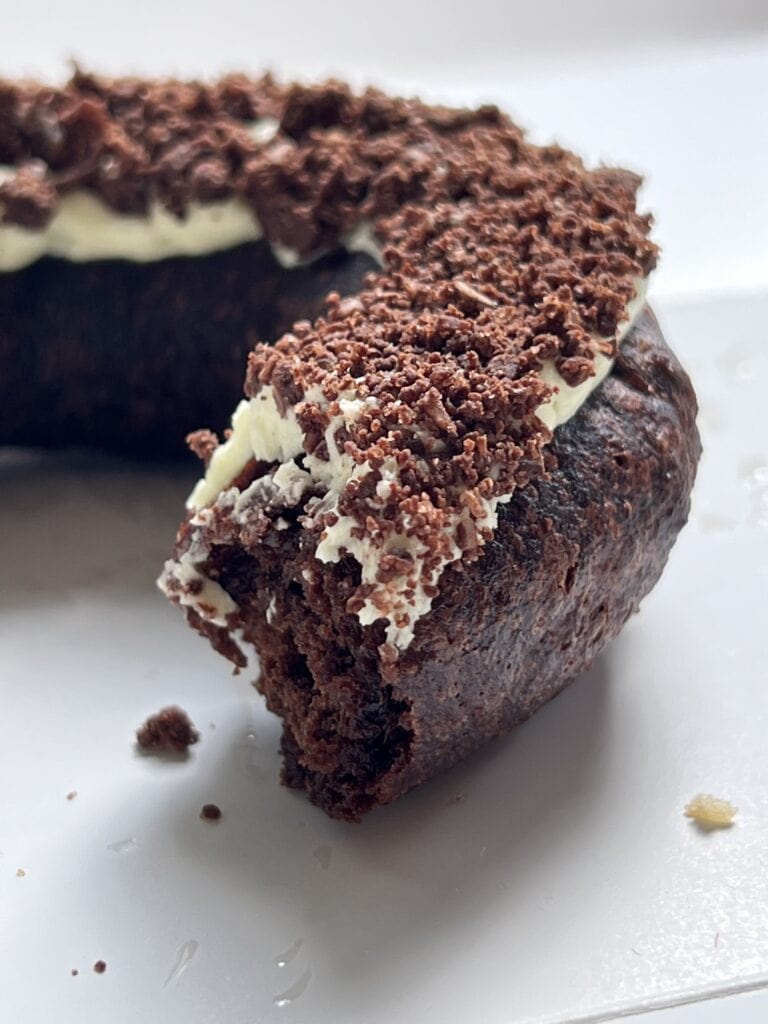 Strawberry Lemonade: a baked vanilla lemon cake donut coated with strawberry glaze and lemon drizzle (vegan/gluten-free). The texture was delicate but it didn't crumble apart, which seemed like a triumph for a gluten-free donut. The flavor of the donut itself was able to stand up to the sweet and tart frosting. Each bite was tangier than the one before.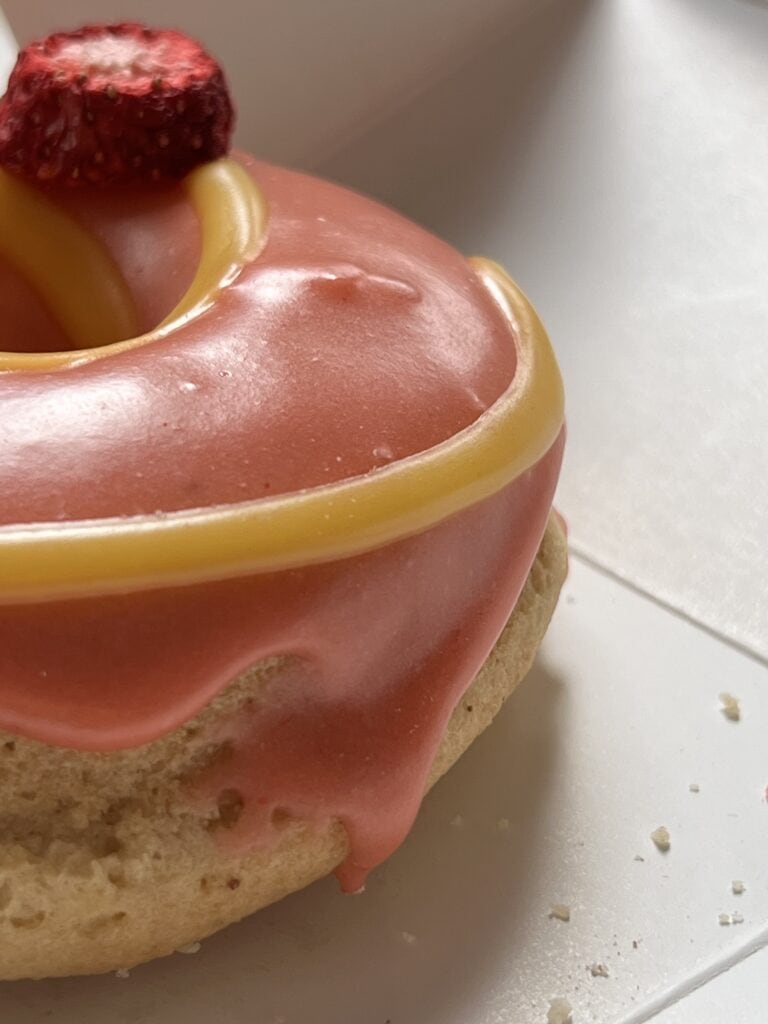 I got there first thing in the morning and the cool seating in the window was available. It was such a lovely experience to sit there, stuff my face, and watch the world go by. Within 30 minutes the place was packed and there was a line down the center of the store that reached almost to the door. Apparently, Vancouverites already knew what I just learned: these donuts are special.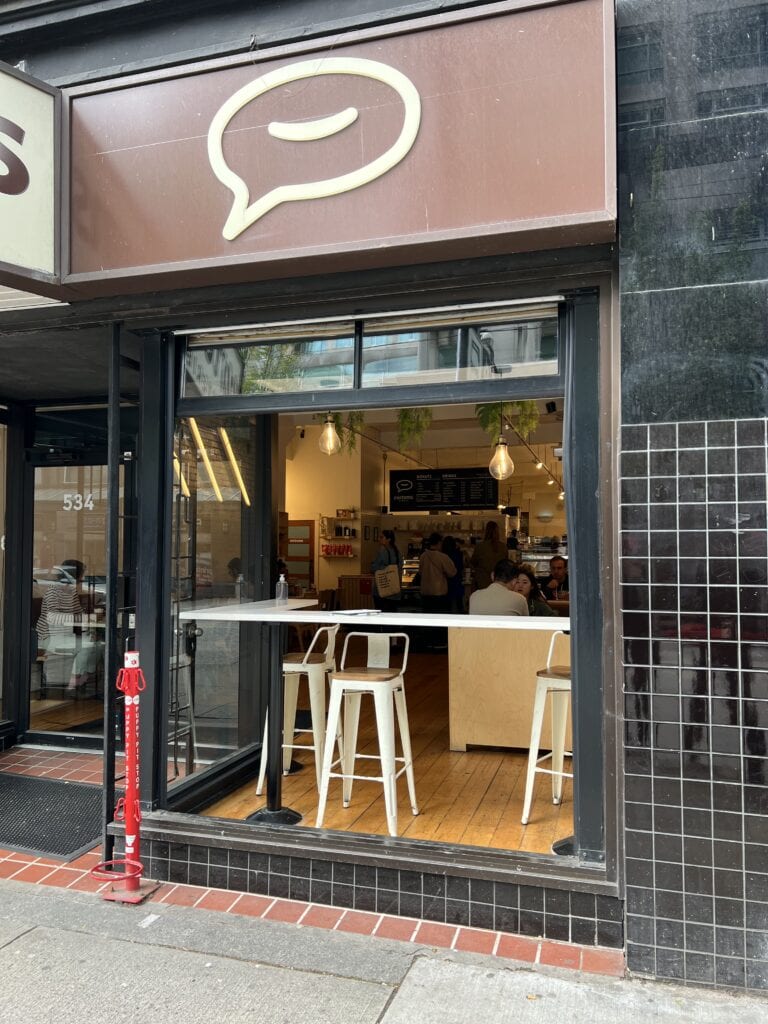 And can we talk about the box? Colorful, functional, sturdy, and dare I say iconic? You certainly attract eyes when you walk down the street in Vancouver with a red Cartems Donut box under your arm. And, everyone knows where your first meal of the day was.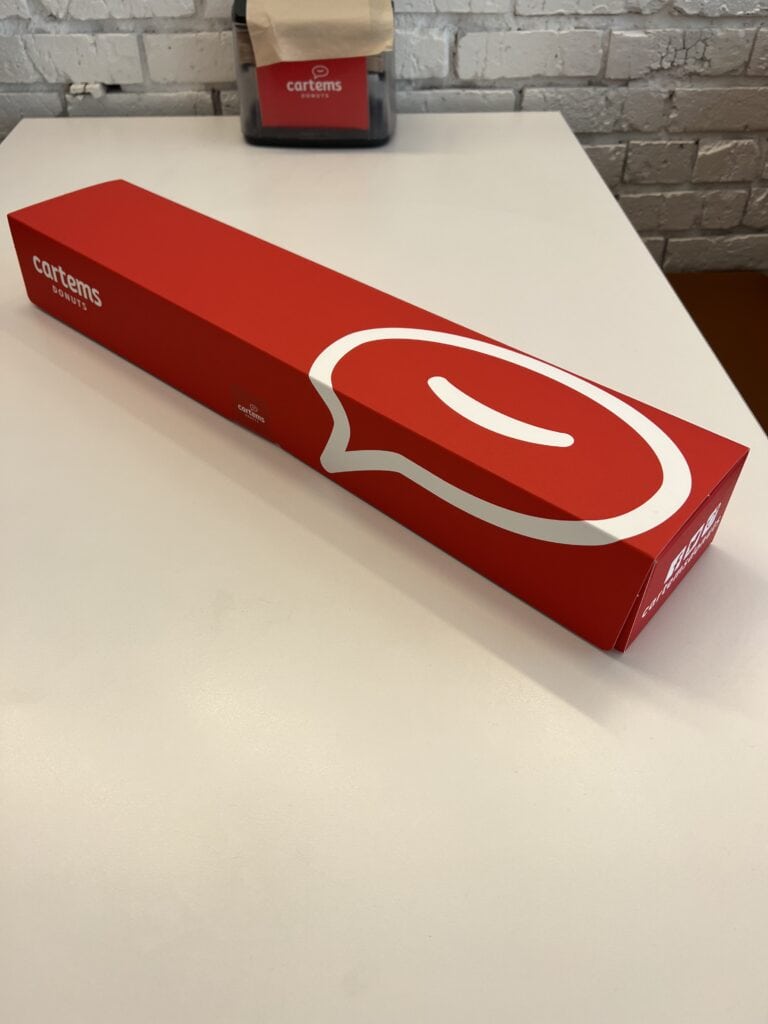 I got a basic cup of coffee at Cartems, and it knocked my socks off. I ordered it with a touch of sugar and oatmilk and it was the most magnificent compliment to the donuts. I found out it was from a local Vancouver company, Modus Coffee.
I made a point of stopping there on my way out of town to buy half a pound to take with me. It's the Coast roast with beans from Brazil, and according to Modus it has notes of fudge, marzipan, and Meyer lemon. According to me, it's not too strong, not too weak, and just right.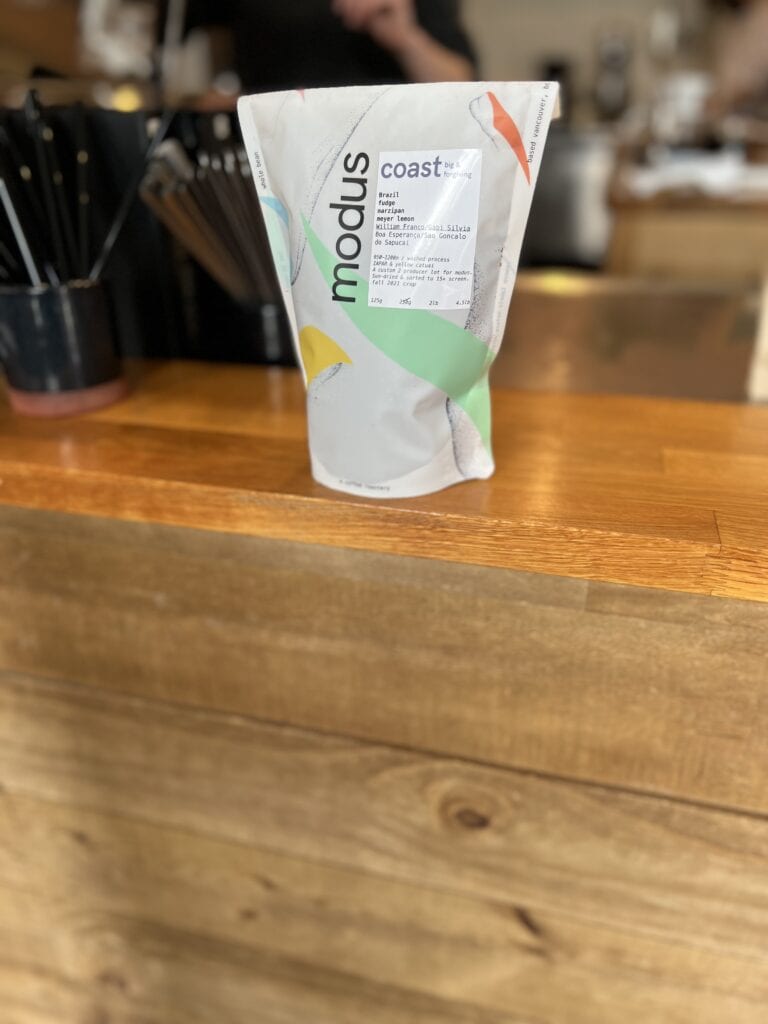 I may have mentioned that I have a hard time making food decisions. When presented with new options I want to taste everything and limiting myself to one menu item gives me serious FOMO. So nothing makes me happier than ordering a sampler or a flight.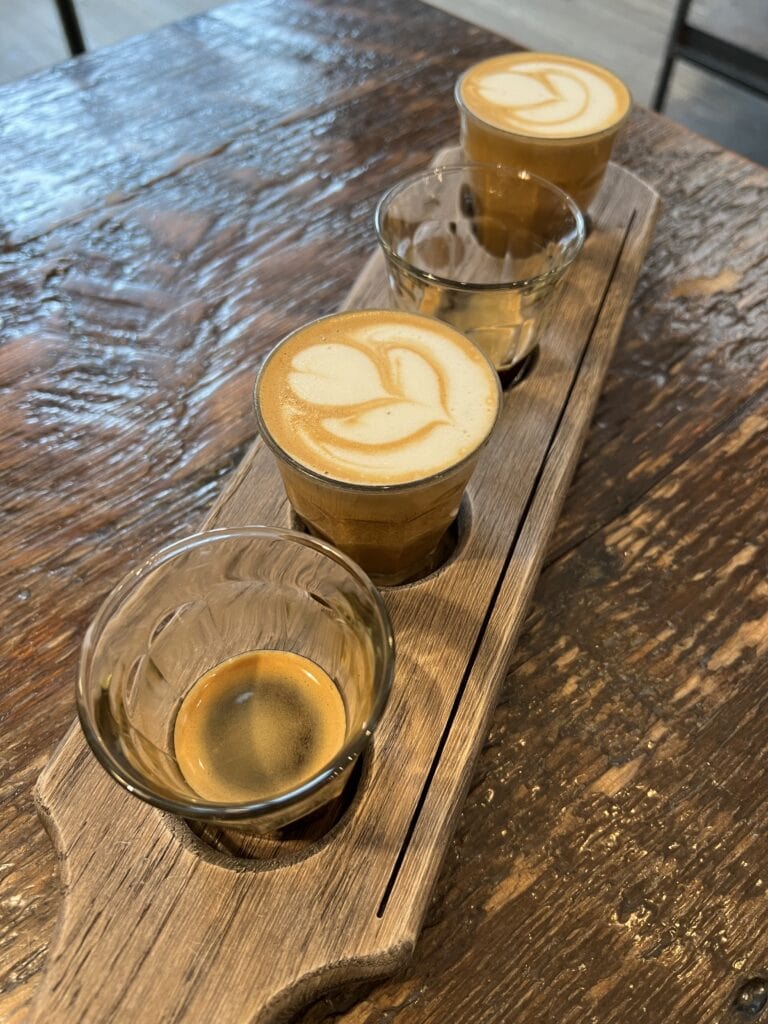 I got the espresso tasting flight with these two coffees:
Dak: from Amsterdam with red apple and marzipan notes
Novel: from Texas with Oreo, caramel and jammy notes
Each was served as a shot by itself and as a macchiato with oat milk. The shots were so smooth, interesting, fruity, and tart with no inkling of bitterness in sight. In fact, they were almost uncoffeelike. Slowly sipping on all four iterations made for a languid, enjoyable morning of caffeine.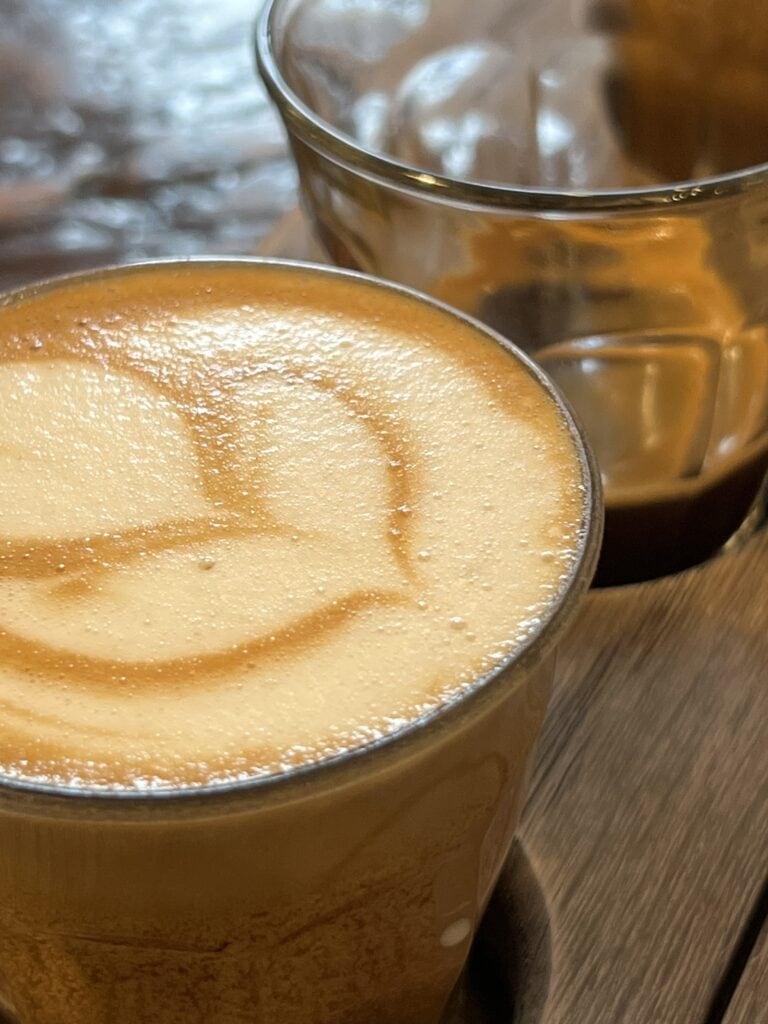 Lunch
MeeT has been a Mecca for veg-heads in Vancouver since 2014. The owners' mission is to "help transition the mainstream to eating more plant-based foods in a friendly, accepting, and engaging venue," which is essentially the same mission of my blog. I want to show people that eating healthy vegetarian food isn't a sacrifice. And the more vegetarian restaurants there are with approachable, familiar food, the easier this seems.
Not that I needed further proof, but I ate not one ounce of meat all weekend, and felt no deprivation. Instead, I felt like I was feasting like a king.
Here's what this dietitian ordered:
The Big Yum: roasted yams, organic kale, shredded red cabbage, carrots, beets, corn, tofu (typically tempeh but they were out), edamame, and hemp hearts served on organic brown rice and drizzled with our super-umami tahini sauce. The corn was super sweet and the dish packed a whollop of plant protein with tofu, edamame, and hemp seed. It was a nice mix of raw veggies, cooked veggies, perfectly cooked rice, and a salty addicting sauce.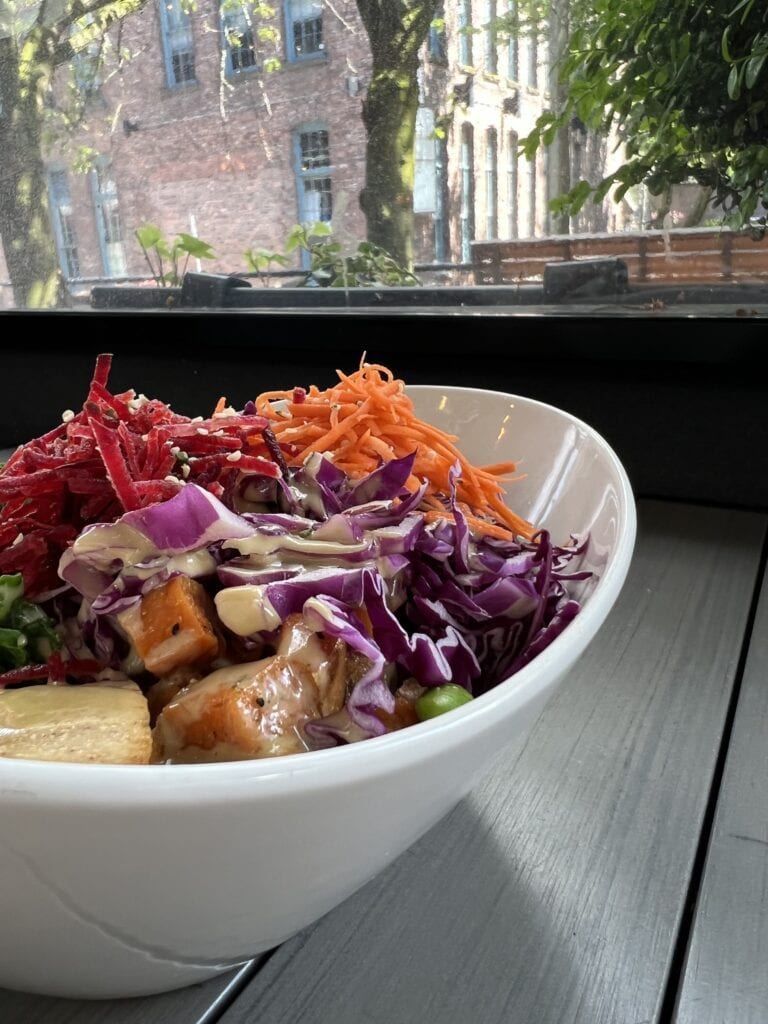 Rooibos Spring Iced Tea: floral Mediterranean tea with vanilla syrup and fresh lemon. A wonderful accompaniment that was refreshing and not overly sweet.

Dinner
Dinner at MILA was a highlight of the weekend, and perhaps of the top 5 vegan meals of my vegetarian life. I made so many oooo and ahhhhh sounds after every bite that I may have made the other diners uncomfortable. The extensive menu of fully vegan choices was such a treat, considering so many restaurants offer only a salad or a veggie burger and call it good.
Cornerstone Cocktail: Sheringham rhubarb gin, Marrow amaro, rhubarb and apple syrup, lemon, tonic, and sugared rhubarb. I rarely drink alcohol. I would say maybe twice a year. And for some reason I felt like splurging this evening and a rhubarb cocktail sounded delightful. It was smooth and layered with flavor and so sweet it barely tasted like alcohol.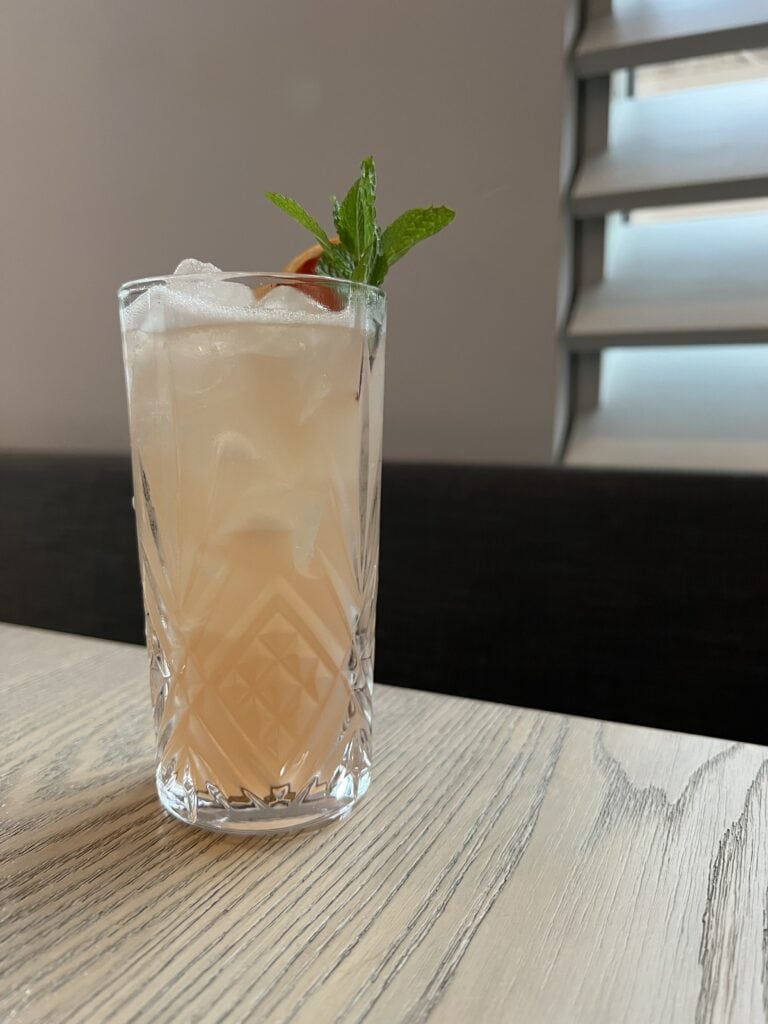 Arancini: rice, mozzarella, arrabbiata, gremolata, parmesan. The arancini was an absolutely flawless version of the Italian cheese-stuffed rice ball. The outside was fried and thick in the most pleasing way. The rice inside blended seamlessly and softly with the cheese which was a wonderful compliment to the crisp crust.
Even the arrabbiata tomato sauce it was seated on was seasoned exquisitely, leaning towards savory over sweet. This ball of goodness was the very best thing I ate all weekend, and it was impossible to identify it as vegan. Apparently, I was so overcome by the experience of eating it, that I couldn't hold the camera still for a decent picture.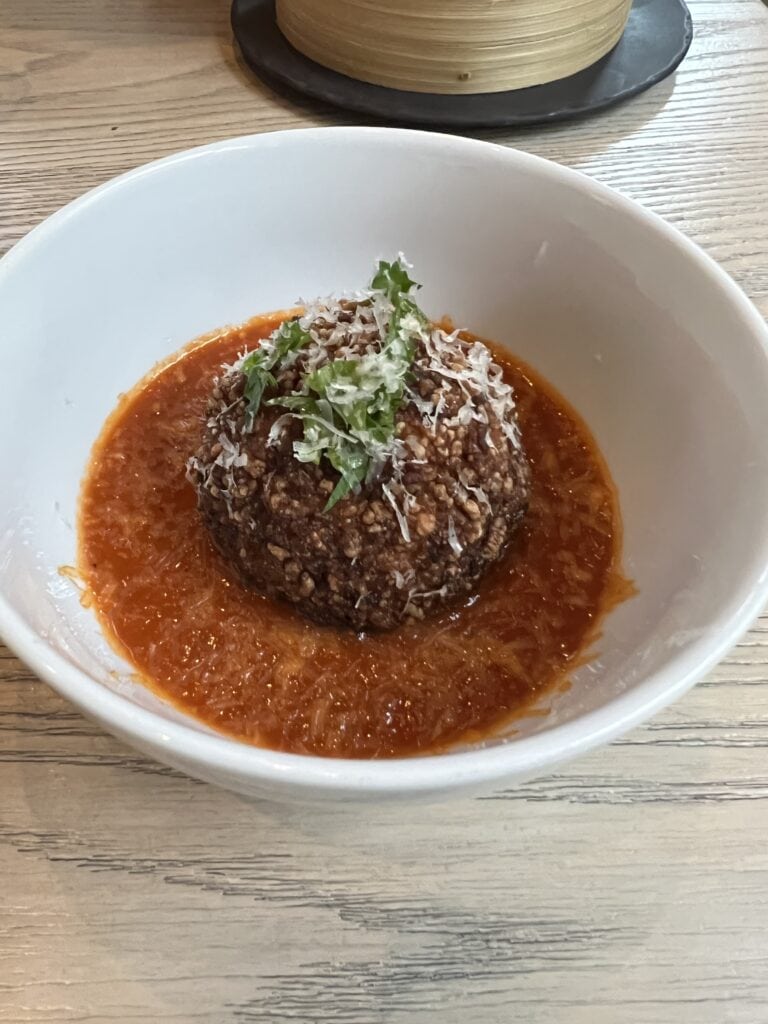 Karaage Bao: tofu karaage, hot honey mustard slaw, Kewpie mayo (sometimes called Japanese mayo), Japanese pickled cucumber. The tofu bao was marvelous and utilized a special frying technique called karaage to cook the tofu. The dough was soft and pillowy, the tofu was crisp down to the very last bite, and the crunchy slaw was bursting with fresh herbs. The combination of textures and temperatures was clearly considered carefully during recipe development.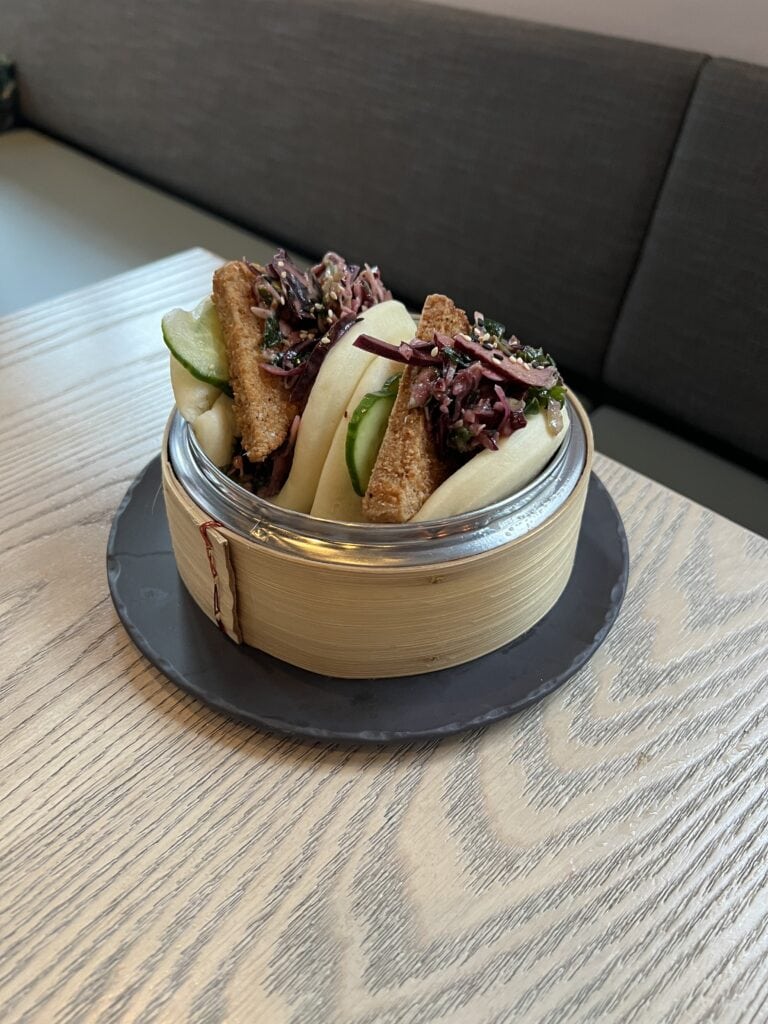 Panzanella Salad: sourdough, heirloom tomatoes, grilled nectarines, sherry vinaigrette, balsamic glaze. Bread salad is one of my all-time favorite foods, and finding it on a restaurant menu seems like a rare occurrence. So I was very excited to order it. This version was so tangy and flavorful; it must've been the sherry vinaigrette dressing? Despite it being May and not anywhere close to August, the tomatoes were unexpectedly ripe and sweet. I simply couldn't get the bites in my mouth fast enough.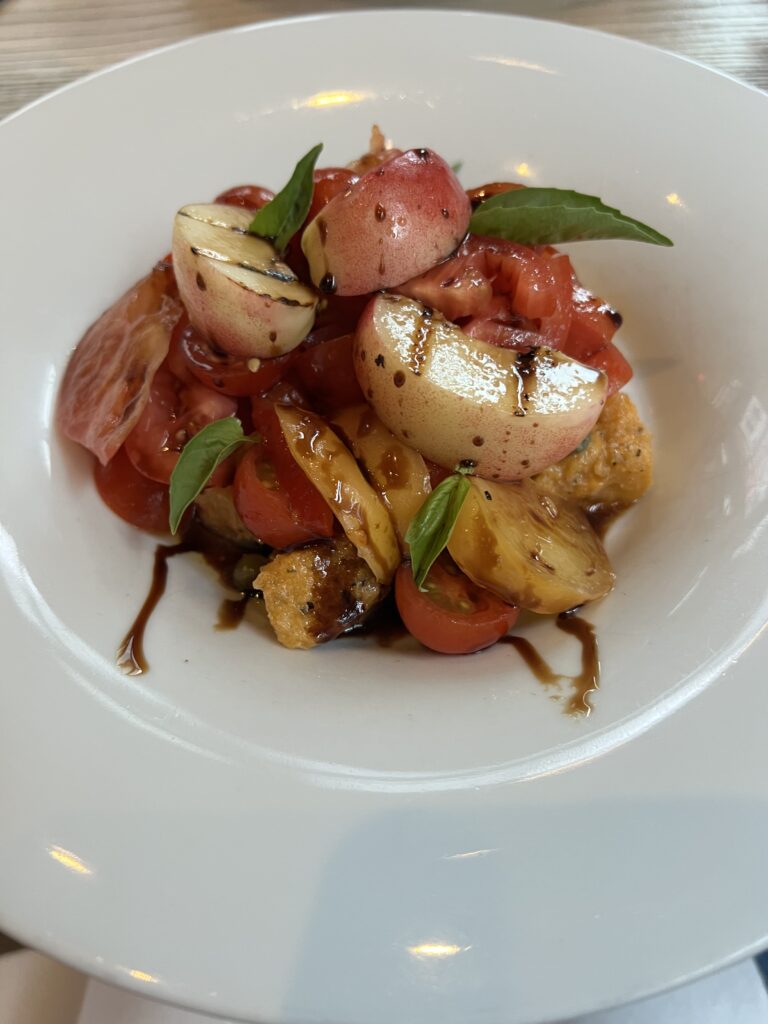 Peanut Butter Cup Pie: puffed crisps, chocolate ganache, Maldon sea salt. Firm, but not too salty, and a wonderful end to a wonderful meal.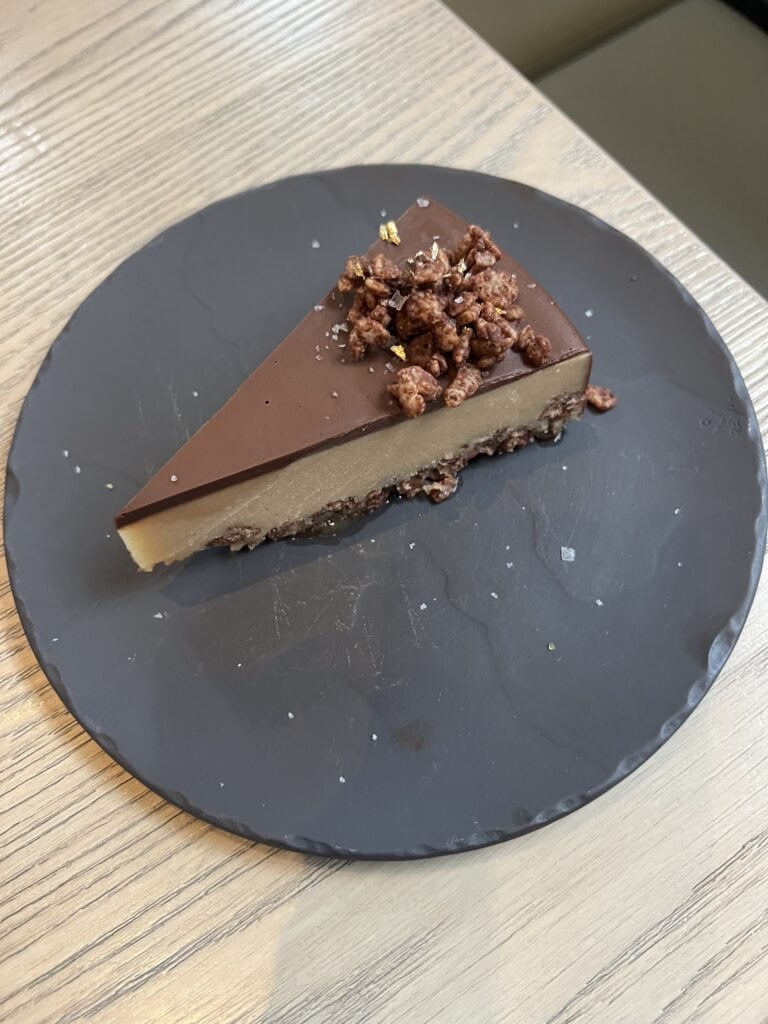 As you can tell, the daily activities were focused on nothing but food. I just ate and walked, and ate some more and walked some more. I did fit in a stroll along the waterfront to enjoy Coopers' Park and David Lam Park which were picturesque and relaxing. All in all, a delicious and successful trip.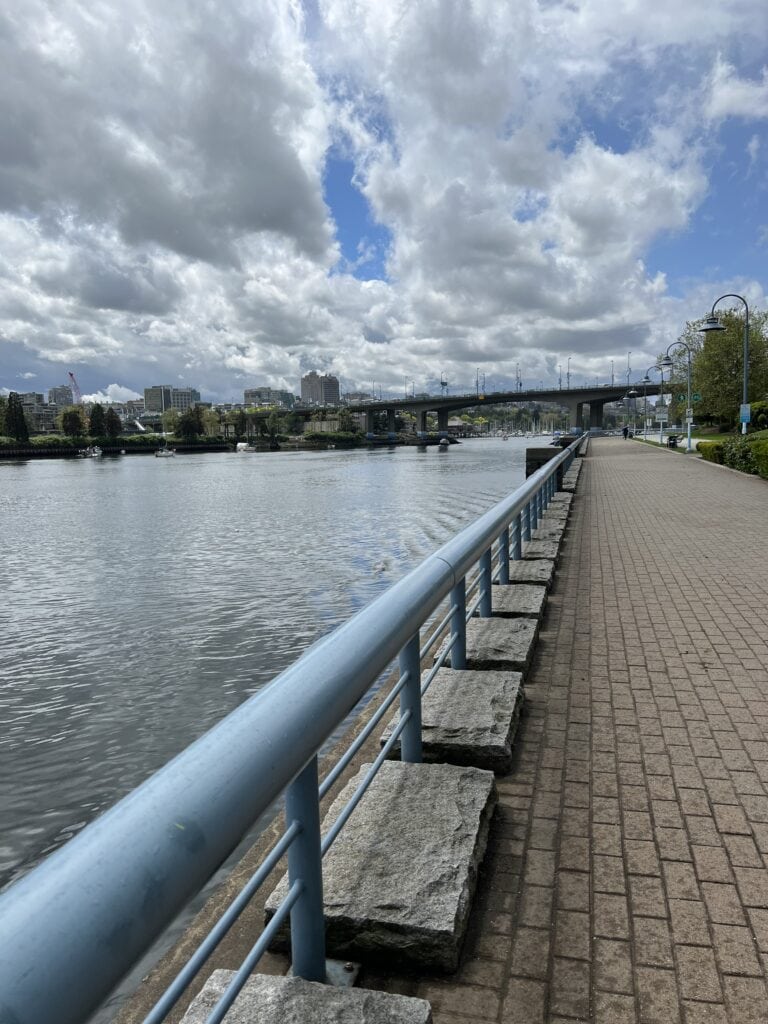 If you're in need of a burst of happiness, consider a little food-centric local travel. If you're near Vancouver BC, consider yourself one step ahead. I've already done the restaurant recon for you and your itinerary is waiting.
If you liked this post, you may also enjoy: