Thank goodness shave ice is vegetarian!  I don't think I could have survived without it during our recent trip to Hawaii.  Shave ice was a daily indulgence during my 9-day trip to Oahu this winter.
Soon after we arrived in our island paradise we experienced the inaugural mound of sweet, melty goodness that was many inches high at the famous Matsumoto's in Haleiwa.   (Speaking of inaugural, our stay on the island coincided with the Obamas' Hawaiian vacation.  Word has it they enjoy a bit of the ice as well.)
Once we had our first shave ice, we were hooked.  The very best was at the Waialua Sugar Mill inside the Island X store.  There they use fresh ingredients instead of the traditional syrups and the flavors include watermelon and pineapple (with real fruit!).  I ordered half coconut and half coffee and it was spectacular.
Early in our trip we stopped in at Surfin' Tacos in Hauula (now called North Shore Tacos) for a to-go dinner.  This was a great choice since the rest of my family wanted meat, fish or the like and they offered many menu items that could be vegetarian or not.  All the meals were packed in these sturdy foil pans with cardboard toppers which made it really easy to eat in the car.  (After several hours at the Polynesian Cultural Center, we were anxious to get back to our rental house and settle in for the night.)  I ordered a Sunset Salad but substituted beans for the meat and it was delicious.  I washed it all down with a cup of horchata on ice that was sweet and milky with a hint of cinnamon.  (Horchata is a traditional beverage, often made of ground rice, common in Mexican restaurants.)
Here's the menu description for the salad:
Enjoy a fresh Sunset Salad prepared with fresh romaine lettuce, your choice of meat, sour creme, guacamole, pico de gallo, signature surf sauce and sprinkled tortilla strips.
We also indulged in some regional specialties on the North Shore:  the chocolate haupia cream pie at Ted's Bakery; fresh coconut, pineapple and sugar cane spears from a roadside vendor; even the exclusive Hawaiian oatcake at Starbucks.  Eating like this definitely felt like we were in the tropics.
I should also mention that I succumbed to the touristy lure of an "ice cold coconut drink" at Giovanni's Shrimp Truck (no veggie meals here); much more authentic, and seemingly a lot less trendy than drinking it out of a can on the mainland.  I'm noticing a coconut theme on this trip…
Jeff and I were able to stay on the North Shore a few extra days after my family returned home.  Our guide book recommended touring the Waimea Valley Park. (My agronomist dad would be proud as we learned a lot while meandering the trails and learning about local flora and fauna.)  The best part was the edible plants.  We saw many varieties of sugar cane, sweet potatoes and other local delicacies.  It was a great field trip on a vacation that was all about the food.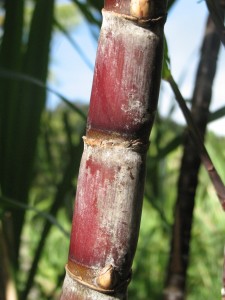 Hopefully, this gives you some ideas for finding vegetarian eats on the North Shore.  Coming soon…A Vegetarian on Oahu Part 2:  Honolulu and the Rest of the Island.
Do you have favorite Hawaii food hangouts to recommend?  Which "must sees" did I miss?