Any of you who've worked in a restaurant knows that closing time can be a hassle.  You're trying to get a head start on your cleaning list without making the last table of diners feel like they're being rushed out.  It's a delicate balance.
After a movie the other night, Jeff and I headed to Fairhaven Pizza to get a late dinner.  They close at 9:00, and we arrived at 8:55 pm.  I peeked my head in the door and asked if it was too late to place an order to go.  The kind man behind the counter said, "Of course not," and welcomed us in.  I could see the staff was already making progress on sweeping the floor and bringing in the patio tables, but he seemed willing to serve us anyway.  (I'm pretty sure he was the owner.)  Not only did we try to get our order in at the last minute, we presented him with a half-off coupon and picked a 12-inch pizza off the menu instead of grabbing the slices he had in the warmer.  The nerve.
I sort of couldn't help it.  I had my heart set on the Thai Pizza we'd tasted a few weeks earlier.  Just listen to this:
A blend of peanut and coconut is the base for our sauce, topped with a blend of fresh basil, cabbage, red bells, cilantro, carrots, and green onion.  Topped with peanuts, pineapple, garlic and a dash of spicy sauce.  No cheese on this one makes it vegan delicious. 
(You can add chicken or shrimp if you'd like, or keep it just veggies.  And, I promise…you won't miss the cheese.)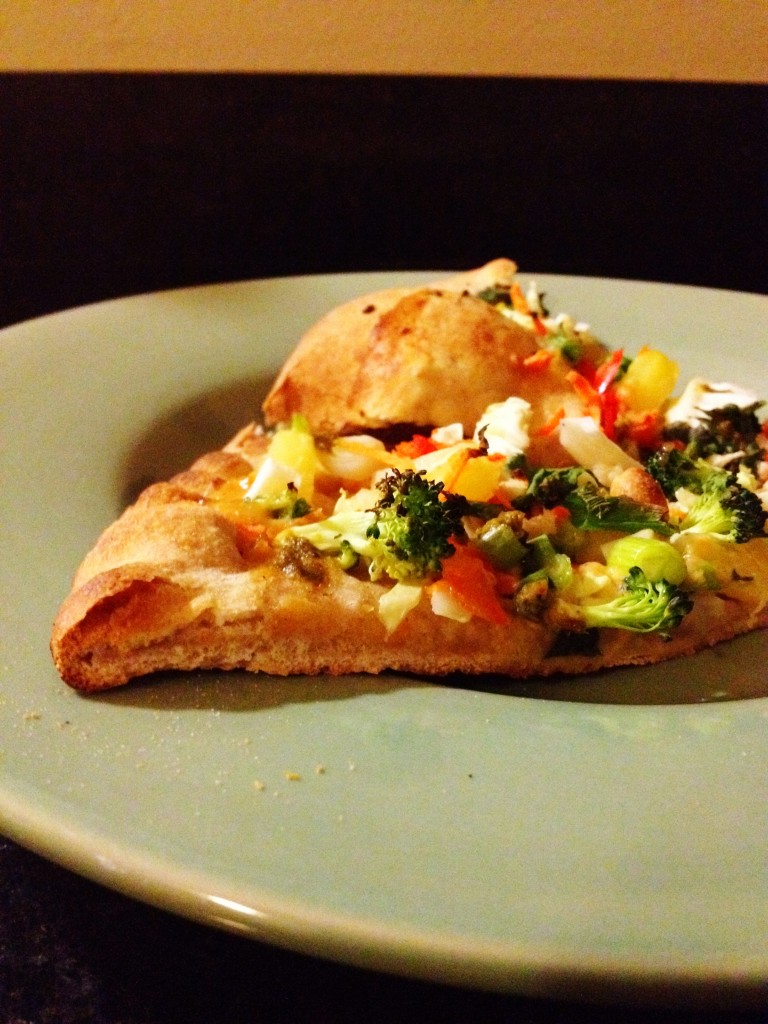 So, I'm incredibly impressed with the level of customer service we received and the pizza is worth being a high maintenance patron over (I'm very familiar with this role).  On top of that, I have lots of praise for their crust.  First, it's made with locally milled organic whole wheat flour, mixed with some white flour, which is basically how we do it at our house.  Second, they have a gluten-free crust available.  Lastly, you can drop by and pick up a ball of their yummy dough and create your own pizza at home, or go the take and bake route.
And don't get me started on the sauce.  I've only tried the peanut/coconut but the menu lists tarragon leek, sesame oil, basil pesto, tomato and chipotle BBQ sauces, too.  I must return to sample these, but next time I'll go during normal business hours so I don't wear out my welcome.
*Note:  From what I can tell, Fairhaven Pizza doesn't have their own website.  The link I've used above goes directly to a PDF of their menu.  You can find helpful information about them at Urban Spoon, Yelp and Travel Advisor, but here are the basics:
Fairhaven Pizza
1307 11th Street
Bellingham, WA 98225
(Fairhaven neighborhood)
360-756-7561
Do you have any ideas for making pizza more healthy?
If you liked this post, you may also enjoy: