Seems like we've been going to Seattle for the weekend a lot lately, mostly to see friends and family.  It's just 90 miles south of us here in Bellingham, and it can feel like a real getaway.  We've made time for a few fun grocery shopping excursions, too, since there are some pretty unique food stores in the big city.  Uwajimaya, an Asian grocery, is a favorite for tea, noodles, snacks and produce, not to mention staples like coconut milk and tamari.
But, I recently discovered a new spot.  It was featured on Evening Magazine, a local TV show, in a segment called "Hidden Gems of SODO".  (For those of you who don't already know, SODO is shorthand for the neighborhood of Seattle that's South of the Dome or South of Downtown.)  I followed their directions to find Big John's Pacific Food Importers, or PFI, and had so much fun filling my basket.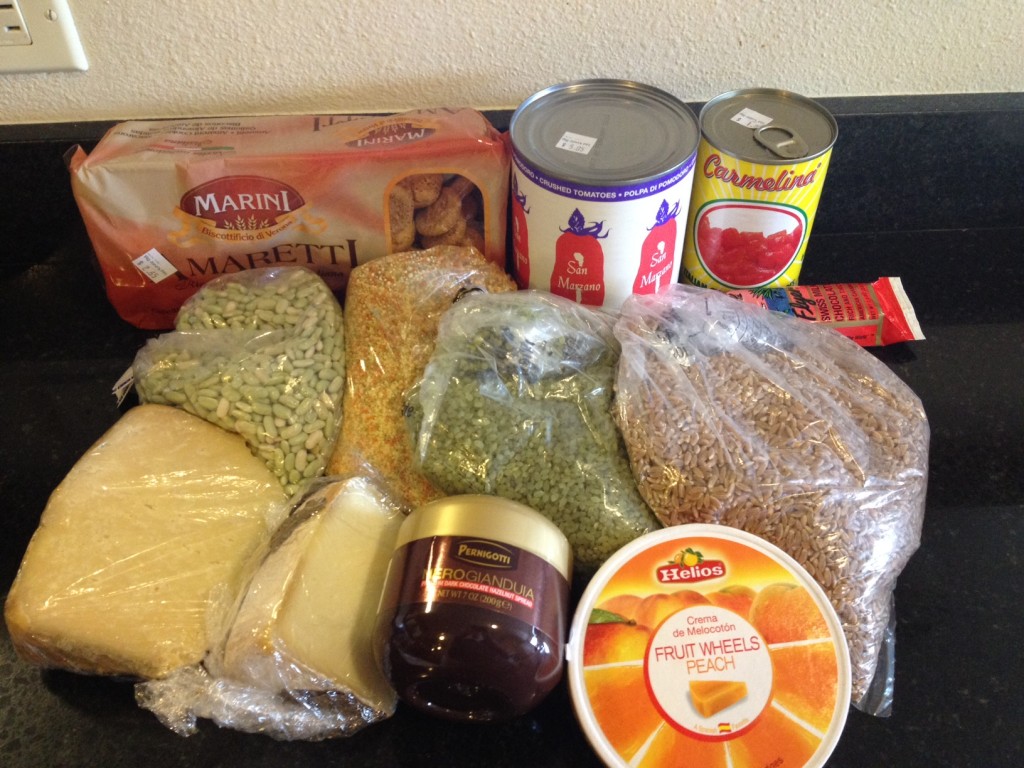 I came home with some new stuff to try.  Items pictured above (L to R, starting with back row):
Marini amaretti cookies
San Marzano crushed tomatoes
Carmelina Italian chopped tomatoes
Flyer Swiss milk chocolate (rich and thick) with American caramel
Flageolet vert (or green flageolet)
Tricolor couscous
Bamboo rice (beautiful, pale green short grain rice that is infused with bamboo juice)
Emmer farro (a whole grain I've been meaning to try)
Cheese (I chose it in a hurry.  Then, once home, I realized it wasn't labeled.  So, it remains a cheese mystery.)
Cheese (ditto)
Pernigotti Nero Gianduia Premium dark chocolate hazelnut spread (I might have to update my Nutrition Review of Nutella and Other Chocolate-Hazelnut Spreads if this turns out to be tasty.)
Helios Crema de Melocoton peach fruit wheels (spreadable fruit that is a bit like jam, only individually portioned)
They have a varied selection of grains and beans, many of which I'd never seen before and lots of bulk spices.  There is pasta in every shape imaginable, olive oils abound and they're quite proud of their extensive cheese case.  Their hours are limited and they're a bit tricky to find, so be sure to check their website for details before you head out.
Be ready…everything is pretty expensive.  So, for us, this will definitely be a special shopping treat every once in a while, not a regular habit.  But, if you're a food person, you know how exciting it can be to find a source for unique items.  It can be a great way to inspire a new dish or discover a new brand that becomes a favorite.
A few somewhat unrelated additional comments:
It seems worth mentioning that this is my 25th post!  The last 4 months since Veg Girl RD started have gone by in a flash.  I'm finding that writing each post is terribly satisfying and this whole endeavor has been fantastic.  Next teeny tiny goal?  50 posts.
I have exciting plans for this weekend.  I'm attending BlogHer Food '12, a conference in Seattle for women food bloggers.  Seems like a perfect opportunity for this newbie, and it's so close to home.  I expect to eat well for 2 whole days and I'm hoping to come back with lots of inspiration and motivation.  Oh, and hopefully free food samples, too.
As of today, this blog has 22 subscribers!  That's just so cool.  A million thanks to all of you who have signed up and who take the time to read some occasional words about food and nutrition.
I'm interested in your feedback about the blog so far.  Which type of posts do you find most helpful:  recipes, product recommendations, vegetarian travel tips, or restaurant reviews?
If you liked this post, you may also enjoy: