Even if you're someone who likes to cook, you're not always in the mood. Or you get home later than expected and run out of time to pull a decent dinner together. There are convenient options to get you out of this pickle, of course: take and bake pizza, take-out Thai food, or dinner kits. In Bellingham we even have a delivery service that will send a driver to any of 45 local restaurants and bring you dinner, tacking on just $3.99 for the trip. While all of these will do, I've found another way: picking up fresh, ready-made main dishes from my favorite local cafe's refrigerator. They call it Ciao Thyme To Go (CT2GO) and it's darn easy.
(Update 2020: Ciao Thyme is closed. Much sadness.)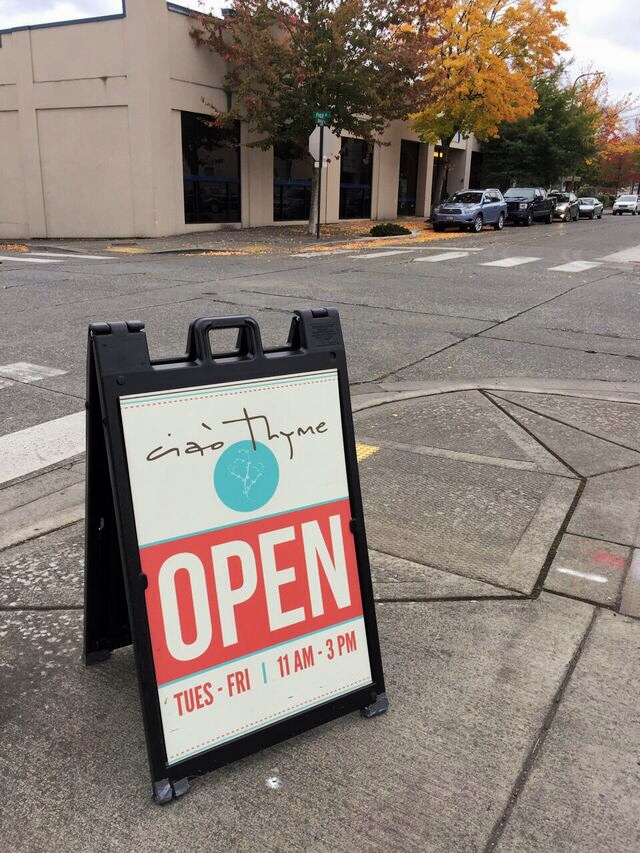 I've been on Ciao Thyme's email list for what seems like forever and this week I finally got myself organized and ordered two main dishes online. I picked them up on my way home from work on Thursday and we enjoyed them all weekend. The whole experience was smooth, and surprisingly fun.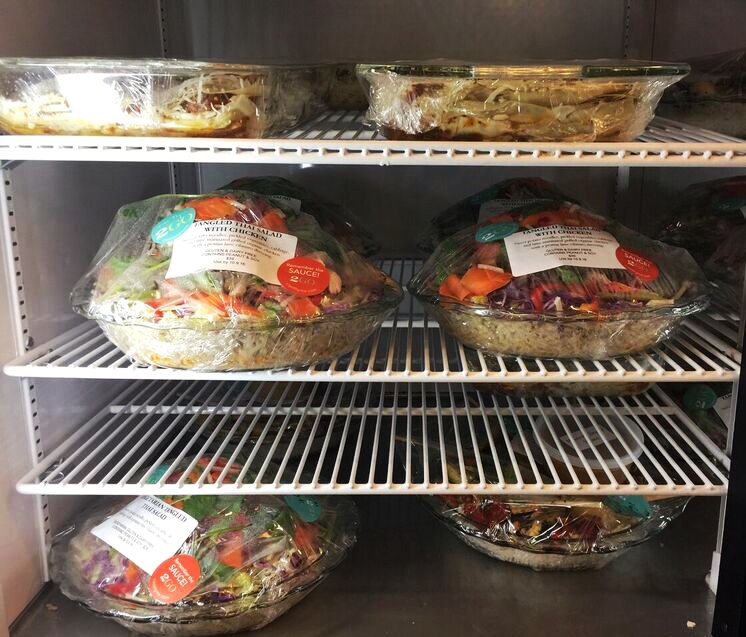 A regular on their CT2GO list is the Vegetarian Tangled Thai Salad:
Sweet potato noodles, pickled vegetables, and cabbage with a peanut-lime-cilantro dressing. 
(Vegetarian. Gluten free. Dairy free. Contains peanuts and soy.)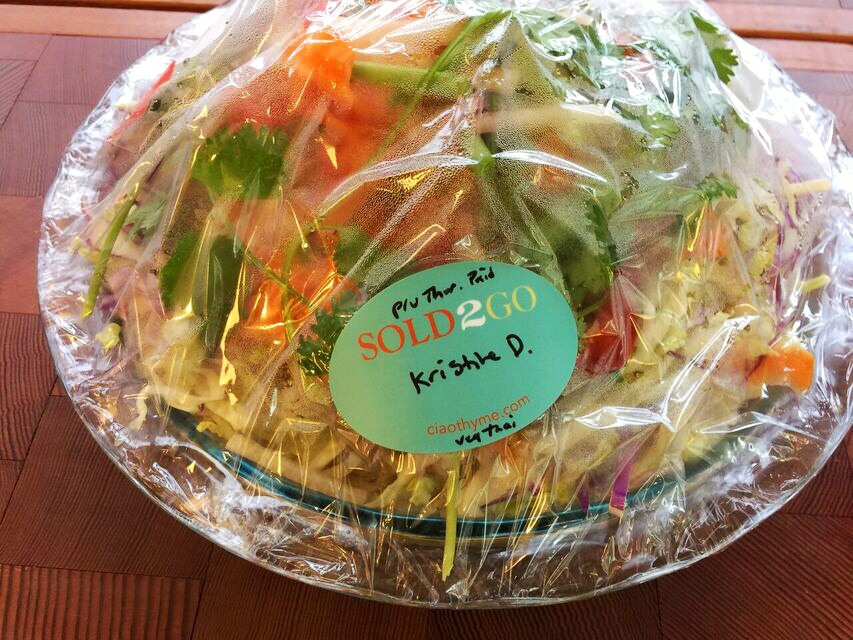 My first impression when I picked it up was that it was gorgeous to look at. When I ate it, I was even more impressed; so fresh, so colorful, so crisp. From the description, I envisioned spiralized sweet potato noodles, like the ubiquitous zucchini noodles or zoodles of the blogosphere. But these were an actual transparent noodle made from sweet potatoes, and the texture was quite pleasing. The radishes were not strongly pickled and the peanut-lime-cilantro dressing had the perfect amount of spice for me, which is to say hardly any. The dish was incredibly filling on its own, but we served a small amount of quinoa on the side.
Since they also offer a Chicken Tangled Thai Salad with "lime marinated grilled organic chicken", I'd love to see a serious plant protein on the vegetarian version. Maybe some lime marinated grilled tofu steaks? (Ciao Thyme isn't guilty of this if their cafe menu is any indication, but so often restaurants simply remove the meat. That makes it vegetarian, but not as nutritious or as culinarily interesting as it could be if the meat were replaced with something else.)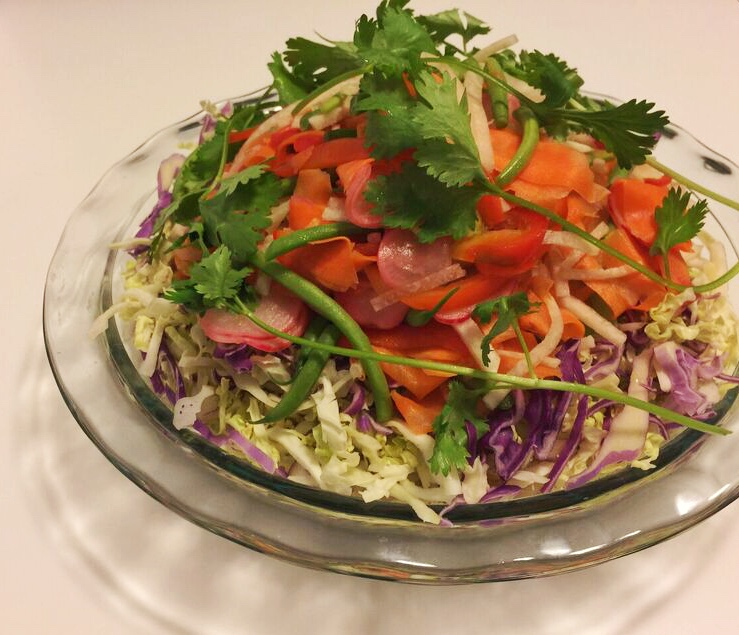 Entrée 2 was the Vegetarian Chickpea Masala:
Chickpeas in a coconut milk masala with cumin, coriander and ginger, sambal roasted vegetables, cauliflower and crushed tomatoes. (Vegetarian. Gluten free. Contains dairy.)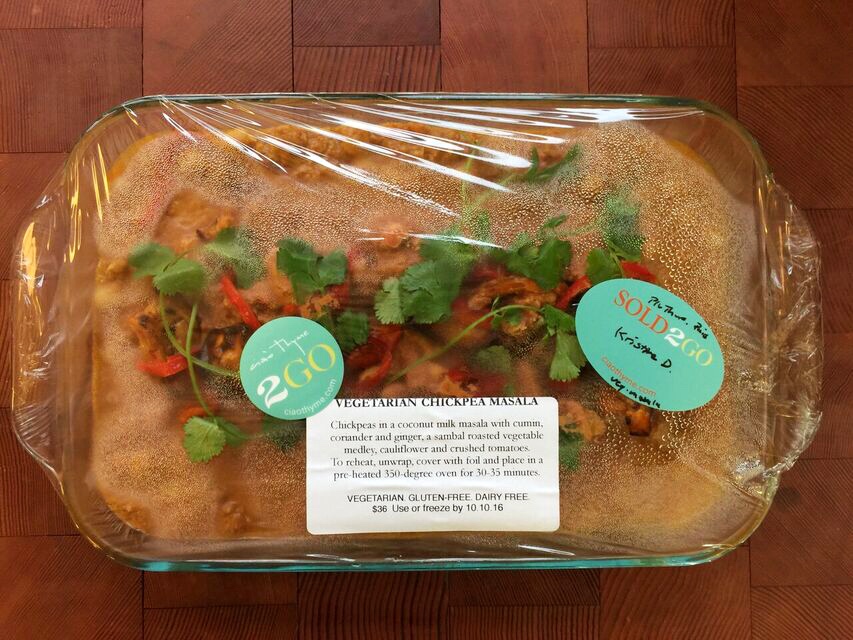 This dish required 30 minutes in the oven and it came out bubbly and simmering with heavenly smells. We ate it with naan bread, cheese, and a mix of rice and quinoa, and I was so grateful for not having to chop and prep before I got to eat. I identified eggplant and red peppers as the sambal roasted vegetables, and we got 4 servings out of this entrée.
The cost for all this fun and yumminess is shocking, and probably part of the reason I waited so long to partake. The Tangled Thai Salad was $28 and the Masala was $36. Keep in mind you have to add side dishes as these are main dishes and not full meals. (One item that understandably adds to the initial sticker shock is the additional dish deposit of $10, but you get that back later.) We did get 5 servings out of the salad and it held up well for a few days in the refrigerator, so it felt like a good value. The husband noted that it's cheaper than getting take-out, which I would agree with. And I looked forward to the leftovers, which is always a good sign.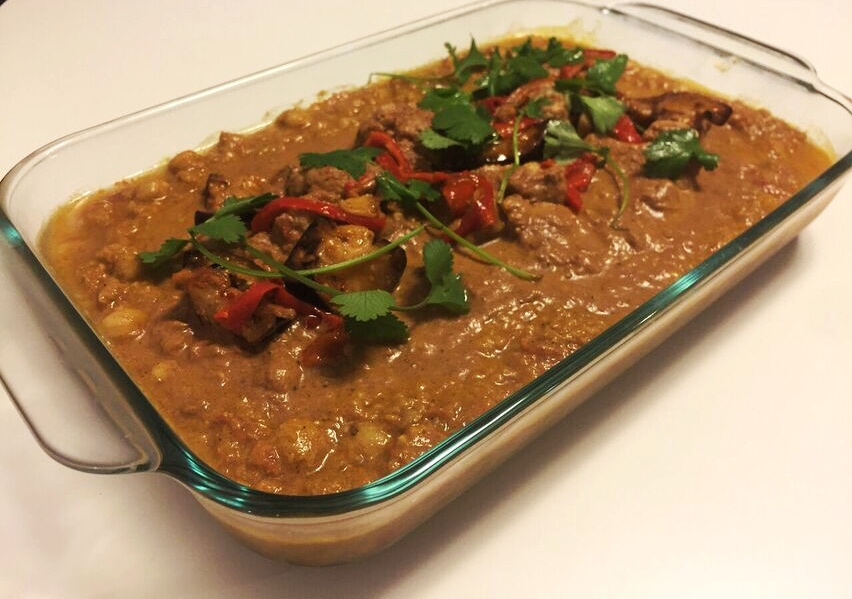 Besides the fresh entrées you can also shop in Ciao Thyme's freezer. While I was getting food someone else had cooked for me, I grabbed potato parsnip puree ($6/quart), vegetarian enchilada sauce ($8/pint), and marinara sauce ($12/pint).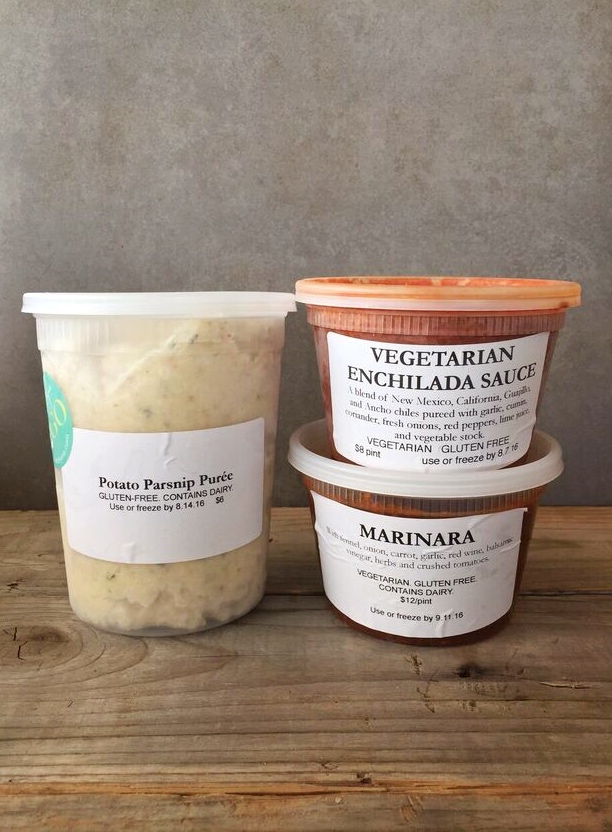 I have so many thoughts about the marinara sauce. First, it smelled incredible and I was impressed by the thick body. It absolutely clung to the noodles and held on tight, which is the quality of a good pasta topping. But, I sort of don't think this particular sauce should be called marinara. When I see the word marinara I think of a simple, classic, pure tomatoey sauce; mostly acidic and a little sweet even. Tomato was not the predominant flavor here. The fennel was the shining star as far as I could tell, and the strong almost briny, earthy flavor was unexpected. There was also a little kick at the end so it must have had some crushed red pepper or other fiery red spice.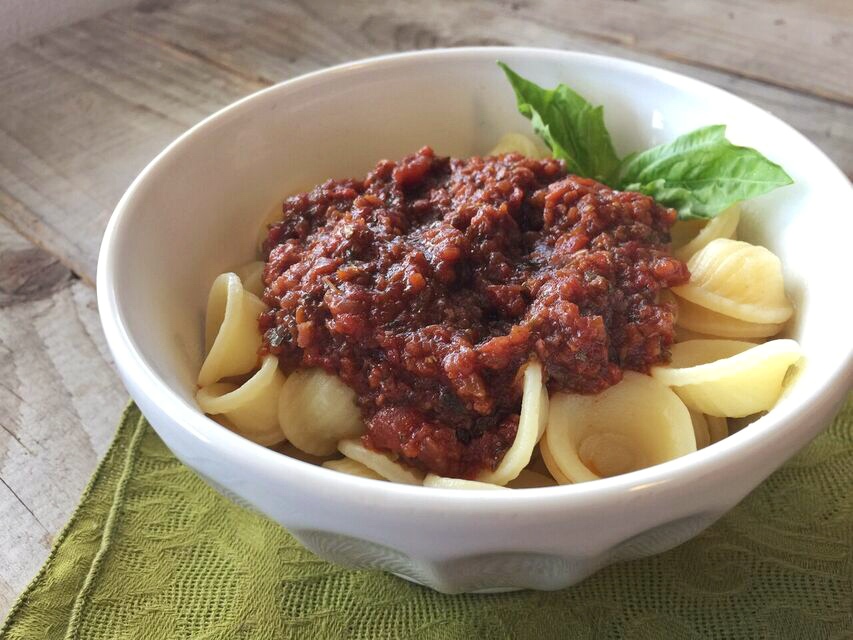 I had a very similar encounter with the potato parsnip puree. My mouth was all ready for something akin to mashed potatoes. That's what it tasted like at first, and I was so content with my fluffy white comfort food. But by the time I swallowed, there was that kick of fire again which seemed out of place in my big bowl of creamy starchy goodness. I was wishing the ingredients were listed on the label like for the other items so I could do a little culinary sleuthing to see what came together to make this combination. Dare I say it might have been perfect without the little red flakes? But as always, take my opinion with a grain a salt (or a speck of cayenne?). I'm overly sensitive to spice level, so if it's there, my tongue will find it. With gusto. If you enjoy a little flame in the mouth, these frozen staple foods will be right up your alley. (I've still got the enchilada sauce in the freezer waiting to be part of some soon-to-be casserole.)
The hours on the sign pictured at the top of this post are just for the cafe. Happily, there are extended hours for CT2GO pick-up:
Tuesday & Wednesday from 11 a.m.-4 p.m.
Thursday & Friday from 11 a.m.-6 p.m.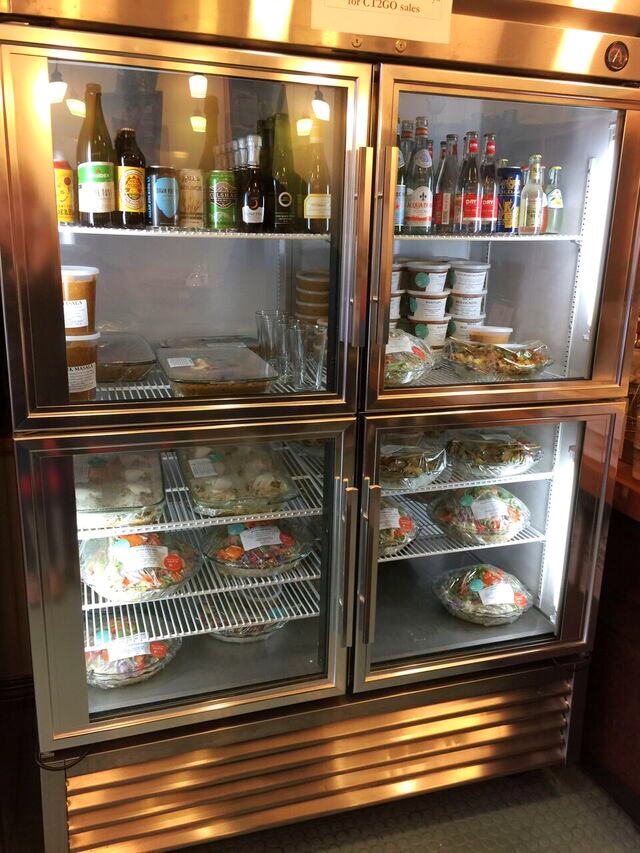 A service like this could come in quite handy in several ways if you think about it. For example, if you have a vegetarian friend or family member that you need to feed, but you're intimidated by the prospect, let Ciao Thyme take care of it for you with their vegetarian lasagna or stuffed eggplant. Or, if you need to bring a dish to a party or reunion or baby shower, Ciao Thyme's got you covered. I can totally see myself picking up the Tangled Thai and carting it off to a potluck, especially if I don't have time to go home between work and cook a dish myself.
If you don't live in Bellingham, this post may seem a bit unhelpful for you. But I urge you to see if someone in your community is doing something similar. So many of us are searching for ways to get dinner on the table night after night, and companies continue to find creative ways to help us do just that.
While we're on the topic of Ciao Thyme, I should say they remain my favorite, never fail lunch destination. So I'm going to keep visiting their cafe at noontime whenever possible, and I'm going to keep my eye on their emails for an opportunity to try more freshly made, vegetarian dishes…for when I'm not in the mood to cook and I'm too embarrassed for the neighbors to see us get another falafel delivery.
Have you encountered anything like this in your neighborhood? Does your favorite restaurant make take-home dishes you can serve at home?