I recently did something unexpected. I took a spur-of-the-moment trip to San Francisco. By myself. The timing was right; I had a few days off between jobs, a husband who didn't have a few days off, and enough frequent flyer miles for a free ticket. I must say…traveling with my affable spouse is always a pleasure, but traveling alone is good for the soul, too, in a different way. While I was there, I did something else unexpected. I had steamed kale for breakfast.
I was in California, after all, but on this morning it was cool and breezy. The weather readily lent itself to a warm bowl of savory breakfast at 9:30 am and two pots of tea. Samovar Tea Lounge was recommended in a list of favorites by Heidi Swanson, someone whose preferences for food, flavors and travel I trust.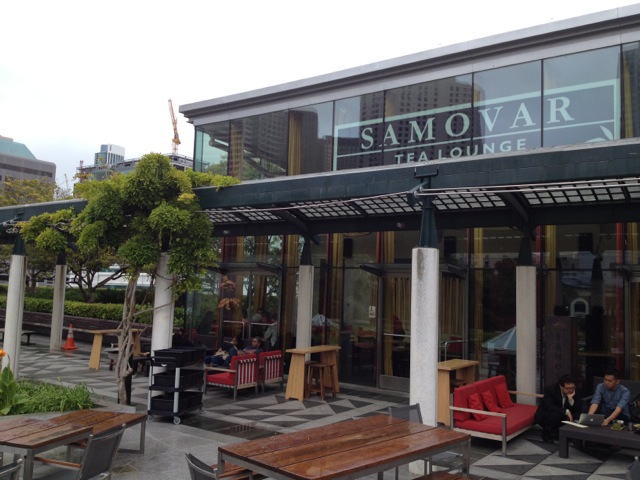 I took a seat and ordered quickly. Within minutes the Japanese Tea Service was placed in front of me: tempeh, wakame seaweed salad, seasoned brown rice, steamed kale, kabocha squash, toasted nori, pickled daikon, squash soup and ryokucha green tea (like genmaicha with the roasty toasty rice pieces). The presentation was gorgeous, and it's really my favorite way to eat – little bites of many things with different textures and tastes. The sauce on the steamed kale was tangy and rich. It added so much flavor to the whole meal – I suspect lemon, maybe nutritional yeast and some wonderful salty element. This rounded out the sweet tempeh, crisp sheets of nori and soft, simple chunks of roasted squash. Definitely not your typical American breakfast.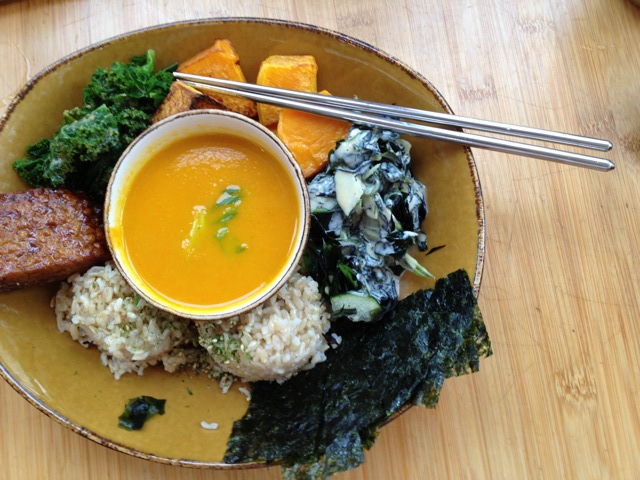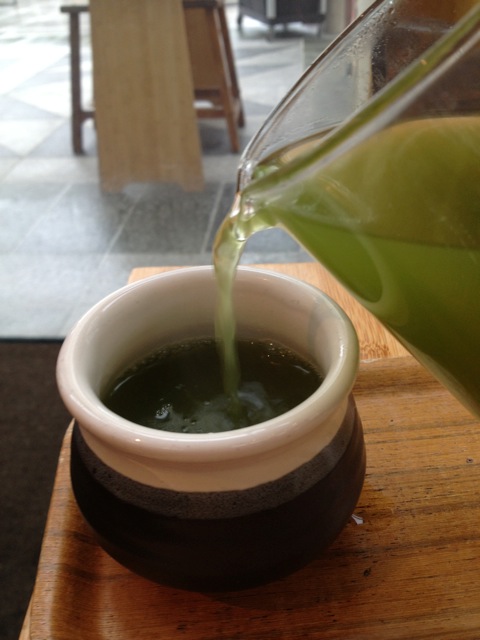 The ambiance, the heavy gold and orange curtains, the pillowed window seats, the soothing music, and the friendly service put me at ease, so I lingered. This gave me a good excuse to choose another pot of tea: California Persian, served with milk and coconut palm nectar sugar. Then, as if on cue, a cute older couple started doing tai chi on the patio just as the rain started to fall.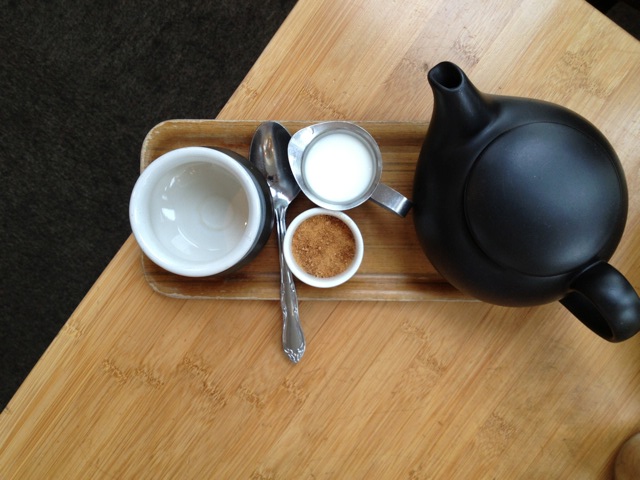 The meal really measured up nutritionally on all fronts. Tea has health benefits, especially with regard to heart disease and cancer, mostly due to the antioxidants in the leaves, called flavonoids. Having a hearty dose of protein at breakfast is also nice (yay tempeh!) as it's thought to give a little satiety, meaning it might help us hang in there until lunch without getting hungry. And if that isn't enough, I also got in some vegetables and whole grains to boot. At breakfast.
Even the bill put me at ease, with a gentle reminder, that I am often in need of at mealtime. And all other times…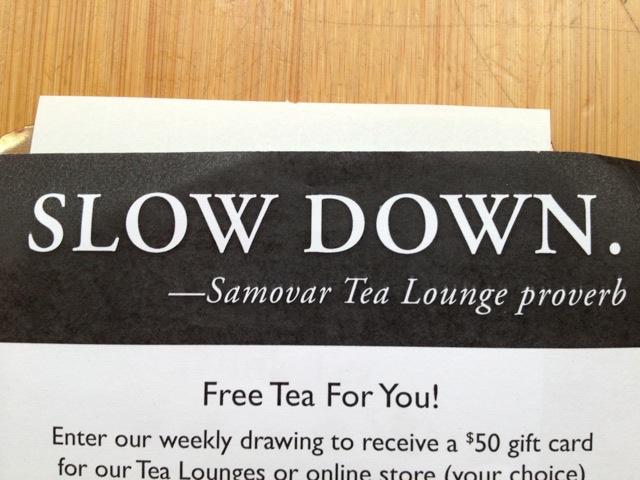 Samovar Tea Lounge has three locations: Yerba Buena Gardens, Mission-Castro and Zen Valley. I had a little trouble finding the Yerba Buena spot until I realized I had to go up. It's on top of the Moscone Convention Center at the corner of Fourth and Misson.
Sometimes the unexpected is good; great even. Maybe it's time we shifted our expectations about what breakfast should look like and try something new. Though I'm not sure my beautiful bowl of food was a true example of a traditional Japanese morning meal, or that Americans will embrace kale for breakfast, I am sure that Japan has been drinking tea for centuries and that's a pretty good place to start.
What's your best unexpected breakfast idea?
More posts coming soon about the rest of my California dreaming. I mean eating.
If you liked this post, you may also enjoy: