How much are you willing to pay for healthy food? It's a priority for our family, so I think we generally spend more than most. But, I'm pretty sure Jeff thought I'd lost my mind when I recently paid $11.99 for a bag of cereal. A very small bag.
I first heard about Holy Crap Cereal on an episode of Dragon's Den and I'd been hoping to get my hands on some ever since. It's a Canadian product that was highlighted on a Canadian TV show, and they raved about it. (If you don't live near Canada like we do, you've probably never heard of either one.) The American version of the show is called Shark Tank. On it, entrepreneurs pitch products to tough-minded investors, affectionately called dragons or sharks, and healthy food items are often featured.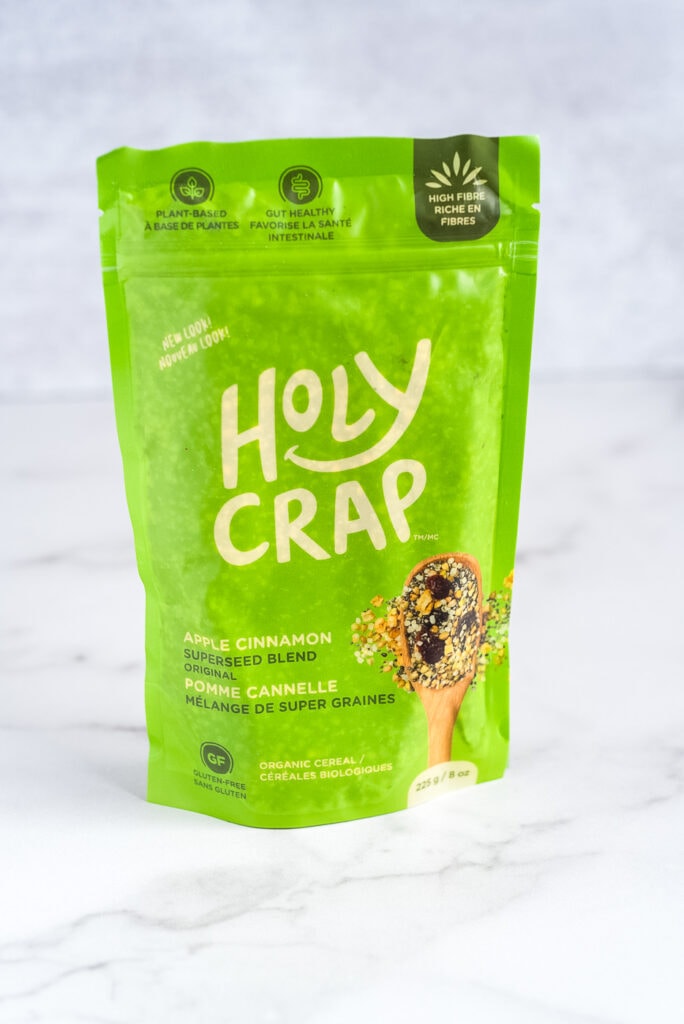 Imagine my delight when my sweetheart and I were wandering the aisles in a grocery store in Parksville, British Columbia and I laid eyes on a bag of Holy Crap way up on the highest shelf. I immediately grabbed the green pouch, then saw the $11.99 price tag. I stood there for a while, trying to decide if it was worth it. You only use a small amount, so you can't really compare it to the regular puffed up volume of the airy cereals…but still, this bag only had about 8 or 10 servings in it. I rationalized that we don't get to Canada all that often, so I decided to take advantage of the opportunity and tossed it in the cart. (Update 2020: it's currently available at $19.99 on Amazon for 8 ounces.)
It's a good thing I did; I am totally hooked. I love the way it smells: earthy, like freshly harvested grain. I love the way it looks: at the right angle, the buckwheat groats look like tiny little hearts on my spoon. And the flavor is really remarkable considering there is no added sugar. The name is quite fun, too, but my favorite part is the texture. I can't get enough of the crunch. Crunchy, crunch, crunch.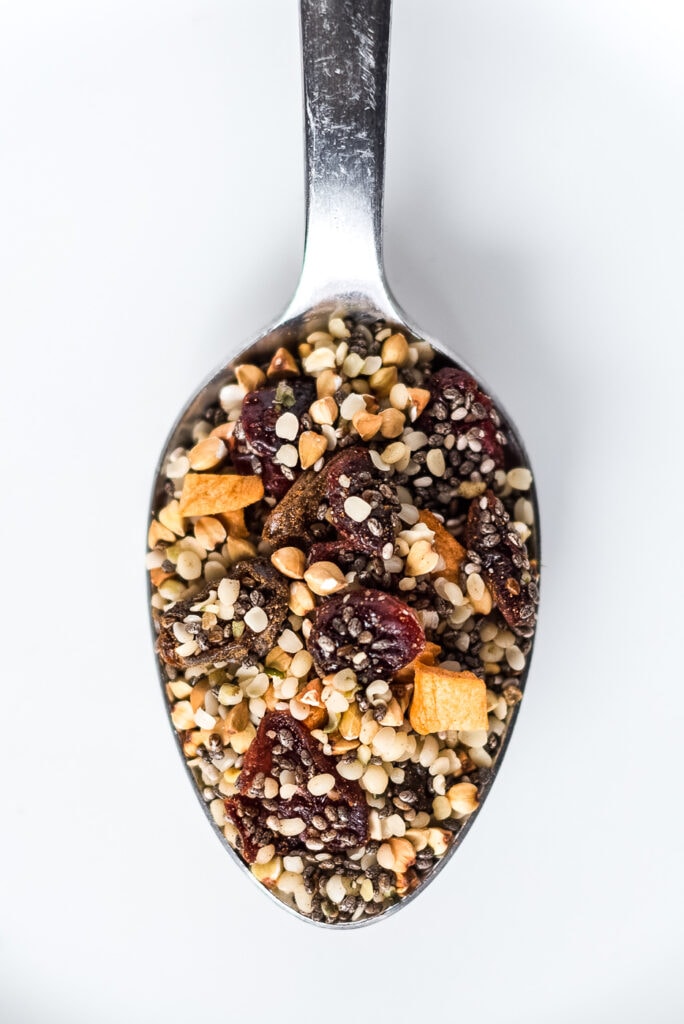 Since I returned to the US of A, I've been trying to recreate this divine stuff for less money. One option I found at my local co-op is virtually identical: Nature's Path Qi'a Chia, Buckwheat and Hemp Cereal. It's only $7.99 for the same sized 8 ounce bag, but my homemade version cost $4.73 for an equivalent 8 ounces ($9.45 for the full 1 pound recipe).
It's not what you're used to. It looks like birdseed, you don't get to eat very much, and it's best if you let it soak in milk for a minute before you dig in so it can sort of gel up. Are you convinced yet?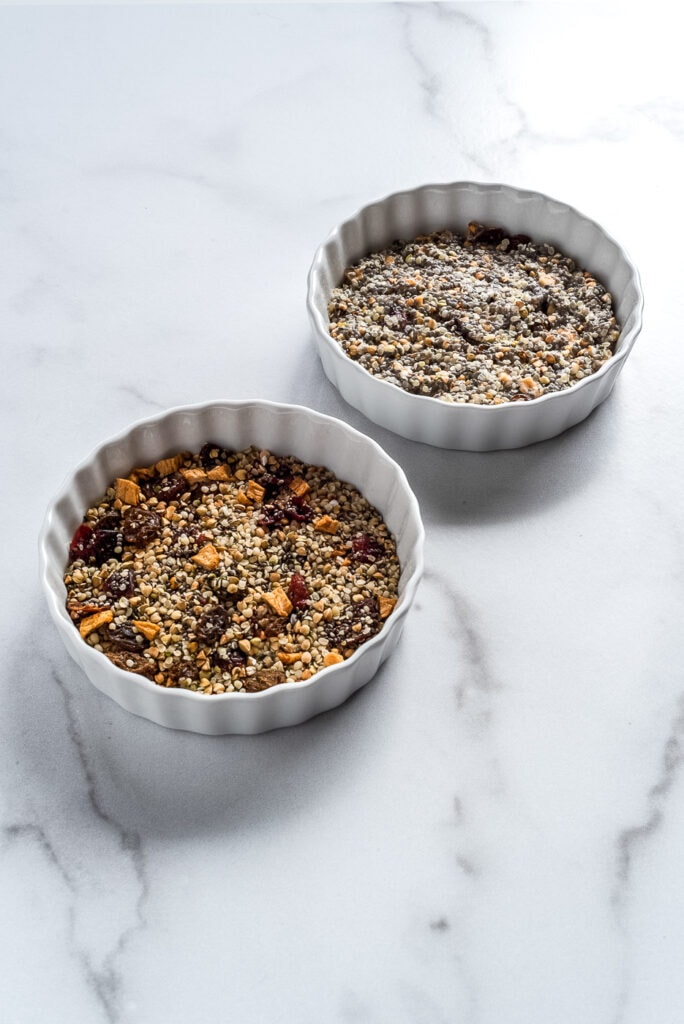 Nutritionally, this stuff's a quintuple threat: no added sugar, high in fiber, sodium-free, vegan, and gluten-free. It's also a good source of protein because of the chia and hemp seeds, and there's a gram or two of the omega-3 fat alpha-linolenic acid as a bonus. (Nuts and seeds make up one of vegetarians' favorite food groups because of the protein, minerals and healthy fats they provide.)
Once you get the right ingredients, I'm not sure there's a secret ratio that creates the magical taste. This is what I came up with and I was quite satisfied.
I've been so excited about this cereal that I've eaten it nearly every morning and tried every combination of fruit I could come up with, even though it's kind of slim pickins for fruit in February. (So slim, in fact, that I smuggled 8 glorious grapefruit home from Phoenix in my suitcase last weekend.) Here are my favorites: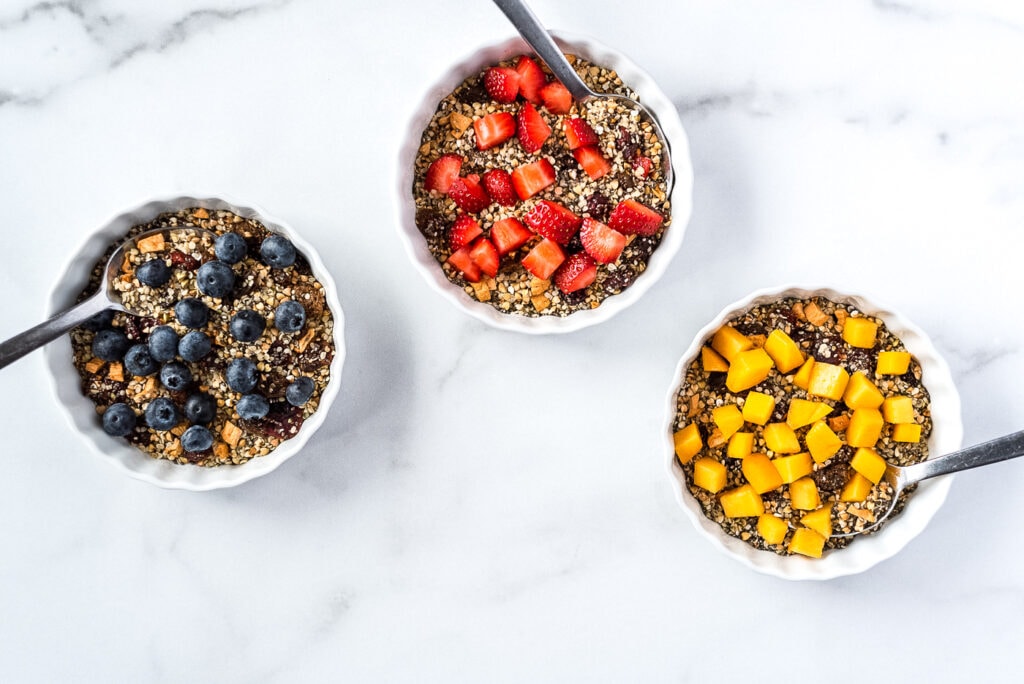 A couple more ideas on serving up:
The serving size on the name brand packages was 2 tablespoons, so for comparison, that's what I used to calculate my nutrition facts. But, when I have it for breakfast I use 1/4 cup, or 2 servings.
Get ready for a different cereal-to-fruit ratio than you're used to. My breakfast bowl is mostly fruit, with just a bit of this cereal mix for crunch. I make the same argument for calorically-dense granola in this post: Cherry Maple Granola.
I've basically been following the directions on the package, only a little on the dry side. I mix 1/4 cup of the cereal with 2 to 3 tablespoons of soy or almond milk. Then, I let it set while I prep my fruit.
You could use this yummy mixture in lots of other ways, too, like sprinkling it on yogurt or adding a couple of spoonfuls to your favorite hot or cold cereal.
A couple of notes on ingredients:
This was the first time I'd ever bought buckwheat and the bulk section at my co-op had two kinds. One was labeled buckwheat groats, which is what I used. These groats varied in color – some were very pale green, some were yellow and others were kind of beige. The alternative was labeled buckwheat kasha. It's been roasted and is quite a bit darker brown and uniform in color.
I also got my dried cranberries in the bulk section. They were sweetened with apple juice concentrate and had some sunflower oil added.
My chia seeds, dried apples, raisins and buckwheat were all organic.
Spending an embarrassing sum of money in a foreign country in this case turned out for the best. I have a new favorite breakfast thanks to some Canadians, some dragons, and a husband who lets me spend like a drunken sailor on the cereal aisle.
Have you had any luck recreating a favorite product at home?
Print
Crunchy Homemade Buckwheat and Seeds Cereal
Makes 2 3/4 cup or 1 pound
Author:
Prep Time:

10 mins

Total Time:

10 mins

Yield:

18

-

2

0

1

x
Category:

Breakfast
Ingredients
1/2 cup

plus 2 tablespoons chia seed (

4 ounces

)

3/4 cup

plus 2 tablespoons shelled hemp seed (

5.75 ounces

)

1/2 cup

plus 2 tablespoons buckwheat groats (

4 ounces

)

1/4 cup

sweetened dried cranberries (

1.2 ounces

)

1/4 cup

raisins (

1.2 ounces

)

2 tablespoons

dried apples, finely chopped (

0.5 ounces

)

1/2 teaspoon

cinnamon
Instructions
Combine all ingredients in large mixing bowl.
Store in the refrigerator and get ready to be wowed.
For breakfast, I usually mix 1/4 cup cereal (2 servings) with 2-3 tablespoons of soy milk and add fruit.
Nutrition
Serving Size:

2 Tbsp (0.9 oz.)

Calories:

120

Sugar:

3 g

Sodium:

0 mg

Fat:

6 g

Saturated Fat:

0.5 g

Trans Fat:

0 g

Carbohydrates:

11 g

Fiber:

4 g

Protein:

5 g

Cholesterol:

0 mg
Keywords: hemp seed, buckwheat, holy crap, cereal
If you liked this post, you may also enjoy: