Coming up with ideas for dinner 365 days a year is exhausting. So falling into a rut of familiar dishes is common. And once we're in a rut, it's a comfortable place to stay. Today, I want to give you a little nutrition nudge. I'd like to encourage you to try something new: tempeh. Similar to tofu but with a much firmer texture, it browns beautifully and can stand in for meat successfully in a variety of recipes. Sometimes, the best way to try a new food is to surround it with flavors you know you love, which is exactly what this recipe does. It showcases tempeh but with the familiar sesame and soy sauce flavors of stir-fry.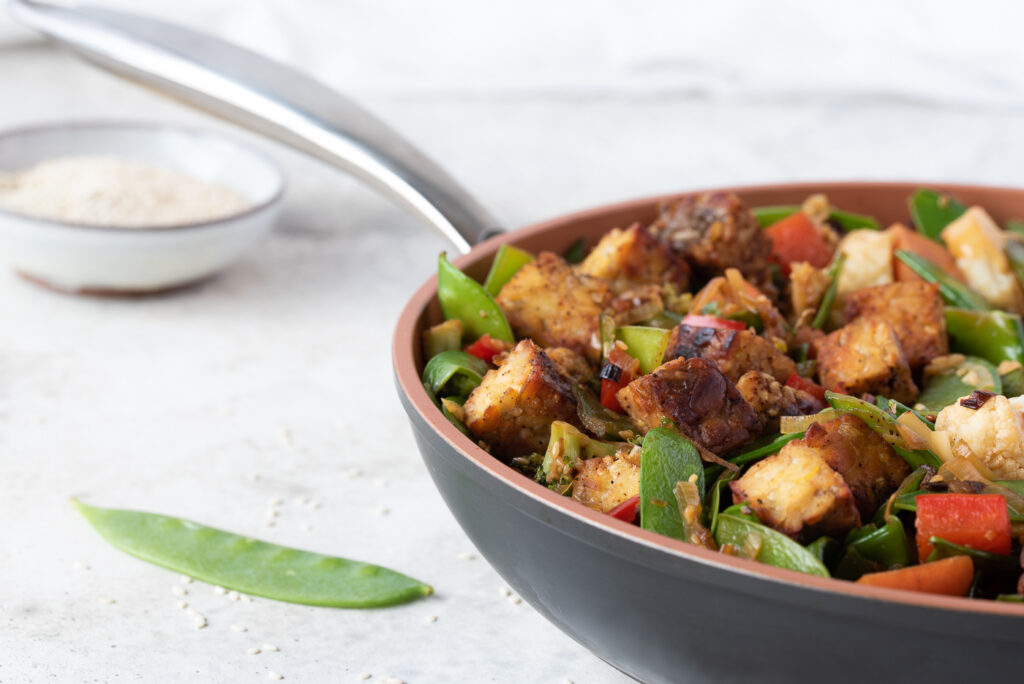 If you'd like to see how this recipe fits into a full week's menu from Trader Joe's, take a peek at A Week's Worth of Trader Joe's Dinners for Less than $100. And for help with shopping, you'll find a grocery list included below the recipe.
Print
Easy Weeknight Stir-fry with Noodle Cake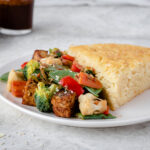 Get dinner on the table in a jiffy, with veggies taking center stage.
Author:
Prep Time:

15 mins

Cook Time:

25 mins

Total Time:

40 mins

Yield:

4

1

x
Category:

Main Dish
Ingredients
Stir-fry
1 teaspoon

toasted sesame oil

2 teaspoons

plus 1 tablespoon olive oil, divided

8 oz

. tempeh, cut into about

32

chunks

1 tablespoon

reduced-sodium soy sauce

¼ teaspoon

chili powder

½

leek, cut lengthwise and then sliced into half-moons (about

1 cup

)

1

red pepper, cut in large dice

½ cup

baby carrots, cut in quarters (about

7

baby carrots)

½ cup

cauliflower, cut into bite-sized pieces

1½ cups

broccoli, cut into bite-sizes pieces

3 cups

snow peas, cut in half

¼ cup

teriyaki sauce with pineapple juice
Noodle Cake
16 oz

. capellini or angel hair pasta

1 tablespoon

olive oil
Instructions
Stir-fry
Heat toasted sesame oil and 2 teaspoons of olive oil in large skillet over medium or medium-high heat. On my stove this was a 6 on a scale of 1 to 10. Add tempeh chunks and cook several minutes until browned on all sides. This will take about 10 minutes.
I like to chop the vegetables while the tempeh is browning.
Remove from pan, add to a bowl, and sprinkle with soy sauce and chili powder. Toss to coat and set aside.
Keep skillet on the stove and add remaining 1 tablespoon of olive oil. Add leek and cook for just one minute until softened.
Add red pepper and carrots next and cook for 2 minutes.
Add cauliflower and cook for another 1 minute, then broccoli and snow peas. Cook for 1 minute more, add teriyaki sauce, cover and cook until vegetables are tender-crisp, about 3 minutes.
Add tempeh to vegetables and stir until heated through.
Serve with rice or noodle cake.
Noodle Cake
Bring a medium pan of salted water to a boil. Add capellini or angel hair, cook according to package directions, and drain.
Heat olive oil in a medium-to-large skillet over medium heat. Add cooked noodles and spread evenly to cover bottom of pan. Let cook 2-4 minutes or until brown and crispy.
Then, invert onto a plate and slide noodle cake back into skillet to brown the other side. Cook 2-4 minutes until crispy.
Remove from pan and cut into quarters.
Notes
Nutrition Info Per Serving with Noodle Cake Accompaniment: Calories: 710 Fat: 18 g Saturated Fat: 1 g Carbohydrate: 110 g Sugar: 11 g Sodium: 480 mg Fiber: 12 g Protein: 28 g Cholesterol: 0 mg
Inspired by two cooking techniques. In Nava Atlas' cookbook, Vegetarian Express, she seasons tempeh for a fajita recipe with soy sauce and chili powder. It makes a nice combination and works surprisingly well in Asian-inspired dishes. As an alternative to the usual rice side dish, I took inspiration from a noodle cake recipe from Vegetarian Times.
Nutrition
Serving Size:

1.25 cups

Calories:

280

Sugar:

11 g

Sodium:

480 mg

Fat:

13 g

Saturated Fat:

1 g

Trans Fat:

0 g

Carbohydrates:

28 g

Fiber:

8 g

Protein:

14 g

Cholesterol:

0 mg
Keywords: vegetables, tempeh, stir fry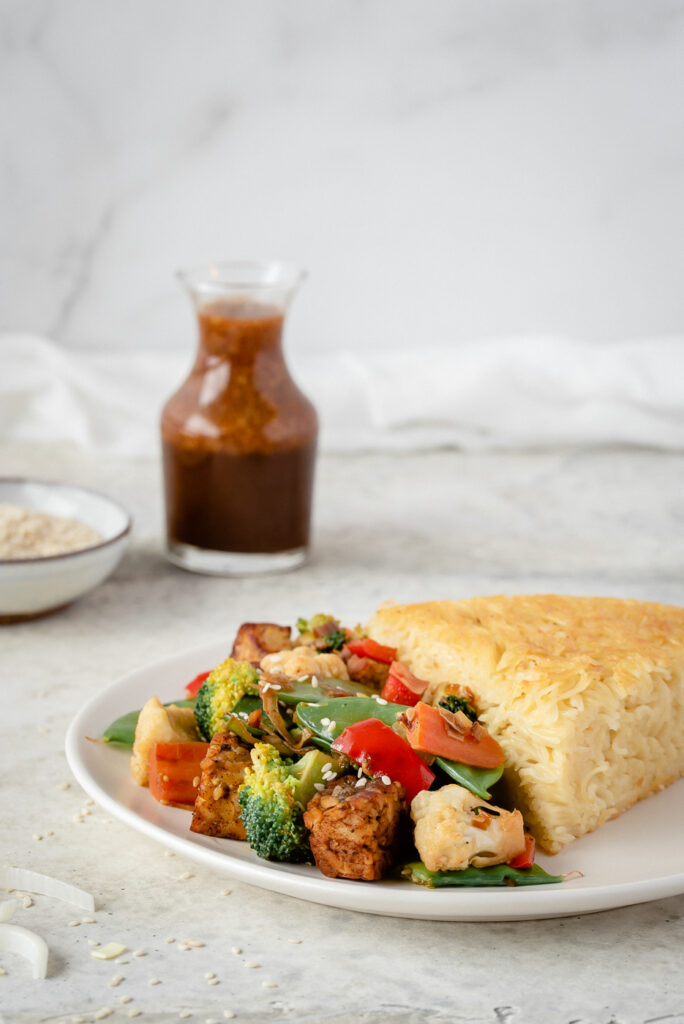 This shopping list was prepared for a trip to Trader Joe's, but any grocery store should have similar items. It was updated in 2020 with current prices and product names.
Easy Weeknight Stir-fry with Noodle Cake Shopping List
8 oz. Trader Joe's (TJ's) Organic 3-Grain Tempeh ($1.69)
6 oz. TJ's Trimmed Leeks ($2.99) (This package contains 2 leeks.)
1 Red Bell Pepper ($0.99)
12 oz. TJ's Broccoli and Cauliflower Duet ($2.49)
16 oz. TJ's Organics Cut and Peeled Baby Carrots ($1.29)
9 oz. TJ's Snow Peas ($2.29)
20 oz. TJ's Island Soyaki Sauce ($3.69) or 20 oz. TJ's San Soyaki Sauce ($3.29)
Recommended Accompaniment:
16 oz. TJ's Italian Capellini pasta ($0.99)
Pantry Staples:
5 fl. oz. TJ's Organic Toasted Sesame Oil ($2.99)
16.9 fl. oz. TJ's Organic Extra Virgin Olive Oil Mediterranean Blend ($3.99)
17.6 fl. oz. TJ's Reduced Sodium Soy Sauce ($2.99)
Chili powder
TOTAL $16.42 with accompaniment
$26.39 if you need to buy pantry staples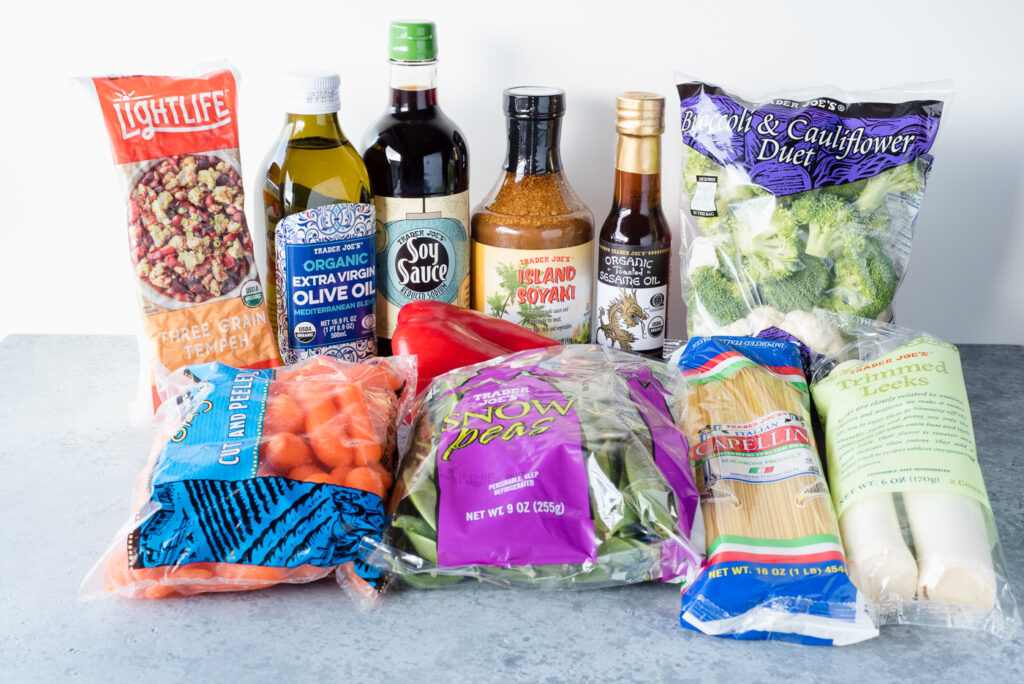 Nutrition notes:

– Can I trim anywhere to save calories? I cut the noodle cake into four equal pieces which is reflected in the nutrition analysis above. However, I realized as I was eating it that it was quite a generous portion. To save calories, you could cut it into 6 pieces instead. I'd still divide the veggies into just four servings. Save the two extra "pieces" of noodle to enjoy a different way, like with marinara sauce. Also, oil was a big contributor to calories in this recipe. If you could get by with less, you'd knock the number down a bit.
 – This recipe just happens to be vegan. I think sometimes people get apprehensive when they hear that a meal is vegetarian or vegan. If you just said "we're having stir-fry for dinner" without announcing that it was meat-free and dairy-free, people might be surprised that they'd eaten a vegan meal and actually enjoyed it. Of course, in this case, the tempeh might give it away…
– What about protein? The tempeh, noodles, and veggies are the stars of the show here for protein; no meat required. The full meal provides 28 grams of high fiber, cholesterol-free plant protein.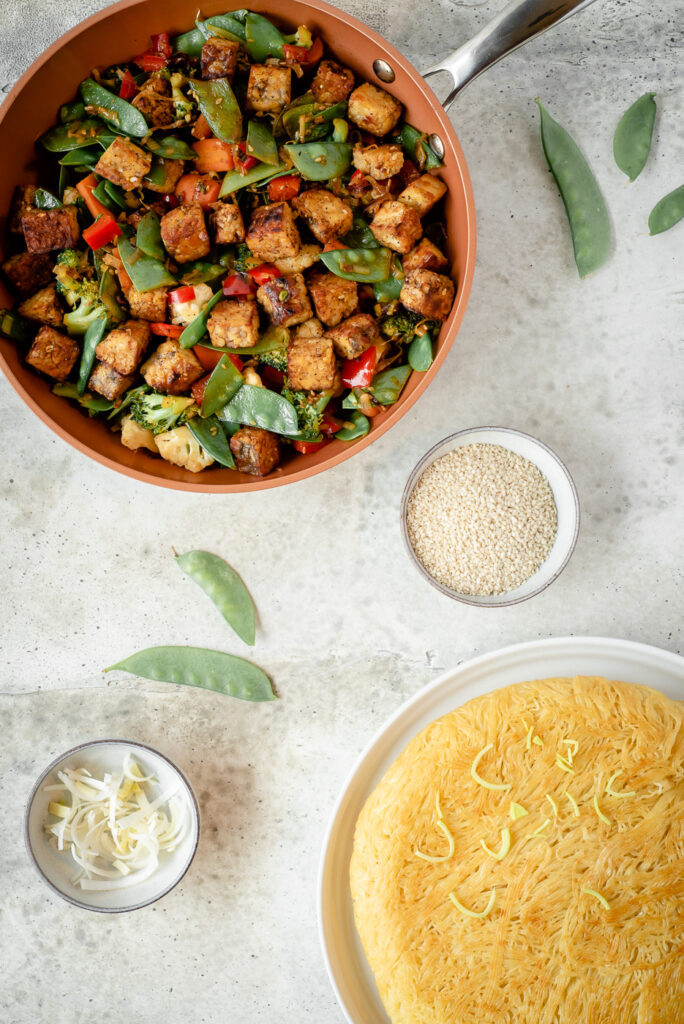 I think once you cook with tempeh the first time, you'll be convinced that it should be on your list of go-to dinner proteins. Versatile, delicious, and convenient means it's the perfect vehicle to transport you out of your recipe rut.
Do you find you have to be stealthy to get your family to eat better?  Or are they pretty accepting of new foods?
This is not a sponsored post. I bought all the groceries on my own and happily consumed them.