Sushi is not even in the name of this restaurant, and yet I had the best sushi of my life in their chic little Victoria, BC spot. Nubo Japanese Tapas' menu is extensive and includes appetizers, rolls, nigiri, sashimi, tapas, salads, soup, noodles, and rice bowls. But all I really cared about was the sushi rolls.
I scouted out the menu ahead of time and was delighted to find creative vegetarian sushi options. I love sushi, but even restaurants that are hip enough to offer fishless sushi often assume vegetarians will be delighted with a filling of just cucumber or just asparagus. I so appreciate the intent, but most of the other sushi rolls on the menu have multiple fillings and flavorful sauces, and it would be quite doable to be creative with plant-based ingredients as well. And just like vegetarians aren't thrilled anymore to find a veggie burger as the only meat free selection on a pub menu, we'd like a reasonable amount of variety in the meatless sushi options. Nubo was up to the culinary challenge.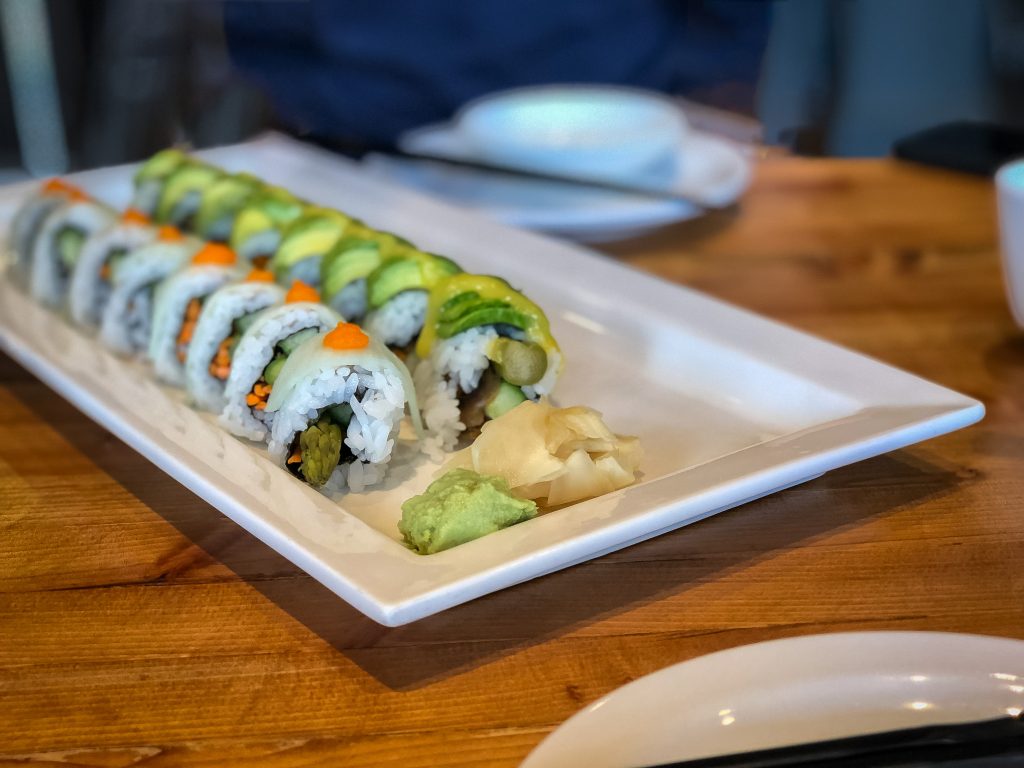 The staff at Nubo impressed me immediately. They asked about diet restrictions and were very accommodating when we ordered. They let me know they had recently updated the menu and noted that I happened to have selected three of their newest rolls. I felt like they were essentially saying, "Well done! Wise choice!" I immediately felt like a seasoned sushi patron. All three rolls I had chosen were typically made with avocado, but our server didn't bat an eye when I asked for all three to be avocado-free. Sushi is all about texture for me. No mush factor please.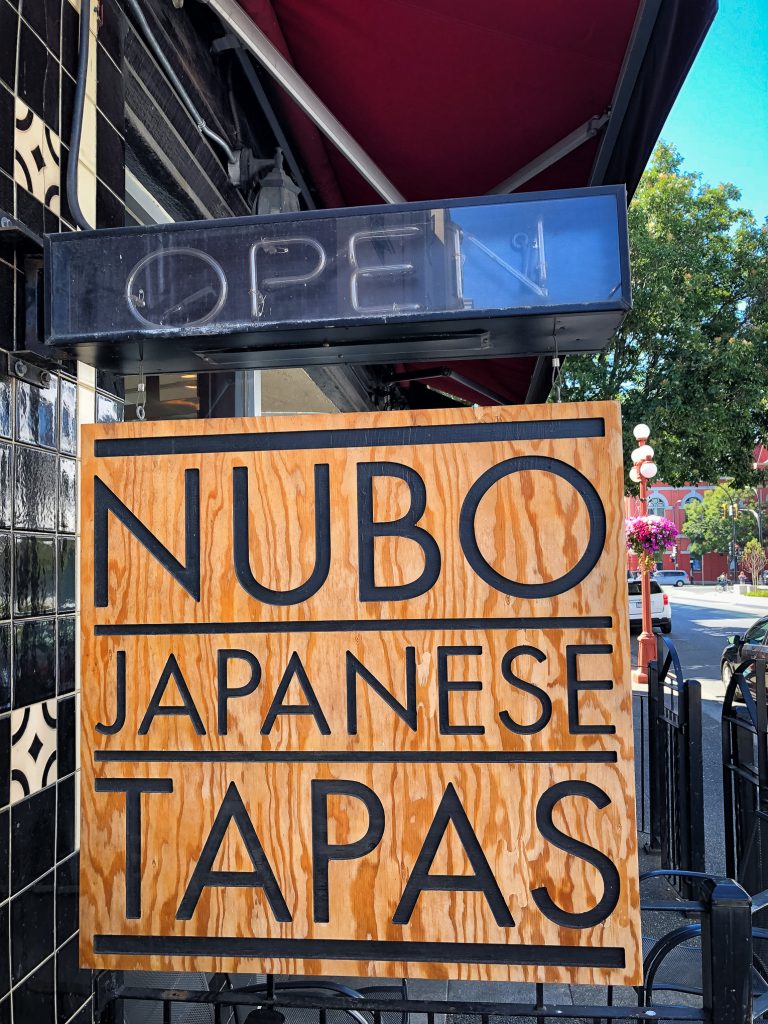 They impressed me again with outstanding customer service. When our order took a noticeably long time, they apologized before we could mention it and served us free iced tea as a kind gesture for our patience.
We are big edamame fans so it's standard fare when we eat Japanese food, if it's available. Nutritionally, it's also a nice complement to vegetarian sushi which is often light on protein. I've probably ordered edamame 30 times or more in my life and it usually comes lightly salted. While I've also had it swimming in garlic butter, or olive oil and shoyu, no one has ever served it with fresh lemon juice squeezed over the top. What a revelation! Somehow the mix of acidic lemon and salt was just the thing to make the edamame a little zippier. I couldn't stop eating it.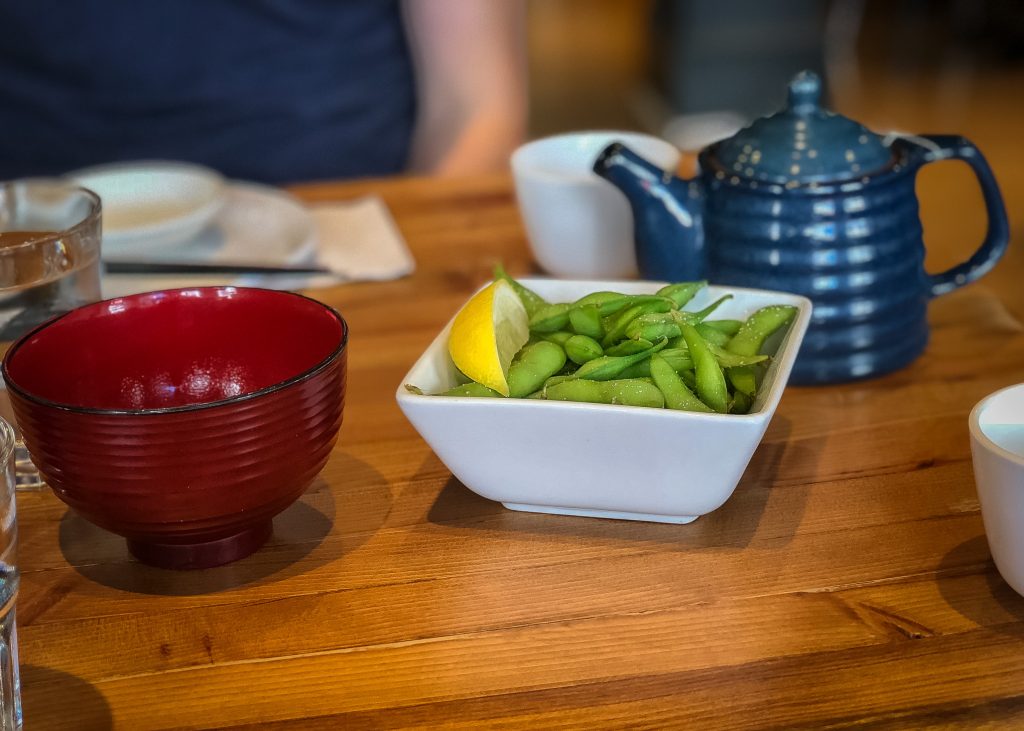 And then the brilliantly colorful, perfectly arranged sushi started to show up.
Mango Lemonade Roll: cucumber, asparagus, carrot, bell pepper, mango, mirin lemon puree, (avocado)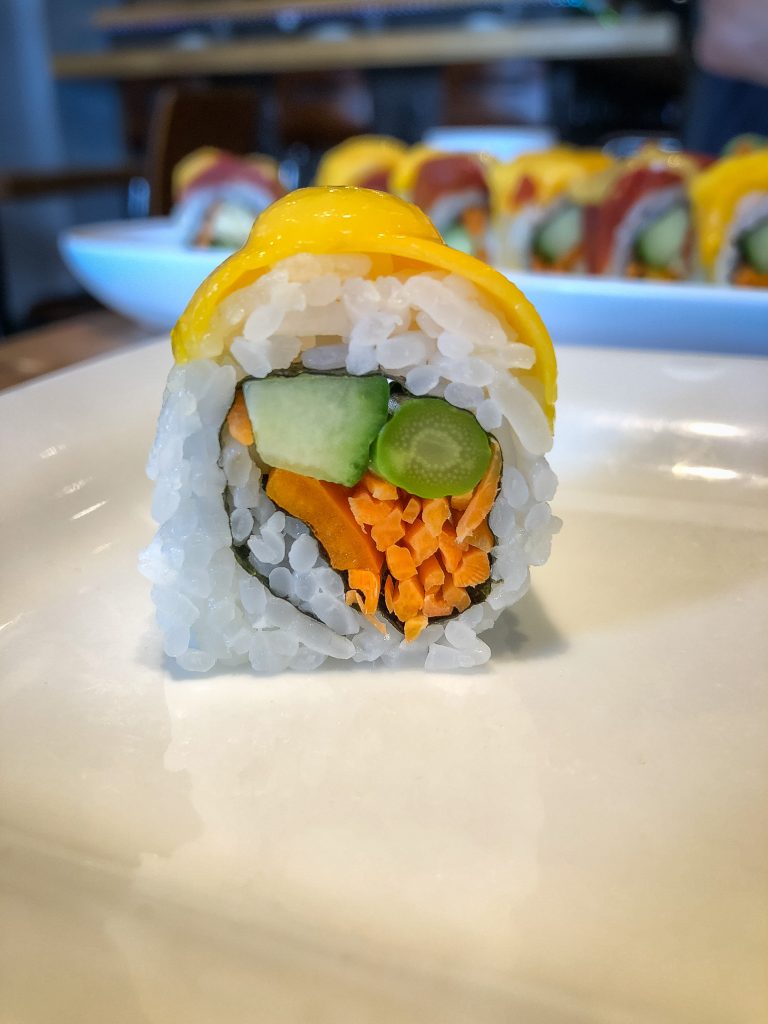 This was nearly sushi perfection. The tartness and uniqueness of the lemon puree was definitely what made it special. I think I was especially excited for a fully dressed roll because I often can order sushi off of a regular menu by making modifications. This often involves asking for the tobiko (fish roe) topping to be left off, which affects the overall flavor. This felt complete, complex, and refreshing…even without the avocado!
This next roll was filled with falafel. That's right, falafel. Talk about fusion cuisine! This was by far the favorite of all six rolls we ordered. And such a cute name.
Earl Green Farmers Roll: green bean tempura, falafel, refried beans, (avocado)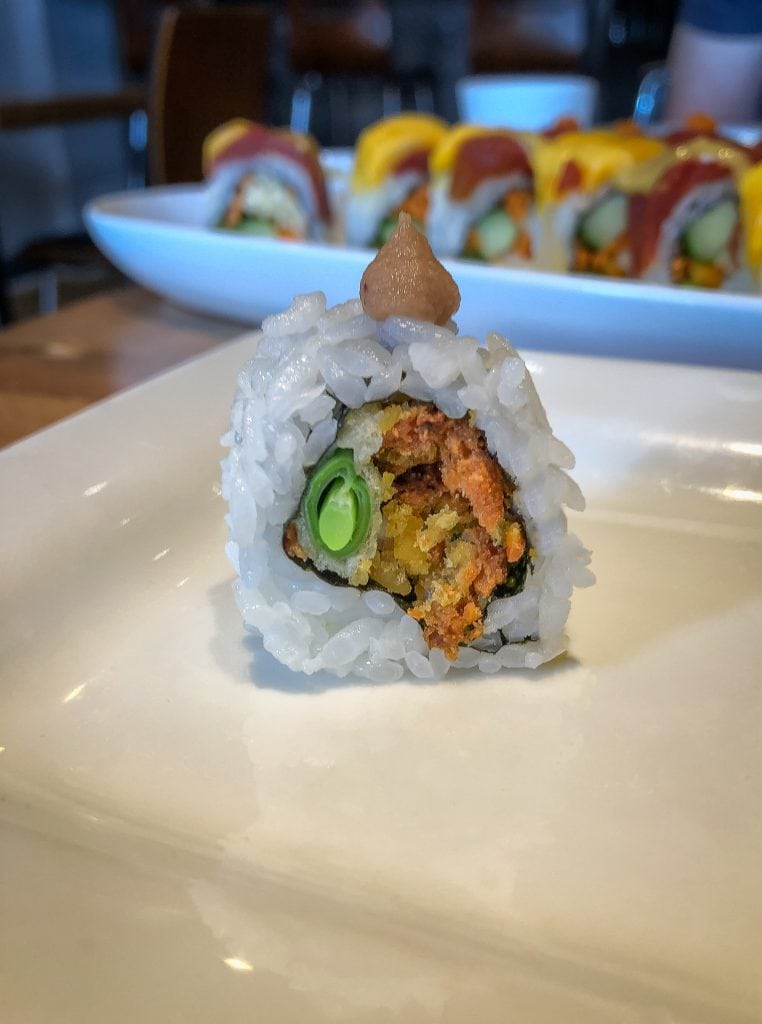 I think this one won out because of texture: crunchy tempura paired with crunchy falafel. And look at the darling little dollop of refried beans on the top! Combining these three ingredients resulted in a uniquely flavored, slightly salty roll that ranked high for crunch factor.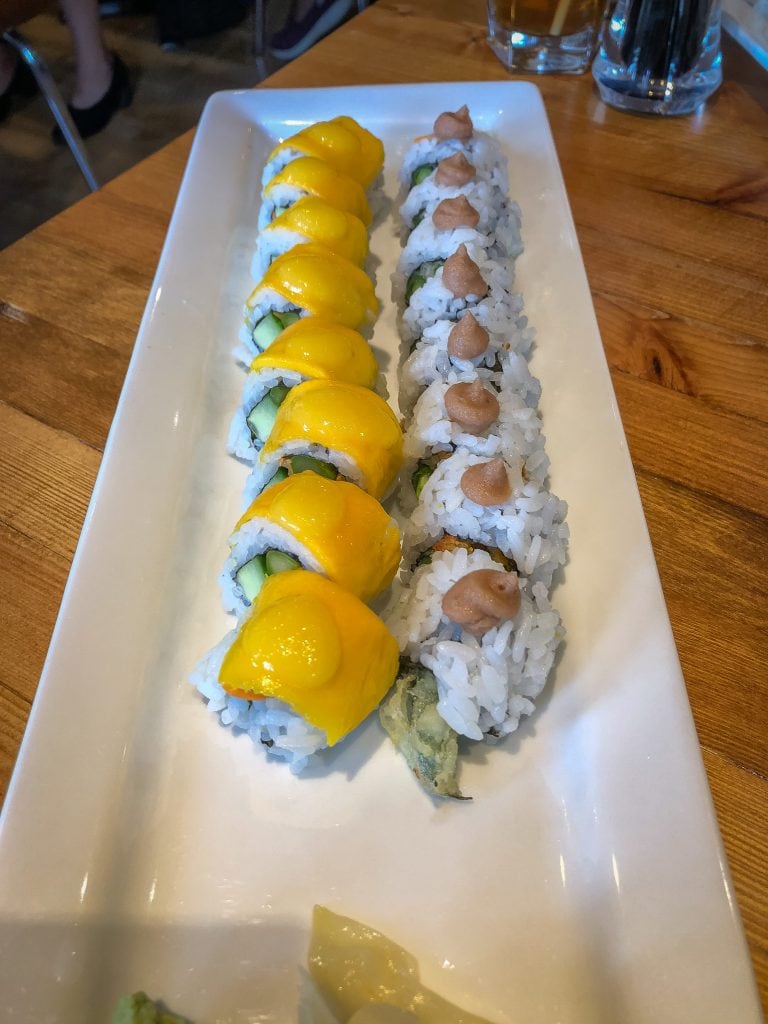 Pickle Me Roll: cucumber, avocado, asparagus, carrot, bell pepper, pickled radish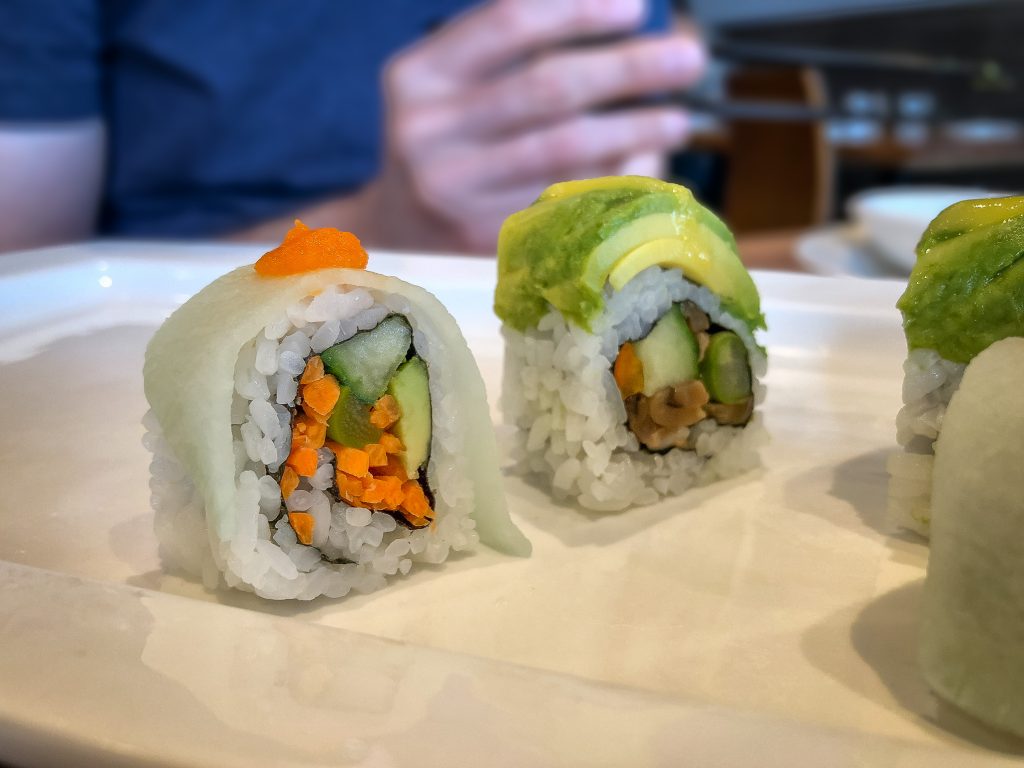 The pickled radish is the white topper, and the orange decoration must be orange bell pepper puree. This roll was wonderful too, but its simplicity paled in comparison to the other competitors who showed up on our table.
Mighty Mushroom Roll: soy braised shitake, cucumber, avocado, bell pepper, asparagus
This mushroom roll wasn't too mushroom-forward, and I have no idea what the yellow sauce is on the top based on the menu description, but I can tell you every piece got eaten, regardless.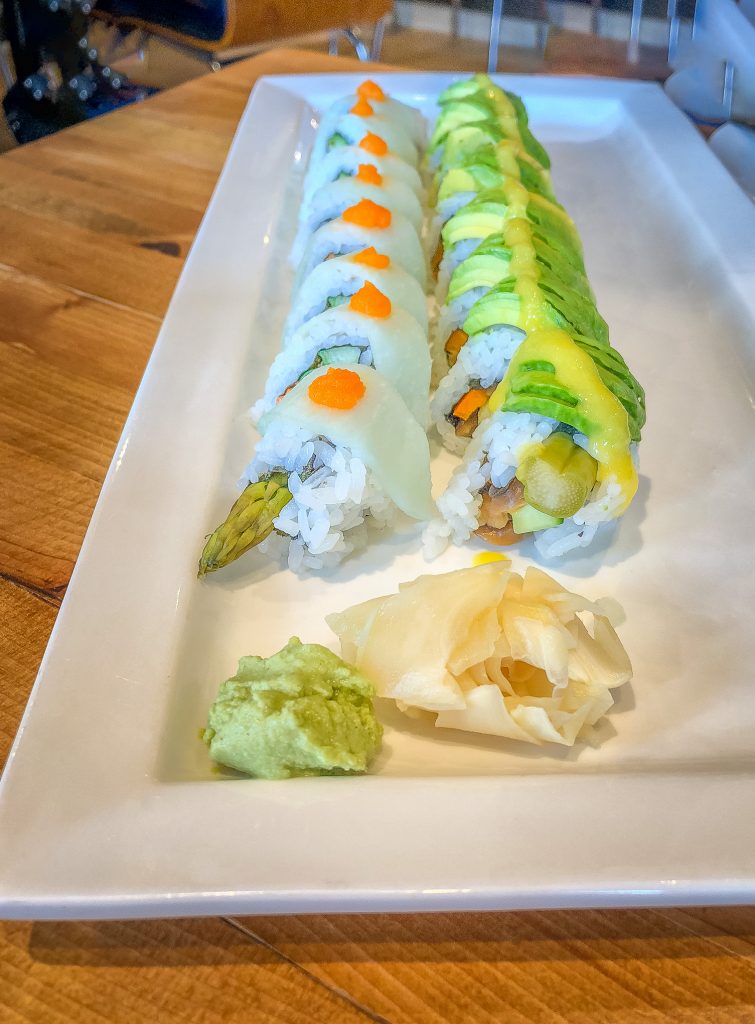 Tomato Tree Roll: cucumber, avocado, asparagus, carrot, bell pepper, ahimi tomato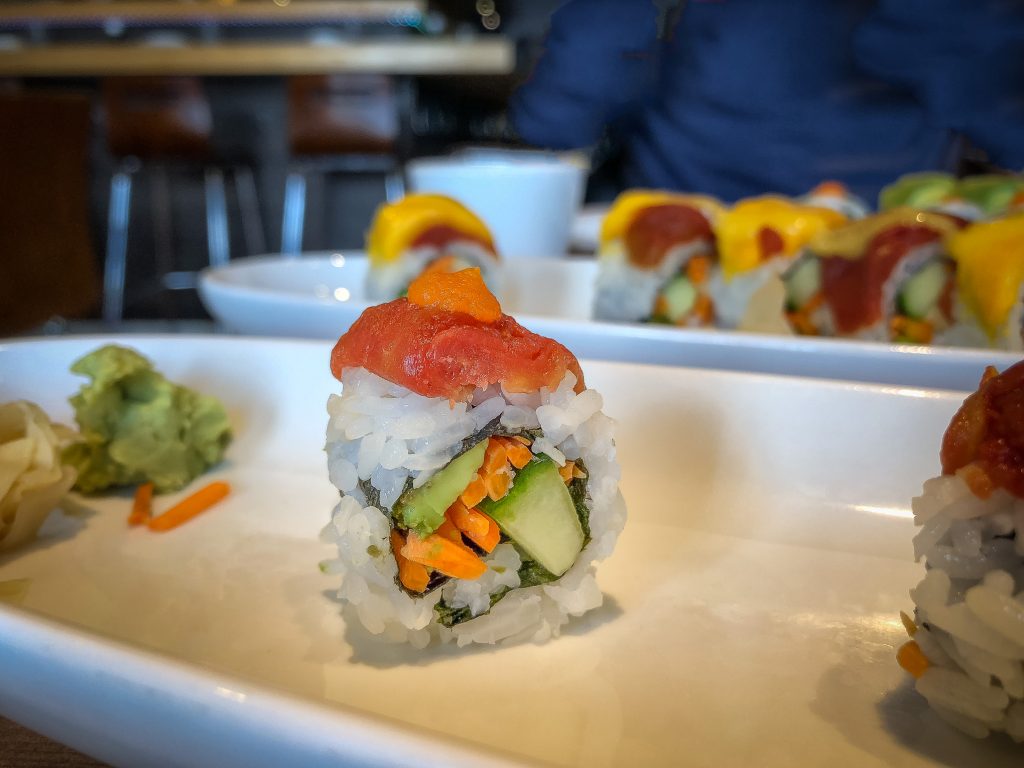 And now we should discuss the tomato rolls. Two of our rolls had this very special ingredient: ahimi tomato. Made to mimic raw tuna in texture and taste, it's simply a combination of tomato, soy sauce, water, sugar, and sesame oil. That's right, it's vegan fish. I wasn't necessarily in the market for a vegan sushi roll that would replace a raw tuna roll, since it's not something I would order anyway, but it was unexpected, novel, and tasty. I'd call that a success.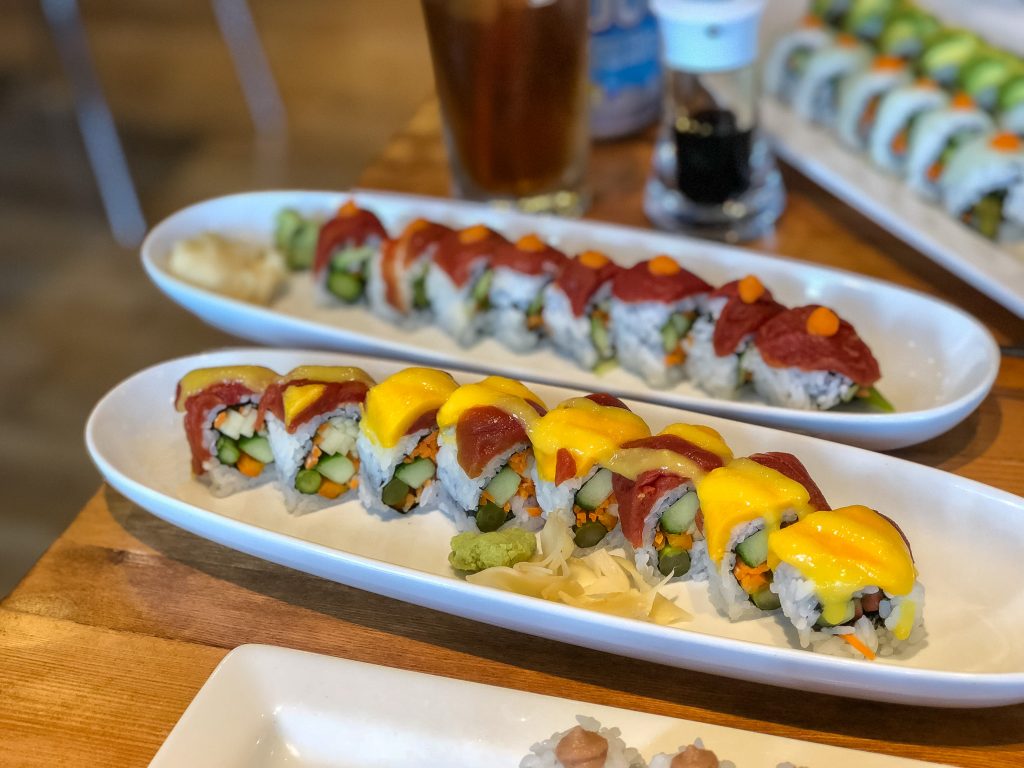 Apple Blizzard Roll: apple, asparagus, carrot, bell pepper, ahimi tomato, mango, (avocado)
Another selection highlighting the ahimi tomato was this roll which had another claim to fame: apple. Who puts fruit in sushi? It's brilliant, really. It lends a sweet balance to an otherwise savory experience. This one tasted especially fresh and I loved the crunch of the carrot and apple matchsticks. Again, though, I am unable to confirm what the yellow sauce is on top. Perhaps lemon, perhaps mango, perhaps something else entirely. I clearly didn't care enough to slow down and ask the server. I just started eating.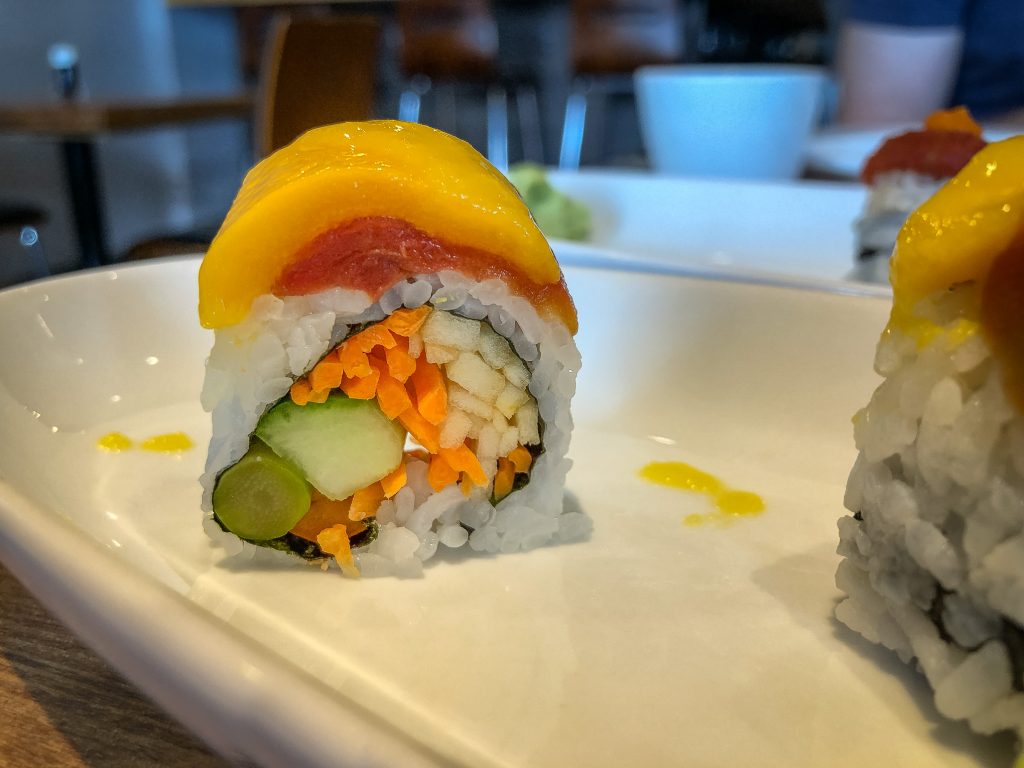 There you have it. A seemingly never-ending parade of nori, rice, and inventive plant-based fillings; forty-eight pieces in total. I was so pleased I wanted badly to go back the next day and recreate the experience. But common sense prevailed and I allowed myself to experience other vegetarian culinary wonders of Victoria, BC. Watch for future posts on those.
A few notes about filling your face with Nubo's rolls. The vegetarian sushi was clearly marked on the menu with a VG icon. I counted seven of these, and we ordered six of them. The extensive menu has lots of other things to round out your meal but I was happy with all rolls, all the time. The restaurant closes between lunch and dinner from 3:00-5:00 pm, so plan your visit wisely. We showed up at 2:00, as their website notes "last call at 2:30" and we still bumped up against their closing time. We didn't finish eating until about 3:30. We didn't mind being the last customers in the empty restaurant, and in keeping with their stellar customer service, they didn't seem to mind either.
After three days of non-stop plant-based eating in Canada's Garden City, this was by far my favorite meal. Did I mention I was ready to go back as soon as I left? As always, I'm ultra grateful for restaurants that try to make the vegetarian and vegan clientele happy, especially with a traditional fish-based food like sushi. And from a health perspective, you can't go wrong with a meal made from vegetables, fruits, beans, seaweed, and rice. Thank you Nubo for getting it right on all counts.
What's the most interesting or unexpected ingredient you've ever come across inside a vegetarian sushi roll? And can it compete with falafel?
If you liked this post, you may also enjoy: