Seattle has no shortage of Asian-inspired restaurants or vegetarian-friendly restaurants, but I happily found both in one place: Boom Noodle. On a bright and sunny Sunday in July, I shared some delicious Japanese plates with my husband and 15 year old niece. (Yes, July. I know. For some reason, it's taken me 4 months to get my crap together and write this review. She's already turned 16 for heaven's sake.)
Update 2016: Boom Noodle has closed. 
Since the vegetarian menu items are clearly marked, it was easy to order. However, because everything on the menu sounded so good, it was hard to order. I delighted in an all appetizer meal, made up of starters and sides with no real entrees to be found.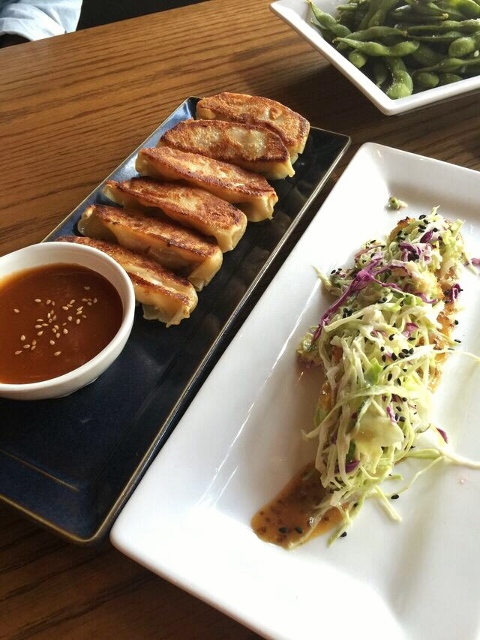 We started with the Miso Broiled Rice Cakes: crispy rice cakes topped with caramelized miso, positively smothered in sesame vegetable slaw. (You can't even see the rice cakes!)
They were simply scrumptious and the presentation was so inviting. Cold and hot, crisp and soft, and the rice had some chew. (Can rice be al dente?) The miso provided a potent umami layer, so it was essentially everything I could want in one appetizer.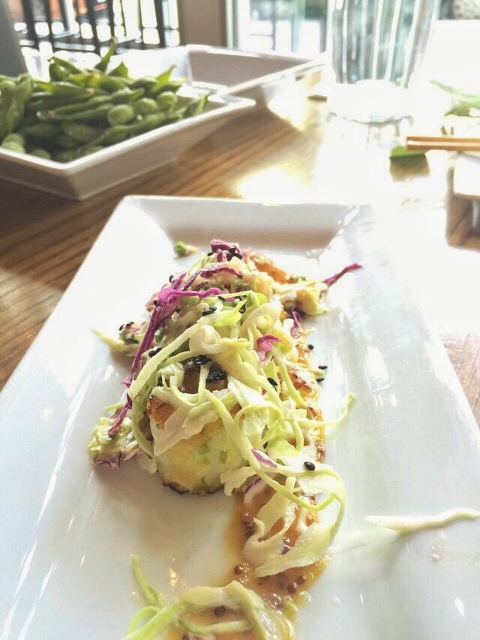 I also had the Wok-Fried Green Beans. I tried guessing at the wonderful combination of ingredients that must have come together to make the shiny flavorful glaze and crispy bits, but I finally gave up and just asked our server: garlic, scallion, ginger, salt, and canola oil.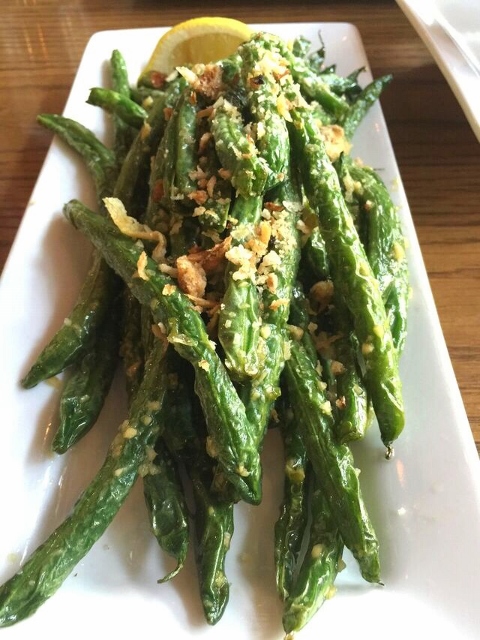 Next up was the Vegetable Gyoza with Garlic Sauce, which was simply another dish cooked perfectly. The filling had texture and wasn't the least bit mushy, and as you sunk your teeth into each one, you first encountered the requisite crispy golden side, the delightful filling, and then the chewy doughy side. Even the niece liked these.
I also opted for the old standby, edamame. It was, shall we say, well done? But the extra soft texture didn't keep me from polishing off every last pod. And they provided the protein punch for this meatless meal.
Since I ate and enjoyed every bite I guess I really have nothing to complain about. The vegetarian options were plentiful, the presentation was gorgeous, and the staff was attentive, friendly, and helpful. I guess that means that after a truly enjoyable meal, Boom Noodle and its Japanese cuisine is now on my list of favorite, reliable, veg-friendly Seattle restaurants.
Any other Asian-inspired + vegetarian-friendly Seattle eateries you can recommend that might make me just as happy?