Mood lighting is nice, especially in a restaurant. Everything feels romantic, everybody looks their soft blurry-edged best, and the food appears to be starring in a film noir movie. But man it makes life difficult for food bloggers. We eat somewhere yummy, we try to capture the creatively crafted dishes with our cameras so we can pen a highly appetizing restaurant review post, but instead we end up with frisée with too much noise and cauliflower with the wrong white balance. (Or we get completely distracted and forget to take pictures at all because we're concentrating too much on how the lighting is no good.) This is exactly what happened when we recently dined at The Temple Bar.
My husband edited the photos in Photoshop, but I hesitated to even write the post because the pics were such low quality to begin with. And you can't write a food post without food pictures. But then I remembered how happy the meal made me and I decided to try to convince you of the delicious meal with words, while making fun of my horrible photographs along the way.
I never think to go to The Temple Bar, even though it's right next door to my favorite breakfast joint, Mount Bakery. I have other dinner spots that meet my vegetarian needs and honestly I think of The Temple Bar more as a bar than a restaurant. But for some reason on this evening I peeked at their menu online ahead of time and felt like it was worth a visit. I was pleasantly surprised at their veg-friendly offerings.
I started with the house shrub: a non-alcoholic vinegar-based fizzy concoction which on this evening was made with an apple date syrup. The presentation made it feel like a cocktail, which for a girl who doesn't really drink alcohol, made me feel sophisticated. The vinegar was strong and the syrup was sweet which made for a winning sipper. And, it may be the only acceptable photo I snapped that night.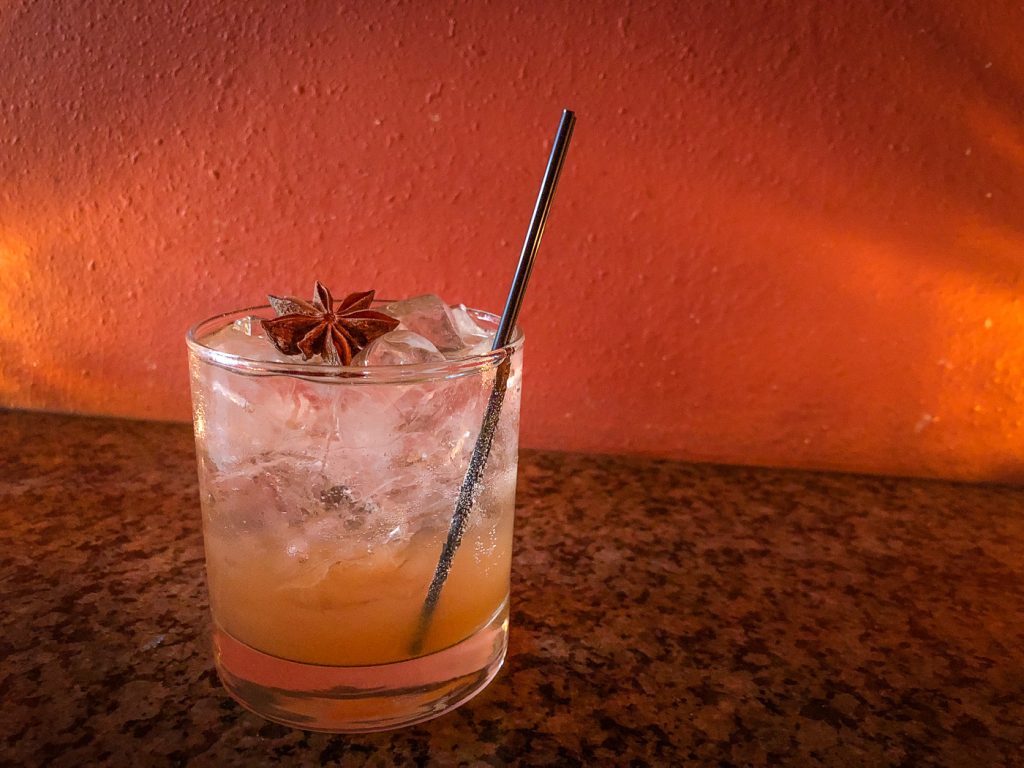 Jeff got the ginger limeade which was very tart and very fizzy, but apparently very forgettable. I took no picture of it. I have no evidence that it ever existed.
For my  meal I started with the soup of the day: savory herbed cauliflower and lentil. It was a little salty, which I didn't necessarily mind, and had a slow building heat. The Parmesan toasts tasted marvelous and were a great complement to the soup, but I think they had time to cool between preparation and service so they were tough and awfully hard to bite. Mind you, that didn't stop me. I tore into those things with my incisors and canines and worked hard for every bready mouthful.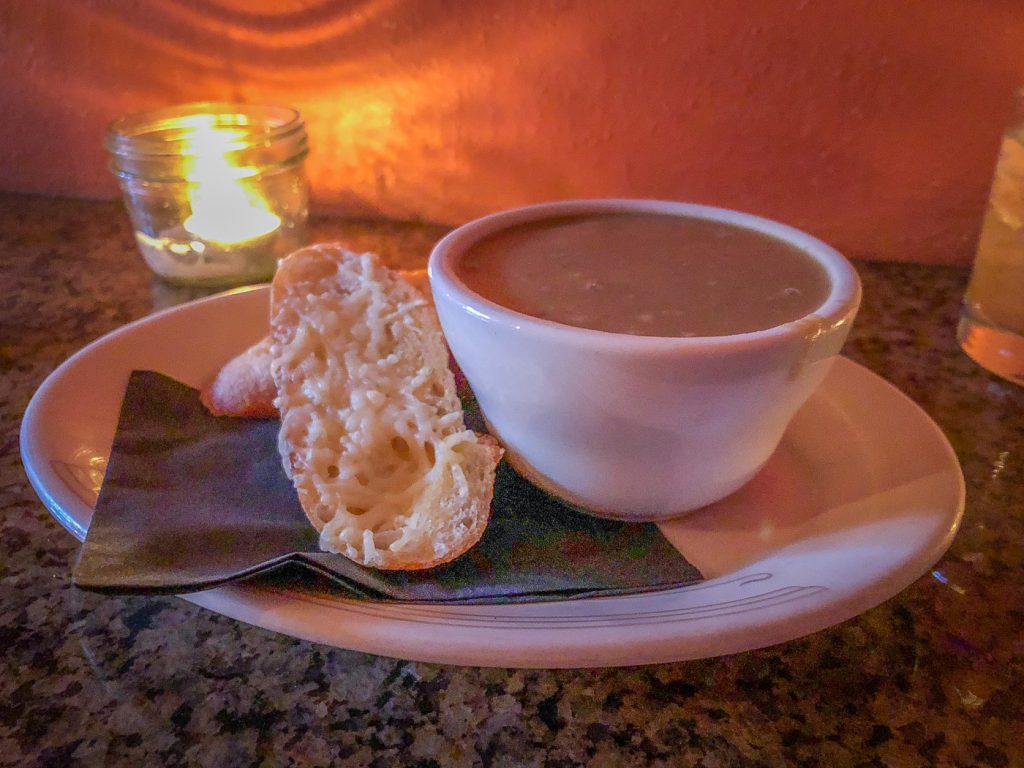 My Halloumi salad was remarkably good. Really, truly delicious. There were all kinds of textures and temperatures going on in one bowl. The beets were soft but not mushy and chilled; the candied nuts tasted like cinnamon and burnt sugar toffee and were room temperature; the greens were fresh and crisp and chilled, and the Halloumi was…WARM. Warm I tell you! Melty cheese on a cool salad is a wonderful gastronomic tool to delight the tongue. The portion of Halloumi was just right and it delivered the perfect salty/savory element to the dish. My only complaint was that some of the greens were so big that getting the salad inside my mouth was difficult. As Jeff noted, "It's hard to get a fork of frisée."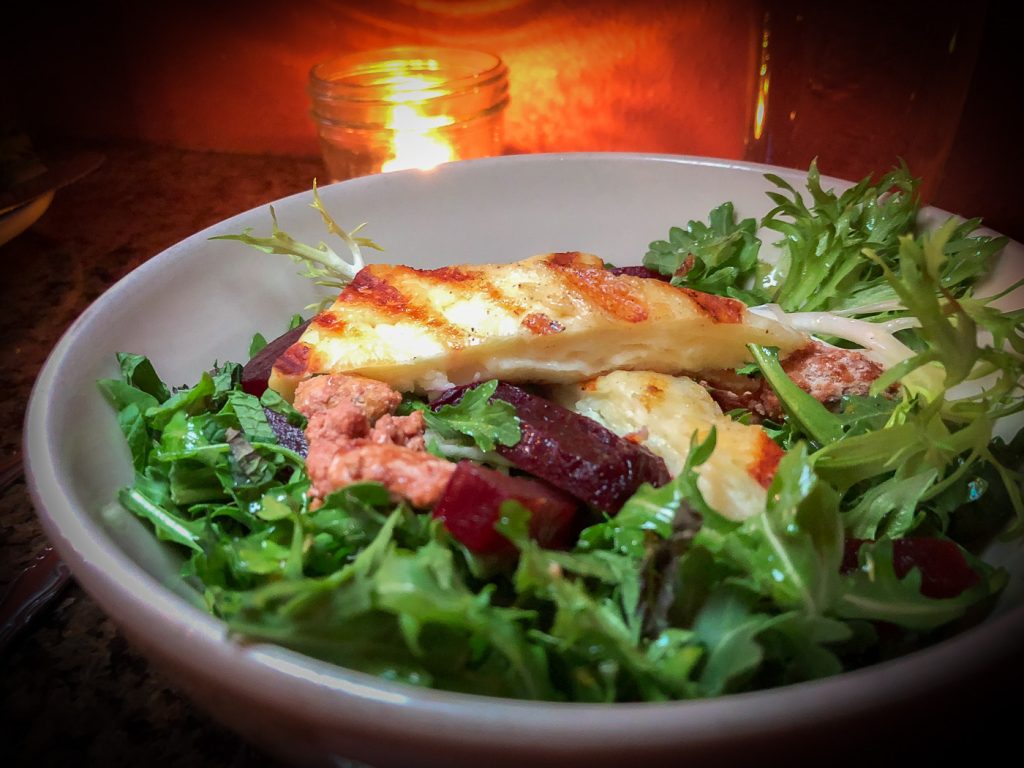 He ordered the Caesar salad which he described as basic, but he enjoyed the addition of a soft boiled egg. And after first hesitating to order a dish with cippolini onions, he later noted, "I could eat pickled onions all day." Again, no picture.
His main dish was the roasted cauliflower wedge. The salsa verde was not too hot, the cauliflower was roasty and not too mushy, and the green peppercorn aioli beneath it all was just OK. This was served with a simple side salad of arugula, frisée, and, thankfully, more pink pickled onions. I so appreciate restaurants getting creative with their vegetarian main dish offerings and trying something like a cauliflower "steak" instead of assuming every veg-head will be happy with a salad and a veggie burger, or a pasta primavera.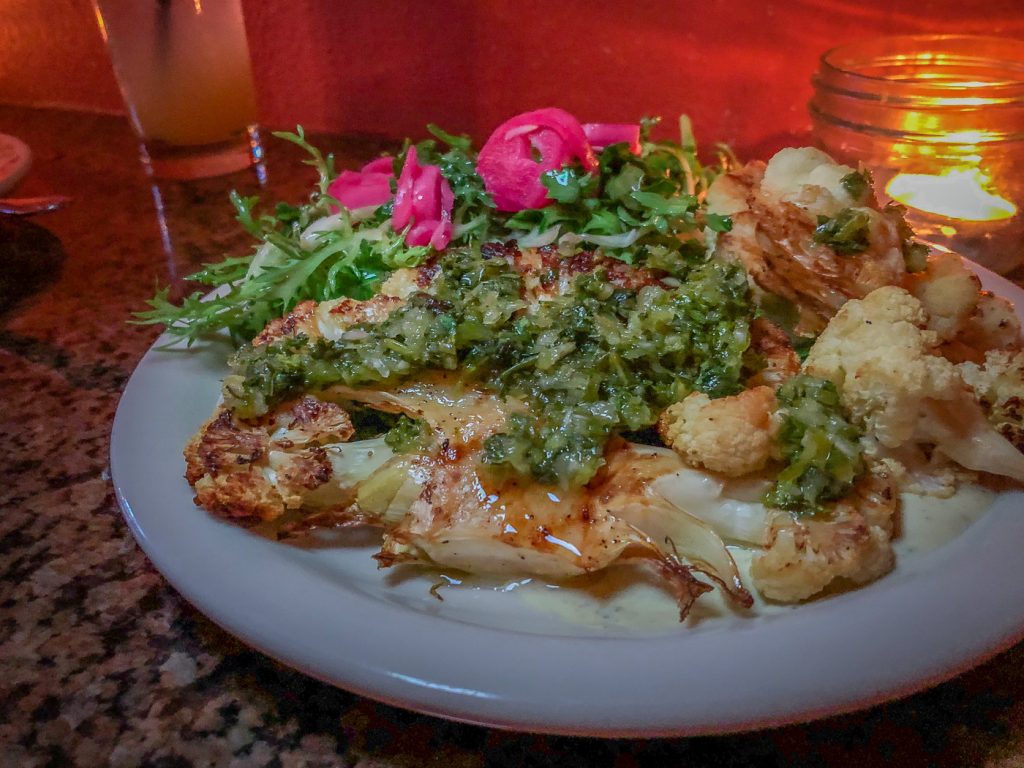 For these photos, we brightened shadows, decreased highlights, and moved the blacks slider way to the right. This of course, flattened the images. So then the contrast, color saturation, and sharpness needed tweaking. With all that, they're still mediocre. Let me tell you, the food was better than the pictures let on.
I think The Temple Bar will be added to our list of go-to dinner spots. But maybe next time I'll go for brunch, in the middle of the day, and ask for a window seat so I can showcase the restaurant and their food in their best light.
Have you ever had a wonderful food experience that you wanted to remember? But ended up with photos that don't do it justice? Maybe it's better to hold onto the images in our mind's eye.