Would you pay $10 for a bottle of deep, rich, intense chocolate sauce? I think you should. Let me tell you why. I'm a devoted fan of flavored balsamic vinegars that I get at my local specialty shop Drizzle Olive Oil and Vinegar Tasting Room. I get the most use out of them via beverages by mixing the tart and tangy flavors like cranberry pear or cara cara orange vanilla with carbonated water for a sweet, low calorie sipper. But I've discovered a new way to boost flavor with these unique elixirs: as a topping for ice cream.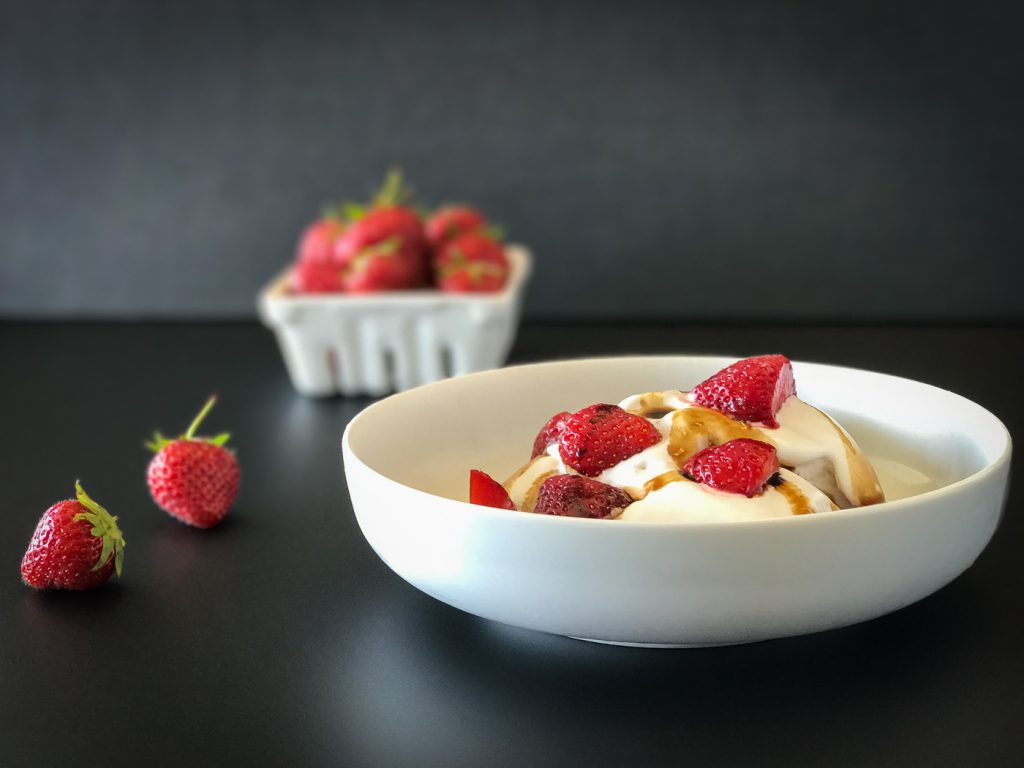 Did you know people like to pair traditional balsamic vinegar with strawberries? It's a fusion of sweet and sour flavors that makes for a creative way to enjoy the plentiful strawberries this time of year. I've taken this idea and turned it into a more decadent dessert, while still keeping an eye on the health quotient. My Strawberry Sundae with Dark Chocolate Balsamic Vinegar just happens to be vegan, and in my case, local. Here are the essential elements:
Coconut Ice: my very favorite non-dairy ice cream of all time from Mallard Ice Cream. It's made from coconut cream, lime juice, evaporated cane juice, vanilla, and salt. Unfathomably creamy, it's darn near indistinguishable from regular ice cream. If you aren't lucky enough to have a local purveyor of a similar product, there are several good national non-dairy ice cream brands available at the grocery store or food co-op like Coconut Bliss or So Delicious. Or you could go crazy and make your own. The ingredients in this recipe are shockingly similar to the Mallard original.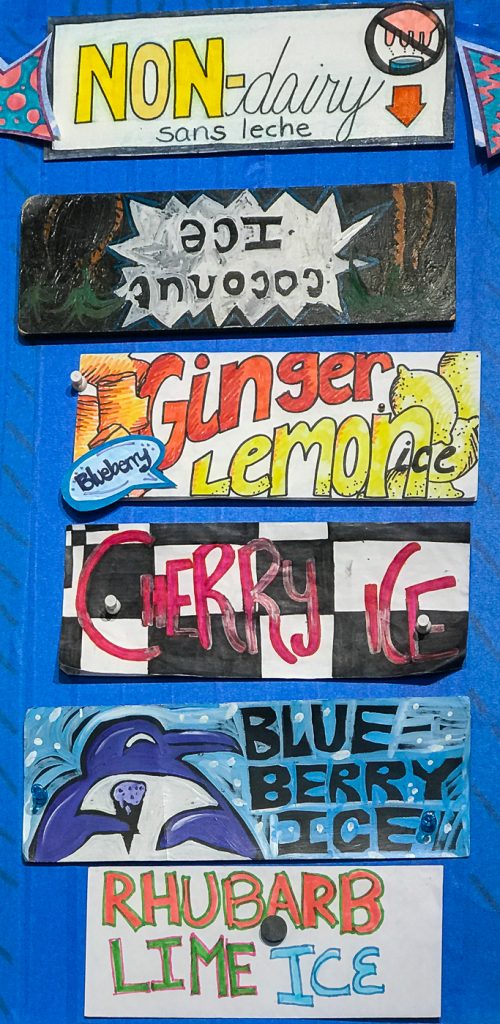 Dark Chocolate Balsamic Vinegar: Of course my first recommendation would be to see if there is a specialty oil and vinegar tasting room near you. The smallest bottle Drizzle carries is 200 ml (7 ounces) and it costs $10.00. It would be worth a call to your local health food store or co-op just in case they carry something similar, but if you can be a little bit patient before indulging in your sundae I found several brands on Amazon, too. Or, again, take it to the next level and make your own.
Fresh Strawberries: What can I say? I live in a proud berry-producing state and I can't escape the berry stands during the summer months so I'm always looking for ways to eat them besides whizzed in smoothies or scattered on my cereal. Nowadays, we can buy strawberries year-round at the grocery store but nothing beats the deep red sweetness of local berries in season.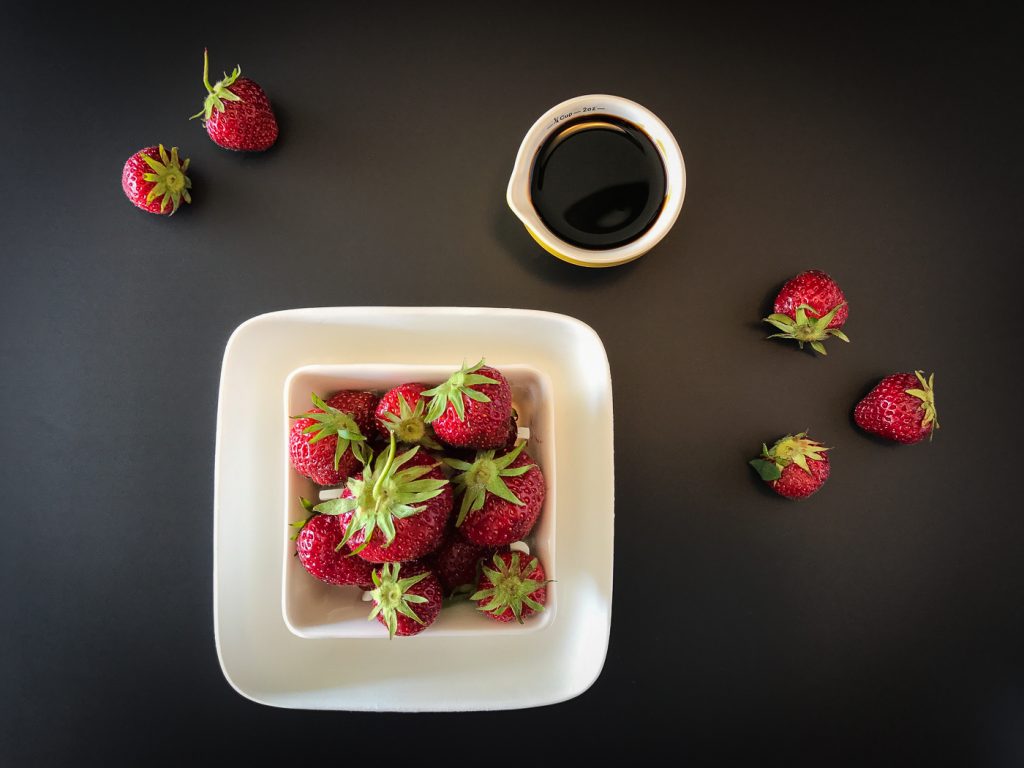 The flavor will be very different from what you're used to if you're imagining hot fudge or Hershey's Chocolate Syrup. I would describe it as a bittersweet chocolate compared to the ultra sweet Hershey's. It's also thinner than either of these, but not really runny. It has a wonderful viscosity that provides a silky mouthfeel. The vinegar is sweet but not overly so, and I find the sharpness is cut by the creaminess of the ice cream which mellows out the acidity. With the luscious fruitiness provided by the strawberries, it's a strikingly good combination.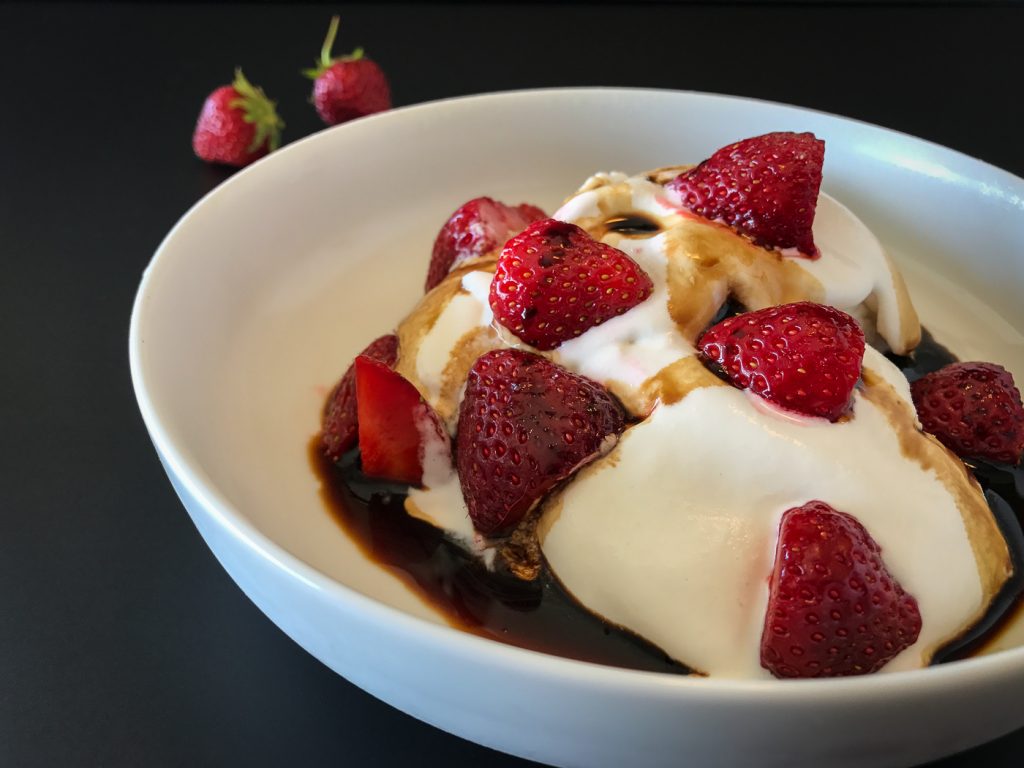 And let's consider nutrition for a moment. One tablespoon of the Dark Chocolate Balsamic Vinegar has 10 calories and 3 grams sugar. It doesn't come from added sugar, just the natural fruit sugar provided by the grapes in the vinegar-making process. Hershey's on the other hand has 45 calories and 10 grams of sugar for the same serving size, but it's made from high fructose corn syrup, corn syrup, water, cocoa, sugar, potassium sorbate, salt, mono- and diglycerides, xanthan gum, polysorbate 60, and vanillin. I'd say my option is a better way to get your chocolate fix; just substitute one bottle with the other.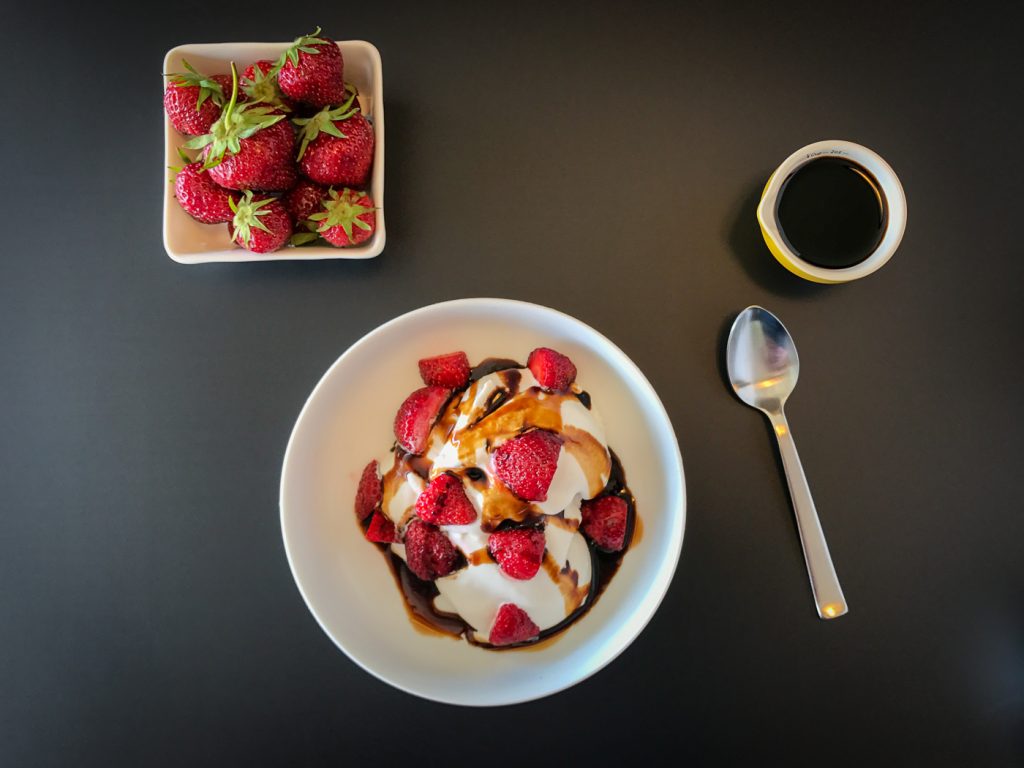 (Let's discuss the pictures. I'm pretty sure you've already reached this conclusion on your own but in case you hadn't noticed, this is the first time I've ever photographed ice cream [at home] for the blog. I think we can all agree there is some room for improvement. Let me tell you, I tried. I Googled "how to photograph ice cream" and proceeded to set up the shoot in an air-conditioned room, with a pre-chilled bowl, refrigerated berries, and refrigerated vinegar. But as you can see, we had a melty situation going on. On the one hand, this non-dairy ice cream will never scoop into a food-styled picture perfect ball; it's more of a soft-serve. On the other hand, I think most people enjoy eating ice cream even after it's melted a bit so I'm hoping the pics still look appetizing.)
Had enough of strawberry shortcake? Me too. Break out of the standard dessert cycle this season and give a chocolate vinegar sundae a try. If you're like me, you'll have to do your best not to drink the "sauce" straight from the bottle.
What do you think? Can you imagine pouring vinegar on your perfect bowl of ice cream and berries? Or better yet, can you think of another tasteful way to use this tangy chocolatey syrup? 
While it may seem like this post is sponsored by my local oil and vinegar shop, it's not. I'm just choosing to highlight a healthy product. I bought my many bottles of chocolate vinegar myself and I plan to remain a loyal (paying) customer.
If you liked this post, you may also enjoy: