You know those June days. A stretch of sunny summer where it doesn't even cool off enough at night for your house to be a livable temperature. When each one of the 80 plus degrees sap your energy and make cooking anything sound like the worst decision ever. I've got a recipe for that: Mix and Match Summertime Salad.
You can essentially use any veggie, any fruit, and any protein you've got on hand. Top with a simple dressing using pantry staples, and you're eating in no time. No oven, no stove, no nothing. Just cut, toss, and eat for a cool, refreshing meal to beat the heat.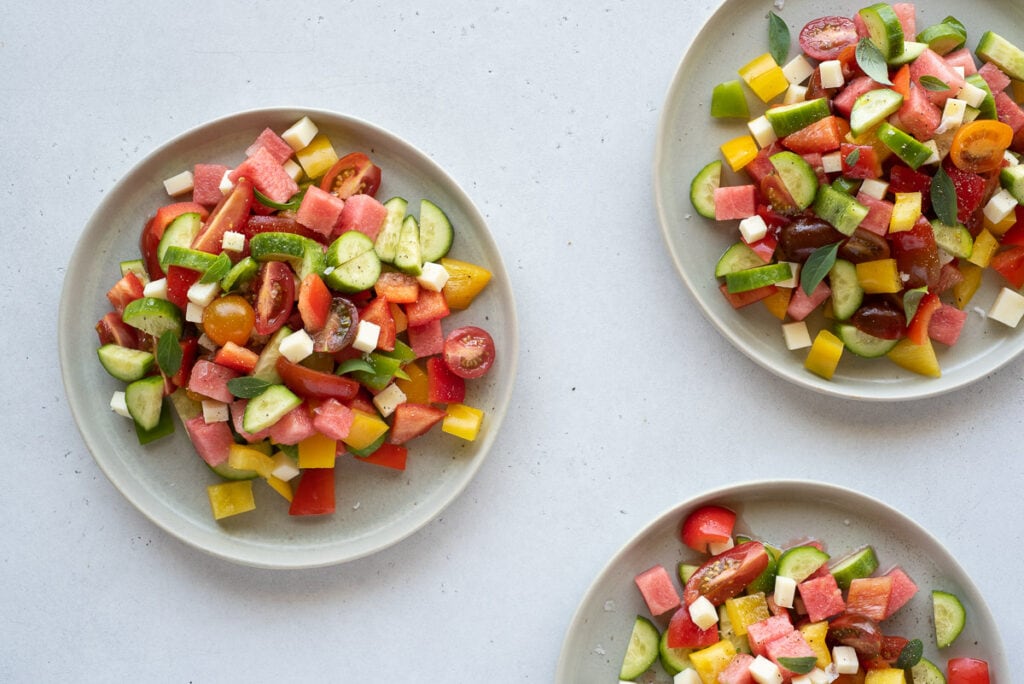 I threw this together a couple of weeks ago in a pinch, and I was so satisfied, I've been eating it on heavy repeat. I never get tired of it. It's essentially perfect: it cleans out the fridge, takes advantage of local summer produce, and is low-calorie, easy, and delicious.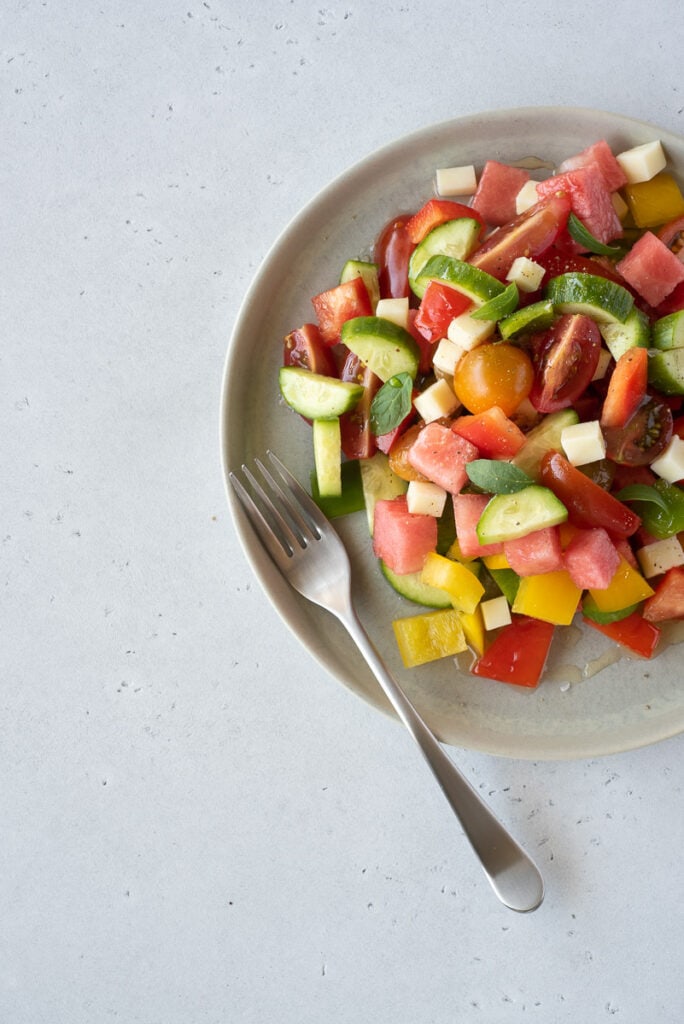 It doesn't really require a recipe, but I've included a rough idea of how I put mine together. The beauty of it is that you can mix and match the basic components and it will still taste great.
Print
Mix and Match Summertime Salad
When you can't figure out what to cook, and you don't really want to cook anyway. Veggies and fruit pair perfectly in this easy summertime meal.
Author:
Prep Time:

10 minutes

Cook Time:

0 minutes

Total Time:

10 minutes

Yield:

1

serving

1

x
Category:

Salad
Ingredients
3/4 cup cherry tomatoes, halved or quartered
1 mini cucumber, cut in half, and sliced into half-moons
1 bell pepper, chopped
3/4 cup cubed seedless watermelon
1 1/2 ounces cubed part-skim mozzarella cheese (dairy or vegan)
1 tablespoon olive oil, plain or flavored (I like Persian lime or blood orange)
1 tablespoon vinegar (I like red wine or white balsamic)
Salt and pepper to taste
1 teaspoon honey or maple syrup, optional
Fresh basil, chopped, optional
Instructions
In a large bowl, gently combine the tomatoes, cucumber, bell pepper, watermelon, and cheese.
Add olive oil and vinegar. Stir until well-coated.
Salt and pepper to taste. Drizzle with honey, sprinkle with herbs, and serve.
Nutrition
Serving Size:

1 salad, 3-4 cups

Calories:

360 calories

Sugar:

25 g

Sodium:

330 mg

Fat:

24 g

Saturated Fat:

2 g

Trans Fat:

0 g

Carbohydrates:

28 g

Fiber:

6 g

Protein:

15 g

Cholesterol:

20 mg
Keywords: salad, veggie, vegetable, fruit, olive oil, summer, healthy
I think this particular mix of sturdy veggies works best as the base of the salad, but you could definitely mix it up and make swaps based on your preferences and what's in your fridge.
Veggie Options
Cucumber
Bell pepper
Cherry tomatoes
Asparagus
Cabbage
Carrots
Celery
Sugar snap peas
Corn
Endive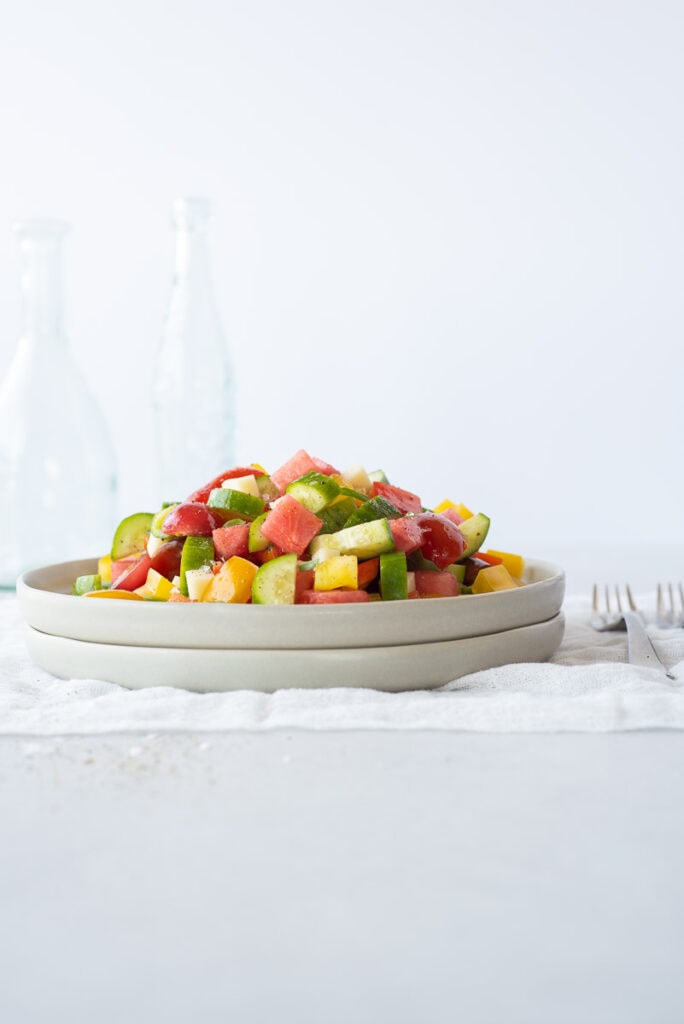 Fruit Options
Watermelon
Strawberries
Red grapes
Raspberries
Blueberries
Cherries
Blackberries
Protein Options
Mozzarella cheese (dairy or vegan)
Feta cheese (dairy or vegan)
Baked tofu (like this recipe for No-Fail Salty Baked Tofu Bites)
Crispy baked or air-fried chickpeas
Sauteed tempeh
Optional: Healthy Fat Additions
Olives
Avocado
Cashews
Almonds
Hemp seed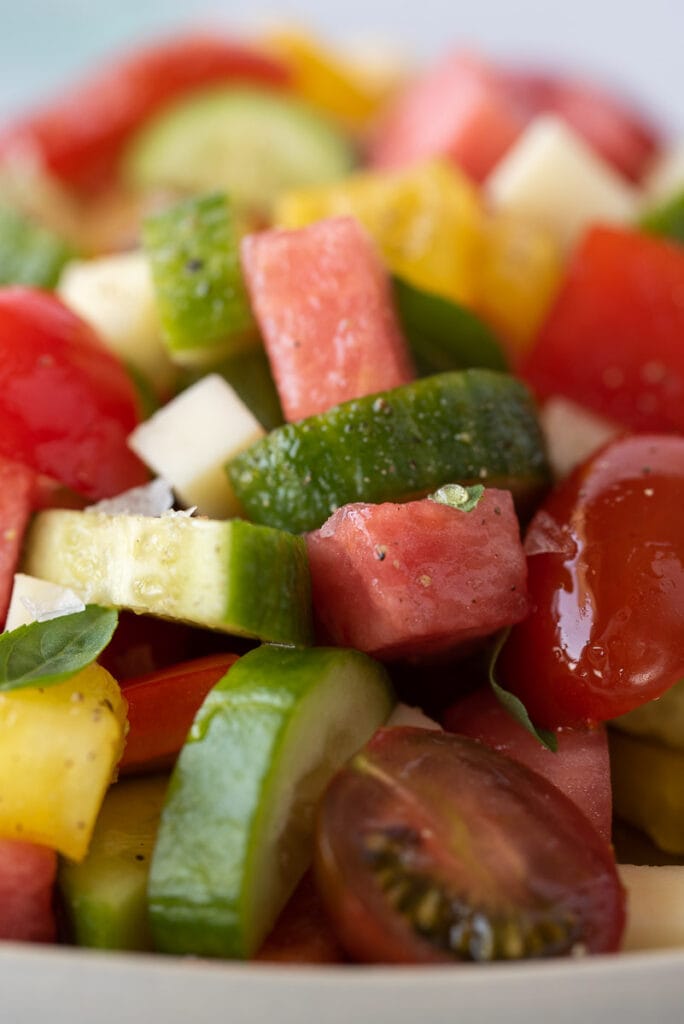 A note about the dressing: this salad will be wonderful made with regular olive oil and balsamic vinegar, which is why that traditional combo has stood the test of time. But if you have access to flavored oils or flavored vinegars like I do at my local specialty shop, you can really take the salad to the next level.
Consider blood orange olive oil paired with espresso balsamic vinegar or Persian lime olive oil with fresh peach balsamic. Playing with the combination of veggies, fruit, and dressing will give you so many iterations, it will keep this recipe from ever getting hum-drum in the sweltering summer months to come.
And while it's plenty flavorful already, a drizzle of honey or maple syrup over the top plus a sprinkling of salt brings out the best of the veggies and fruits and offers a pleasing salty/sweet highlight. Fresh herbs add another bright spot on the tongue, bring essentially no calories, and are abundantly available in the summer. So, why not?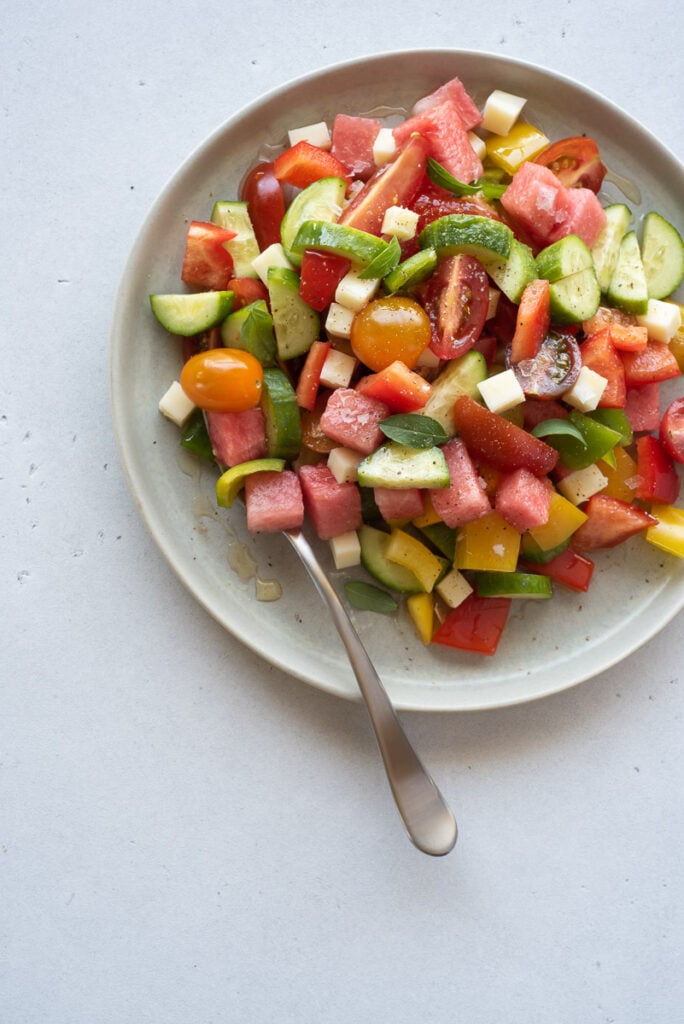 The list of health benefits from consuming more plant foods like veggies and fruits keeps growing, and I don't expect it will stop anytime soon. The protection offered by produce likely comes from the phytochemicals, which are naturally occurring plant compounds, several of which are antioxidants.
So, the many colors of this Mix and Match Summertime Salad hint at the remarkable nutrient content. Many of the phytochemicals are pigments, like the red lycopene in tomatoes or the yellow lutein in bell peppers. Also, pairing healthy fats like olive oil or avocado with veggies may help maximize nutrient absorption, so besides being tasty, this recipe also happens to set you up for this beneficial combination.
Hopefully, by now, I've convinced you. This refreshing, sweet, crisp, healthy, colorful, versatile, produce-packed recipe is ready to help cool you down this summer.
If you liked this post, you may also enjoy: