Tea is healthy. There's really almost nothing wrong with it nutritionally. So I rely on it a lot to satisfy my thirst instead of soda and the like. Thankfully, Starbucks prioritizes tea right alongside coffee on their menu and with the ability to customize, the tea possibilities are nearly endless. My priority as a dietitian, however, is tea beverages that are low sugar, low calorie, and tasty. Here are three of my favorite favorites.
Iced Venti Black Tea
1 Scoop Strawberry Puree
1 Pump Liquid Cane Sugar Syrup
Splash of Soymilk
135 Calories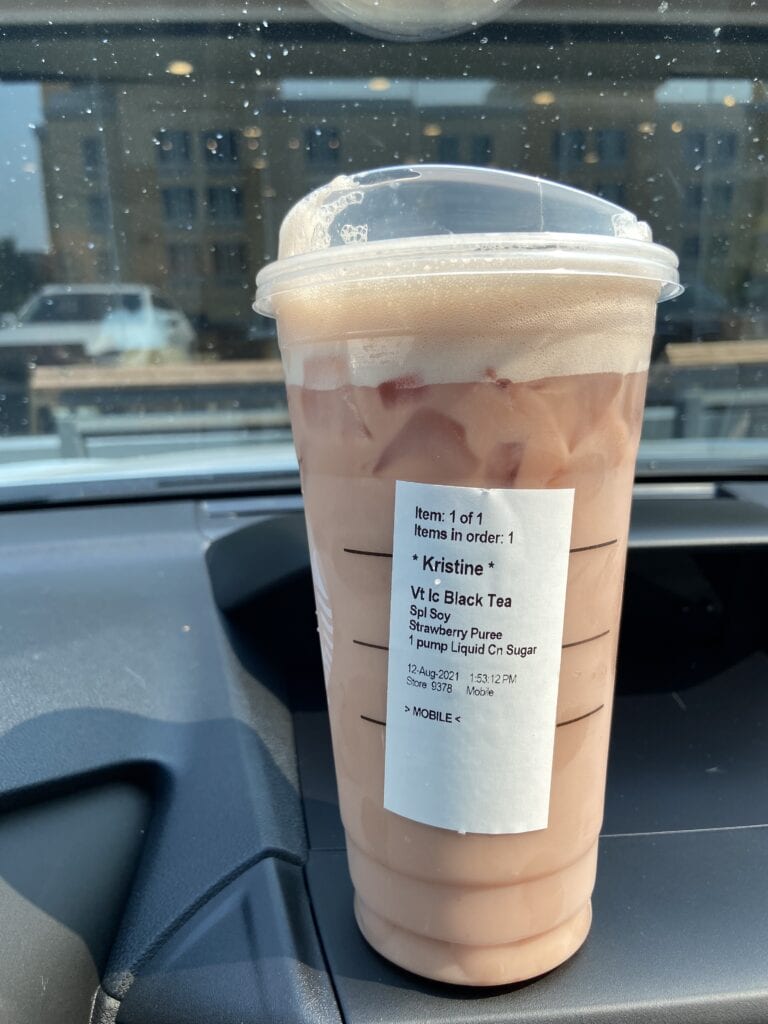 I admit it. Unsweetened iced tea isn't much fun but the default for a venti iced tea at Starbucks is 6 pumps of syrup, or 120 calories and 30 grams of sugar. I compromise and get the best of both worlds with a little syrup and a little fruit puree. It's a perfect mix that provides just the right balance of sweet/tart. Aaaaaand, you can order this customized sipper using the Starbucks app.
It's hard to track down information about the strawberry puree. I think one scoop is likely 2 tablespoons and the puree is probably a puree sauce, so it's got some fruit but also some sugar. Torani makes a strawberry puree blend that's made with sugar, strawberries, vegetable coloring for the redness, and some preservatives. If it's something similar, we're looking at 100 calories for 1 scoop puree plus 20 from the liquid can sugar syrup and 15 calories from the soymilk.
If there is a barista reading this that wants to set me straight, please do!
Grande Peach Tranquility Tea
Extra Soymilk
2 Pumps Vanilla Syrup
105 Calories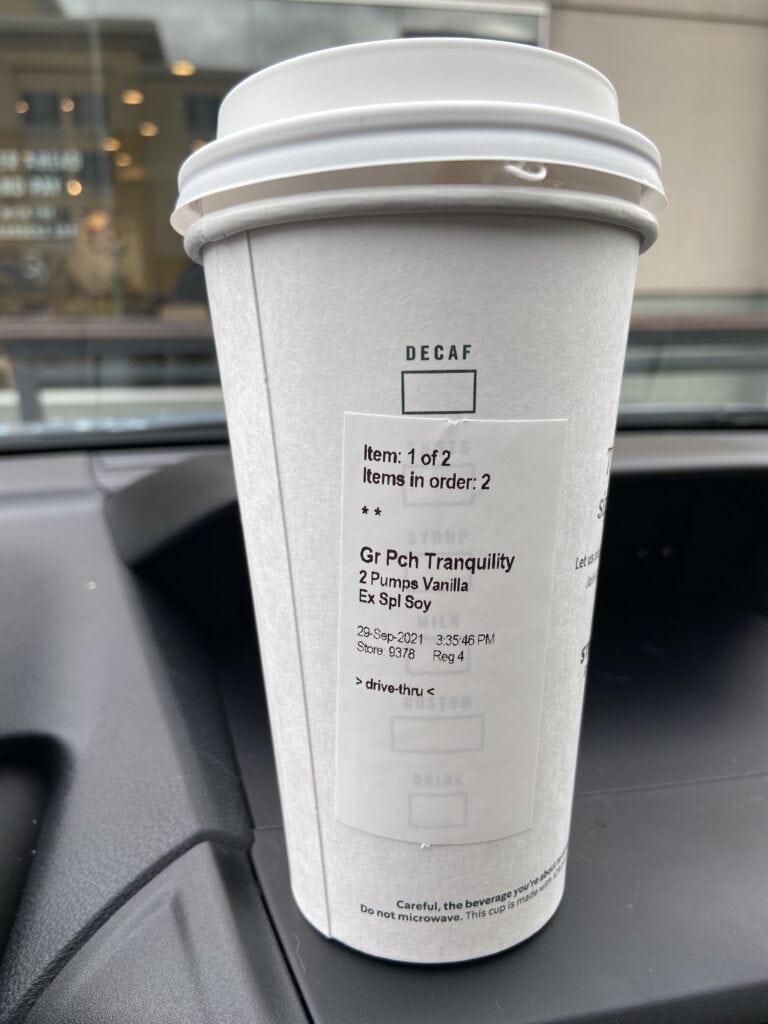 This drink is super deluxe creamy, fantastically fruity, and one of my new favorite go-tos. It reminds me of their Steamers or Steamed Milk that's just hot milk plus syrup. It's unexpectedly comforting, considering warm milk isn't really a comfort food I associated with my childhood. The Starbucks website describes the peach tea as a combo of peach, candied pineapple, chamomile blossoms, lemon verbena, and rose hips. Just lovely.
The last time I ordered it the barista asked if I'd like the milk frothed a little bit. I said yes and was treated to a luscious, even creamier drink!
One note about convenience: when I order a hot London Fog Tea Latte or plain Emperor's Cloud tea, I usually remove the teabags within a minute or two after getting my drink. Admittedly, it's a bit fiddly, especially if I'm in the car. I find that otherwise, things can get unpleasantly bitter. But with the Peach Tranquility Tea, I left those tea bags in to soak the entire time I was sipping the drink and it was nothing less than heavenly.
Nutritionally speaking, the tea is 0 calories, the two pumps of vanilla add 40 more, and I made an educated guess that the amount of soymilk you get with "extra soy" is 4 ounces, so that adds an additional 65 calories. I found various amounts mentioned online, like 1 oz. in a tall cold drink, 2 oz. in a grande, and 3 oz. in a venti. I also read that they'll give you up to 4 oz. free of charge. If I'm wrong, the news only gets better. If you really only get 2 ounces, that would drop the drink calories from 105 to 73.
I did try ordering this once with a "splash of soy" because it meant I could order through the app, but it just didn't taste the same. To be able to order it with extra soy, which means getting a super creamy beverage, I had to do it the old-fashioned and socially awkward way…with my voice.
Grande Iced Soy London Fog Tea Latte
2 Pumps Vanilla Syrup
1 Shot of Espresso
105 calories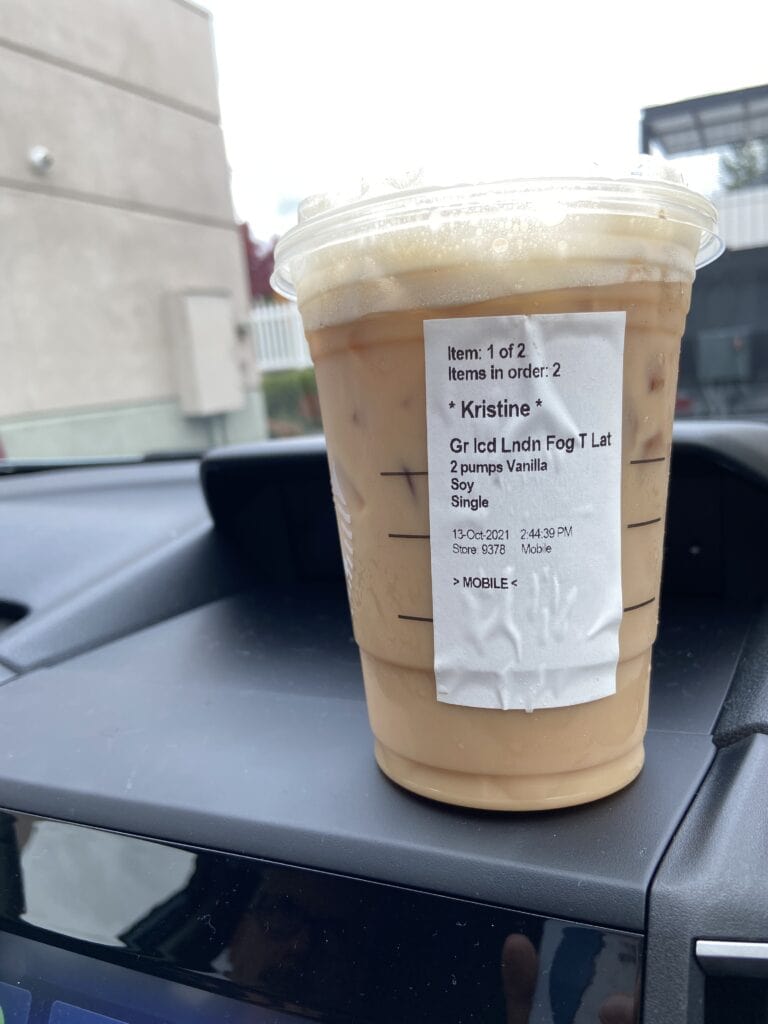 Tea and coffee taste great together! I've written about this fabulous combination before in my recipe for Iced Coffee Tea and another post about my favorite healthy Starbucks drinks. So, recently I tried adding a shot of espresso to one of my tea lattes and it was, unsurprisingly, marvelous!
A London Fog latte is essentially Earl Grey tea, milk, and syrup. In a grande iced tea latte Starbucks defaults to 4 pumps of vanilla syrup. I cut that in half, specify soymilk, and add a single shot of espresso. For some reason, it just works.
Based on the nutrition info they provide for the drink, and considering my slight modifications, I'm estimating 0 calories for the tea, 40 for the syrup, 5 for the espresso, and 60 for the soymilk, for a grande tea latte total of 105 calories. And happily, the app will let you order this customized coffee/tea concoction.
However, you might want to allow a little extra time when ordering it. They need to brew the tea, let it steep, and then pour it over ice. So, when I ordered this only a couple of minutes before I got to Starbucks, they asked me to pull ahead and wait in a parking spot while they crafted my special brew. But typically, if you order ahead using the app with enough lead time I bet they'll have it ready for you. I happen to think this one's worth the wait.
Starbucks is convenient, delicious, and for me at least, feels like a treat. But if you order strategically, it's also healthy and very reasonable in calories, which means it's a common destination for this dietitian. I'd love to hear what you think if you give any of these tea recipes a try the next time you treat yourself in the drive-thru.
If you liked this post, you may also enjoy: