Do you ever have those mornings where your brain is sluggish about waking up? When you shuffle into the kitchen, and even making toast seems like too much effort for breakfast? Then you might like the ultra-convenience of Splendid Spoon smoothies. I've reviewed other mail-order smoothies before, like Daily Harvest and Revive Superfoods, but those both require that you actually blend the cup's contents before you can commence morning sipping. But Splendid Spoon comes ready to drink. Preparation time? Zero minutes.
I recently ordered up two week's worth of pre-made smoothies, or five per week. I got to pick my preferred flavors out of the 16 smoothies available. Once they arrived I used my super-taster tongue and paid close attention as I sampled them all. They're listed below in order of worst to best. The ratings start out rough but get better. Hang in there, I promise.
A quick note: I've listed the nutrition information for the whole bottle, on the assumption that most people will drink the whole thing. I know I did. That meant doubling the nutrition facts since the official serving size is 8 fluid ounces and there are two servings per container.
10. Strawberry Goji
Ugh. Drinking this was not pleasant. The first word I would use to describe it is powdery. The overall flavor comes from the goji, but it isn't successful at covering up the pea protein powder taste. The texture was a weird mix of thin smoothie and unexplained chunks. Worst of the bunch.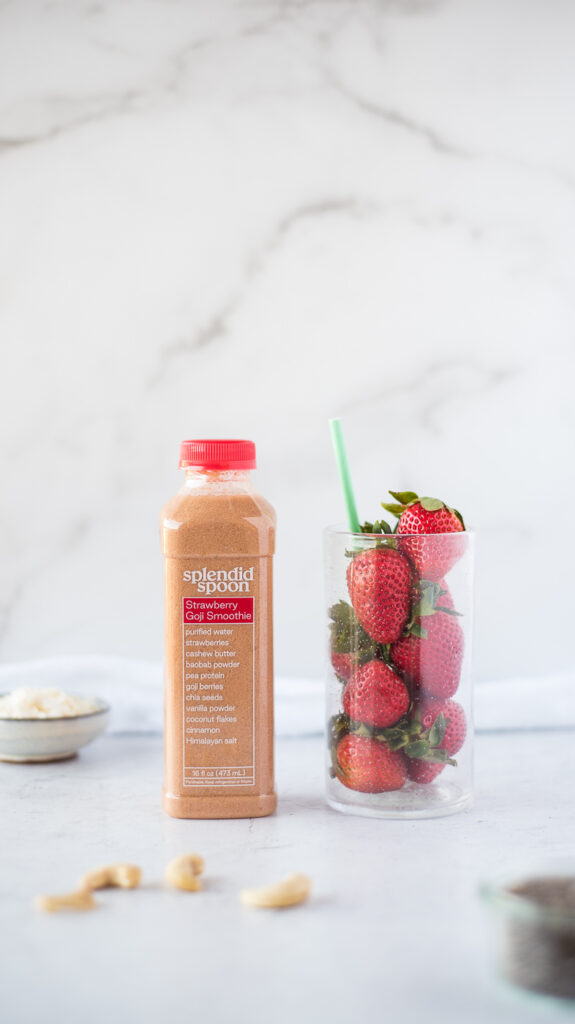 300 calories, 16 g fat, 8 g saturated fat, 0 mg cholesterol, 250 mg sodium, 28 g carbohydrate, 8 g fiber, 12 g sugar, 0 g added sugar, 12 g protein
9. AB & J
Almost the worst, but not quite the worst. The consistency was gelatinous which turned me off right away. Strawberry is in charge, but overall the flavor is unpleasant as the protein powder makes a strong showing.
AB&J has also got baobab in it, as do several others. Baobab is another one of those fruits grown somewhere outside the US that becomes trendy, gets labeled as a miracle food with little science to support the claims, and then everyone eagerly puts it in their smoothies or takes it as a supplement. We don't have a lot of research on it yet, but baobab is a fruit, so likely has similar health benefits to other fruits because of nutrients like vitamin C and fiber.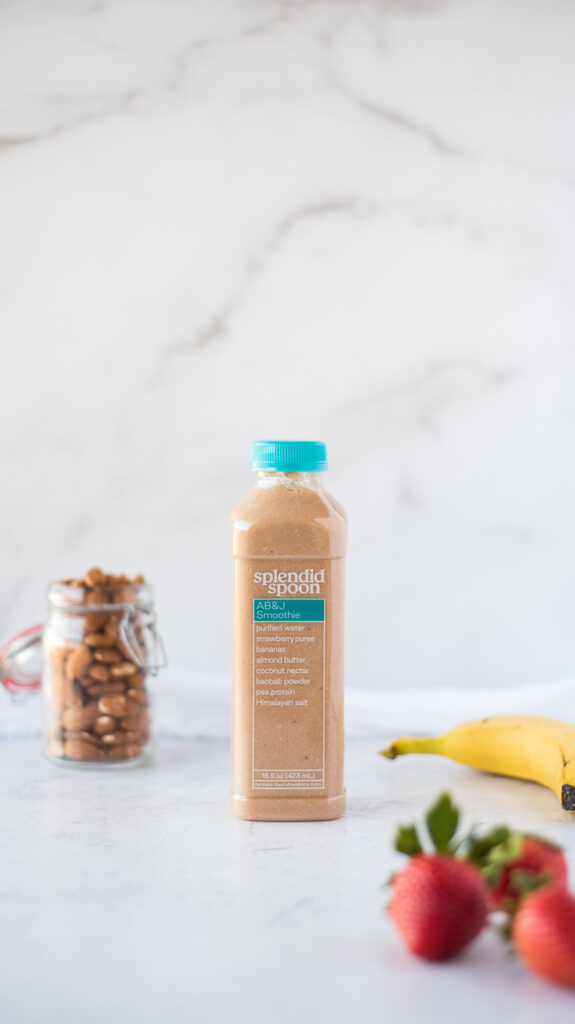 300 calories, 12 g fat, 2 g saturated fat, 0 mg cholesterol, 130 mg sodium, 30 g carbohydrate, 10 g fiber, 14 g sugar, 0 g added sugar, 14 g protein
8. Blueberry Coconut
I was very excited about this one, but I should have lowered my expectations. It was bland. The blueberry flavor fell flat and the strongest taste was mild coconut. The acai is missing entirely. It was very thin, which I like, and it didn't have banana, but the protein powder was obvious.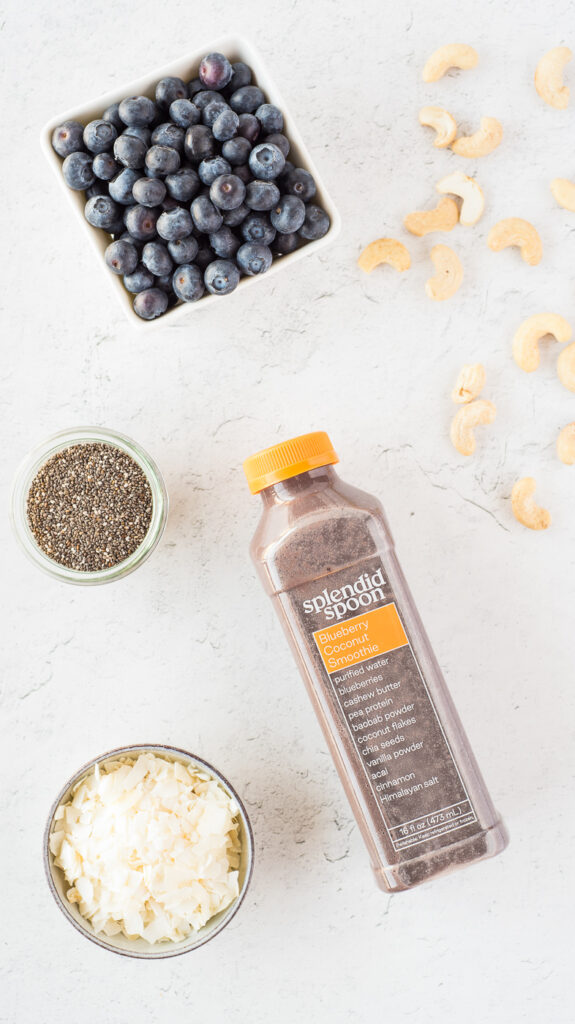 260 calories, 14 g fat, 5 g saturated fat, 0 mg cholesterol, 200 mg sodium, 24 g carbohydrate, 8 g fiber, 10 g sugar, 0 g added sugar, 10 g protein
7. Blackberry Basil
This was very unusual; herbaceous, but not overly sweet despite containing dates. I liked that it was seedless, at least in the case of blackberry seeds. It does have ground up chia seed which might explain the thicker consistency. It was just OK.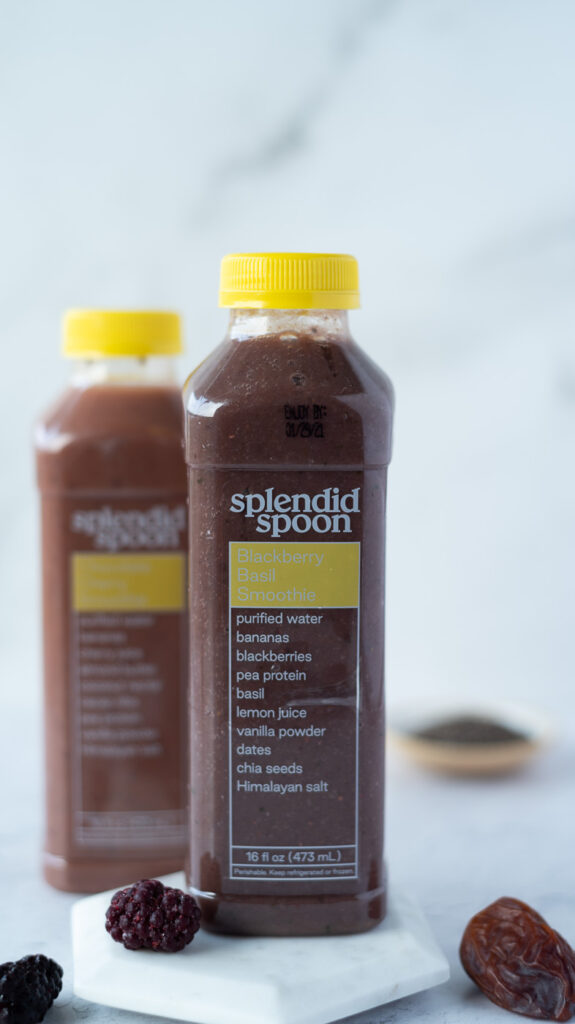 220 calories, 3 g fat, 0 g saturated fat, 0 mg cholesterol, 180 mg sodium, 45 g carbohydrate, 9 g fiber, 20 g sugar, 0 g added sugar, 11 g protein
6. Dragon Fruit Berry
Good gravy that's tart! It really hits you strong with the dragon fruit flavor, and man is it vibrant. Astringent, even. Unfortunately, that's all it's got going for it. Just one note.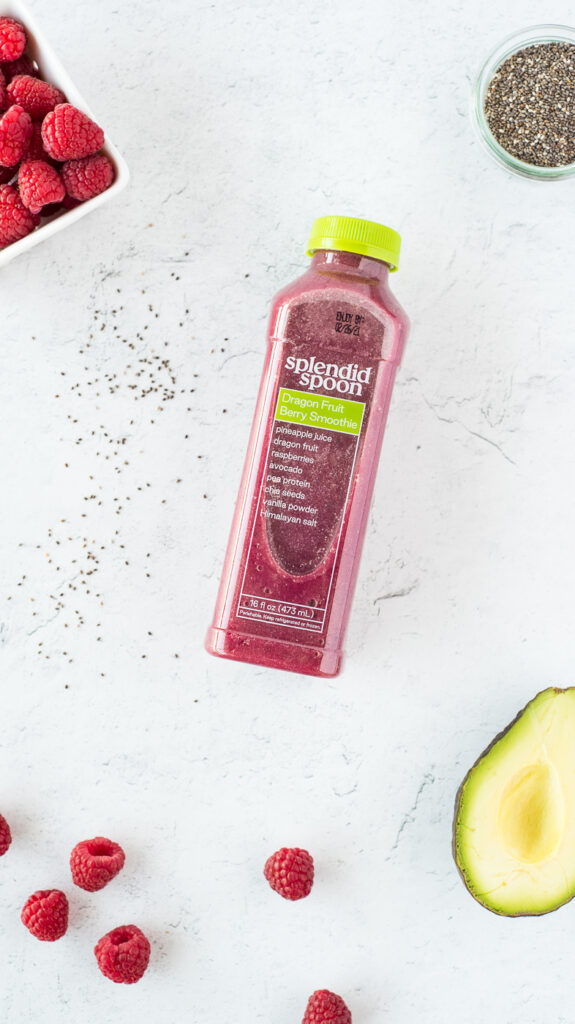 240 calories, 8 g fat, 2 g saturated fat, 0 mg cholesterol, 100 mg sodium, 40 g carbohydrate, 10 g fiber, 16 g sugar, 0 g added sugar, 8 g protein
5. Mint Chip
The first thing I noticed about this smoothie? The refreshing smell of peppermint hits you as soon as you unscrew the lid. The second thing I noticed? It. Is. Thick. The cocoa nibs haven't been fully pulverized, so they provide a nice chew.
I really wanted to love this one. It almost hit the mark. I realized I didn't love the fruity banana flavor lurking underneath the chocolate mint. It was reminiscent of banana nice cream, you know the ice cream everyone is making these days out of whizzed up frozen bananas? It's lovely and healthy, of course, I just don't think mint pairs well with banana.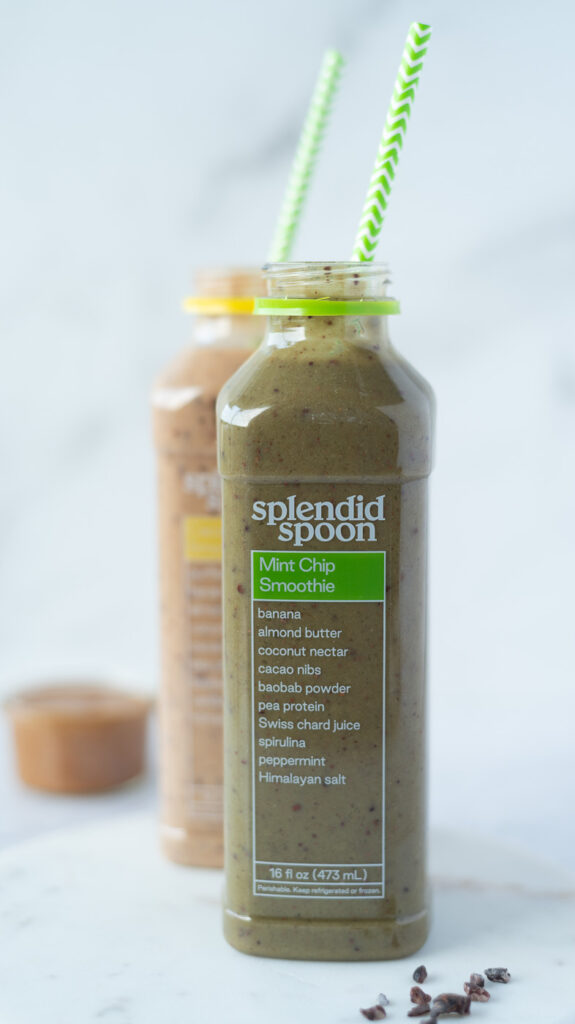 340 calories, 16 g fat, 4 g saturated fat, 0 mg cholesterol, 140 mg sodium, 38 g carbohydrate, 14 g fiber, 16 g sugar, 0 g added sugar, 14 g protein
4. Cacao Almond
Thick, mellow, refreshing. Again with the nibs! I love chewing on them. I'm noticing that all the smoothies with banana in them have the predominant flavor of an under-ripe banana underlying the other ingredients.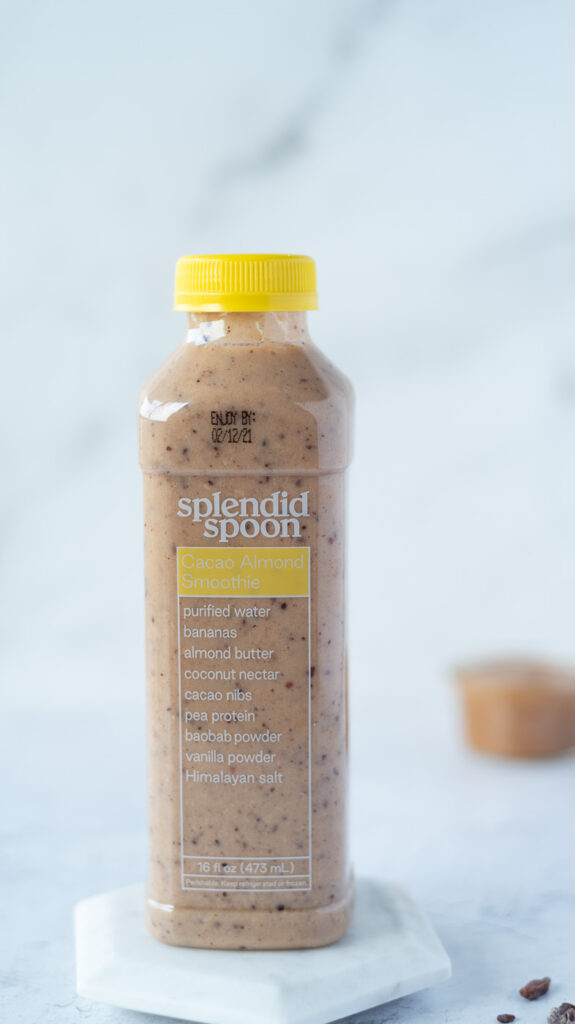 380 calories,  21g fat, 6 g saturated fat, 0 mg cholesterol, 200 mg sodium, 37 g carbohydrate, 12 g fiber, 16 g sugar, 0 g added sugar, 12 g protein
3. Power Greens
We've made it to the top 3! This is where the winners are.
This one really shocked me. I expected bitter grassiness and instead, my taste buds were greeted with a smooth sweetness. It was lovely! The lemon and wheatgrass predominate, which seems to keep the banana from overwhelming everything. The flavor was fresh and thirst-quenching. Just wonderful.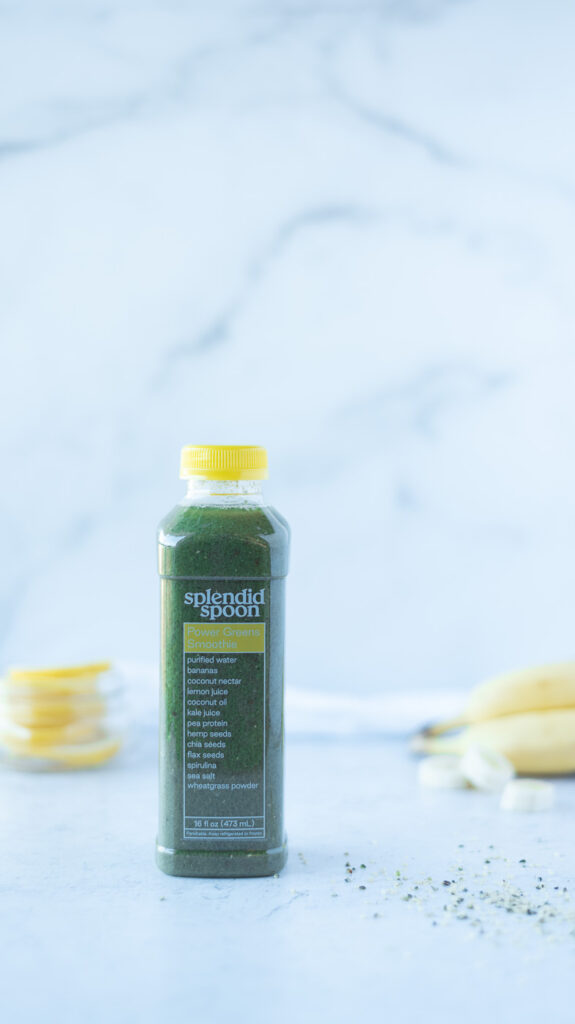 260 calories, 10 g fat, 4 g saturated fat, 0 mg cholesterol, 280 mg sodium, 30 g carbohydrate, 6 g fiber, 14 g sugar, 0 g added sugar, 14 g protein
2. Raspberry Cacao
This is a damn good smoothie. It has a slight tang from berries, so the taste is not as flat as some of the others. It's thin, with a mellow chocolate flavor. Extremely sippable.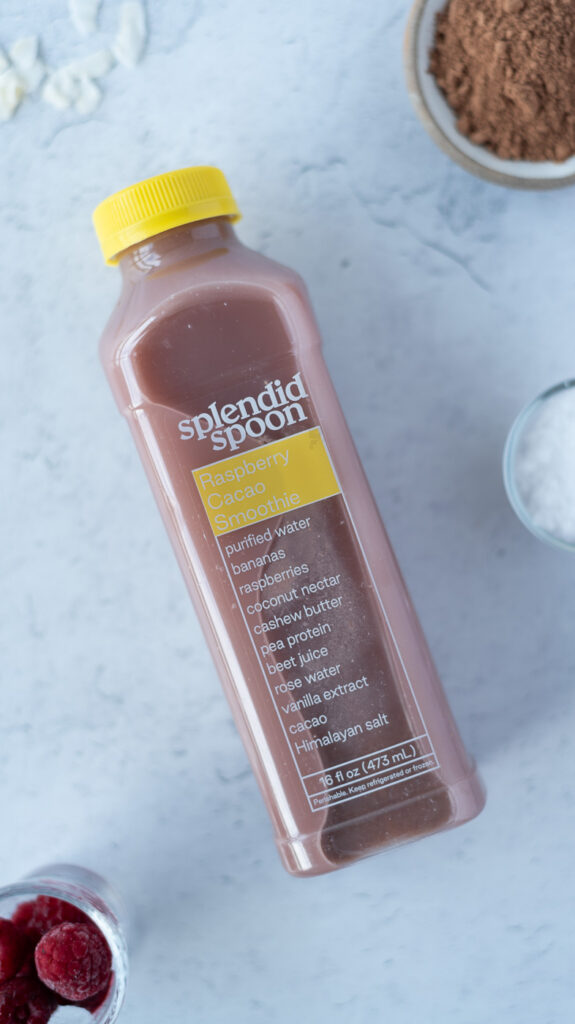 310 calories, 13 g fat, 3 g saturated fat, 0 mg cholesterol, 180 mg sodium, 36 g carbohydrate, 7 g fiber, 17 g sugar, 0 g added sugar, 12 g protein
1. Chocolate Cherry
Delish. My fave. I loved the consistency (thin), it had the perfect amount of sweetness, AND provided ample nib chewing! Can someone tell me why is that so pleasing?
I already know I like this flavor combination. Case in point: my own Chocolate and Tart Cherry Smoothie recipe.
Wait a second. I just noticed that 4 of my top 5 smoothies had some form of chocolate in them. I guess that means I have a type? A smoothie type? And with 380 calories, Chocolate Cherry rates as one of the highest calorie smoothies I taste-tested. I guess I shouldn't be surprised that it was the best of the bunch.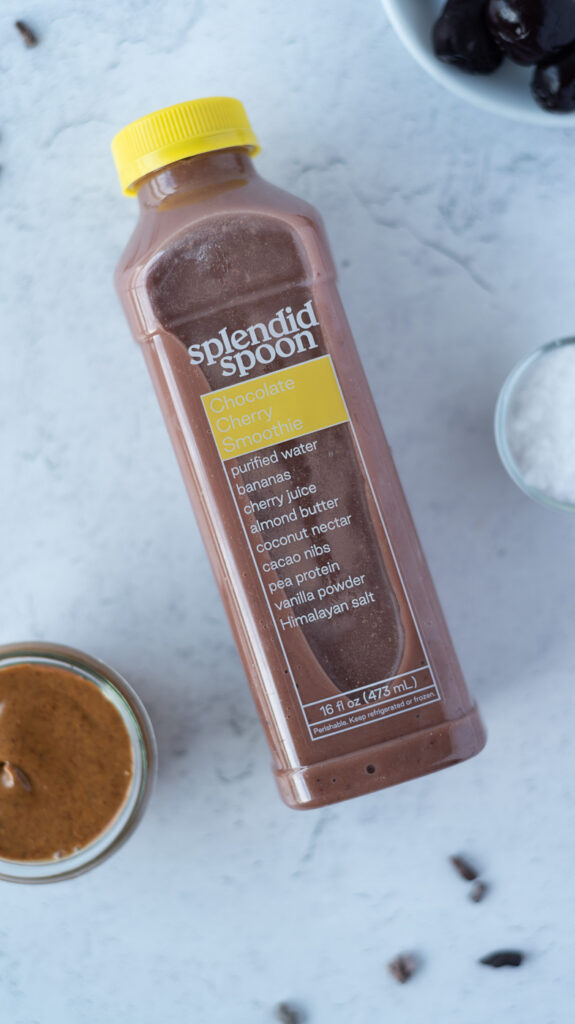 380 calories, 21 g fat, 6 g saturated fat, 0 mg cholesterol, 190 mg sodium, 40 g carbohydrate, 10 g fiber, 20 g sugar, 0 g added sugar, 12 g protein
You have the info on flavor. Now, how about a quick list of pros and cons to summarize things so you can decide if ordering smoothies in the mail is a good fit for you.
Pros:
– The Splendid Spoon smoothies are all vegan, gluten-free, and are sweetened exclusively with whole foods. No added sugar or sugar substitutes.
– They're full of things we should be eating more of for a plant-based diet like nut butter, seeds, fruit, and veggies.
– The fiber content is spectacular, ranging from 6 to 14 grams in the whole bottle for the flavors I chose and sampled.
– The protein content is remarkable for smoothies, with 8 to 14 g per bottle.
– They offer a low-calorie option for breakfast. With 220 calories at the low end and 380 at the high end.
– Splendid Spoon adds just a touch of salt, which helps with the overall flavor but the sodium stays low.
– Let's be honest. These smoothies provide a lot more vegetables and fruit than most of us typically get in our morning meal. And someone else did the hard work of washing, peeling, juicing, etc.
– It was easy to log on to Splendid Spoon's website and choose my flavors for the week, and they emailed me reminders so I didn't forget.
– The smoothies are very, very convenient.
– Splendid Spoon has a registered dietitian on staff! Her name is Kim Rose. Am I the only one that gets amped-up when a food company actually employs a nutrition professional help to develop their "healthy" products? Can I get an amen?
Cons
– I wish they didn't rely so much on protein powder, since it's more of a processed food than a whole food.
– They're expensive. A box of five smoothies cost $65, or $13 each. It makes sense because they're using such wonderful ingredients, but it's not a habit I can maintain over the long-term.
– I only loved 4 of the 10 flavors I sampled, but I liked those ones enough that I would order them again.
Well, that's a dietitian's and a vegetarian's and a smoothie lover's perspective on Splendid Spoon smoothies. It was a fun experiment, and I was so happy to see the bottles in the fridge in the morning because I knew I didn't have to actually prepare anything. But I'll likely revert back to my old school method of getting a breakfast smoothie in my face: I'll plan for, shop for, and blend it myself.
This is not a sponsored post. I happily paid for and slurped down the product myself.