I've written a lot of dinner kit reviews for this blog, as there are a lot of national dinner kit companies shipping food to hungry families around the country. I'd say it's a bit of a food trend these days. I'm always curious to see how they'll handle the vegetarian boxes, from the nutrition and taste perspectives. It can sometimes be hit or miss.
And I'm lucky. Where I live (Bellingham, WA) there are at least two local companies succeeding at the dinner kit game. One is Acme Farms and Kitchen and the other is Salt, Pepper, and Oil. Today, it's SPO's turn for a little critique.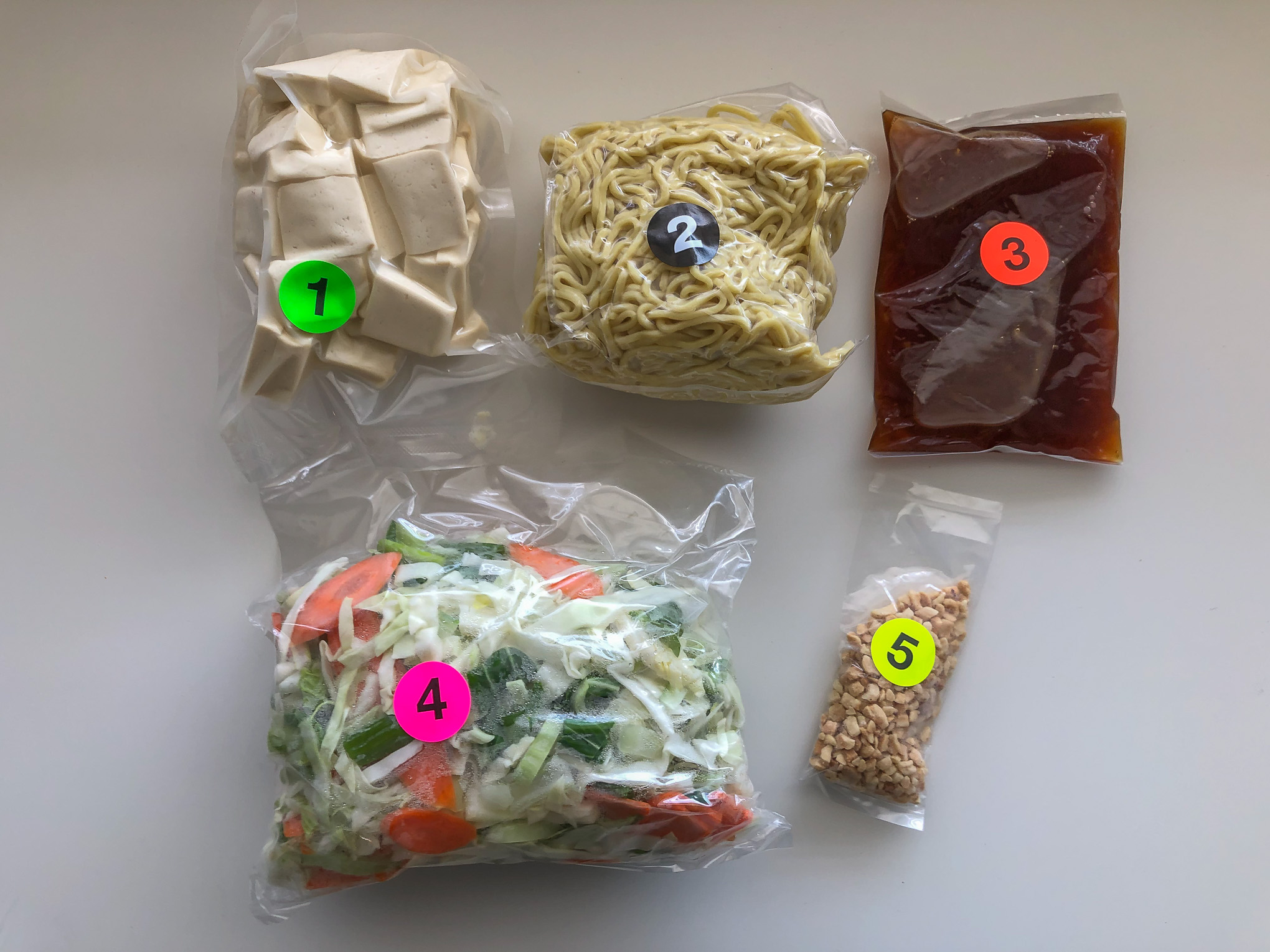 How it Works
You can log onto their website each week to see what's available. If you place your order by midnight Sunday, you can get it delivered on Tuesday, or drop by their storefront and pick it up yourself. Delivery is $6.00 and pick-up is free. There are typically six meals available and you can order as many as you need. There are weeks I've only ordered one menu option but usually I get two or three. Of the six, usually only one is vegetarian but I contacted the owner through social media to comment on this and he was very accommodating. When I place my order online I just put in a note that asks to sub tofu for the beef, chicken, etc.
We leave a cooler outside our front door and they drop off the food between 7:00 am and 7:00 pm. And they don't just deliver to Bellingham. Their delivery area map on their homepage shows all of western Washington plus Ellensburg and Yakima!
It's essentially cooking by the numbers. You just need to stir things together and add a little heat. Each kit comes in a large zipper plastic bag with an instruction sheet and clearly labeled/numbered smaller bags that let you know what order the ingredients will be used in. They're intended to be ready to eat with 10-20 minutes of cooking. I'd say the level of cooking skill necessary for most meals is low.
What it Costs
The price per person varies, depending on the recipe. Most of the time they're around $13.00-14.00 each. So, for two of us one dinner costs about $27.00.
What We Got
Three of these were originally designed with meat, like beef or chicken, but the cauliflower steak needed no modification for us.
Orange and Hoisin Glazed Tofu with Basmati Rice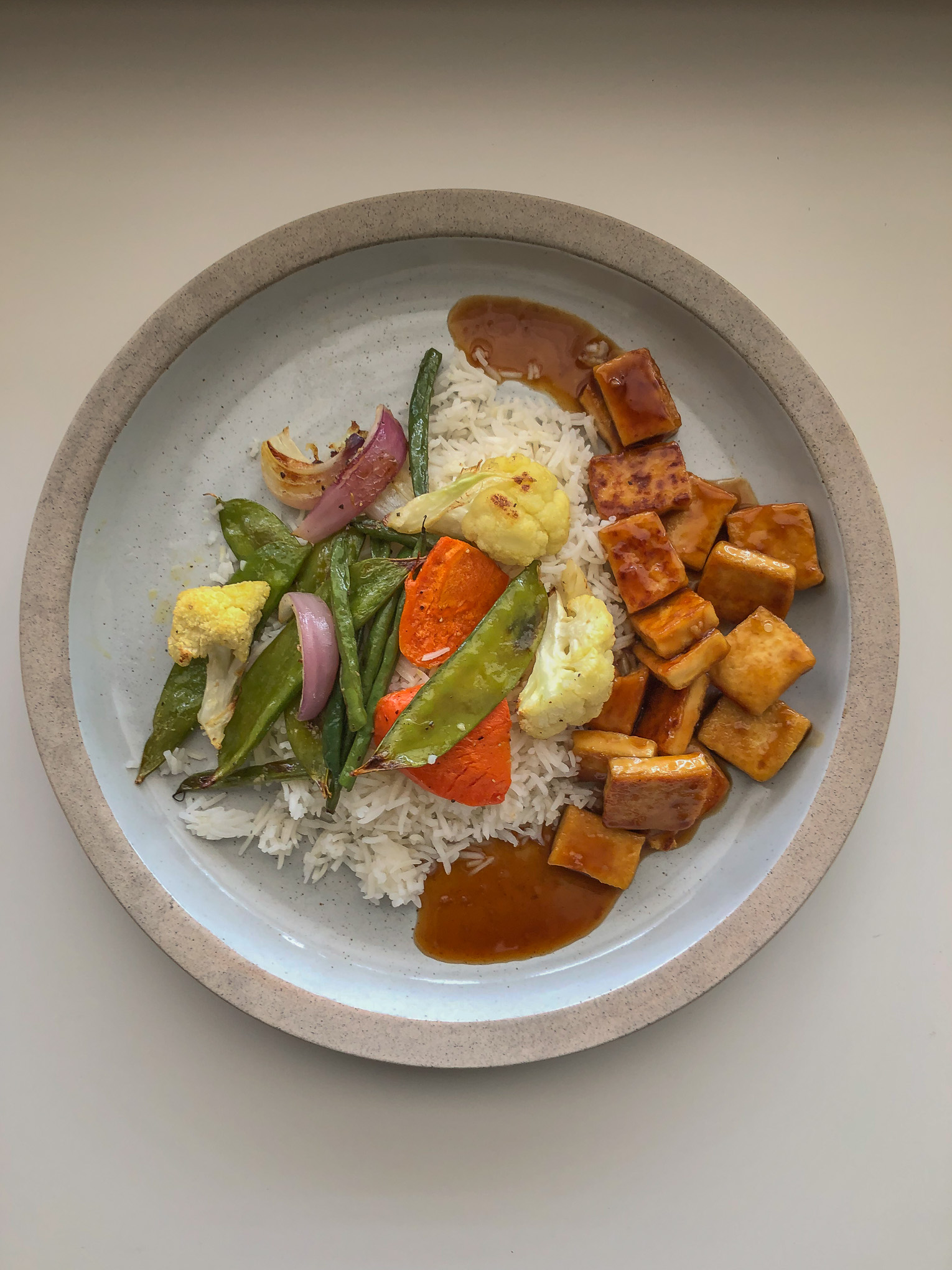 YakiSoba Noodle Stir-Fry with Tofu, Wok Vegetables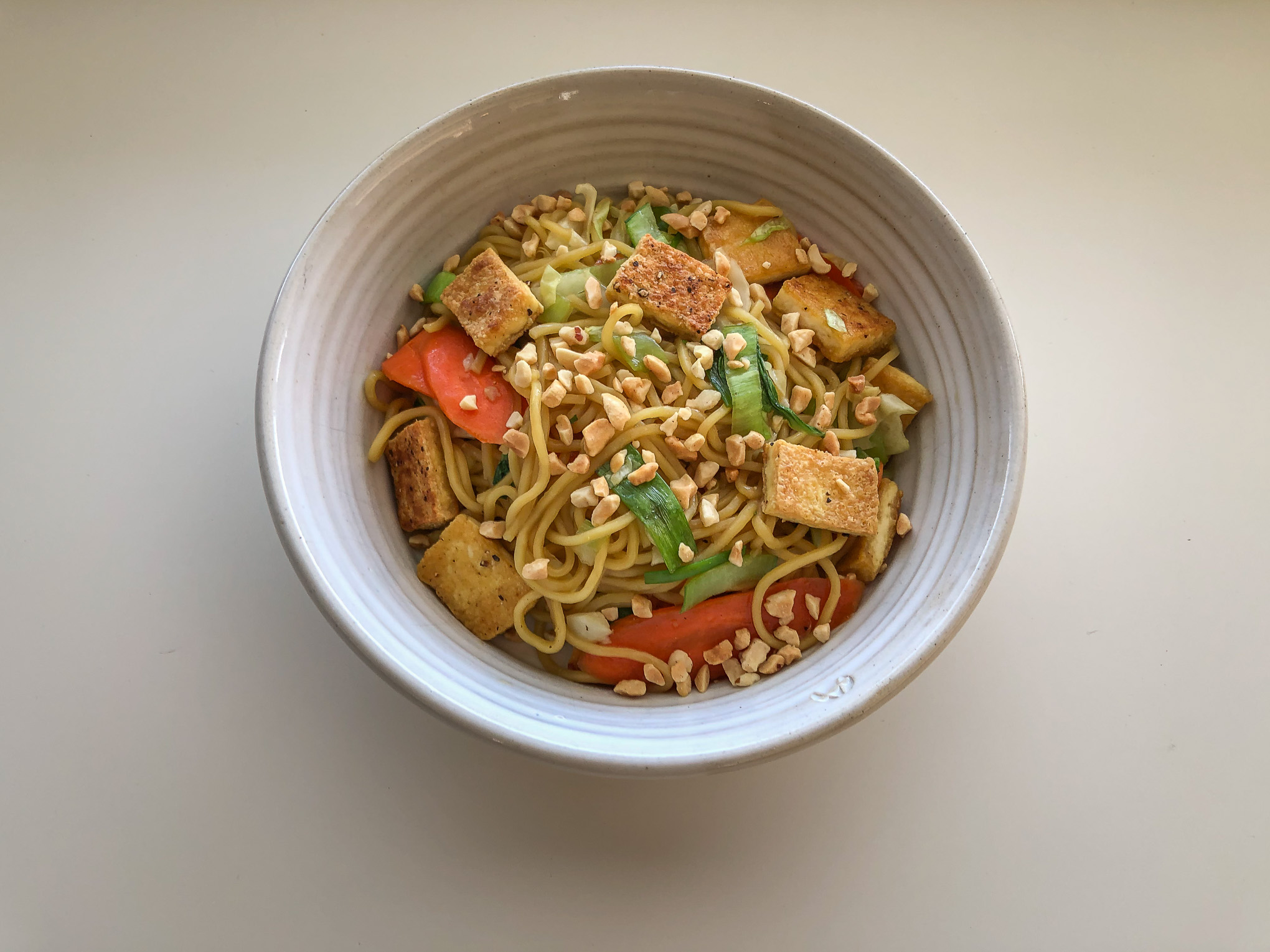 Roasted Cauliflower "Steak" with Israeli Pearls and Tikka Masala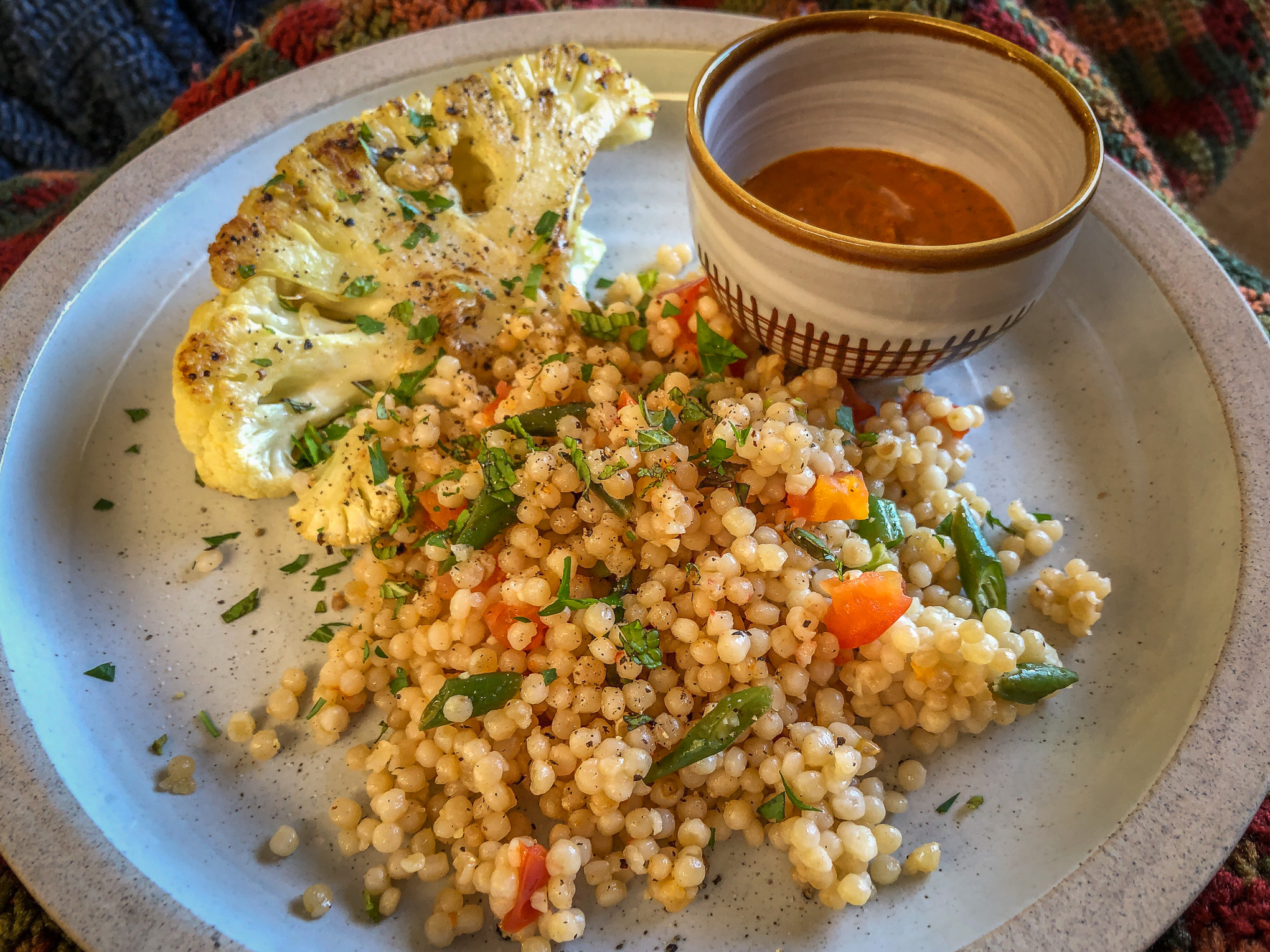 Brown Butter Honey Garlic Tofu with Parsnip Mash and Asparagus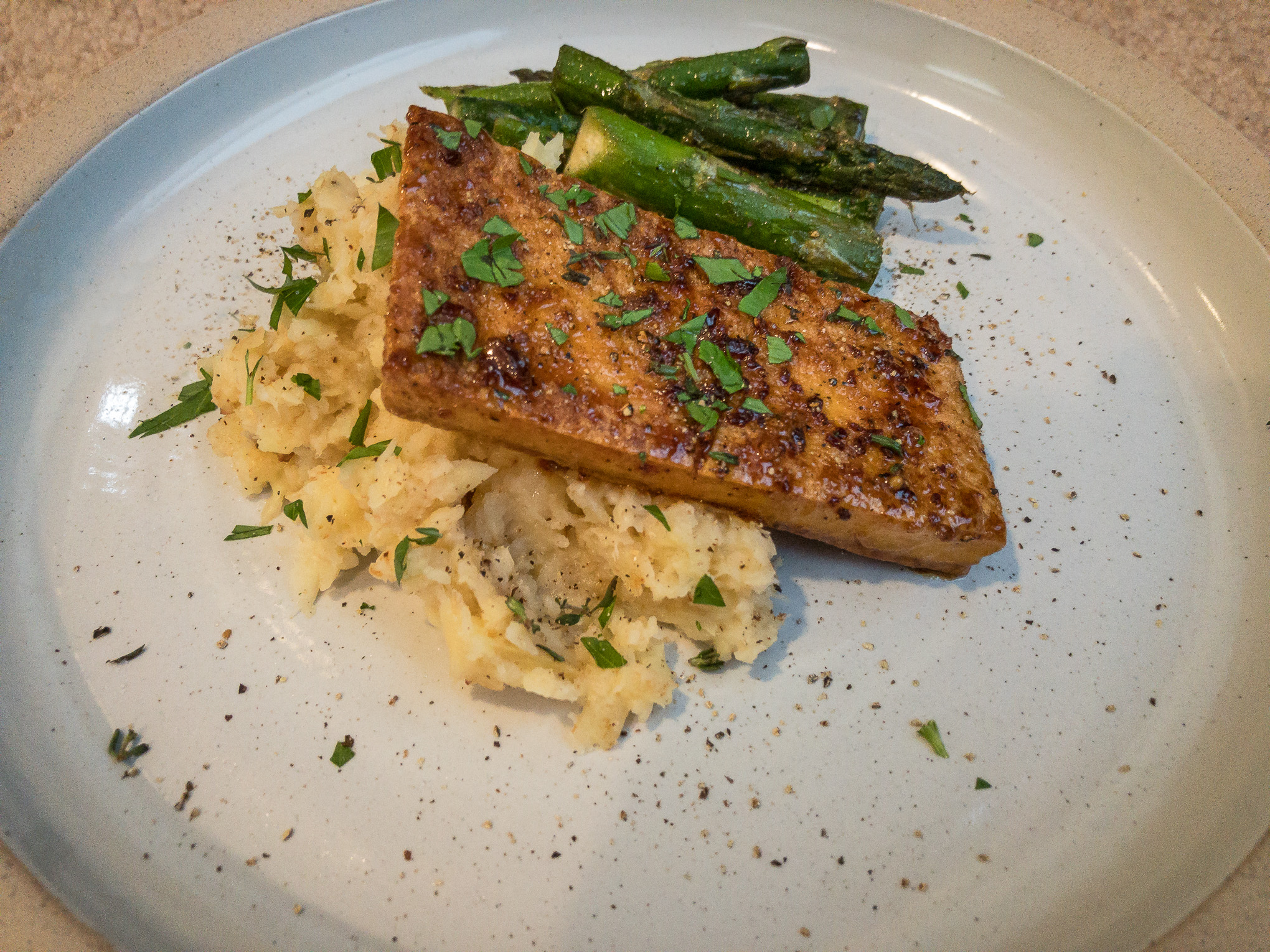 How Does it Stack Up Nutritionally?
Not bad. Many of the meals are based on a protein + starch + vegetable model which is a nice balanced plate. Often, the vegetarian meals in dinner kits are lacking a concentrated source of plant protein like garbanzo beans, peanuts, or tempeh. But with SPO we're regularly getting tofu, which is fantastic. And it just happens to be extra firm tofu which is my favorite.
I don't see many whole grains on their menus. The flatbreads, rice, couscous, etc. are usually the standard white variety. So that would be a place where more fiber and nutrients could be added with an easy substitution.
How Does it Taste?
Pretty much all the time: delicious. Of the four meals listed above, they were all excellent. I can remember one curry over the past few months that was more bland than zippy, but otherwise no disappointments. Generally, the Asian-inspired dishes are wonderful because the sauces are spot on. I think they do a good job thinking through texture as well. There is hardly ever a mushy meal, which makes my smoosh-averse mouth happy.
My absolute favorite meal, which isn't pictured above, is the Tofu Fried Rice with Lemongrass and Roasted Cashews. It's one of their it's-already-vegetarian items and I think I've ordered it three times now. I can't get enough.
Was There Enough to Eat?
Yes. Most of the time the two servings fed two for dinner as promised. Occasionally there was one serving of leftovers for the next day.
Pros:
Shopping with SPO means supporting a local company.
Supporting a local dinner kit company means far less packaging and no shipping, at least for Bellinghamsters. They drive it to our house from 2 1/2 miles away. It's a different story with most of the national companies.
Communicating with SPO has been extremely easy. When they have a question they email or text and I can reply quickly. Whenever we have interacted with the delivery peeps they've been delightfully polite and friendly.
There is no minimum order. With many of the larger companies you automatically get 3 meals and the boxes are designed for several servings for families of 2 or larger. With SPO you could order one serving for one person if that's what meets your needs for the week.
No subscription necessary. I can log on whenever I went, or go weeks without it. I don't have the hassle of remembering to skip shipments or maintain an ongoing subscription.
As the name of the company implies, the only ingredients you should need on hand to be able to cook the meals are salt, pepper, and oil. So you don't need to be thinking ahead on a busy weeknight and making sure your pantry is stocked before you can eat dinner.
Cons:
There aren't many vegetarian meals on the regular menu. Mostly I just remember seeing my fried rice and an Italian Roasted Cauliflower and Raisin Flatbread. So you're either going to order the meal simply without the meat or substitute tofu. This is a fantastic option, but after three tofu meals in one week you might be begging for a kidney bean!
There is no nutrition information available for the recipes, which makes it hard if you're watching your weight or trying to lower your blood pressure or blood cholesterol. Hopefully that's something they might add in the future.
So if you live in Washington state, you have yet another tasty option for dinner assistance in addition to Blue Apron, Green Chef, and the like. I think you'll be pleased with the quality, and I'd love to know what you think if you try it out. Maybe if enough of us veg-heads become customers we'll see a permanent plant-based shift in their weekly menu offerings…
This is not a sponsored post. I am a loyal paying customer of SPO and just wanted to share a cool company with you.