Can we live in a world where you can have donuts for breakfast, and call it healthy? Where you can sink your teeth into frosted, tender pastry before noon and not feel regret afterward? I'm going to say yes because this recipe is definitely for a donut and it's unquestionably healthier than regular donuts. I give you: Healthy Baked Cherry Almond Coffee Cake Donuts.
My recipe development mindset was motivated by memories of a favorite cherry coffee cake and my love of donuts. I thought it might be worth a try to combine them. The best parts about the coffee cake were the crumbly streusel that melts in your mouth and the layer of cherry pie filling in the middle. And the best part about donuts is that they're fried and frosted, am I right?
So how do you make a coffee-cake-style donut healthy? Here was my plan of attack:
Replace the syrupy sweet cherry pie filling with plain canned tart cherries in water
Use mostly whole wheat pastry flour instead of 100% all-purpose flour
Replace eggs with pureed cherries, dairy-free (vegan) yogurt, and almond butter
Replace butter with vegan butter
Bake 'em don't fry 'em
It's not perfect of course. It's still got plenty of sugar and frosting, but it's a step in the right donut direction and it's vegan!
Almond is a natural flavor fit with cherries so I decided to highlight that as well. And I wasn't kidding around. This recipe gets its almond goodness four ways:
almond butter
almond milk yogurt
almond extract
sliced almonds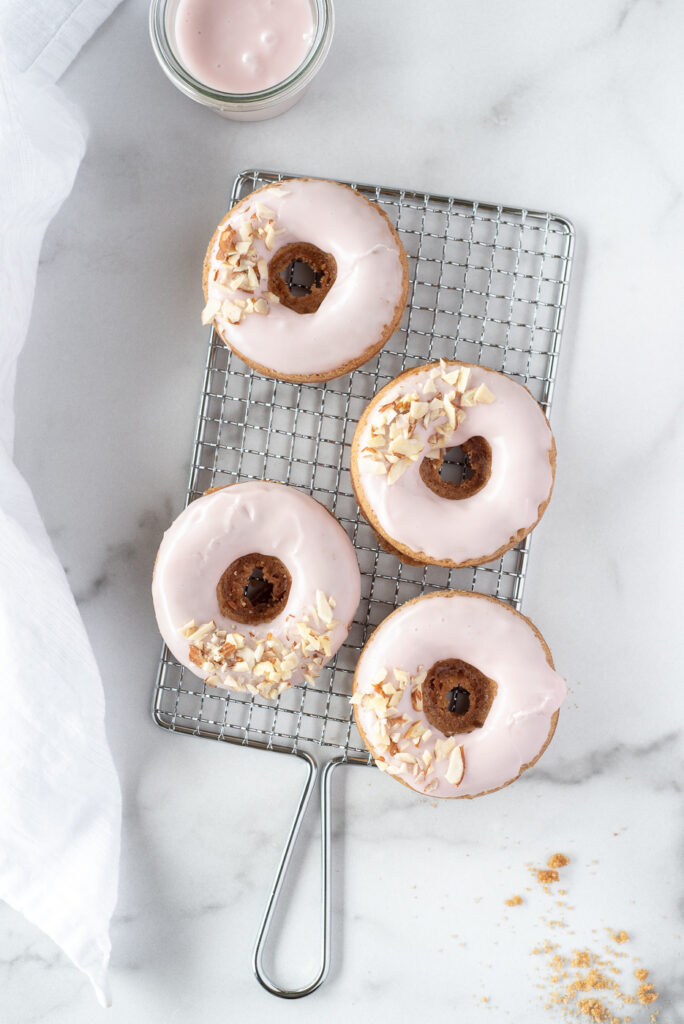 The top is smooth, with pale pink frosting made from tart cherry juice. The crumbly bottom is where the coffee cake bit comes in. And the moist, tender middle pairs them perfectly together.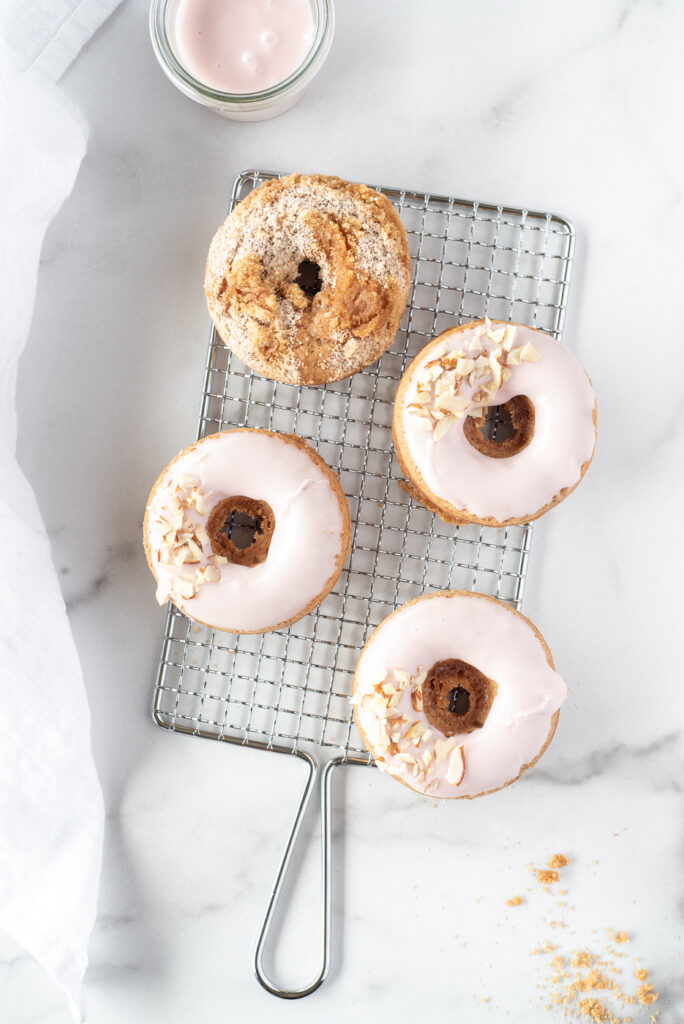 Print
Healthy Baked Cherry Almond Coffee Cake Donuts
Tender baked donuts with a hint of almond, a sweet pink cherry top, and a crunchy streusel bottom.
Author:
Prep Time:

25 minutes

Cook Time:

10 minutes

Total Time:

35 minutes

Yield:

12

donuts

1

x
Category:

Breakfast
Ingredients
Donuts
1 1/2 cups

whole wheat pastry flour

1 1/2 teaspoons

baking powder
Heaping

1/4 teaspoon

salt

3/4 cup

sugar

1/2 cup

plus 1 tablespoon soymilk or other plant milk

1/4 cup

plus 2 tablespoons unsweetened dairy-free yogurt

3 tablespoons

almond butter

1 1/2 teaspoons

almond extract

3/4 teaspoon

vanilla extract

3/4 cup

canned red tart cherries in water, drained (reserve juice for glaze)
Streusel
1/3 cup

all-purpose flour

1/3 cup

brown sugar, packed

3/4 teaspoon

cinnamon

2 tablespoons

vegan butter
Glaze
2 cups

powdered sugar

1 tablespoon

plus 1 teaspoon soymilk or other plant milk

2 tablespoons

plus 2 teaspoons reserved cherry juice

1/4 cup

sliced almonds, chopped
Instructions
Donuts
Preheat oven to 350 degrees. Spray two non-stick donut pans with pan spray.
For dry ingredients: in a medium bowl, whisk together whole wheat pastry flour, baking powder, salt, and sugar.
For wet ingredients: in a straight-sided 2-cup or 4-cup liquid measuring cup add soymilk, yogurt, almond butter, both extracts, and cherries. Blend together using an immersion blender until smooth.
Add wet ingredients to dry ingredients and combine gently using a rubber spatula or wooden spoon. Try not to overmix.
Fill a pastry bag with donut batter and cut off the corner so you have a 1/2-inch or 3/4-inch opening. Pipe batter into pans.
Streusel
In a medium bowl, combine all-purpose flour, brown sugar, and cinnamon.
Add vegan butter and cut into dry mixture with a pastry blender or by using a criss-cross motion with two knives, to cut the butter into small pieces the size of pine nuts.
Sprinkle 1 tablespoon of streusel onto the top of each donut, which will become the underside after baking.
Try to clear the center post of batter and streusel for each donut. Otherwise, it can spread during baking and you'll lose the donut's signature hole. It will still taste wonderful, it just won't be as pretty.
Bake for 9-13 minutes or until a toothpick inserted in the donut comes out clean.
Let rest in pans for 5 minutes. Then remove donuts from pan and cool on a wire rack.
Glaze
In a small bowl, whisk together powdered sugar, soymilk, and cherry juice.
You might do a test "dip" of one donut to make sure the glaze is the right consistency. You want the glaze to cling and not be so thin that it completely drips off the donut. Add more powdered sugar or soymilk as needed.
Transfer the glaze to a shallow, flat-bottomed bowl to make glazing/dipping the donuts easier.
Once the donuts are cool, dip the smooth side (not the streusel side) into the glaze, and return to the wire rack.
Sprinkle 1 teaspoon chopped sliced almonds on each donut.
Notes
You might have some leftover glaze that doesn't get used, but I wanted to be sure the recipe made enough that you could make a deep enough layer in the bottom of a bowl to dip 12 donuts.
Nutrition
Serving Size:

1 donut (2.5 ounces)

Calories:

300

Sugar:

38 g

Sodium:

150 mg

Fat:

6 g

Saturated Fat:

1 g

Trans Fat:

0 g

Carbohydrates:

60 g

Fiber:

4 g

Protein:

5 g

Cholesterol:

0 mg
Keywords: cake doughnuts, crumb cake donuts, vegetarian donuts, low cal donuts, baked donuts, healthy donuts, cherry almond donuts, almond butter donuts, vegan donuts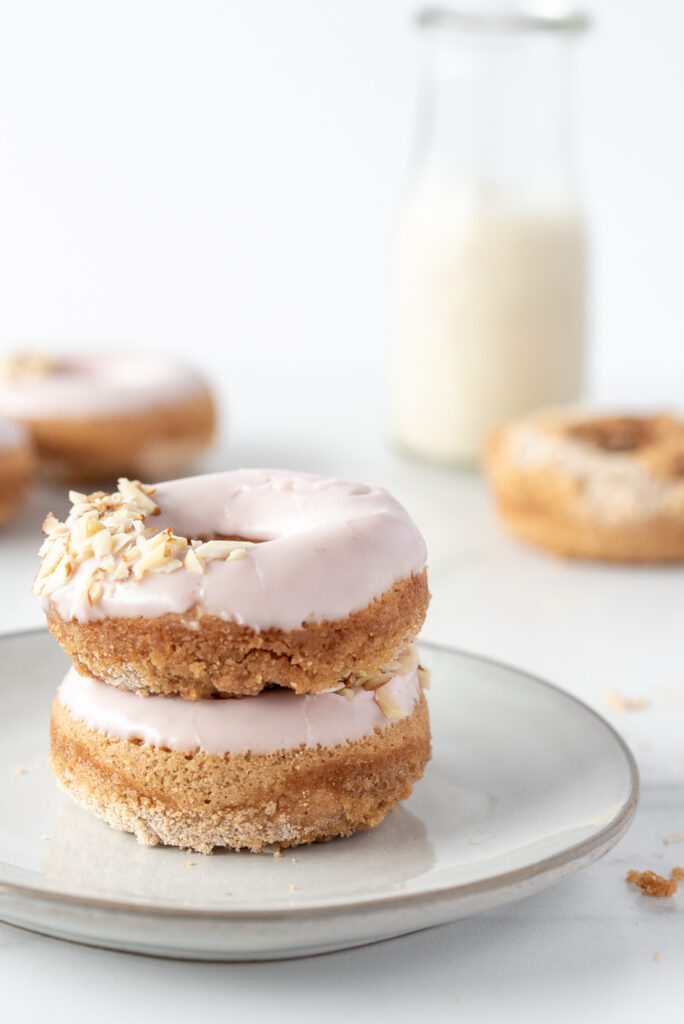 Ingredient notes:
Whole wheat pastry flour: this is different than regular whole wheat flour. It's still a whole grain and offers up more fiber than all-purpose flour. But it's lighter than whole wheat flour so baked goods like quick breads and muffins (and donuts!) don't end up as dense.
Soymilk: there are a lot of plant milks out there but soymilk remains my favorite because of its protein content. It's the most similar to cow's milk and has more protein than almond milk, oat milk, etc.
Vegan yogurt: I used Kitehill plain almond milk yogurt because it's yummy and it's got a decent amount of protein for a non-dairy yogurt. Read the labels on vegan yogurts if you're subbing them for regular yogurt. The protein content often just doesn't compare.
Almond butter: I used the Kirkland brand because that's what I have at home. My main criteria for almond butter is that the only thing on the ingredient list should be: almonds.
Canned red tart cherries in water: this is not cherry pie filling. It's just plain old tart cherries canned in water and you can find it on the canned fruit aisle. My store carries two brands:  Kroger or Oregon Specialty Fruit. I prefer the tang of tart cherries (also called pie cherries) but sweet cherries would work just fine in this recipe too. If you have trouble finding the canned cherries, check the freezer section. I can regularly find frozen tart and sweet cherries at my stores. You'll just need to defrost them first and save the juice.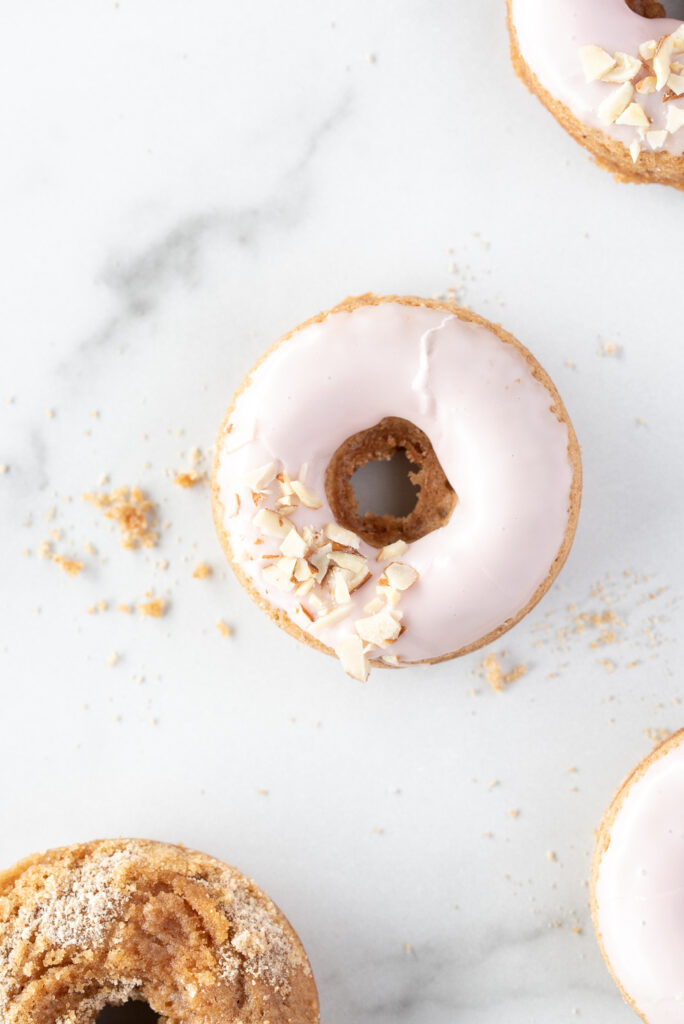 But how much better are these vegan donuts than a regular donut, really? Let's compare to some classic favorites from a national chain and a local shop.
Healthy Baked Cherry Almond Coffee Cake Donut
Starbucks Glazed
 (Old fashioned donut)
Top Pot Feather Boa (Cake donut)
Calories
300
480
560
Fat
6 g
27 g
29 g
Saturated fat
1 g
13 g
15 g
Protein
5 g
5 g
5 g
Carbohydrate
60 g
56 g
72 g
Cholesterol
0 mg
20 mg
35 mg
Sodium
150 mg
410 mg
600 mg
Fiber
4 g
1 g
3 g
Sugar
38 g
30 g
43 g
Overall, my version is lower in calories, fat, saturated fat, and sodium, but also higher in fiber. And mine is cholesterol-free, which makes sense because it doesn't have any animal products in it. Protein and sugar are pretty equal across the board.
A quick note about the sugar value. That number represents added sugar content plus natural sugar content in the product, but some sugars are more concerning than others. We don't need to worry about natural sugars like those in fruit.
I happen to know my sugar grams are coming from sugar, of course, but also the cherries. Since Starbucks makes their nutrition facts and ingredient lists available, I can tell you their donut contains sugar, dextrose, and corn syrup solids.
Also, if even 300 calories for one donut offends your sensibilities, I've got a couple of suggestions. To lower the calories, consider leaving off one added component like the streusel, frosting, or sliced almonds. You'll still have a very tasty product that can stand on its own deliciously without embellishments.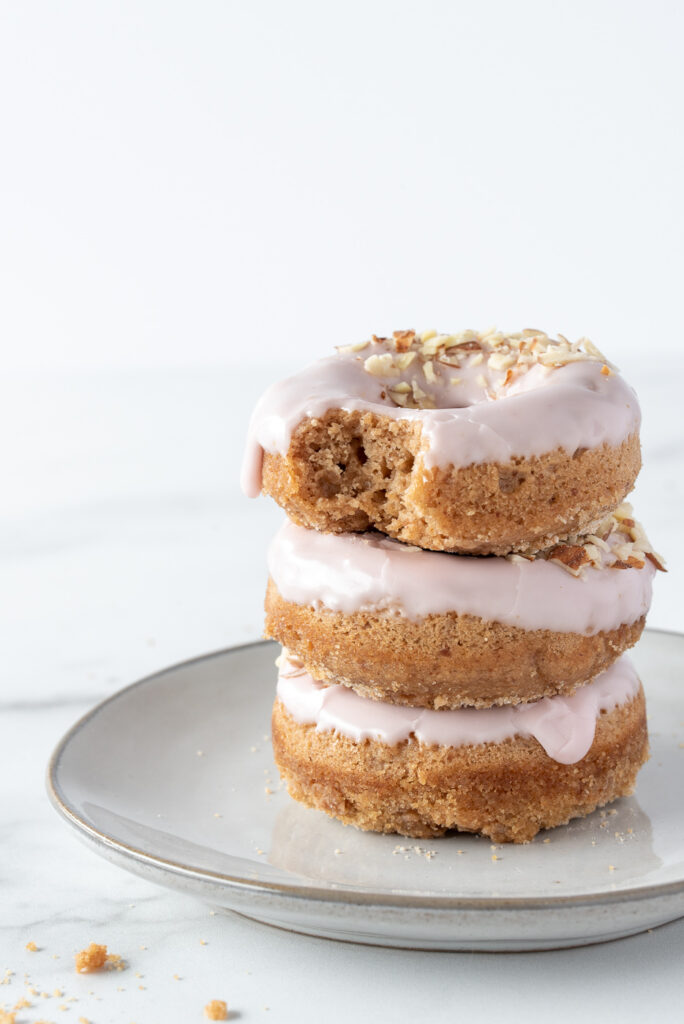 Let's assume you exercise portion control and don't devour all 12 donuts in one sitting. How best to store leftover donuts? That's a good question. After I made my first batch, I put them in a plastic container with a lid and left them on the counter overnight. That was a mistake. In the morning they were damp and dreary. The moisture from the donuts condensed inside the plastic box and everything was mushy. So I decided to do a sciency donut-storing experiment to see if I could get a better result.
I stored the donuts:
on a plate on the counter, uncovered
in a plastic container with the lid slightly ajar instead of sealed all the way
loosely wrapped in foil on the counter
loosely wrapped in foil in the refrigerator
The winner? Option 2. They were still fresh and soft but not soggy, which was ideal.
So if the arrival of spring has you in a pale pink mood, your breakfast routine needs an almond-scented pick-me-up, or you're just trying to use up the last of the &#%@! vegan yogurt that's been hanging around in the fridge, I'd encourage you to try this recipe, and enjoy every bite. No regrets.
If you liked this post, you may also enjoy: