I love grocery shopping. Or at least I can love it, when the conditions are right. But as I get older I find I'm having less and less patience with navigating clogged aisles and searching endlessly for products I can't find. I can't imagine what it's like for you non-weirdo-food-obsessed people who don't enjoy grocery stores in the first place.
That's where ClickList stepped in. I started seeing signs at my local Fred Meyer (Kroger) grocery store for ClickList, but I honestly didn't know what it was. Then I started seeing people shopping alongside me with these strange multilevel carts stacked with what appear to be milk crates. Several months later, I realized my neighborhood grocery store offers a service wherein I select my items online and someone else wanders the store for me. Sounds just about perfect.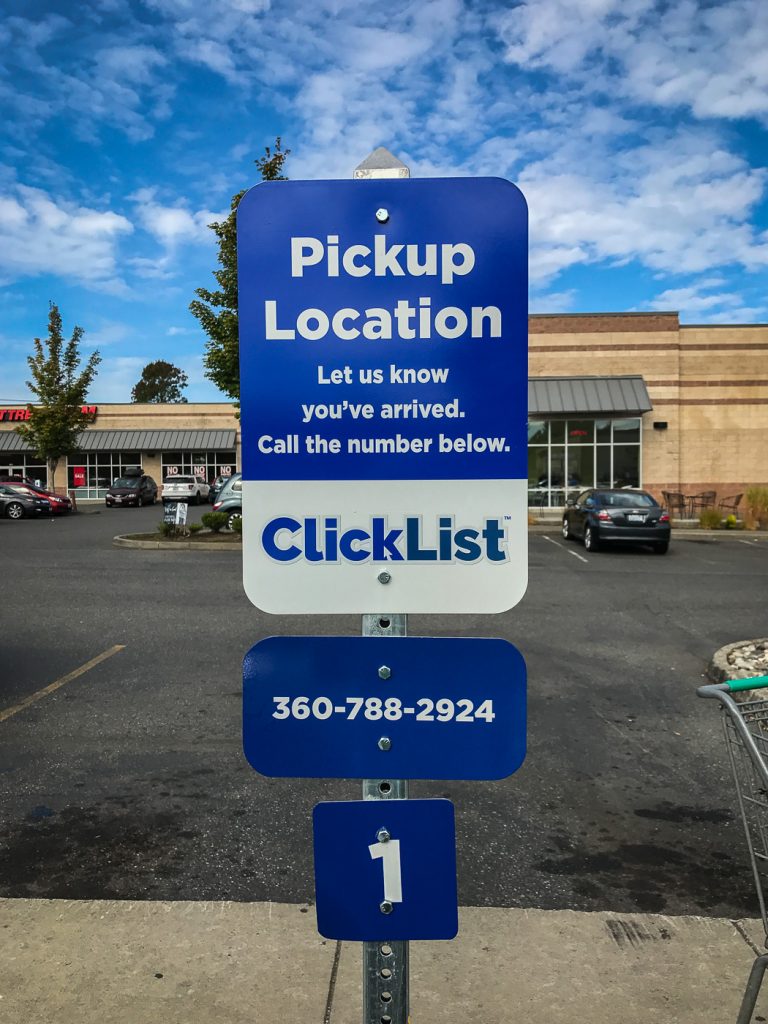 Quick update: in 2018, the name was changed from ClickList to Grocery Pickup. 
So on a weekend when I was particularly busy, I decided to try out this shortcut and see how it all worked.
From the Fred Meyer website I clicked on Order Online in the menu bar, then ClickList Pick Up At Store from the drop-down list
I created an account (or sign in if you already have one)
I selected my groceries by using the search function at the top of the page (What are you looking for today?) or the My Recent Purchases list
When my list was complete, or earlier if you're prompted, I selected a pick-up time (Reserve your time) and selected my store
I entered credit card information
I drove to the store during my 60 minute pick up window
I opened the back hatch on my car, received my groceries, and drove away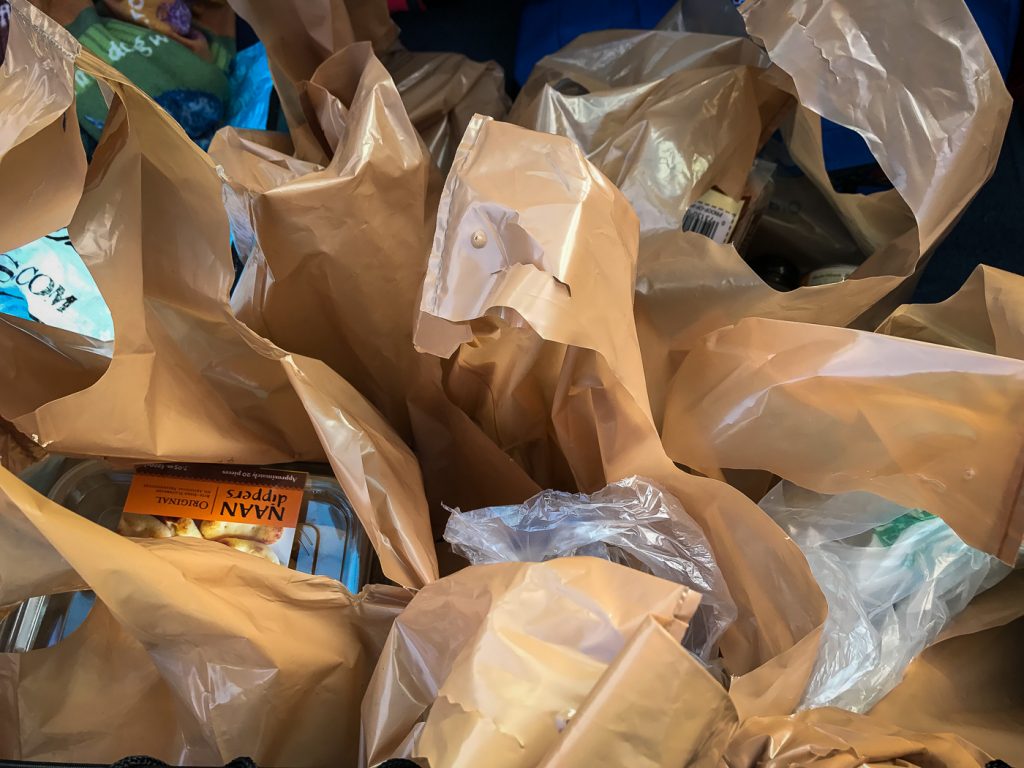 After creating my online grocery list, I had a few hours to wait before my reserved pick up time. I got my order in before 10:00 am on a Sunday morning and my first available pick up time was 2:00-3:00 pm. When it was time, I drove into the Fred Meyer parking lot and followed signs to ClickList Pick-Up. They had 8 clearly labeled parking spots, with easy instructions to call once I arrived. They picked up the phone after the first ring, asked for my name as part of their greeting, found my order immediately, and sent someone out with my week's worth of vegetarian carbohydrate, fat, and protein calories. She even loaded the groceries into the car for me! (Sort of made me wish I'd cleaned out the hatch-back before I came. She seemed unfazed by the tennis racquet, bottle of motor oil, car emergency kit, and mismatched collection of reusable canvas bags strewn in her way.)
If bargain shopping is your bag, you'll be happy to know you can use paper or digital coupons with ClickList. I tried both, just to see if it threw a wrench in their seamless system. It didn't. I loaded the e-coupons to my Fred Meyer loyalty card (using the Fred Meyer app) while I was building my shopping list online. Conveniently, my loyalty card is linked to my ClickList account. I also brought along 3 paper coupons to my pick-up appointment. The e-coupons were deducted from my bill automatically and my paper coupons required my attendant to take a return trip inside to scan them and update my receipt but only added about 2 minutes to my entire experience.
If you're pretty particular about your selections during grocery shopping, they have allowances for that. For each item on your list you can check or uncheck the allow substitution box which would allow them to improvise if your requested product ends up not being available. For example, I ordered a small lemon and they subbed a large lemon. No biggy. Their substitution policy is that they'll charge you the lower price of the two items if their choice of sub is priced higher than your original request. Seems like a nice compromise.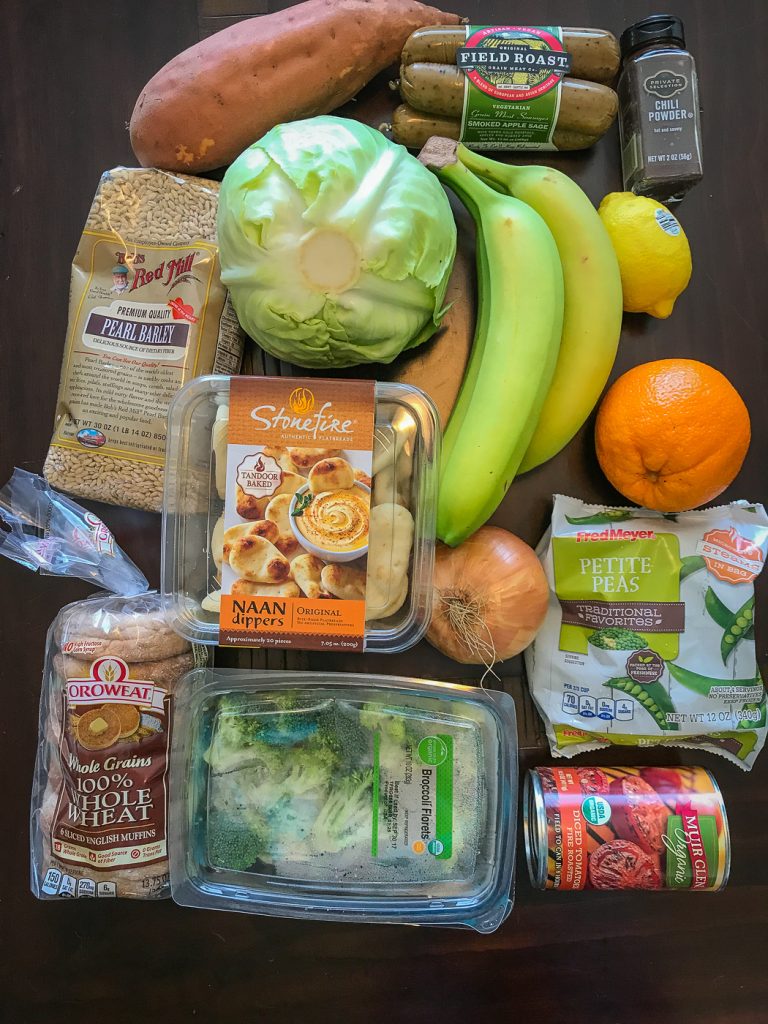 If you forget an item, like I did, you can add it on before your pick-up appointment. The website directed me to call what appeared to be a national call center, which then forwarded me to my local store. They took my add on item ("1 medium zucchini please") via phone with no hassle. It looks like there might be an online option for adding or subtracting, but only if you place your order much farther in advance of pick up.
As with any service that offers unbeatable convenience, there are a couple of drawbacks. Here are a few of my first impressions after trying ClickList twice.
PROS:
It saves time. I would estimate it took me 15 minutes to build my list online. Once I pulled up to my parking spot and placed my call, my cheery attendant Merry was at my car in under 3 minutes. Even with the extra time necessary to add on the coupons I was out of there in 7 minutes total. When I consider how long I spend revisiting aisles to grab stuff I missed not to mention time waiting in the checkout line on a busy Sunday afternoon, this felt far faster to me.
For most produce items (and I think meat too) there is a spot for add special instructions. So you could ask for green bananas, thin or thick asparagus spears, or extra large potatoes.
I'm very familiar with our typical grocery items so it was easy for me to order online. If you don't know the brands, departments, or products at your grocery store, you may find the searching required to build your list online a bit tedious.
CONS:
There isn't much information about the products. I wanted to compare ingredient lists on a couple of brands of English muffins but that wasn't possible. I guess I'm used to that feature because on Amazon there is usually a photo of the nutrition facts label and an ingredient list for each food item.
You don't burn many calories and you get very few steps. Walking into the store, pushing my cart, reaching for items, emptying my cart, and taking my grub to the car actually burns calories. With ClickList their employee is getting my steps for me…while I do what? Fold laundry, write blog posts, indulge in a 10-hour Twilight Saga Marathon, or any other number of other possible sedentary weekend activities.
This is minor, really. But one task I take care of when I'm at Fred Meyer is returning empty SodaStream carbonator cylinders at the Customer Service Desk and getting a replacement at a discount. ClickList staff are pretty customer-focused but I'm sure they won't wait in this line for me or come out to get my empties. That's OK. At some point I will actually return to Fred Meyer as a regular customer, on my own two feet, and I'll take care of my carbonation needs then.
All of my groceries were packed in plastic bags. They are recyclable, made from recycled materials, and they're super heavy duty but I thought it was odd considering plastic bags are banned in Bellingham. (From what I found online, the ClickList bags are allowed for precisely these reasons: they aren't "single use" and they're thicker than 2.25 mil.) Also, it means I can't use my own canvas bags that I've finally got in the habit of remembering to bring with me to the store after the ban was passed in 2012.
Pretty much everything is fair game, like floral arrangements, party trays, wine, and flat screen TVs, but at this time you can't add your steroid anti-itch cream to the list. No prescriptions. Yet.
There is no ClickList app. Yet.
Normally the cost is $4.95 per order but the first three uses are free so you can try out the service. I will be quite happy to spend a little extra to save myself the hassle of circling for 10 minutes before finally finding parking in the furthest away possible spot, spending 30 plus minutes or more filling my cart and avoiding judgment from any acquaintances I might run into who enjoy analyzing what's in a dietitian's cart, deep breathing when the people in front of me won't move my out of my way while they scan the pasta shelf for mini penne, scrolling my Facebook feed on my phone while I wait in the checkout line behind someone who's shopping for the city's largest tailgating party, and schlepping my environmentally conscious bags to the car.
The cost of ClickList's shopping service: essentially $5.
The joy of spending my Sunday on the love seat with the kitties (and teenage vampires) instead of in the cat food aisle: priceless.
Do you have a convenient way of making this weekly task somehow more pleasant? Tell me all about it.
This is not a sponsored post. I took advantage of their offer for first-time customers to get the service for free but plan on paying my own way for any future uses.