You're at the grocery store, trying to come up with something to make for dinner, and you're strongly leaning towards the undeniable allure of convenience foods. Because, well, let's be honest…they get us fed fast! But you've been trying to put more plants overall on your plate to boost nutrition, like beans, veggies, and fruit. If only there was a recipe that combined the best of both worlds: fresh produce and time-saving packaged foods.
Well, you're in luck. Because today I'm sharing a recipe for exactly that. Taco bowls that are overflowing with fresh tomatoes, mango, and onion, but get a boost of flavor from frozen veggie burgers, frozen corn, and canned tomato paste, i.e. the perfect combo meal.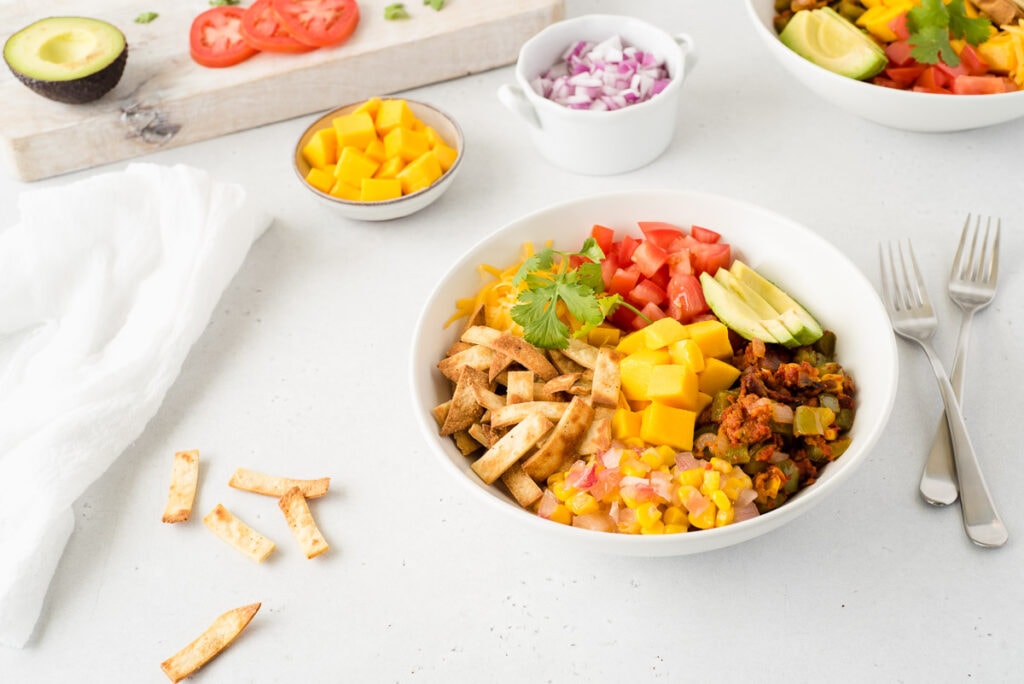 Print
Easy Weeknight Veggie Burger Taco Bowls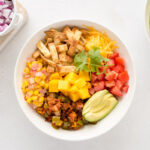 A recipe that relies on a perfect formula for a dinner that's easy and healthy: convenience food + fresh foods = fast and nutritious!
Author:
Prep Time:

10

Cook Time:

15

Total Time:

25 minutes

Yield:

2

Servings

1

x
Category:

Dinner
Ingredients
1  medium red onion, diced, divided (about 1 cup)
1/2 cup frozen super sweet corn, defrosted
3 tablespoons apple cider vinegar
1–2 tablespoons sugar
3 small flour or corn tortillas cut into 2 inch by 1/2 inch pieces
1 tablespoon olive oil, divided
1/8 teaspoon salt
1/8 teaspoon black pepper
1 large green pepper, diced (about 1 1/2 cups)
2 Morningstar Farms Spicy Black Bean Burgers, defrosted and diced
2 tablespoons tomato paste
2 medium roma tomatoes, diced (about 1 cup)
2 ounces sharp cheddar cheese, regular or dairy-free, grated
2 large mangos, diced (about 1 cup)
Sour cream, regular or dairy-free, optional
Avocado, diced, optional
Cilantro, chopped, optional
Instructions
Preheat oven to 375 degrees.
In a small saucepan, combine 1/2 cup onion, corn, vinegar, sugar, and 1/4 cup water. Bring to a boil, reduce heat and simmer until most of the liquid is gone, about 10-15 minutes.
Toss cut tortillas with 1 1/2 teaspoons of olive oil, salt, and pepper. Coat a large baking sheet with pan spray. Arrange tortillas in a single layer on baking sheet. Bake, stirring once, for 12 minutes or until golden brown and crisp.
Heat remaining 1 1/2 teaspoons olive oil in large skillet over medium to medium-high heat. Add remaining 1/2 cup onion and all of the green pepper. Saute 4 minutes or until soft.
Add veggie burger to skillet. Cook until lightly browned, about 4 minutes. Reduce heat to low, add tomato paste, stir well, and cook an additional 2 minutes.
Layer veggie burger filling in bowls and add toppings: pickled corn and onions, shredded cheese, diced tomato, tortilla strips, mango, etc.
Notes
Feel free to use more or less sugar to pickle the corn and onions, depending on your preference. Less sugar will give a more tart and tangy pickle, and more sugar will result in a sweeter pickle. Both are delicious accompaniments to this dish.
Nutrition analysis does not include sour cream, avocado, or cilantro.
Inspired by Plant-Based Protein Tacos from Green Chef.
Nutrition
Serving Size:

1 serving

Calories:

570

Sugar:

28 g

Sodium:

580 mg

Fat:

23 g

Saturated Fat:

8 g

Trans Fat:

0 g

Carbohydrates:

72 g

Fiber:

12 g

Protein:

23 g

Cholesterol:

30 mg
Keywords: taco bowl, dinner bowl, bowl meals, vegetarian, vegan, veggie burger recipes
Are you familiar with the term umami? It's considered by some to be the fifth flavor after salty, sweet, bitter, and sour. Some people describe it as meaty or savory, and it's kind of universally known as a way to pump up the deliciousness of any recipe. There are lots of foods that can add the umami element to a dish, including tomato paste.
When people start eating more plant-based meals, they often say they miss the "meaty" factor of their favorite meals. So, by adding tomato paste to the bean burger patties, my hope was to give the veggies a little boost to guarantee savory satisfaction. And speaking of meat, it just so happens that this recipe serves up 23 grams of protein without a speck of meat anywhere.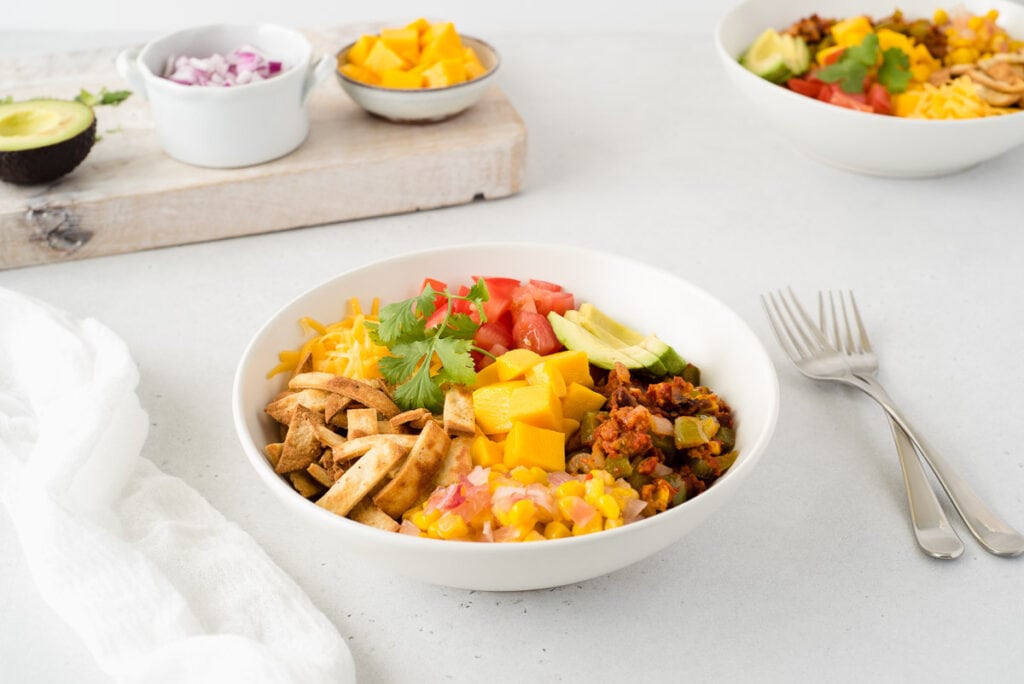 One substitution you might consider is swapping out the corn or flour tortillas and swapping in almond flour tortillas. I've been experimenting with them myself in quesadillas, but haven't yet tried them in this recipe. The brand I'm familiar with is Siete. The nutritional profile is a bit different than corn or flour tortillas and they have a unique, pleasing texture.
I've listed my favorite toppings for taco bowls in the recipe, but of course, you could use your faves instead. I love the cool, fresh sweetness of the mango alongside anything spicy so it's a must-have for these taco bowls for me.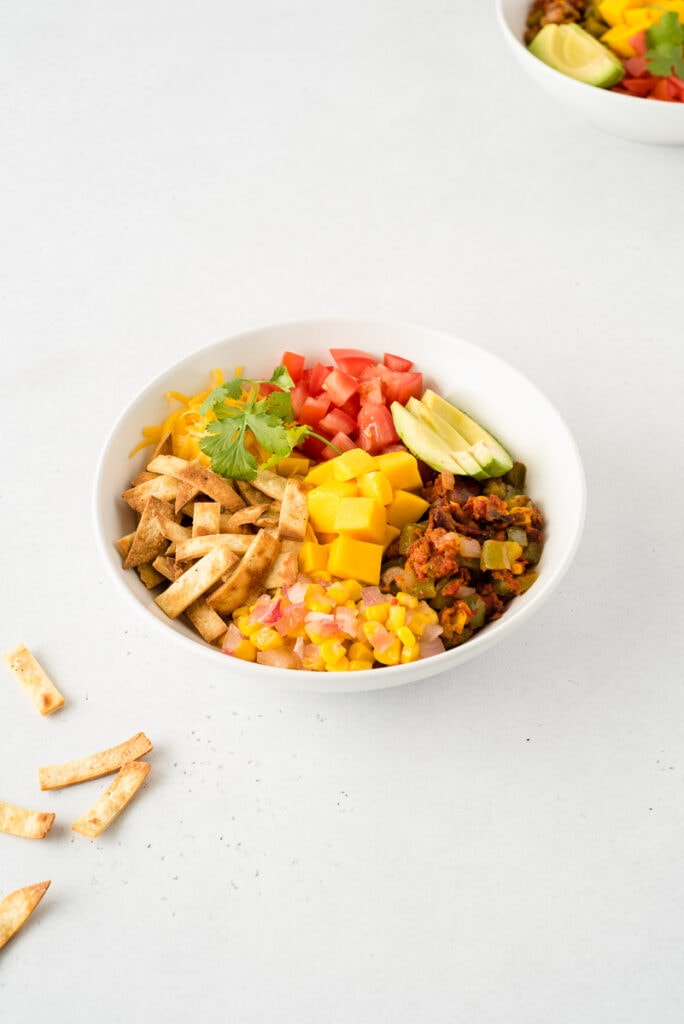 The recipe says it serves 2, but they are generous portions. So it could easily be divided to make 3 servings instead. As written, you're doing yourself a tremendous favor in the produce department. One taco bowl gives you 2 1/2 cups of veggies and fruit!
If you're interested in another recipe with a similar Mexican flavor profile that's heavy on plant protein and uses both fresh and convenience foods, consider Mini Pepper Nachos with Tempeh.
Healthy, fast meals are possible, once you find the right combination of fresh and packaged products. Maybe this recipe can be your first foray into quick, plant-based dinners. And then you'll be off and running.
If you liked this post, you may also enjoy: