You think it's just another mundane trip to the grocery store, until you spot them. The ruby-red orbs signaling that the holidays are right around the corner. The cranberries have arrived! They're a sure bet for the Thanksgiving meal, but how else can you make use of these low calorie, fiber-rich, festive berries during their short time on store shelves? My answer is: breakfast.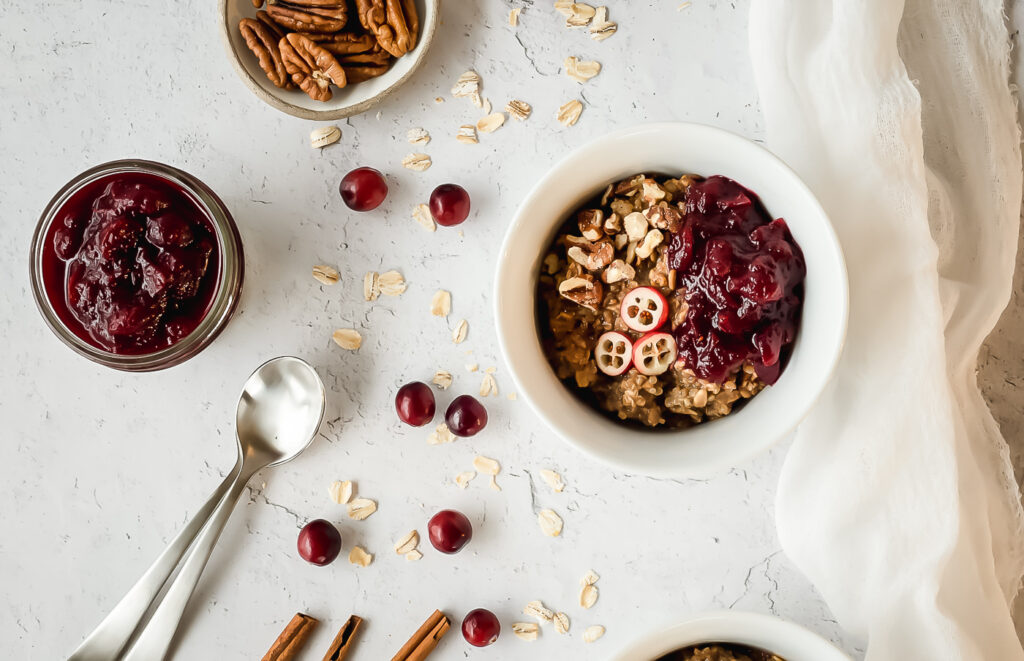 November is the cranberry's time to shine. November also means the wind is likely blustering outside, and you probably want to be snuggled up at home in your jammies eating something warm. That's where Comforting Maple Pecan Overnight Oats with Cranberry Sauce comes in.
This recipe's got a lot going for it:
– You can make it ahead and then enjoy it in the morning with very little effort.
– It's like hot cereal, so it's a comforting fall and winter breakfast, but it provides a little variety in the standard oatmeal routine.
– One unusual recipe ingredient packs a flavorful punch: balsamic vinegar.
– Wait. I was wrong. It's got two unusual ingredients: balsamic vinegar and instant coffee. That's weird, right?
– The flavors of fall are all represented: maple syrup, toasted pecans, and aromatic spices like cinnamon and cardamom.
– Getting in a dose of cranberries on a regular basis may offer a small benefit with regard to cancer prevention.
– Mixing cooked quinoa in with the overnight oats makes for a pleasing texture and boosts the protein content.
– Mixing quinoa and oats also means you get the benefit of not one but two whole grains in your breakfast bowl. A recent study found that replacing refined grains (like crisped rice cereal or creamy wheat hot cereal) with whole grains may lower our heart disease risk by positively affecting blood lipids, blood glucose, and inflammation.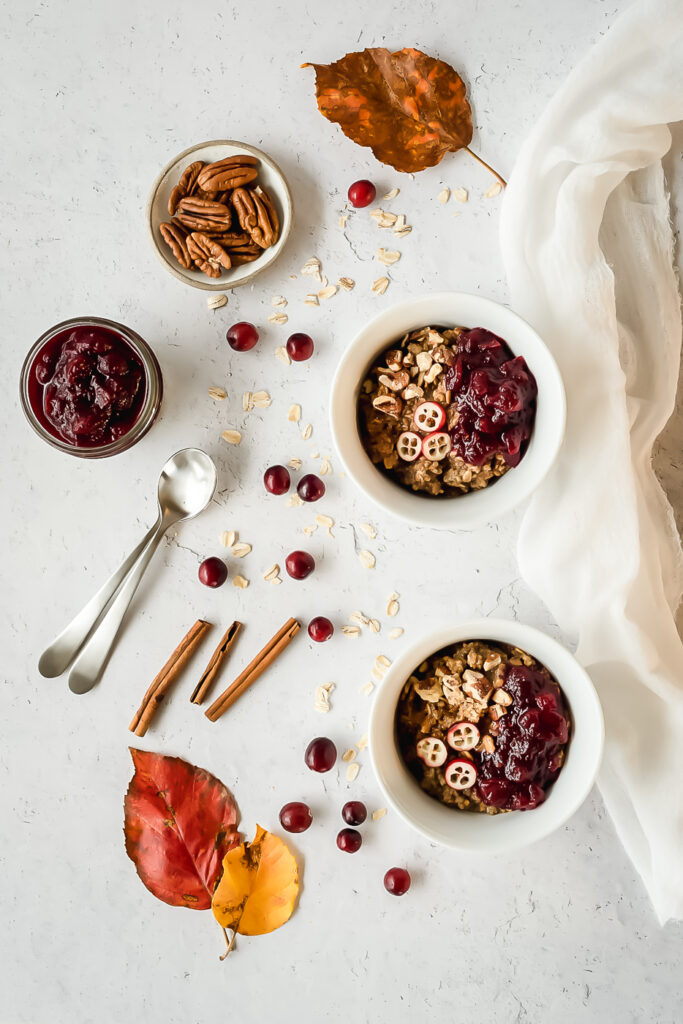 I recently had a happy cranberry accident. Such is life during COVID with online grocery ordering, I thought I had chosen two 12-ounce bags of cranberries. You know, the regular size bags. When I got the groceries home and unpacked, my biceps strained in protest as I carefully lifted out two hefty 32-ounce bags of cranberries.
I had to scramble to figure out how to use 4 pounds of fresh berries! My fridge's produce drawer had no idea what hit it. I ended up making my mother-in-law's cranberry salad and candied cranberries. And then I still had 2 1/2 pounds left! Hence, the genesis of deciding to eat cranberries for breakfast.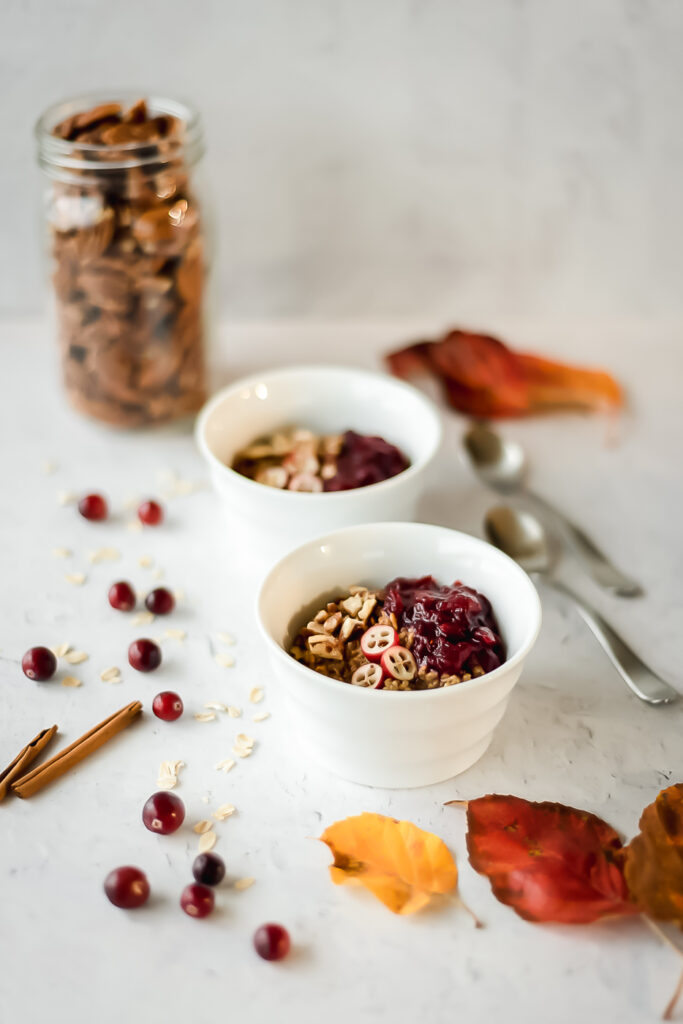 Basically, you make a spiced batch of overnight oats, warm it up the next morning, and top it with all kinds of tart and tasty toppings to achieve crunchy chewy texture perfection.
So the next time you're at the store and you notice that the neatly stacked bags of cranberries have arrived in the produce aisle, grab what you need for your holiday meals, and then grab one extra bag (Please, just one. A small one.) to enjoy this nutritious berry at breakfast.
Do you have a favorite unexpected way to use cranberries this time of year?
Print
Maple Pecan Overnight Oats with Cranberry Sauce
The warm flavors of fall in a bowl.
Author:
Prep Time:

10 minutes

Cook Time:

10 minutes

Total Time:

20 minutes

Yield:

3

servings

1

x
Category:

Breakfast

Diet:

Vegan
Ingredients
For the overnight oats:
1 cup cooked quinoa
2/3 cup rolled oats
1/4 cup maple syrup
10 ounces soymilk or your favorite milk
1 tablespoon instant coffee or espresso
1 teaspoon cinnamon
1 teaspoon ground cardamom
1/2 teaspoon ground ginger
Dash ground cloves
Pinch of salt
For the cranberry sauce:
1 cup fresh or frozen cranberries
1/4 cup orange juice
1 tablespoon balsamic vinegar
2 1/2 tablespoons maple syrup
For serving:
4.5 tablespoons toasted, chopped pecans
6 tablespoons chopped fresh cranberries
Optional: 3 teaspoons brown sugar
Instructions
Overnight oats: Mix all 10 overnight oats ingredients in a medium bowl. Put in the refrigerator overnight.
Cranberry sauce: Combine all 4 cranberry sauce ingredients in a small saucepan. Bring to a boil, reduce heat and let simmer for about 8-10 minutes or until berries have burst and sauce is thickened. It will thicken more as it cools.
For serving: Serve 3/4 cup of the overnight oats warm with 1/4 cup cranberry sauce, 1.5 tablespoons toasted chopped pecans, and 2 tablespoons chopped fresh cranberries. Optional: 1 teaspoon of brown sugar.
Notes
Inspired by Vegan Dirty Chai Detox Breakfast Bowls and this cranberry glaze from Vega.
The nutrition facts include 3/4 cup of the overnight oats, topped with 1/4 cup cranberry sauce, 1.5 tablespoons toasted chopped pecans, and 2 tablespoons chopped fresh cranberries. To cut calories you could reduce the portion of the cranberry sauce on top, and to cut tartness you could add a touch of brown sugar but that will alter the nutrition facts slightly.
Nutrition
Serving Size:

3/4 cup

Calories:

346

Sugar:

33 g

Sodium:

58 mg

Fat:

8 g

Trans Fat:

0 g

Carbohydrates:

63 g

Fiber:

6 g

Protein:

6 g

Cholesterol:

0 mg
Keywords: cranberry, pecan, quinoa, oat, maple, breakfast, overnight oats, breakfast bowl, maple syrup, cranberry sauce
If you liked this post, you may also enjoy: