I used to be a picky eater. Beyond picky, actually. But thankfully as I've gotten older I've branched out and learned to love beets, Brussels sprouts, bok choy and buckwheat. I know I'm not alone. I bet you've got a finicky foodie in your house right this very minute, or (perish the thought) is it you?
It might be a kid thing; maturity of the palate, power struggles with parents and all that. But sometimes you don't grow out of it. I've got a friend who still doesn't like red foods. And she's nearly 50…
But the fact remains that the recommended intake for the source of many a food fear – vegetables – keeps getting higher. Depending on who's sharing the public health message, here's where we're at now:
USDA's ChooseMyPlate: cover half your plate, at each meal, with vegetables and fruits together. (For 1800-2400 calorie diets, that would total 2 1/2 – 3 cups vegetables each day plus 1 1/2 – 2 cups fruit per day.)
American Heart Association: lump them both together and strive for 4.5 cups of veggies plus fruits every day.
American Institute for Cancer Research: broaden your goal and fill 2/3 of your plate with plant foods including vegetables, fruit, whole grains and legumes each time you eat.
I can tell you that for a variety of reasons, we're not reaching these lofty goals. According to the Dietary Guidelines for Americans 2010, "For almost all Americans ages 2 years and older, usual intake falls below amounts recommended".
So, sometimes we have to get creative. While there's more likely to be a negative connotation with vegetables, I find most people like fruit. Why not build on this universally-appealing plant food to spread the love around? (Help a parsnip out!) I know, I know…this idea's not new. The makers of V8 V-Fusion Juices know that the extra sweet taste of fruit can mask the less sweet flavor of vegetables, and have marketed it as a way to get kids to drink their sweet potatoes and carrots. And tossing some diced peach or mango into a bowl of fresh tomato salsa creates quite a complementary flavor combination (a.k.a. scrumptious). So, perhaps this notion of 1 vegetable + 1 fruit could be a new tool in your arsenal? All you need is a few ideas to get rolling.
This summer I've taken advantage of the surplus of produce and enjoyed several vegetable and fruit "fusion" meals of my own. Here are links to a few favorites:
Blog: Healthy Food for Living
Creative Combo: kale + blueberry
Recipe Notes: This salad comes together quickly with only 5 ingredients. I added a squirt of lemon juice just for good measure.
Blog: Oh She Glows
Creative Combo: beets, celery + apple, strawberries
Recipe Notes: I'm not sure I believe in the power of detoxing, but I'd never put celery in a smoothie before. And I liked it. (Maybe it was the optional apple and 1 tablespoon of maple syrup I used.)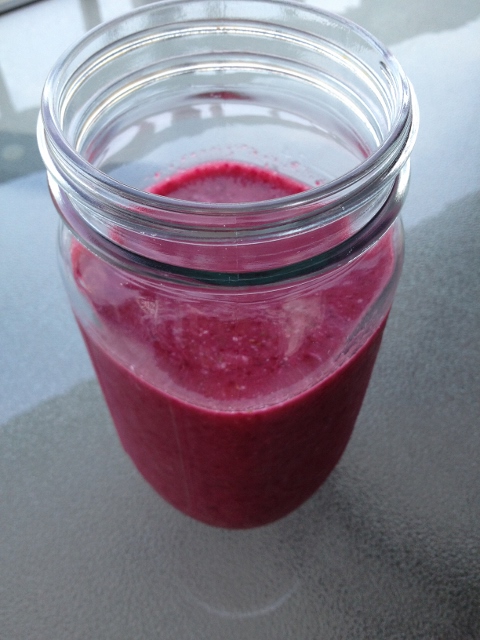 Blog: Joy the Baker
Creative Combo: lettuce, tomato + peach
Recipe Notes: I'd recommend using your favorite whole grain loaf, and swapping the ratio of fats to favor the olive oil (i.e. 2 tablespoons olive oil and only 1 tablespoon butter). If you can't find peaches, nectarines would be just dandy.
Blog: The Realistic Nutritionist
Creative Combo: beets, kale + applesauce
Recipe Notes: I'm not sure if you should keep the name of these cupcakes under wraps, or go ahead and advertise their seasonal, garden origins. They're very moist, and reminiscent of chocolate zucchini bread. I suppose if you're going to make cupcakes with real vanilla buttercream anyway, you might as well make them nutrient-dense cupcakes.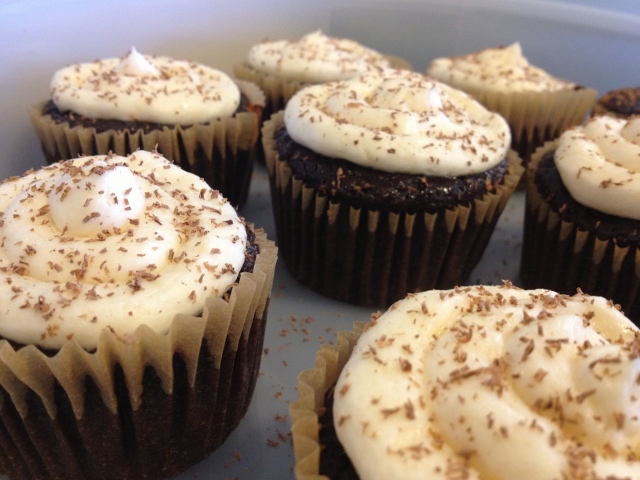 There are probably hundreds, if not thousands, of possible tasty combinations highlighting these nutritional powerhouses from the plant world, so I'd encourage you to start comingling. Eating  fruits with vegetables might just be a way to get your child (or your inner child) to belly up to the salad bar and have a feast.
Do you have a creative combo to share that perfectly pairs cruciferous with citrus? Or some other unexpected blend?
If you liked this post, you may also enjoy: