Kristine Duncan, MS, RD, CDE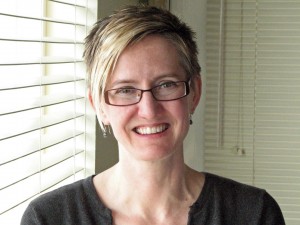 While I was studying to be a dietitian in college, I started down the road to vegetarianism and happily discovered that eating more plant foods and less animal foods was a healthy choice.  Since I am searching for tasty meatless meals at home and on the road every day, I thought I'd try sharing my experiences in eating from a nutrition perspective.  My hope is that you'll use Veg Girl RD as a resource for being a vegetarian in the real world.
I live in the veg-friendly town of Bellingham, Washington, with my family of six:  my husband, Jeff; three kitties; and two dogs.
If you want to know more of my story, keep reading…
Vegetarianism has been part of my life for a long time.  Like many before me, I read Diet for a New America by the heir to the famed ice cream giant Baskin-Robbins, John Robbins, which planted the seed that perhaps reducing our intake of animal foods was better for living creatures and the planet.  I was conflicted though, as I was studying nutrition in college and assumed, incorrectly, that I would soon learn how unhealthy vegetarian diets were and that I'd have quite a moral dilemma on my hands.  Happily, the opposite happened.  As each quarter passed, I became more and more convinced that I could have the best of both worlds.  A diet without meat can exist simultaneously with good health.  In fact, a diet without meat promotes good health.  I stopped eating meat in 1993 and haven't looked back.
I am now a Registered Dietitian (RD) and Certified Diabetes Educator (CDE), with an MS in Nutrition.  My first job, as Staff Dietitian for Graham Kerr (more commonly known as the Galloping Gourmet) was fantastic.  This dream job introduced me to recipe development for cookbook publication and production of a companion television show for PBS.  As one of the very, very few TV chefs who sets nutrition as a priority, Graham reinforced my belief that healthy isn't hard, healthy tastes fabulous, and people deserve to know what their healthy options are.
Later, as a hospital dietitian I found my passion was in health promotion, disease prevention, and wellness, all of which tie in perfectly with plant-based diets.  Currently, I get to indulge my desire to teach as an Adjunct Instructor for Nutrition.  I've been at Skagit Valley College for 13 years.
Eating healthy food:  I live it, I work it.  People frequently ask me what I eat and how I prepare things.  They want the practical stuff, and I'm no different.  I'm so grateful when I learn a new tip or trick that makes time in the kitchen easier, or when I hear about a restaurant that has a great meatless item on the menu.  I figured, "I'm constantly shopping, cooking, eating, or reading about nutrition, so why not share my experiences to help someone else along on their journey?"  Hence, the launch of this blog, Veg Girl RD.
Also, please kow that if you haven't yet decided upon being a vegetarian, but want to incorporate more plant-based foods into your diet, much of the information that I share will be helpful for anyone with leanings in this direction.  And, many of the recipes can be supplemented with meat or fish.  Perhaps this blog will help with a gentle evolution of your diet.  Healthy eating is for vegetarians and meat eaters alike.