Creamy Roasted Carrot Soup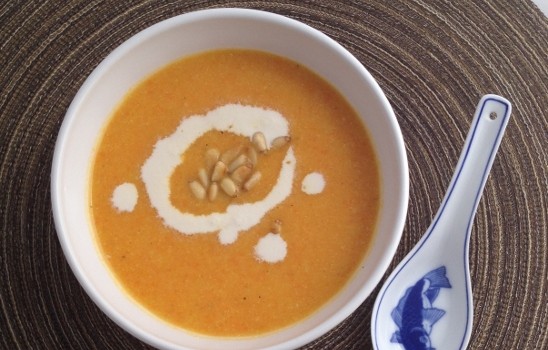 ½ cup pine nuts, divided
1.5 pounds carrots, peeled and cut into ½-inch pieces (about 4 cups)
3 tablespoons olive oil, divided
½ teaspoon salt
¼ teaspoon black pepper
2 large shallots, diced (about 1 cup)
3 cloves garlic
¼ cup dry white cooking wine (I use Sauvignon blanc)
4 cups vegetable broth
1 medium russet potato, peeled and diced (about 1 cup)
¼ cup water
½ teaspoon cumin
½ cup freshly squeezed orange juice (from about 5 mandarin oranges or 1 regular orange)
Soak ¼ cup pine nuts in water overnight.
Preheat oven to 400 degrees. Toss carrots with 2 tablespoons olive oil, salt and pepper. Spread on large baking sheet and roast for 25 minutes or until very, very soft, stirring halfway through.
While the carrots are roasting, begin the base for the soup. Heat remaining 1 tablespoon olive oil in large soup pot over medium heat. Add shallot and cook for 3-4 minutes until soft. Add garlic and cook for just 30 seconds. Add white wine and simmer until wine is mostly evaporated. Add vegetable broth and potato. Bring to a boil, then reduce heat and simmer, covered, for 8-10 minutes or until potato is soft.
To make pine nut cream, drain soaked pine nuts. Then blend with the ¼ cup water until very smooth. It's such a small volume that it's kind of tricky in a full-sized blender. I used my immersion blender in a wide-mouth pint mason jar.
Toast remaining ¼ cup pine nuts. I used a very small cast iron skillet over low heat. Keep a close eye on them as they can burn easily.
Remove soup pot from heat and add roasted carrots to potatoes and broth. Using an immersion blender, puree soup until smooth (or leave it a little chunky if you'd rather). Be careful; the soup will be hot! Stir in cumin, orange juice, and most of the pine nut cream, saving some of the cream for garnish. At this point you can add water if the soup is too thick.
To serve, spoon 2 cups of the soup into your favorite soup bowl. Garnish with a drizzle or dollop of pine nut cream and 1 tablespoon of the toasted pine nuts.
If you want to reduce the sodium per serving, you can replace the 4 cups of vegetable broth with 2 cups broth + 2 cups water.
Serving size:
2 cups
Calories:
380
Fat:
23 g
Saturated fat:
2.5 g
Carbohydrates:
38 g
Sugar:
17 g
Sodium:
970 mg
Fiber:
7 g
Protein:
8 g
Cholesterol:
0 mg
Recipe by
Veg Girl RD
at https://www.veggirlrd.com/creamy-roasted-carrot-soup/