Bulgur and Apple Breakfast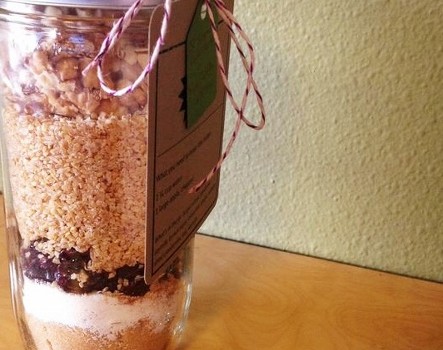 ¼ cup brown sugar
⅛ teaspoon salt
⅓ cup powdered soymilk (My favorite brand is Better Than Milk)
½ teaspoon cinnamon
½ teaspoon ginger
⅓ cup dried fruit (I used a mixture of dried cranberries and currants)
1 cup bulgur wheat
½ cup chopped walnuts in a snack-size plastic bag
2¼ cups water
1 apple, cored and diced
Layer the ingredients in the jar and put the lid and screw band on.
Remove walnuts from jar.
Bring water to a boil in a medium saucepan.
Empty contents of jar into pan, cover, reduce heat, and simmer for 10-15 minutes or until water is absorbed, stirring occasionally.
Remove from heat and let sit, covered, for 5 minutes.
Stir in walnuts and diced apple and serve.
The recipe is adapted from Bulgur and Apples, courtesy of Charlotte Hennessy R.D. from Oregon Dietetic Association Tastefully Oregon cookbook. And prep time and cook time listed are for when the recipe gets cooked, so doesn't include the fun part of actually filling the jars.
Calories:
380
Fat:
12 g
Saturated fat:
1 g
Carbohydrates:
63 g
Sugar:
24 g
Sodium:
150 mg
Fiber:
10 g
Protein:
8 g
Cholesterol:
0 mg
Recipe by
Veg Girl RD
at https://www.veggirlrd.com/healthy-homemade-edible-gifts-in-a-jar/