Cherry Maple Granola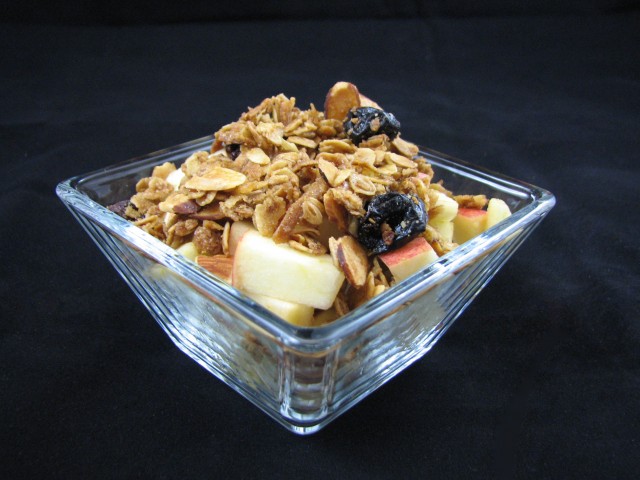 2 cups rolled oats
¼ cup dark brown sugar
¼ tsp. ground cinnamon
¼ cup shredded coconut (we had sweetened on hand but unsweetened would work well too)
¼ cup dried tart cherries
⅓ cup sliced almonds
4 Tbsp. Earth Balance vegan buttery sticks
¼ cup pure maple syrup
Preheat oven to 325°.
In a bowl, stir together oats, brown sugar, cinnamon, coconut, cherries, and almonds.
Combine Earth Balance and maple syrup in a small saucepan; heat over low until melted. Pour over oat mixture and stir until well coated.
Spread out on baking sheet. Total baking time is 25 minutes; I like to stir it about halfway through.
Serving size:
⅓ cup
Calories:
194
Fat:
9 g
Saturated fat:
3 g
Trans fat:
0 g
Carbohydrates:
27 g
Sugar:
13 g
Sodium:
63 mg
Fiber:
2 g
Protein:
3 g
Cholesterol:
0 mg