Cabbage, Apple, and Sausage Skillet with Sage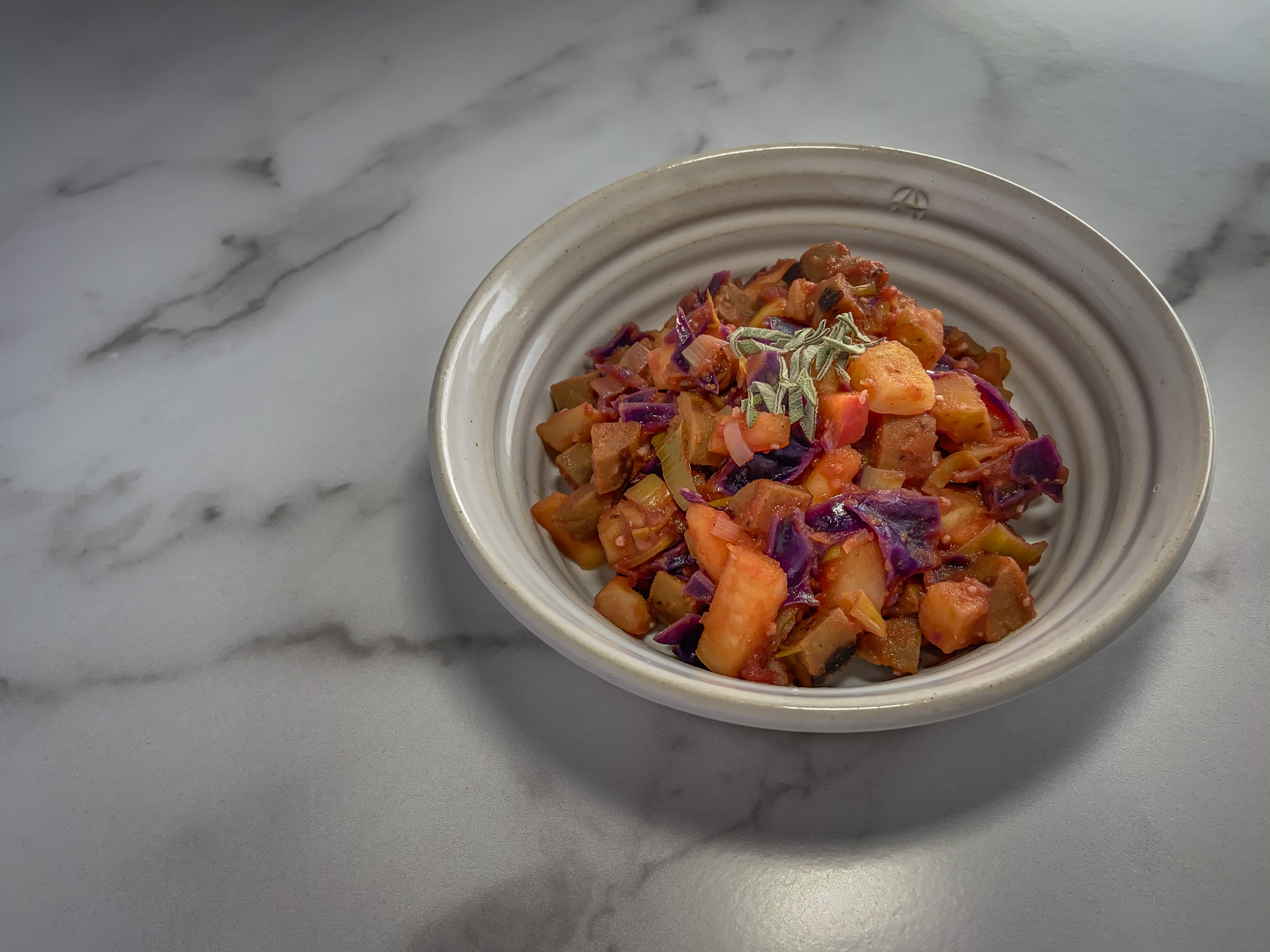 Serves:
4 servings of 2 cups each
One 12.95-ounce package Field Roast Smoked Apple Sage Sausage (4 links), quartered lengthwise and cut in ½-inch chunks
1 tablespoon olive oil
2-3 Yukon Gold or yellow potatoes, cut in ¼-inch dice (about 2 cups)
2 small or 1 large leek, white and some green parts, quartered lengthwise and thinly sliced (about 1 cup)
One 14.5-ounce can diced or crushed tomatoes
½ cup water
½ teaspoon salt
¼ teaspoon black pepper
2 teaspoons fresh garlic, minced
1 teaspoon onion powder
¼ teaspoon celery seed
¼ teaspoon cumin
¼ teaspoon coriander
2 cups diced red cabbage
1 large honey crisp apple, cored and cut into ½-inch pieces (about 2 cups)
3 fresh sage leaves, chopped
Sharp cheddar cheese, optional
Heat large skilled coated with pan spray over medium heat. Add sausage chunks. Cook 5 to 6 minutes, stirring or flipping occasionally so you get lots of brown and crispy sides. Remove sausage from pan and set aside.
Heat olive oil in same large skillet over medium high heat. Add potatoes and cook 5 to 7 minutes, turning occasionally until nicely browned. Turn up to medium-high if not browning to your liking.
Add leeks and cook for 1 to 2 minutes or until softened.
If using diced tomatoes, puree with a blender or immersion blender first. Add pureed or crushed tomatoes, water, salt, pepper, garlic, onion powder, celery seed, cumin, and coriander to skillet. Cover and bring to a boil. Reduce heat and simmer, covered, for 3 minutes.
Add cabbage and continue to simmer, covered, for 6 minutes or until potatoes are tender, stirring occasionally.
Add diced apple and simmer 3 minutes more, uncovered, until apples are heated through and most of the liquid is gone.
Stir in sage and sausage and continue cooking briefly until sausage is just heated through.
If desired, serve sprinkled with shredded sharp cheddar cheese.
I leave the potatoes and apples unpeeled for added fiber and nutrition, but you can peel if you prefer.
I think this dish would be extra delicious with fire-roasted canned tomatoes if you have some on hand.
I use Honey Crisp apples for their sweetness and crunch, but I believe any apple would be dandy in its place. Maybe even the newly released Cosmic Crisp!
To save yourself some time you could replace the cabbage with pre-cut bagged cabbage, green or red.
Serving size:
2 cups
Calories:
390
Fat:
11 g
Saturated fat:
1 g
Carbohydrates:
49 g
Sugar:
18 g
Sodium:
877 mg
Fiber:
7 g
Protein:
29 g
Cholesterol:
0 mg
Recipe by
Veg Girl RD
at https://www.veggirlrd.com/cabbage-apple-and-sausage-skillet-with-sage/