Soft and Fruity Coconut Bites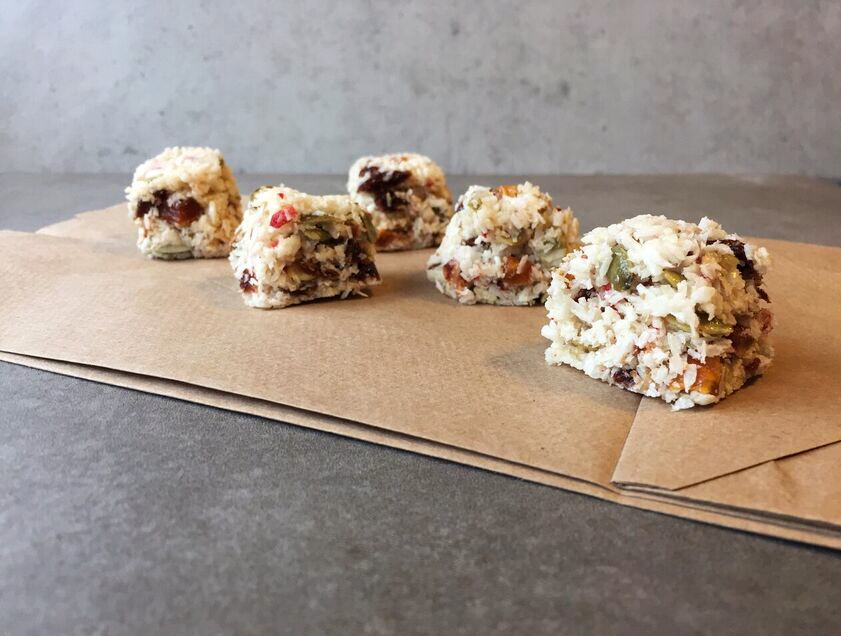 4 cups unsweetened shredded coconut
8-10 tablespoons brown rice syrup
¾ cup raw pumpkin seeds
2 tablespoons turbinado or raw cane sugar
1 cup chopped unsweetened dried mango
½ cup chopped dried tart cherries
½ cup chopped freeze dried strawberries
Put all ingredients in a large bowl and stir to combine. You can use more or less brown rice syrup to get the right consistency. When you press a small amount of the mixture between your fingers, you want it to hold together.
Line a 9-inch square pan with parchment or wax paper.
Press mixture into pan. You want it very compressed so the bites will hold together. My trick is to cover the mixture with parchment or wax paper, place a second 9-inch square pan on top, put the whole mess on the floor, and actually stand in/on the second pan. I know it sounds crazy but it works compression magic that I can't get from just pressing down hard with my hands on the counter.
Refrigerate for 1 hour.
Cut into 70 squares (10 across x 7 across). I like to remove them from the pan first and cut them on a cutting board with a very sharp knife.
You can store them uncovered and they'll develop a pleasant dry exterior, or you can keep them in an airtight container and they'll stay soft like a macaroon.
I tried making this recipe on a noticeably colder day and ended up with noticeably different results. The brown rice syrup was much more stubborn about being stirred in by hand. So I dumped the entire mixture into the stand mixer, mixed on low for about 30 seconds to 1 minute and ended up with a more uniform product. So this can be your back-up plan if the recipe doesn't work for you as written.
Serving size:
1 square
Calories:
60
Fat:
4 g
Saturated fat:
3 g
Carbohydrates:
6 g
Sugar:
4 g
Sodium:
5 mg
Fiber:
1 g
Protein:
1 g
Cholesterol:
0 mg
Recipe by
Veg Girl RD
at https://www.veggirlrd.com/soft-and-fruity-coconut-bites/