Red and Green Rice and Beans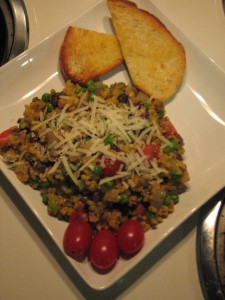 4½ cups cooked short grain brown rice (cooked in vegetable broth)
2¼ cups cooked beans
1 tablespoon olive oil
1 cup chopped onion
1 12-ounce bag frozen petite green peas, thawed (about 2¼ cups)
1 cup quartered cherry or grape tomatoes
⅓ cup homemade or commercial basil pesto sauce
Salt and pepper to taste
2 ounces Pecorino Romano cheese, grated
I used our trusty rice cooker ahead of time to prepare the rice, using 1½ cups short grain brown rice with 2½ cups low sodium vegetable broth on the white rice setting. You could also do it on the stove-top following the directions on the bag.
I cooked up some sprouted beans, but canned beans would work nicely as well.
Heat olive oil in a large skillet. Add onion and cook over medium heat until soft, about 3 minutes.
Stir in rice, beans, peas, tomatoes and pesto. Add salt and pepper to taste.
Serve sprinkled with grated cheese.
You can up the pesto if you prefer a stronger basil flavor, but it significantly increases the fat and calories which is why I've compromised with ⅓ cup.

Adapted from Cooking Light's recipe for Rice and Beans with Pesto.
Serving size:
1.5 cups
Calories:
355
Fat:
10 g
Saturated fat:
2.5 g
Carbohydrates:
51 g
Sugar:
5 g
Sodium:
236 mg
Fiber:
10 g
Protein:
14 g
Cholesterol:
10 mg
Recipe by
Veg Girl RD
at https://www.veggirlrd.com/red-and-green-rice-and-beans/